Gratitude & community are two things that are really necessary for human flourishing, so let's celebrate them both for a bit! For those of you who don't know, this is the @TribeSteemUp Community Abundance Generator. Started in summer of 2017, this is a project created to support, promote, and connect STEEM content creators focused on freedom, mindfulness, empowerment, and generally making the world a better place. To learn more about the background of the project, check out these posts: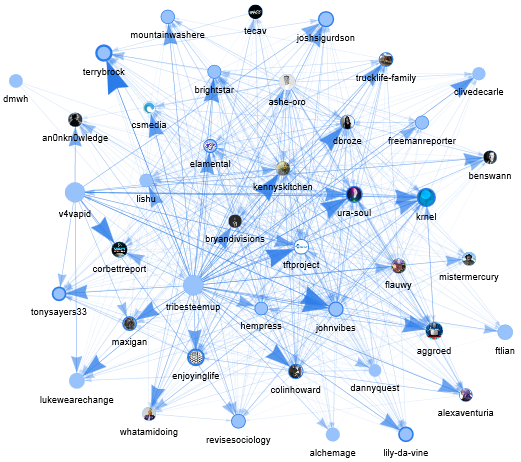 From SteemReports
The Tribe is picking up STEEM!
The Tribe is finally going critical, we've got over 180 artists supported, 43 investors of STEEMPower, and 73 accounts folowing the curation trail! Many of you may have noticed a jump in your rewards recently... That's because last weekend, we received a delegation of almost 500,000 SteemPower from the amazing @jamesc (who happens to be the SP behind many of the best curators on the platform, and it is such an honor for our community to be something he wants to support!). Add to that the 7% upvote that @adamkokesh is following our curation trail with (with his SP also delegated from @jamesc), and it's now quite realistic for conscious world-changers to support themselves purely off their content.
Scrolling back through the blog-roll of @TribeSteemUp, it's been awesome to see how many posts about/mentioning the project there are in the last week, compared to the almost 0 not made by me (@kennyskitchen) for the 10 months before that (@adamkokesh did post this one just over 2 weeks ago).
Here's all the recent posts about @tribesteemup:








Discord makes it easier to connect
Some of us in the Tribe have been using a Telegram chat for some time, but because of the large number of us now, the limitations of Telegram, and the amount of the STEEM community that is already on Discord, @tribesteemup now has it's own Discord server!
Because the Discord server is meant to be private for the community, I have set anyone who joins to a role that does not allow for messaging or reading messages. Once I or someone else has added you as a Tribe Member, you'll have full access to the chat server. We've already got rooms for post promotion, contests, recommending new tribe members, and more; thought I'm excited to see what others want to co-create.
Important: the Discord server is only for members of the Tribe
I just don't have any other way to reach most of them.
Here is an invite to our server: https://discord.gg/TK6t7Aa
Revisiting the curation trail

The curation trail has grown quite a bit over the last few weeks since it was announced, and so has the number of creators and amount of content being created by the Tribe. Due to this, I have a recommendation to make about how you are following the Tribe's curation trail... [If you aren't sure what a curation trail is, check this out]

The above picture is what my (@kennyskitchen's) SteemAuto page looks like. With an 11% upvote following @TribeSteemUp, I make sure that my VP doesn't fall too drastically, even though the trail is now hitting an average of about 80 posts per day. I was up at around a 33% vote, but then as 20+ new members came on and many others began posting again after hiatuses, that was too much to keep in balance. Now, I generally have over 90% VP at any time of day, so I can even drop some big votes here and there, as well as rewarding those who leave thoughtful comments on my own posts.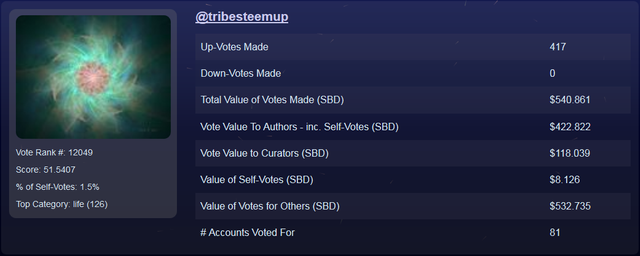 From SteemOcean (by our very own @ura-soul)
What are you grateful for?
Gratitude is the key to abundance and joy, which are 2 keys to the paradigm shift. In honor of that, and as a reminder of how wonderful it feels to spread the wealth and empower others, every human-written, not bot-generated, thoughtful comment in response to the question "What are you grateful for?" will receiver a 1% upvote from @tribesteemup (currently worth about $1). Limit of 1 up-vote per account, and up-votes will only be given during the 7 days that this post is active.

It is a wonderful time to be alive, and it is so beautiful to be part of such an amazing community/project/movement/shift. We live at the intersection of blockchain & permaculture, freedom & mindfulness, cooperation & individuality, and each of us has SO much leverage to create the world we dream of!