---
Kenny Palurintano is an active member of the blockchain based vloging platform called https://steemit.com where we earn both STEEM and Steem Back Dollars, the digital currencies embedded into this algorithmic masterpiece of Dan Larimer's.
To learn more about Dan, the developer of this genius software, check out the Bytemaster's blog https://bytemaster.github.io/ Dan is also known for his two other extremely successful blockchain projects https://bitshares.org/ a decentralized cryptocurrency exchange and https://eos.io/ a host for decentralized token economic applications with zero cost transactions.


https://bytemaster.github.io/
In any case, if you don't have a https://steemit.com/ account yet, don't worry! This website has gone virtually unnoticed thus far and is still in beta mode.. If you're reading this, you're a head of the crowd..
Currently there are only about 1,200,000 accounts. 700,000 of which have never been active.. so that's about 500,000 users who have posted at least once. Compare that to the billions of facebook users.. We're just getting started. https://steempeak.com/statistics/@arcange/steemit-statistics-20180909-en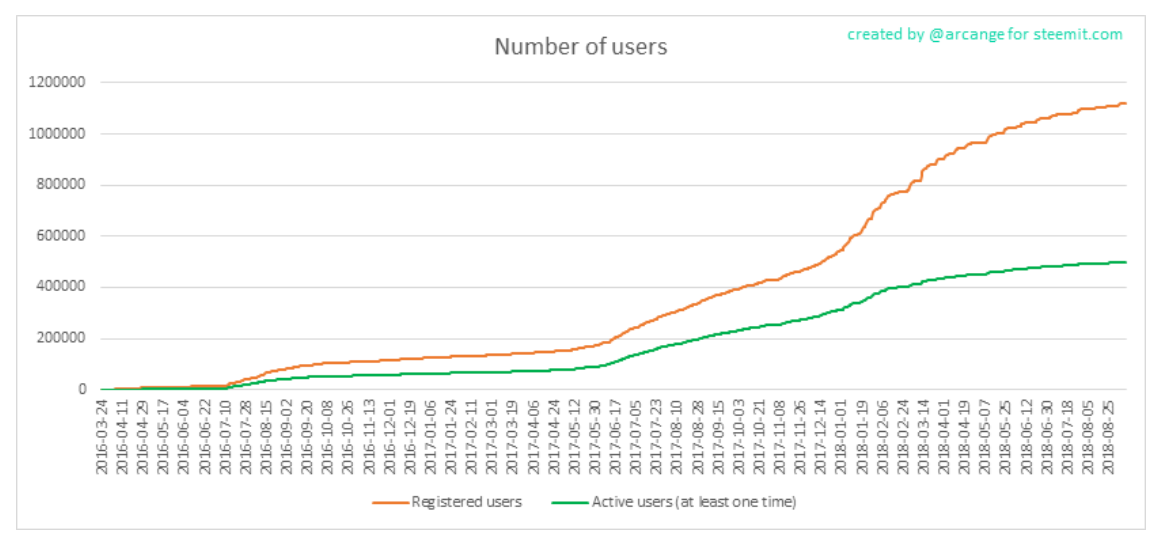 In this graph, the orange line shows the total number of registered accounts.
The green line shows how many of them have been active at least once, those who've made at least one post, comment or upvote. They are included even if they become inactive later.

---
We are still very, very early in the evolution of blockchain based social crypto economics.. and the endless possibilities and potential for true decentralized human sovereignty has never been more achievable and steemit is changing the world.
For example, Kenny Palurintano or https://steemit.com/@kennyskitchen on steemit created his personal account in just June 2016.

The following Valentine's Day, Kenny attended the largest gathering of freethinkers the world has seen to date, the spiritual crypto-economic anarchy conference called #Anarchapulco, in Acapulco Mexico. https://anarchapulco.com/

This event was created by @JeffBerwick of the @DollarVigilante https://dollarvigilante.com/ over four years ago and has seen exponential growth in attendance since its inception. This years expectations estimate upwards of 4,000 Anarchists, discussing the true meaning of life.
Jeff's passion for Peace, Love and Anarchy has allowed him to manifest this gift to the world, Anarchapulco, the meeting of like-minds.

@JeffBerwick also created his steemit account in the summer of 2016, and has since developed one of the most popular accounts, as the content he contributes to the platform is extremely valuable to the community.

From the @DollarVigilante himself,
"How I Made $15,000 in 12 Hours on the New Blockchain-Based, Social-Media Site Steemit"
Enjoy his article here or watch his video.
https://dollarvigilante.com/blog/2016/08/06/made-15000-12-hours-new-blockchain-based-social-media-site-steemit.html
Nevertheless, Anarchapulco 2017 enabled a relationship between Kenny and James C, an active Steemian, where these two truth seekers met for the first time.
James created his account in March 2016. Clearly this digital-ecosystem is in its infancy.

@JamesC holds the title of 'Whale', determined by his account holdings of more than 500,000.00 Steem Power. You can visit Jame's account here. https://steemit.com/@jamesc and his philanthropic delegation of Steem Power can be publicly viewed here, https://steemworld.org/@jamesc where, if you scroll to the bottom of the page you'll find the Tools section.
Click Delegation History. Input the Jame's account name @jamesc and you will gain access to his transaction history.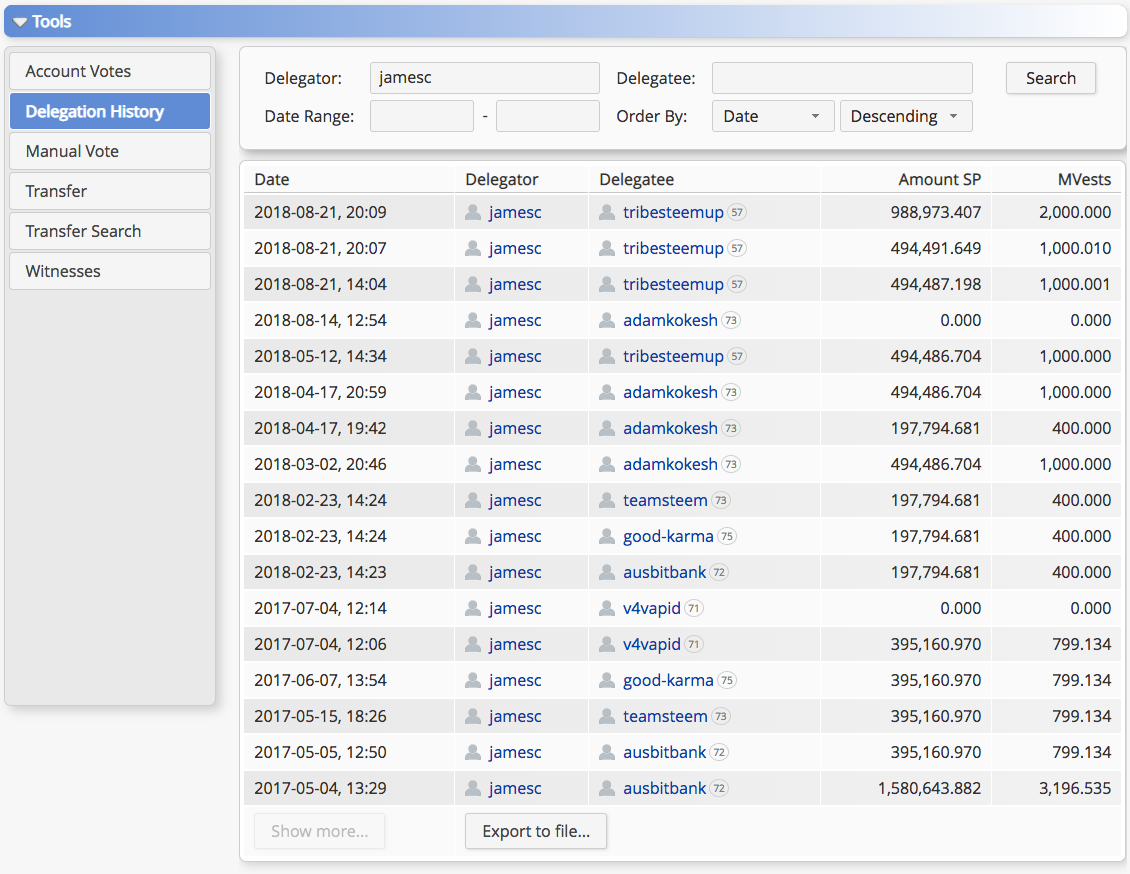 As you can see there has been quite generous delegations to @ausbitbank, @good-karma, @v4vapid, @steamsteem, @adamkokesh and @tribesteemup. @jamesc's account is currently worth about 1,587,858.463 STEEM which, in dollars is $1,245,500.40... however, 1,582,359.532 STEEM of that value has been allocated to other accounts. That is a 99.65% philanthropic initiative on @JameC's part.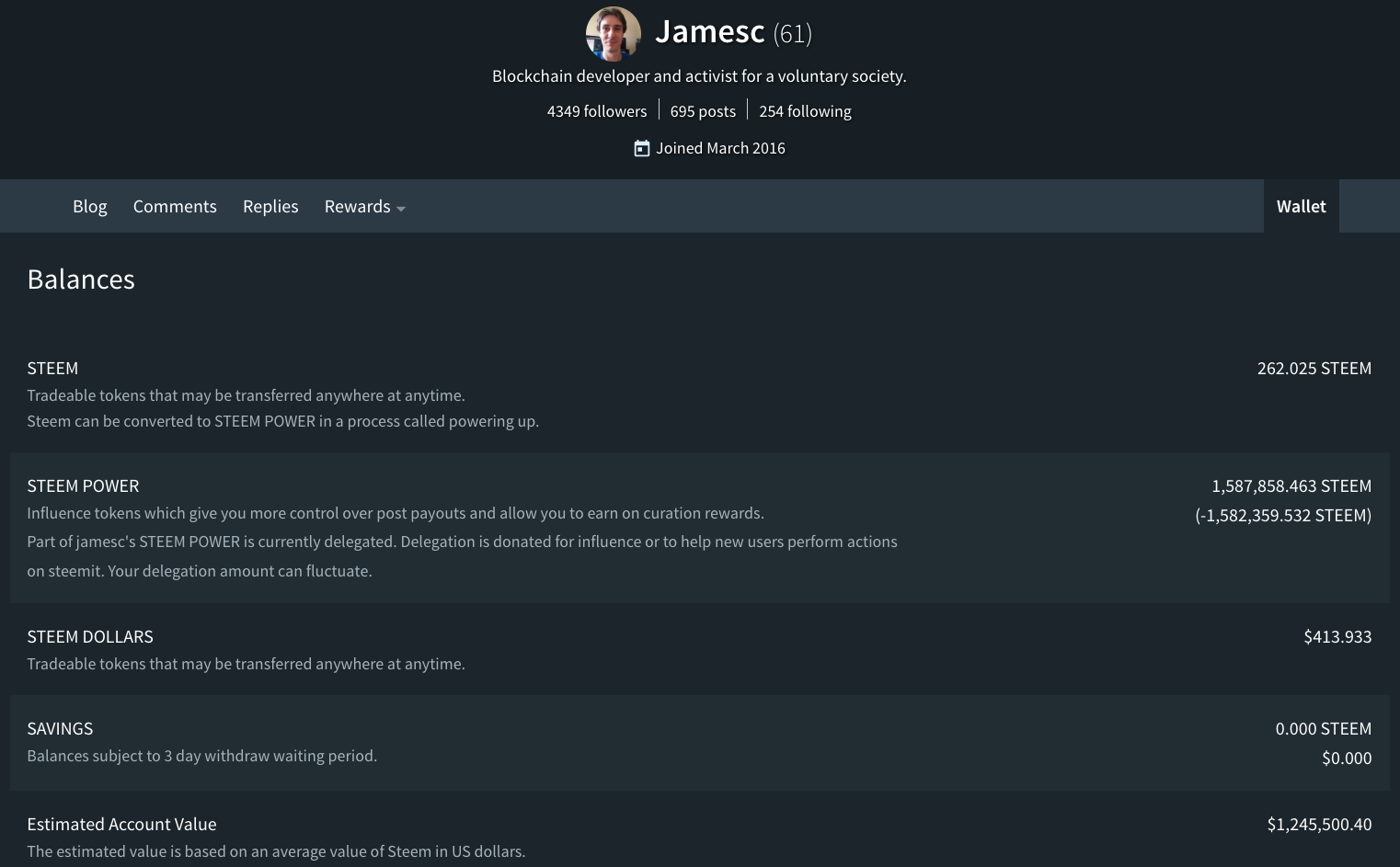 Thank you for your contribution to the community, James.
---
This delegation tool allows us to not give away money, but temporally allow specific accounts to benefit from the concentrated Steem Power.
Just a few months after Anarchapulco 2017, the steemit account @tribesteemup was created by Kenny.

Kenny's passion for creating content for us "Beautiful Humans" via @kennyskitchen evolved into the development of this digital-tribalism concept, whereby as he states on the page's bio header, this is a "Community Abundance Generator - Supporting over 200 conscious creators"
If we take a look at the @tribesteemup wallet, we will notice that it has been delegated over 1,000,000 Steem Power. That Steem Power was delegated to Kenny's @tribesteemup, which now has the ability to financially support content creators, at the expense of no one, due to the inflationary payout system of the Steemit blockchain. James can withdraw his STEEM from @tribesteemup any time he wishes.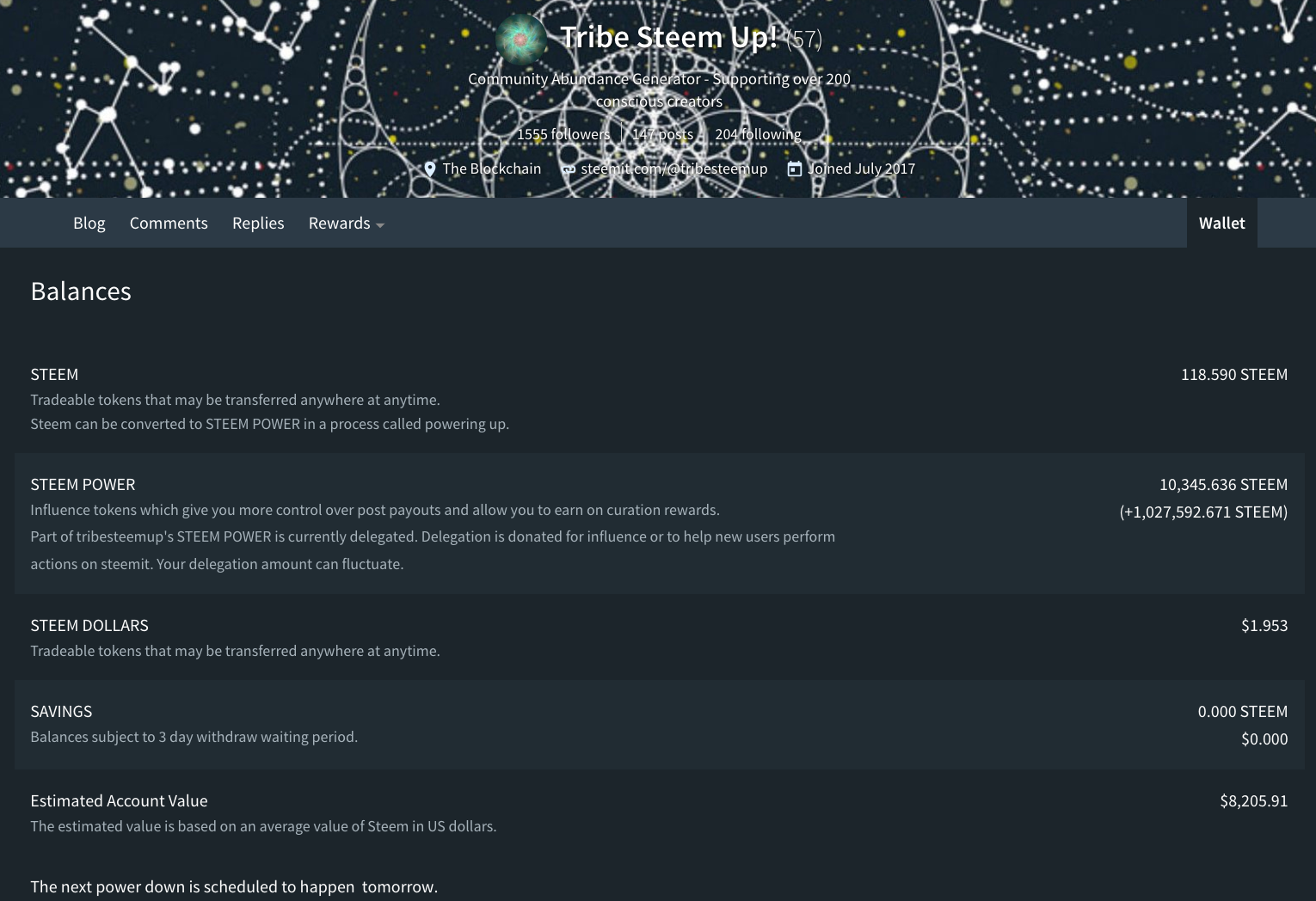 We can check the statistics of the @tribesteemup account here on https://steemworld.org/@tribesteemup
Because of Jame's delegation, @tribesteemup is currently able to reward content creators with a single upvote of $44.84!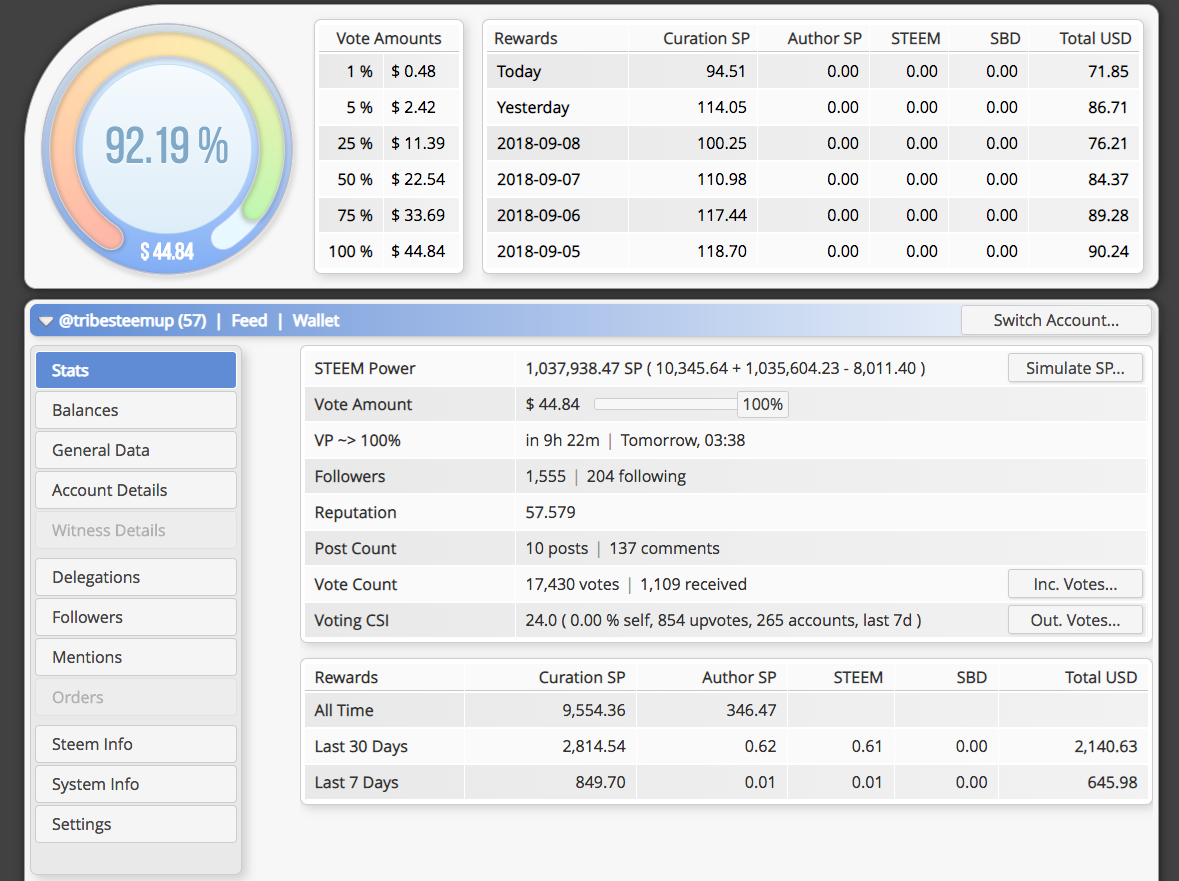 Now that is ground breaking. Anyone, anywhere in the world can sign on to https://steemit.com and if they post something in align with the perspective of @tribesteemup, they have essentially given themselves an opportunity to earn ~45$ worth of cryptocurrency from a single upvote from @tribesteemup.
Likes are now worth something! Not to mention all the other steemit users that are participating in the system who may contribute their upvotes to the specific content of their choice.. Go makes some new friends!
Steemit is filled with great people! You will certainly find you're community there, and hey.. ..if you don't, develop it yourself! You never know, one day a Whale like James may come along and delegate you a million Steem Power too!!
---

This is Pat Leach, @Illucifer of The State of Anarchy
May Steemit set you free!
---
Instagram: @thestateofanarchy
Website: http://thestateofanarchy.com/
YouTube: http://bit.ly/TheStateofAnarchy
Statebook: http://bit.ly/TheBookofAnarchy
Steemit: @SonnyMazzone @chickencaam @Illucifer
Bitcoin: 17w77NVmtTxj78d1Dnx3vh5FjwHvzpkts8
Bitcoin Cash: qzvxljvm82hywnrsdv6vqd9m2zjj207y65fc04f2w5
Binance: 0x49e06218d5D05923F0e442265cD2A419D4d17C4D
Dash: XqVzxHF6wi1F9uA8vc8hhWZFyqLgjZCbH7
Ethereum: 0x49e06218d5D05923F0e442265cD2A419D4d17C4D
Lisk: 13974177123382109591L
Ark: ALVqR9qiEwRbHBcZ7kuw5Xwqqzd4nXSMDc
Monero: 458xXh879UPVHNjDmShgPXPtHbYdCVBSE5L5kZ1CnJYuMGLNqZiGPqB9XDSms5RqVBjHNfgxMfo6d6oNjFYKEG1iA7UmRp3