This question seems relevant for the entire of humanity at the moment as technology has made us all one global community whether we like it or not. The lessons of the microcosms also apply to the macrocosms and vice verse - dissent always pushes our buttons, whether it's with family, our children, our immediate colleagues or people on social media. When others speak or act in ways that conflict with our own values and opinions, it can be difficult to bite one's tongue or react calmly and thoughtfully - we're really, really quick to judge and fire up. We seem to find our identities threatened, and fight hard to asset them, even at the risk of hurting someone else.
Is it possible to create more connections and less divisions in the world?
How do we go about this?
To what extent are we to blame for misunderstandings, conflict and dissent?
Can we all improve our communication skills in order to better understand each other?
If I'm feeling unsafe and my identity threatened, how does the other person feel? How important is my identity in this moment anyway? Why is so important that I shout MY reply and MY indignation over the top of someone elses?
First of all we have to realise that our identity is constructed - it's shaped by culture, society, our histories and what we hold onto. Without an identity - a personal identity, or a group we feel we belong to, we can feel confronted and challenged. When someone in our community 'dissents' or goes against our belief systems, we go into attack mode - we proselytise, we shut down, we tell our own story over and over so it is our identity that remains dominant. Perhaps a little letting go of ego is required, and a little self reflection. Why is this so important to me? Why does it hurt me? Will it hurt me to let it go? Is there another approach?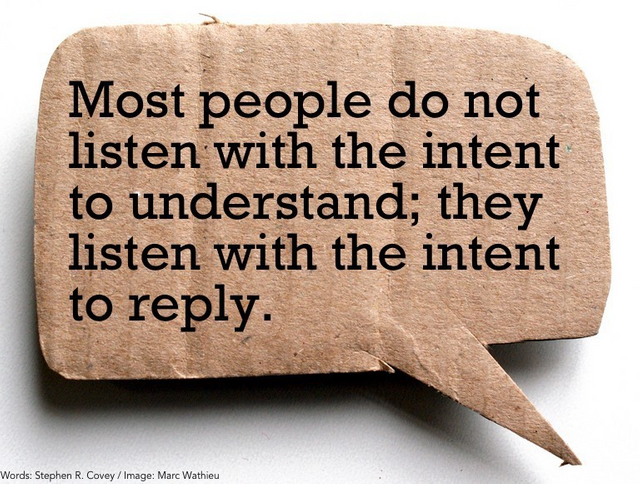 And if I'm feeling threatened, how might the other person feel? My husband is really, really good at this. His 'go-to' is to consider what the other person is feeling, and it's what makes him a good leader at his work. If anyone is behaving irrationally or being outspoken about the way things are done in the department, his go-to is to consider what's going on in this person's life. Are they stressed? Tired? Do they feel heard? Do they need something from him?Why do they think that way? That's a helluva nice way to lead - far better than dictating why it is
HE
who is right, and how they are
wrong
. As he says, it's not about how he feels - it's about how those he is responsible for feels - and we are
all
responsible for others.
And we have to remember that one thing that forms 'dissent' - something we might not agree with - is not the only aspect of that person's identity, just like our inability to really listen to them is not the only aspect of ours! Within us are multiple identities - let's embrace the ones that listen effectively, empathetically and wisely.
Much of this is about communication skills. We have to hear what others are saying, really listen, rather than shutting people down.
Those lessons about how to communicate with others should start really early. We all assume we have listening skills, but when you really break it down, do you? We showed this video to students at my senior school this week and I felt myself being slightly ashamed for the kind of behaviour she warns against, and vowed to fine tune my listening skills because I know it's important, and I know exactly what I should do but that doesn't always come into practice when my social justice buttons are pushed!
She begins by saying something that many of us here are keenly aware of - that the world is uber polarized and divided at the moment and no conversaton seems safe:
You know, it used to be that in order to have a polite conversation, we just had to follow the advice of Henry Higgins in "My Fair Lady": Stick to the weather and your health. But these days, with climate change and anti-vaxxing, those subjects - are not safe either. So this world that we live in, this world in which every conversation has the potential to devolve into an argument, where our politicians can't speak to one another and where even the most trivial of issues have someone fighting both passionately for it and against it, it's not normal. Pew Research did a study of 10,000 American adults, and they found that at this moment, we are more polarized, we are more divided, than we ever have been in history. We're less likely to compromise, which means we're not listening to each other. And we make decisions about where to live, who to marry and even who our friends are going to be, based on what we already believe. Again, that means we're not listening to each other. A conversation requires a balance between talking and listening, and somewhere along the way, we lost that balance.
To me, this is a reality check because it struck me how true this was - we fire up, we get indignant, we unfriend people on our social networks because they don't agree with us and we find their views so damn abhorrent we just don't want to listen. Then we find ourselves bemoaning them in our own little private circles: "I can't believe he said that! What a moron!" without actually stopping and thinking: 'Well, why did they say that?' and 'is it possible there is more than one aspect to this person that I'm not seeing because I'm so clouded by the anti-?'
It's all very well and good to say 'Well, they won't listen to me!', but this is what children do - point fingers and react and blame it on the other. As adults, we should be modelling good behaviour. Think about a time where you have nodded at someone and said "Oh, I hear what you are saying. That must be terrible for you" (without being patronising) and watched them calm down and listen back to you. How good does that feel!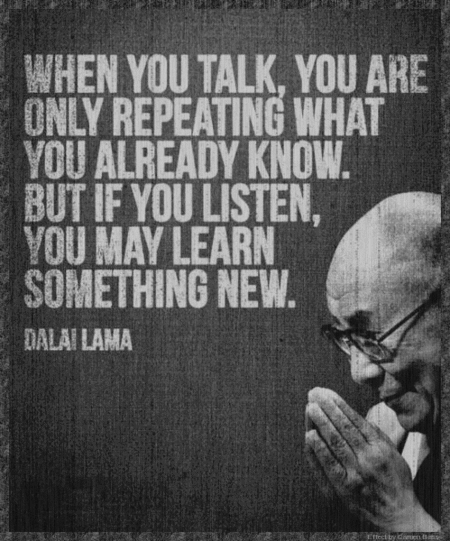 As Headlee argues in her TED talk, you need to enter every conversation assuming that you have something to learn. She's not the only person to say it of course (thanks Dalai Llama for your ability to decorate my steemposts with wisdom, as usual) and it's solid advice. One of the best things I learnt about how to have a peaceful marriage is to pause and listen - how it helps to know that that sometimes people react in particular ways because they are stressed, or didn't tidy up the kitchen after work because they are so damn exhausted that they can't, or that they're debriefing you about a drama because they need your advice, not because they're bugging you when you're CLEARLY in the middle of a steempost.
Of course this has relevance in the wider world too because we need to solve problems, not create more of them by creating even more misunderstandings and divisions. Dialogue is an important part of that, otherwise we're not civilised or progressive at all and thing are just going to get worse. If we can't understand each other, what hope have we got? And it's through understandings that can work toward real solutions - compromise, healing, reparation, reconciliation, and god forbid, real peace.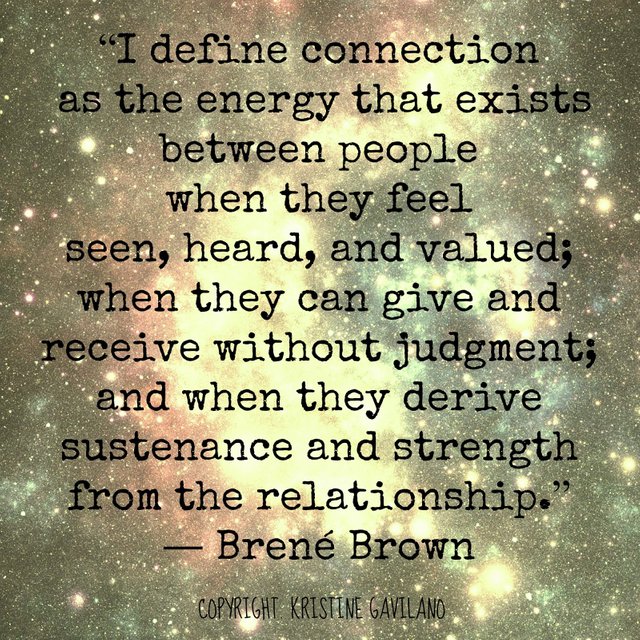 We need to move out of our fixed perspective and be flexible with our thoughts. We are not always right. We do not always know. We have the potential to make things better for others just by listening and hearing. It's our obligation as human beings, because we all share the same needs and desires and we all deserve that respect. We need more connections between us in this world fraught with conflict, not less - let's all make a vow to up our listening skills and see if that doesn't make a difference.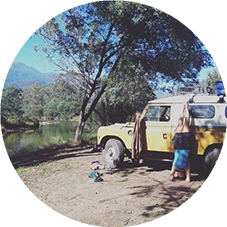 If you're a supporter of all things natural healing, you might like to read our introductory post here. We'd also love to welcome you on Discord here!!