Greetings beautiful souls!
I'm on the road with family out to the beach for a camping trip, and before I forget I wanted to take this opportunity to answer the current @TribeSteemUp question, brought to the group by @ELAmental. As always, sending lots of gratitude to @trucklife-family for putting this conversation together for us!
What does @tribesteemup mean to you?
Wow, this is quite the multi-layered topic, especially for me. The first, snarkiest response is something along the lines of "On a good day, it means an hour or two of work :-P"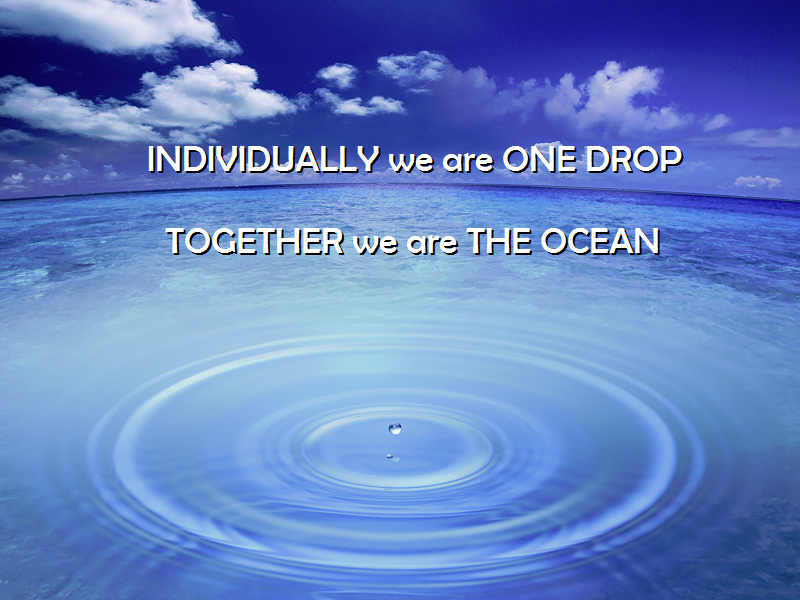 Image Source
Seriously though, @TribeSteemUp means so many things to me. Most importantly, it means that the beautiful humans who are spreading the message of sovereignty, empowerment, and mindful living have a consistent opportunity to be financially supported for the wonderful content they are creating.
When I first started TSU, it was mostly because I had watched dozens and dozens of friends doing great work and creating great content getting onto our platform, and barely being rewarded (if at all). I also watched many of those friends accounts not using their voting power, many of us not realizing that some of the others were even on the platform at all, etc. I launched the account in August of last year, with just a couple thousand SP from myself and some closest friends, and immediately built up a massive list of people to follow & support (about 150 at first).
Over the next 5 months, we had slow, consistent growth... but not much of it. At the end of 2017, the @TribeSteemUp account's full-power vote was only about $0.35. When I got to Acapulco and started bringing things together for my month down there, I had a great conversation with my friend @TerryBrock, and he doubled our SP that day. Just days after that, I sat down to chat with @LukeWeAreChange for the first time, and he delegated 15,000 SP (about tripling the total we had), and right after that @SashaDaygame added another 17,000. For the first time, the votes it was spreading around to everyone were starting to actually have an effect!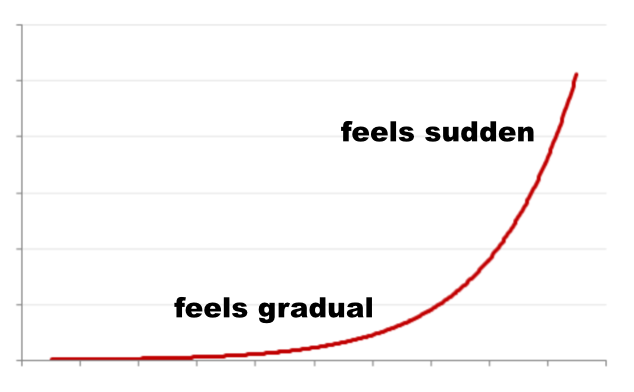 It was kind of like that... (Image Source)
Then, in May while I was staying at @AdamKokesh's farm, I had a phone conversation with @JamesC and he decided to support the project as well. All of the sudden, we went from about 35,000 SP to over 500,000. My level of excitement and awe was pretty high, as you can imagine. Suddenly everyone was getting more than $10 per post! The most awesome thing about this is that a couple years ago I had made a declaration about how I don't need to have millions or billions of dollars of my own (though I'm open to when they come in), because there are plenty of humans who have millions and billions that want help from someone like me to direct that energy to wonderful people & projects.
With the new level of voting power, I made the decision to really shift the community in a big way, and started adding in lots of folks that none of us actually knew yet, but who I had found on Steemit putting out great content. Our community quickly approached 200, I had to spend 2 full days shifting everything from SteemVoter to @SteemAuto, and suddenly TSU went from something I would glance at every so often to a straight-up part-time job. Because the container had been pretty loosely created, I wrote up a more complete manifesto, called The 8 Pillars of @TribeSteemUp.
Here is a wonderful graphic of @TribeSteemUp's 8 Pillars, created by @hungryhustle: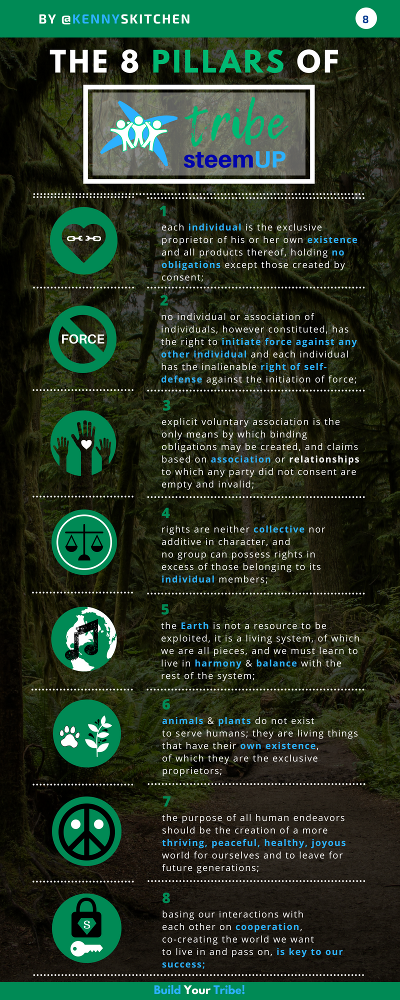 Over the last 4 months, our community has grown and evolved. We've now got a discord server, we've got this bi-weekly question, as well as a Gems of the Week post (both thanks to @TruckLife-Family), we support @Eco-Alex's Pay It Forward Community Support Initiative & @WhatAmIDoing's DeadPost Initiative, as well as the relatively new @NaturalMedicine & @EarthTribe projects created by members, as well as the unrelated but aligned @FreedomTribe project!
Growing & learning together, supporting each other's projects and building relationships with people on the other side of the world we've never met in person... it's such a wonderful thing!
So, I guess I sort of went off track from the question a little bit, talking about the history & evolution of the project. To close out, I'm going to just succinctly lay out some of the things that @TribeSteemUp means to me: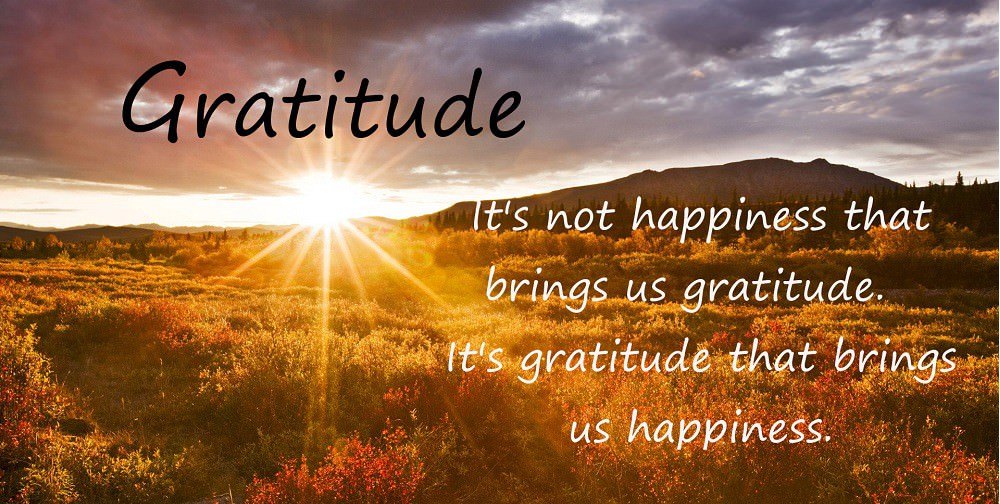 Image Source
Thank you so much for reading, and for being part of this beautiful experiment called life. I personally believe that this is THE greatest time to ever have been alive as a human on planet Earth. We are at a time of untold connection, learning, and shifting, with all the old institutions, beliefs, and practices that have held us back for centuries falling away like dust.
I am so very grateful for the opportunity to be alive, to be on this journey, to connect with so many world-changing souls, and to be sharing my story!
---
---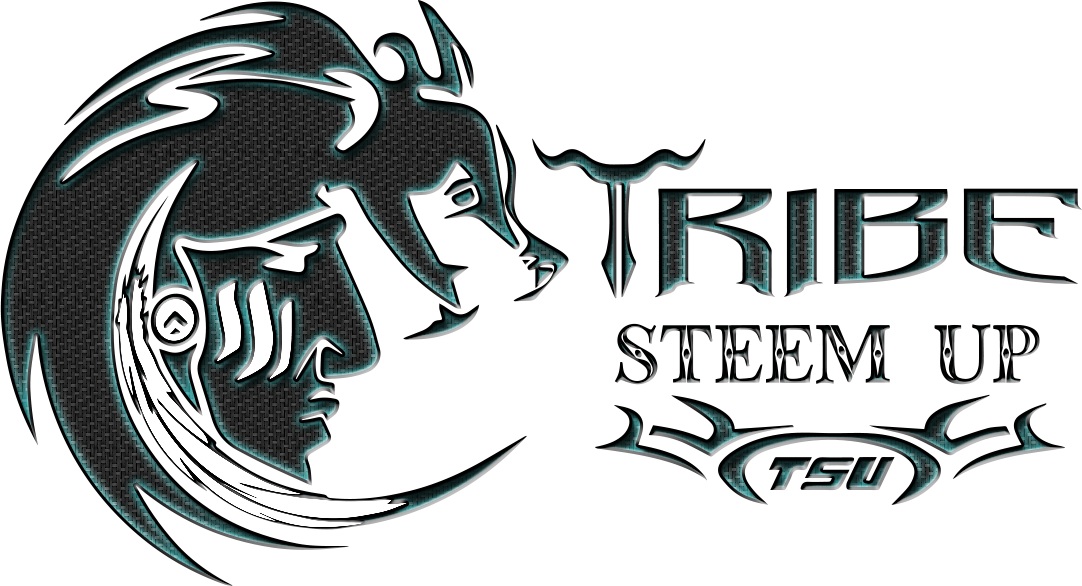 ---
---
If you enjoyed this, you may enjoy some of these highlights of my blog:
"Greatest Hits/Table of Contents" of my first 2 years on Steemit
You've Created Your Steemit Account and You're Ready to Get Started... What Now? [New Steemians Start-Up Guide]
The 8 Pillars of @TribeSteemUp: Clarification, Refinement, and Re-Casting the Spell
The Status, Vision, and Needs of Real Life: The Role-Playing Game
Be Empowered Official Announcement & Website Launch - 3 Days of Steem-Powered, Holistic Empowerment
---
---