Advancement of the « 2 million trees by 2020 » project – October 27th, 2018.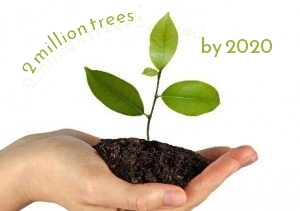 Thank you for giving me an opportunity to better explain the « 2 million trees by 2020 » project.
I was really disgusted by the attitude of the French Marine army that let migrants drown in the Meditterean sea these last years.
I understand that we cannot accept all the migrants, but Europe could certainly accept at least 20 millions of migrants to compensate the decrease of the population.
I am also convince that we should do more to help Africa. The economic development of Europe prosperity is partly based on 300 years of slaves trade and it is time to reverse the economic flow.
So what can I do ?
Last year, I met the Martin Mikes, who has developed a fundraising bot on the Steem blockchain called @treeplanter ( http://steemit.com/@treeplanters ) and who is in charge of the Kedjom-keku website http://kedjom-keku.com/
In February 2018, I started Ventureo, a network to teach nonprofits and socially responsible enterprises how to use blockchain tools and cryptocurrencies.
Three month ago, I started « 2 million trees for 2020 » to teach people how they can decarbonize their actvity using the evergreencoin wallet. This project has 4 objectives :
To collect funds for Kedjom-keku , the nonprofit who is planting trees in the Abongphen highland forest
To help this organization to develop the local economy
To teach people how to use the EverGreen coin wallet
To promote Ventureo and to develop my business
An ambassador has a part of his/her job which is a volunteering job:
To promote the project in his/her town to convince 1,000 people to send 20 EGC ( 20 EverGreencoin = 1 € ) to the project wallet.
To recruit at least another ambassador somewhere else in Europe or North America.
A second part of the job can be a paid job :
Many companies are aware that they should better do something to decarbonize their activity. Planting trees is one solution, decreasing their carbon footprint is another one.
So ambassador can collect fund from companies and keep a percentage of these fund to pay their work. The funds are used to plant trees.
« 2 million trees by 2020 » is a teal organization as defined by Frédéric Laloux in « reinventing organizations » so, you decide how much you want to be paid. Of course, reading the book is recommended !
This answer will be add on the wiki of the project : http://2mtrees.world
You can find more information there.
You can also open a steemit account and ask more questions on this blogging platform. @askanything will upvote (like) your question and yo will start earning some cryptocurrencies.
Each time you ask a question, you are helping me to better explain this project which is a little bit complex for people who are not involved in the world of cryptocurrencies.
The ixo fundation is developing a website and a blockchain to verify the advancement of humanitarian project http://ixo.foundation
The « 2 million trees by 2020 » project is one of the first project to be listed by ixo.world .