As a rule, when I talk about travels, these beautiful and amazing places, sweetness is poured out by liter.
We need few nice pictures and we have a great whole.
Happy Travel full mug.
But sometimes it's not great. Sometimes it's really bad. Sometimes it's so bad that shivers go down on your back. Today It will be just a story like that.
It's a story about a dream - go alone in the desert. In the desert where I have not been before. To a place I do not know.
I was sitting for a week in Florida and I was getting bored.
So I'm going to the desert. See, experience, feel. Drive on the bike.
The Chihuahua Desert seemed appropriate.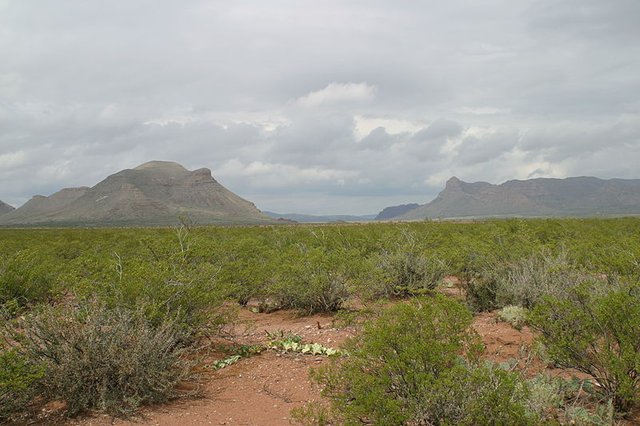 fot. viki
Near the border with Mexico, I'm filling up supplies and digging into emptiness. Simple plan. Go for a hundred miles, sit in the tent a night, maybe two and come back.
GPS, telephone, analogue map - taken, should be enough. Let's say.
I am camping about 80 miles from the road. Straight, straight ahead and then a little left to these cool mountains.
On the second day I'm preparing to return. Of course, the phone is not working, and GPS can't locate any satellite (?? in the desert ??). I do not care too much about it. I am not far away and I know more or less in which direction I should go.
A bit to the right and straight, straight straight.
In the end, I decide to spend another night under the tent. I still have some chocolate, some energy bar, some water, some coke and chewing gum for the morning.
I'm running with the camera again, I'm making stupid photos. I'm howl to the moon. I stare at the sky - for hours. Is beautifully.
I fall asleep happy in front of a tent in a sleeping bag staring at the stars.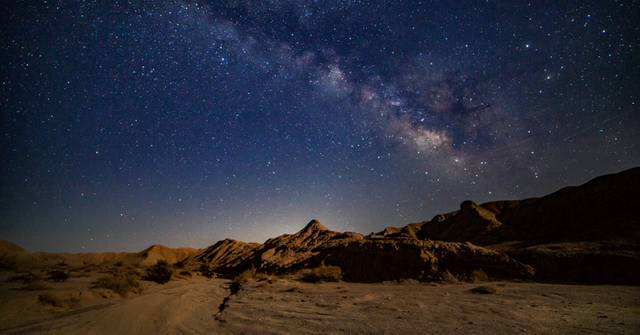 fot.urania
The pain in my hand wakes me up.
A real one. As soon as I raised my head, I feel nauseated. I am so intensely puking that I can barely get away from the sleeping bag so as not to get it dirty
I am vomiting kneeling. I support myself with my left hand so as not to fall into the vermin. The other hand burns mercilessly. I'm puking.
The pain from the hand begins to spread to the whole body. Now everything is burning.
With each movement, the pain is even bigger. I'm already puking with strange colors - blood? It running out of my nose, I even get the feeling that run from my eyes and ears too.
I can not move completely. After some time, however, I manage to land on my side. Legs further constricted, in a kneeling position, without feeling. I can not feel the right hand completely. Only fire.
It would seem that I was puking everything that could have been puked ... and yet I am puking on. All internal organs went through one by one. Such is my impression, at least.
After a few hours, I no longer feel the my body. Only pain. Fire and pain.
Everything is burning. I do not puke anymore. I lie on my side and run all over the shit bellow. I smell the shit, shit, and blood?
Before my eyes I have a big stain of my guts, a piece of sleeping bag and deserts. I can not see anything else.
Pain comes in waves. It hurts as if could not be more and then it turns out that it can. Fire everywhere. As if I was swimming in a lava.
I want to scream and yell but I only snuff. I lie and pray to all the goddies and others I know. I am lying and asking for mercy, I am asking for death. Just fast. Anything now.
I lie, I burn, I leak and cry. Though I do not cry.
Huge War is in my head. A roar of pain and self-pity. I leak from every side.
Here I am, I'm dying. In my own pukes and shit.
In the middle of nothing.
Nobody will find me here, no one will know.
What am I doing here. Why all this. That's all I want to say.
I am dying for the first time, bribing my lover's name for the last time.
However, no. Fire wakes me up somehow in the morning. It hurts even more. But I do not puke anymore. Every breath comes with more and more difficulty ... and so it will end.
In my mind I am crying and again I write letters to those I love. I am sorry and I am counting on absolution. I'm just waiting for the tunnel, the light, the hand, the chisel or whatever it takes to get to me.
I'm staring at a bugs splashing in what was just me and what was in me just a moment ago.
It goes almost all day. In the spasms of pain, stealing every breath. Together with the waves of fire came and went willingness to live. Willingness to fight. I gave up a million times.
In the afternoon I'm seriously choking. Eventually!
I am dying for the second time with all those I love in my head.
Here. For them there.
Again, a worm waking in my mouth wakes me up.
I can do nothing. Throat like a grater. I can barely take another small breath.
Drink. Water. I am trying to move, but I feel nothing but pain.
I lie so staring at this piece of sleeping bag and this slush in front of me and suddenly it hits me.
It hits me hard. It was the most frightening thought in my life.
It's night. Soon some predators will come and they will start chewing me alive!
And I'm still fucking alive!
Eaten alive!!! Fuuu..ck!
I do not know why but I have not died yet.
The smell that is here has already attracted all the worms from the area, I'm sure that not only worms feel it.
I'm trying to strangle. I hold my breath as much as I can but I can not die. I'm trying a second time, five times, nothing. I am waiting in these spasms, cursing the whole world in my head.
Then I'm starting to freeze. I'm cold, really cold. How can you freeze when your whole body burns you with a living fire. And yet!
I'm so mad at all that I'm starting to scream. I'm trying to scream and howl. I'm trying so much that in the end one small moan escapes from my throat.
Right after that I'm dying for the third time.
Here, abandoned by the leftovers of the air
The burning sun wakes me up, but I am still extremely cold.
First thought was to drink. Water. The tent is behind me. I do not see him, but I know he is there. Drink. Water. Water is in the tent. Drink. Water. By the motorcycle is coke. Drink. Water. I'm trying to move but nothing. Drink. Water. Every time I try, I only groan and moan. Drink. Water!
I groan and groan!
This is some sound. I focus all my will on my body.
Overview.
Another thought. It's easier for me to breathe. So, there is some hope.
I Take up the fight again.
Until the evening I managed to turn so far that I saw a piece of bike and tent.
It was closer to the bike and coke.
I lost consciousness a thousand times but in the morning I had a small bottle of coca-cola with me.
I could not open it. When I was struggling with the cap, I lost three nails from my fingers.
I even tried to bite her.
Finally, I pierced the bottle with a piece of screw from the motorcycle. I cried when I heard ssssshhhh and a thin stream began to run over my face.
I spent two days there in the tent. Sucking chocolate and chewing gum. Everything is tiny portions. sip for a sip, dip only the tip of the tongue.
Just to not puke again!
A quarter of chocolate cubes. A piece of rubber.
Not puke again!
When the water ran out, i had to go.
I did not feel strong enough, but it was necessary. That was one way ticket.
It was not a pleasant ride. Slowly just to not fall again.
When I reached the asphalt, I was happy. When I arrived at the first building, a small shop, I knew it would be good. I went in.
As I walked in, woman inside started screaming and ran away.
I had no idea what was going on, but a few moments later a few other people appeared.
In the bathroom when I looked in the mirror I understood the woman's terror.
Everything was in a dried grease. I have no face. Eyes, nose, lips. It was all one big stain of everything that came out of me.
I spent few days there getting better. Lying in bed and drinking through a straw.
People from the area came to see me.
There was a old quack, a shaman, a doctor, a policewoman. There were children showing me with a finger and whispering something in my ear.
In the overall balance, I lost 12 kg, four nails, one tooth and some self-confidence. Although I do not know how to count it because the small nail has been going down three times.
And all this by one small scorpion. Apparently. I guess.
Here, I would like to thank @angelro
for making me aware that I miss the conclusion and end of this story.
Then, here we go.
This story, though dirty and smelly, taught me a lot.
I also hope that some of you will learn from this and will not make same mistakes.
Lonely travel, although wonderful and has many fans, carries dangers.
Thoughts as described above.
Sometimes you just can not handle it yourself. Sometimes you will be surprised by an inconspicuous looking worm or spider. Sometimes you just have bad luck.
But you can also prepare for such things.
Now, before each trip, especially lonely, I spend a lot of time on the Internet searching for all the dangers in the place where I am going. I mean all of them.
And so I am looking for poisonous reptiles, amphibians and other bugs. Carefully analyze the vegetation and look for what may surprise me.
Now I'm not going anywhere without epipen and different pills for allergies, etc.
For example - going to Alaska, I also had half a backpack of pepper spray, whistles and firecrackers. Just like that if I met a bear or something bigger then a bug.
So remember - lonely traveling is great - but as a rule you can only count on yourself.
So it is worth to increase your chances and prepare for various surprises.
It is a good thing that most travels end with pleasant memories.
These bad things can only teach and warn us something.
It depends on us what will we learn from them.