English

Before the presentations of this year's SteemFest 4 started, we used the free time in Bangkok for some activities. Especially interesting, also for our little daughter, was the visit to the "Sea Life", which is the largest aquarium in Southeast Asia according to Wikipedia.
In the context of this impressive experience we could admire various fish species, from colorful, small clownfishes to mighty, grim-looking sand tiger sharks, but also turtles, starfish, snakes, frogs, African penguins and even otters.
Even if it doesn't apply in every individual case, many aquariums are rather spacious and offer their inhabitants comparatively good living conditions.
Obviously, quite some 'corals' are just plastic imitations. However, on the one hand this may reduce the aesthetics, but on the other hand it might serve to protect the real corals in the oceans ...
The only thing that really bothered me was the unnecessary background music, which was not switched off even during various performances, such as the ray feeding, so that the pitiful speakers were sometimes difficult to understand despite their microphones.
Although it was not at all easy to take reasonably sharp photos due to the prevailing light conditions and strongly reflecting panes, I hope that you like the following pictures!
Finally, if you are reading and maybe commenting this article, what about looking at this post of my wife, @kobold-djawa, too? It's not about receiving more upvotes, but I simply don't get it that under her article I see more bot than human comments! Has STEEM already become a pure 'ghost town' or still is a human community where people read what others have to say? At least I won't be writing for bots and auto voters only! So come onnn and start reading and communicating again - not only in Discord, also on the blockchain! :)
Deutsch

Bevor die Präsentationen des diesjährigen SteemFest 4 begannen, nutzten wir die freie Zeit in Bangkok für einige Unternehmungen. Besonders interessant, auch für unsere kleine Tochter, war der Besuch des "Sea Life", dem laut Wikipedia größten Aquarium Südostasiens.
Im Rahmen dieses beeindruckenden Erlebnisses konnten wir, vom farbenfrohen, kleinen Clownfisch bis zum mächtigen, grimmig dreinblickenden Sandtigerhai, vielerlei Fischarten, aber auch Schildkröten, Seesterne, Schlangen, Frösche, Brillenpinguine und sogar Otter bestaunen.
Auch wenn es nicht in jedem Einzelfall zutrifft, sind viele Aquarien relativ geräumig und bieten ihren Bewohnern vergleichsweise gute Lebensbedingungen.
Relativ viele 'Korallen' sind offensichtlich mehr oder weniger gut gelungene Kunststoffimitate. Was jedoch einerseits die Ästhetik mindert, dient andererseits aber möglicherweise dem Schutz der echten Korallen im Meer ...
Das Einzige, was mich wirklich störte, war die unnötige Hintergrundmusik, die sogar während diverser Vorführungen, wie z. B. der Rochenfütterung, nicht ausgeschaltet wurde, sodass die bemitleidenswerten Sprecher trotz Mikrofon teilweise nur schwer zu verstehen waren.
Obwohl es aufgrund der herrschenden Lichtverhältnisse und stark spiegelnden Scheiben überhaupt nicht einfach war, einigermaßen scharfe Fotos zu machen, hoffe ich, dass euch die folgenden Bilder gefallen!
Falls ihr diesen Artikel lest und möglicherweise kommentiert, wie wäre es damit, euch auch dieses Posting meiner Frau, @kobold-djawa, anzusehen? Es geht mir nicht um mehr Upvotes, aber ich begreife es einfach nicht, dass heutzutage auf dem STEEM unter einem gut gemachten Artikel ein Großteil aller Kommentare von Bots stammt! Ist der STEEM mittlerweile zu einer reinen 'Geisterstadt' geworden oder immer noch eine von Menschen bevölkerte Community, in der Menschen lesen, was andere zu berichten haben? Ich schreibe jedenfalls nicht für Bots und Autovoter ... also fangt wieder an zu lesen und zu kommunizieren - nicht nur im Discord, auch auf der Blockchain! :)
---
The 'orange clownfish' (Amphiprion percula) lives in symbiosis with corals that protect it with their netting tentacles, while the fish is defending the corals against their enemies.
In clownfish-groups, several males live together with one bigger female. If it dies, the largest male changes sex and becomes a female.
Der 'Echte Clownfisch' (Amphiprion percula) lebt in Symbiose mit Korallen, die ihn mit ihren nesselnden Tentakeln schützen, während er sie wiederum gegen ihre Feinde verteidigt.
In Clownfischgruppen leben mehrere Männchen mit einem sie an Größe übertreffenden Weibchen zusammen. Stirbt es, wechselt das größte Männchen das Geschlecht und wird zum Weibchen.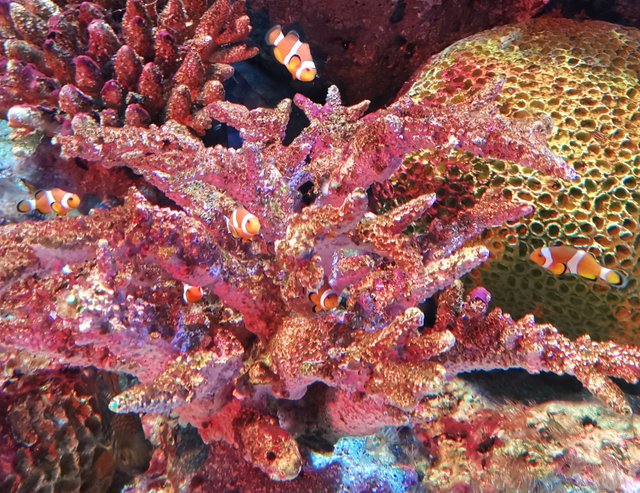 ---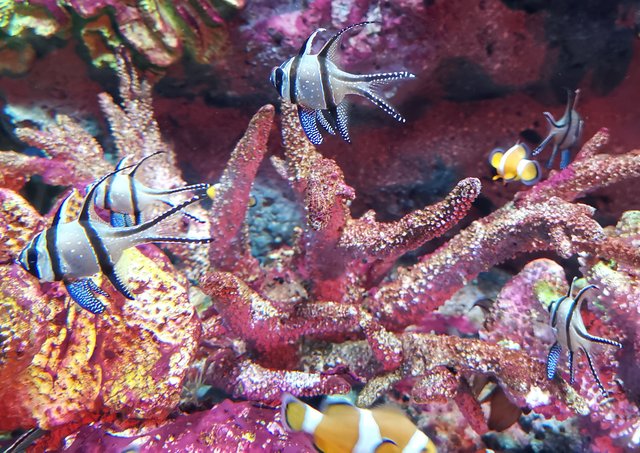 ---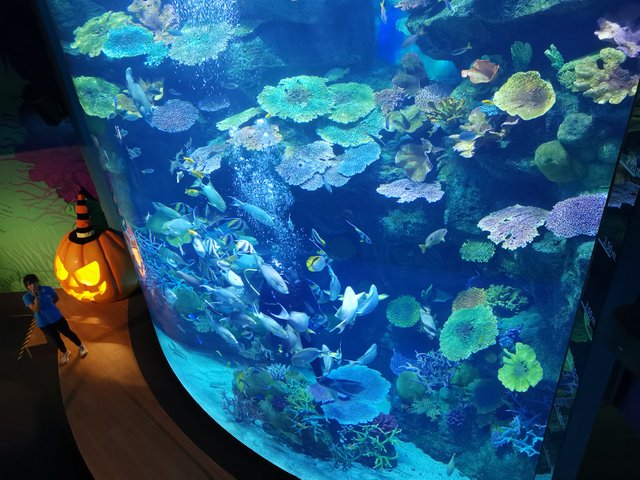 ---
| | |
| --- | --- |
| The 'red lionfish' (Pterois volitans) is very beautiful to look at, but at the same time dangerous, because the prickly rays of its dorsal fin contain a strong poison. | Der 'Pazifische Rotfeuerfisch' (Pterois volitans) ist zwar 'pazifisch', aber keineswegs pazifistisch, denn die stacheligen Strahlen seiner Rückenflosse enthalten ein starkes Gift. |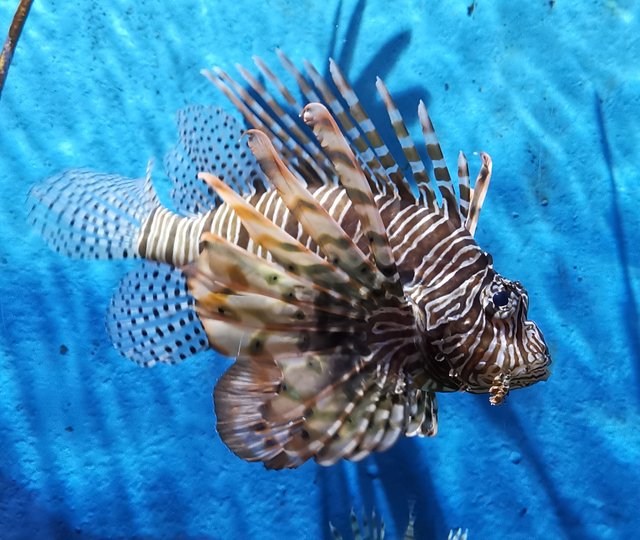 ---
| | |
| --- | --- |
| In contrast to the moray eels (family Muraenidae) I had seen before, this species is very colourful. | Im Gegensatz zu den Muränen (Familie Muraenidae), die ich bisher gesehen hatte, ist diese Art sehr farbenfroh. |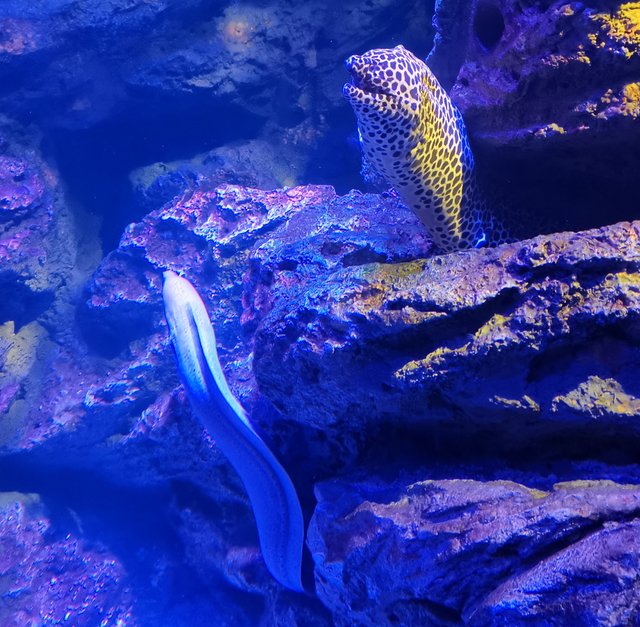 ---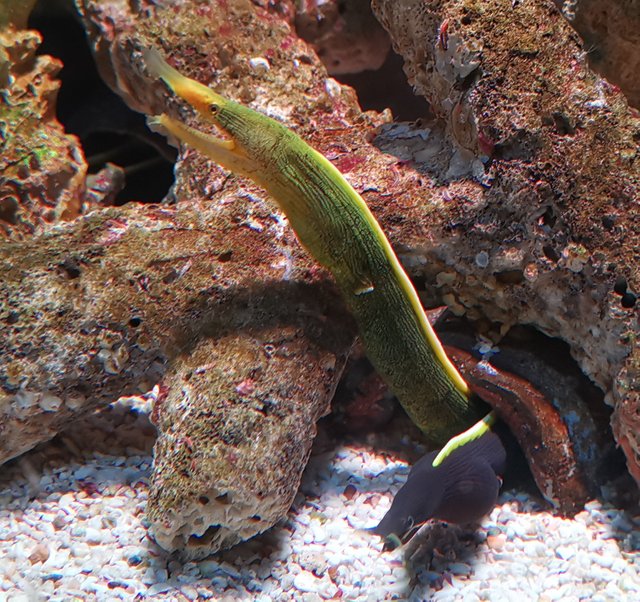 ---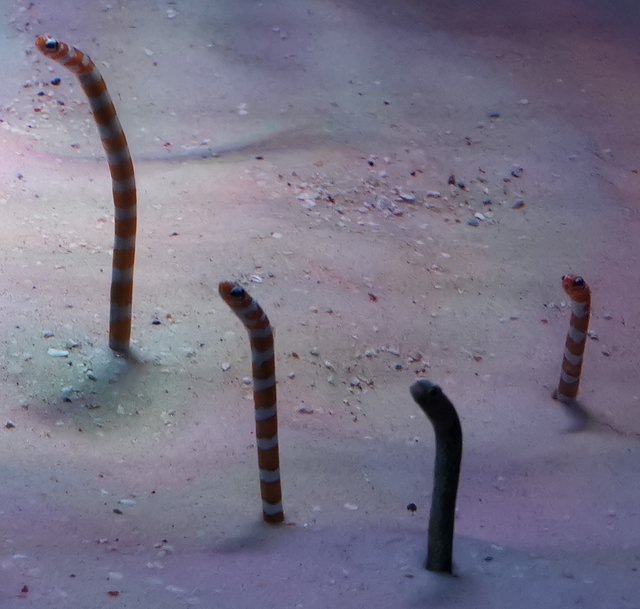 ---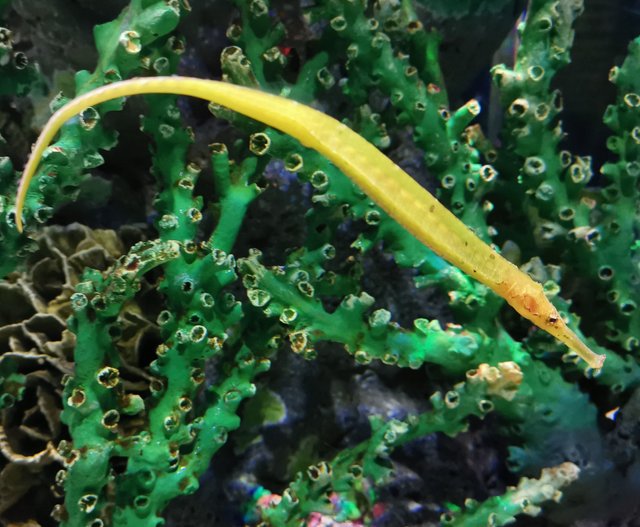 ---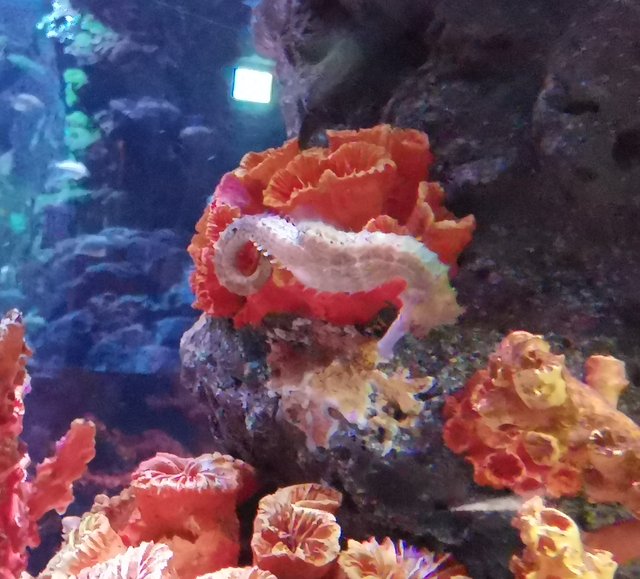 ---
| | |
| --- | --- |
| The 'Japanese spider crab' (Macrocheira kaempferi) reaches a mass of nearly 20 kg and is the largest crab species existing today and at the same time the largest arthropod. | Die 'Japanische Riesenkrabbe' (Macrocheira kaempferi) erreicht eine Masse von fast 20 kg und ist die größte heute existierende Krebsart und zugleich größter Gliederfüßer. |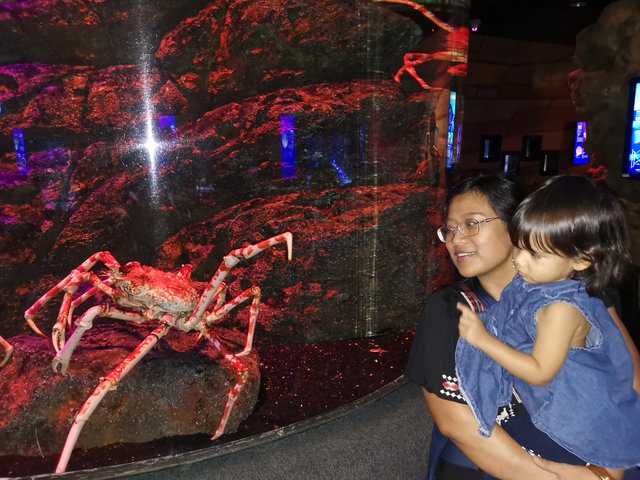 ---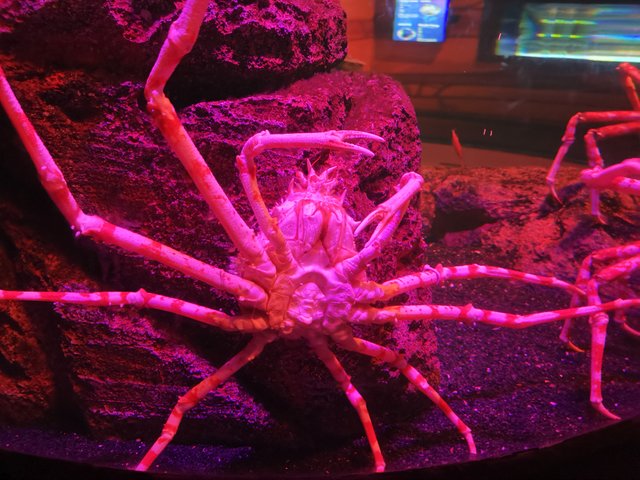 ---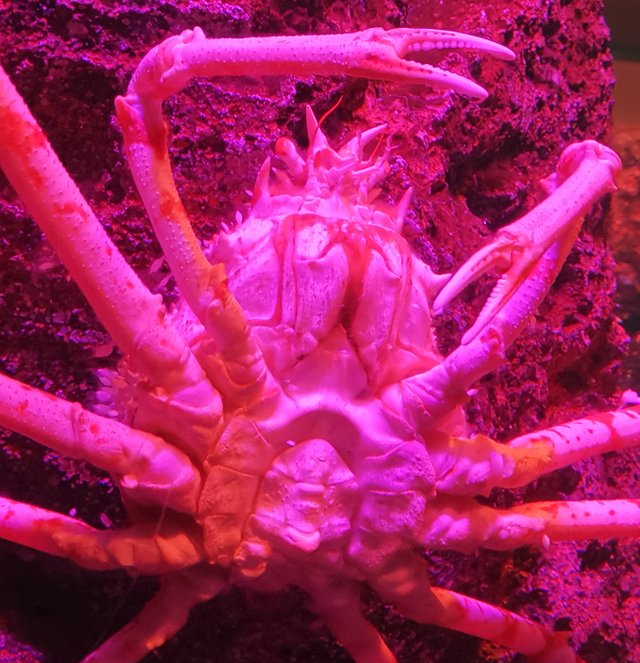 ---
The 'Giant Pacific octopus' (Enteroctopus dofleini).
You want to know more about the intelligent cephalopods? Just read my article ... :)
Die 'Pazifische Riesenkrake' (Enteroctopus dofleini).
Ihr wollt mehr über die intelligenten Cephalopoden erfahren? Lest einfach meinen Artikel ... :)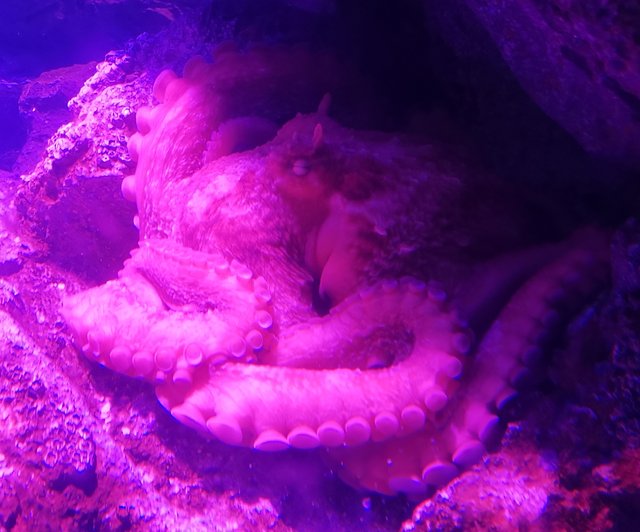 ---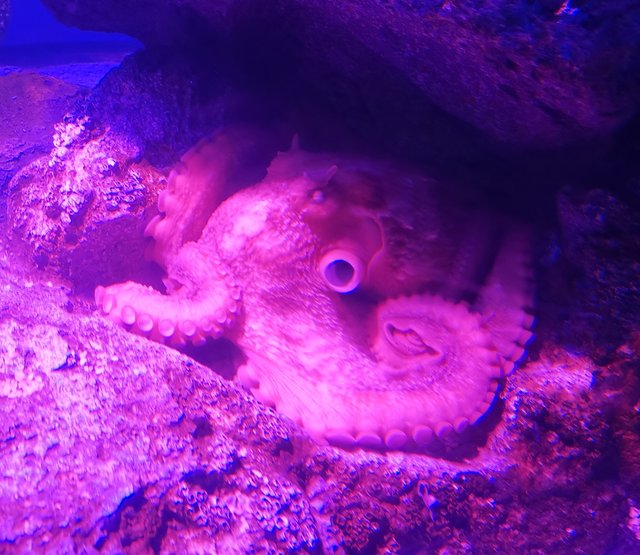 ---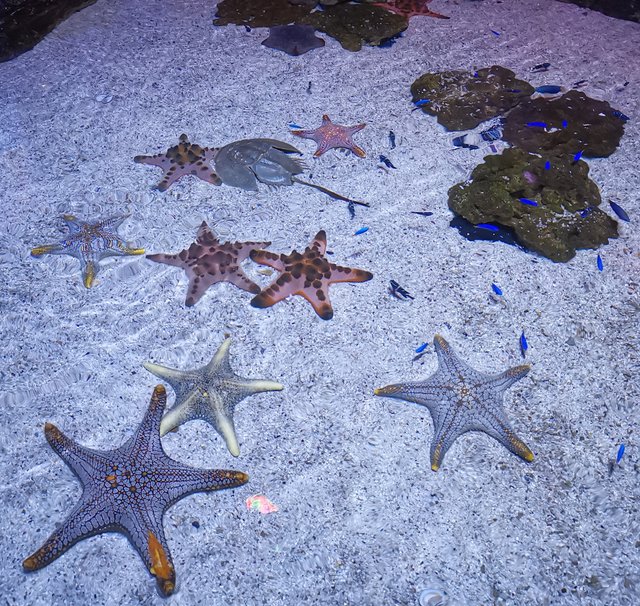 ---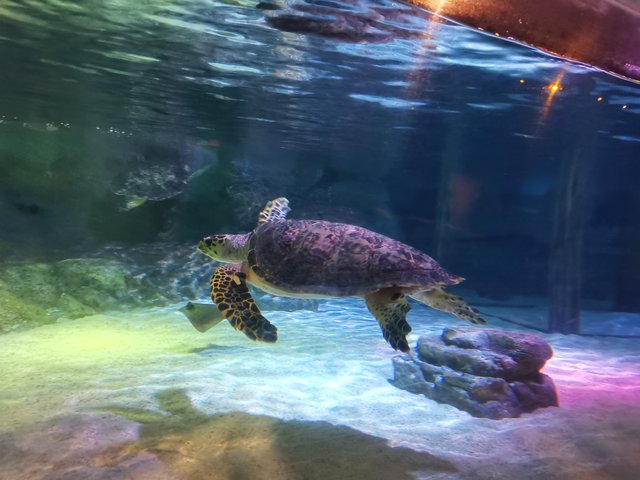 ---
As mentioned, the aquarium hosts not only fishes. Here you see for example an 'Argentine horned frog' (Ceratophrys ornata).
Wasn't there a similar looking card in the new Untamed edition of Splinterlands? :)
Wie erwähnt, beherbergt das Aquarium nicht nur Fische. Unten seht ihr beispielsweise einen 'Argentinischer Schmuckhornfrosch' (Ceratophrys ornata).
Gab es da nicht eine so ähnlich aussehende Karte in der neuen Untamed-Edition von Splinterlands? :)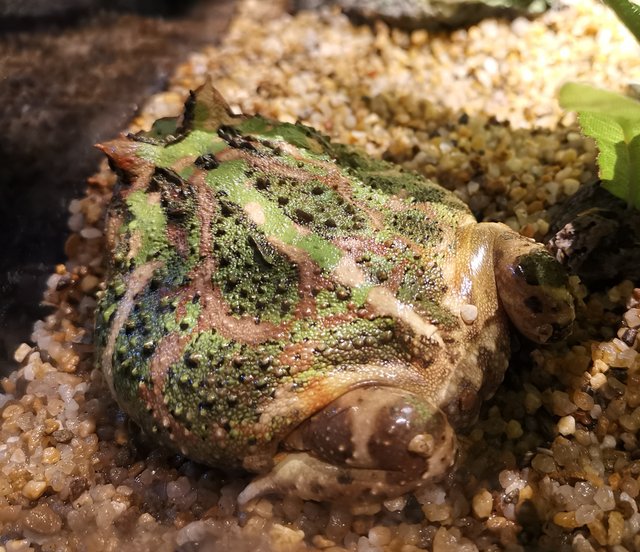 ---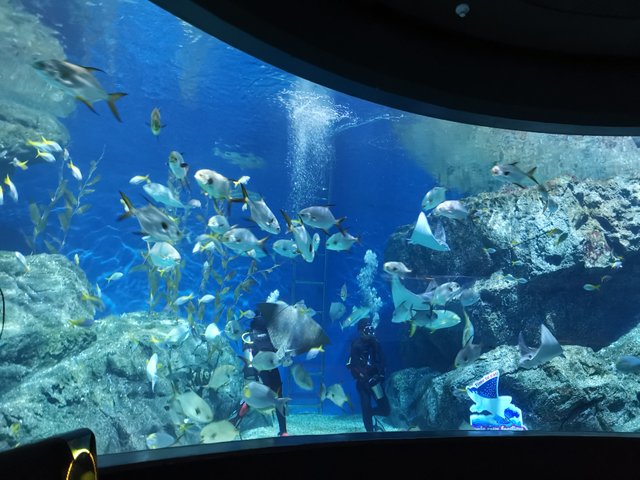 ---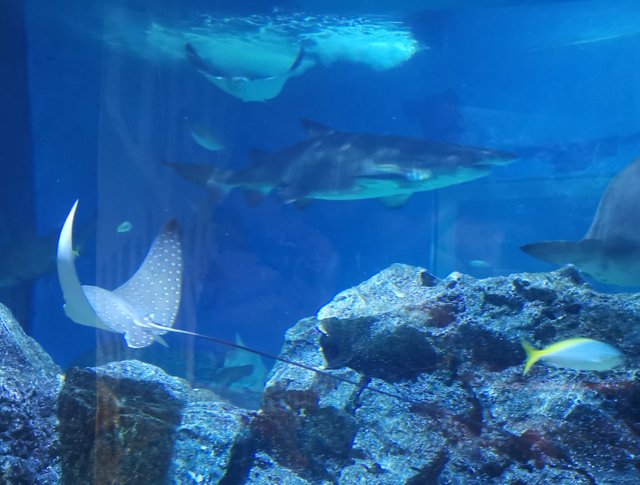 ---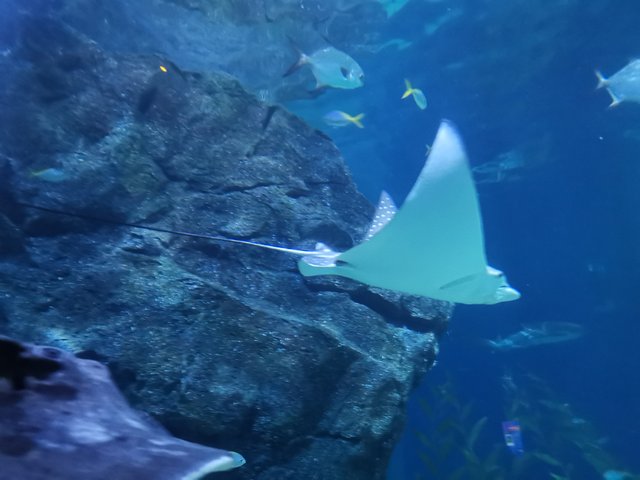 ---
| | |
| --- | --- |
| The 'largetooth sawfish' (Pristis pristis) can grow over 5 metres long and up to 30 years old. | Der 'Gewöhnliche Sägefisch' (Pristis pristis) kann über 5 Meter lang und bis zu 30 Jahre alt werden. |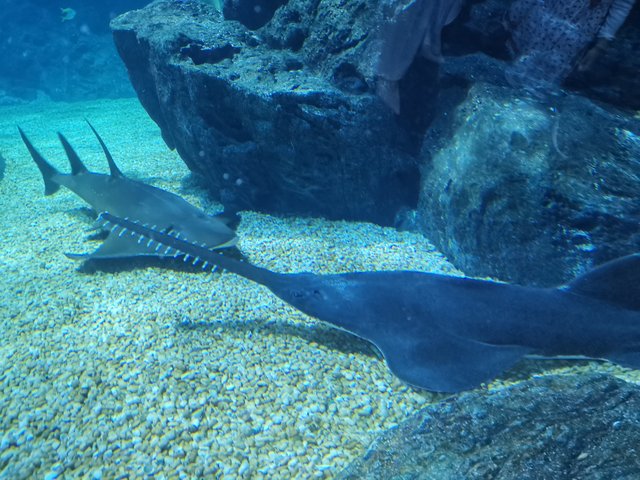 ---
| | |
| --- | --- |
| If one walks through the 'ocean tunnel', one sees the impressive fish partly from below. | Geht man durch den 'Ozean-Tunnel', sieht man die eindrucksvollen Fische teilweise von unten. |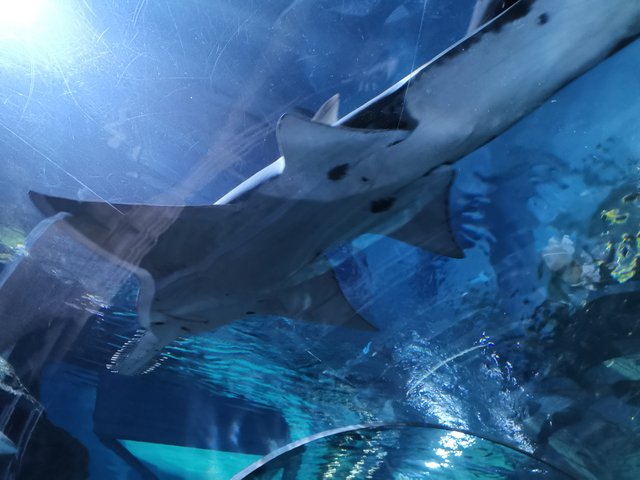 ---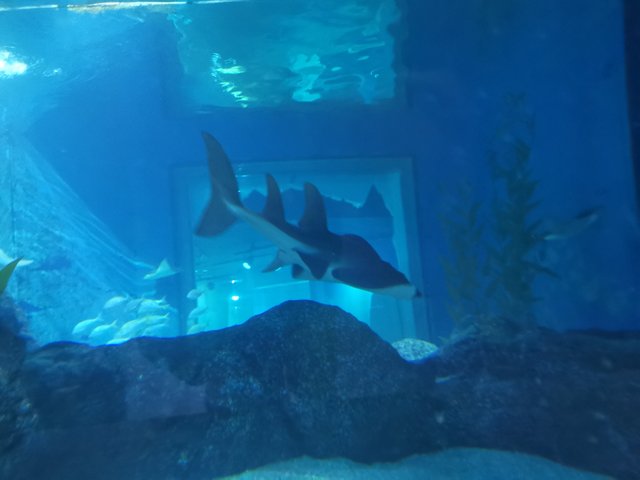 ---
| | |
| --- | --- |
| Finally some pictures of the impressive 'sand tiger sharks' (Carcharias taurus). It is a fascinating experience to see them slowly and majestically floating by. | Zum Abschluss noch einige Bilder der imposanten 'Sandtigerhaie' (Carcharias taurus). Es ist ein faszinierendes Erlebnis, sie langsam und majestätisch an sich vorbeischweben zu sehen. |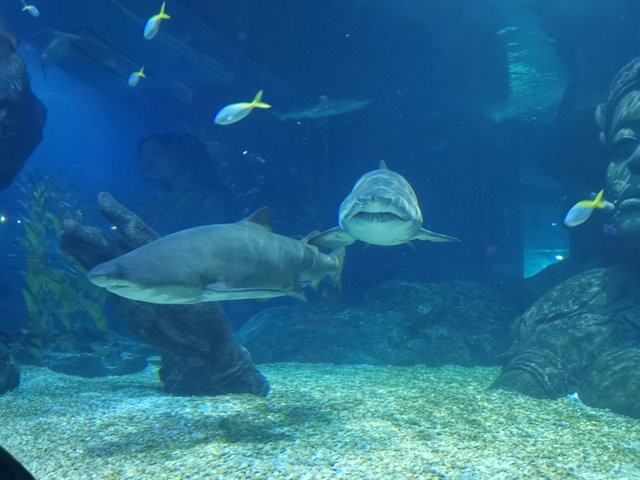 ---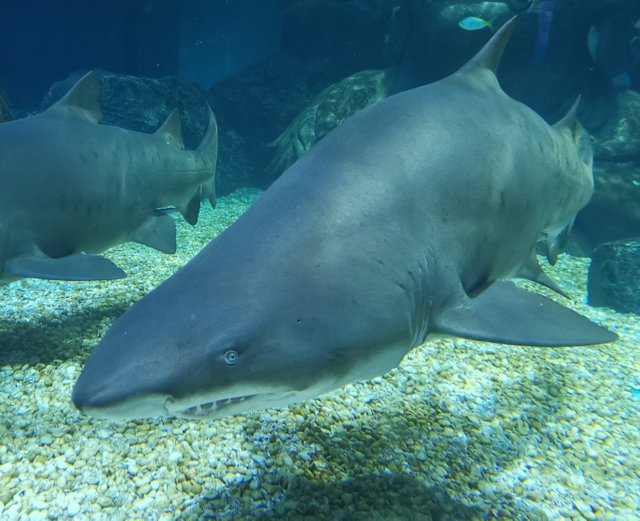 ---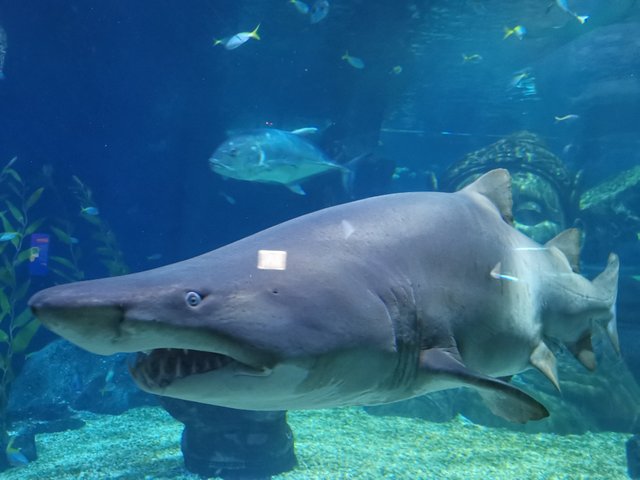 ---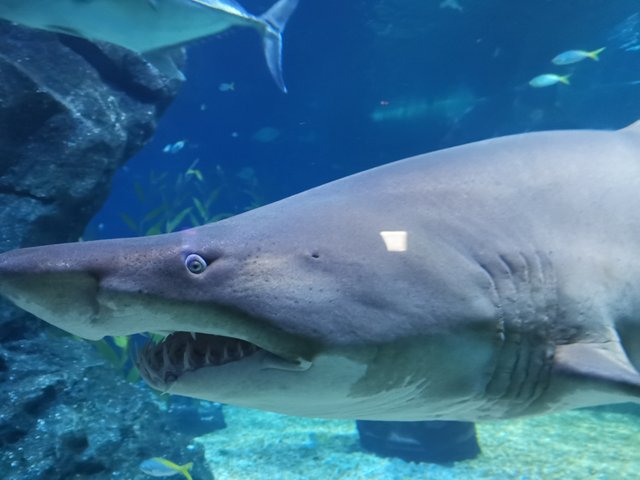 ---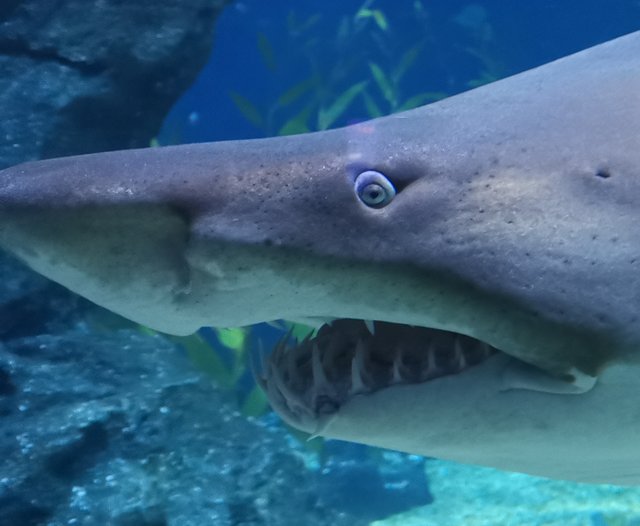 ---