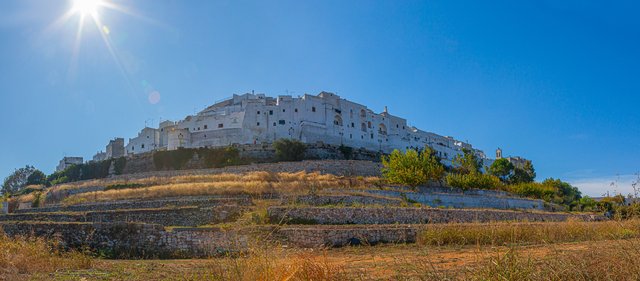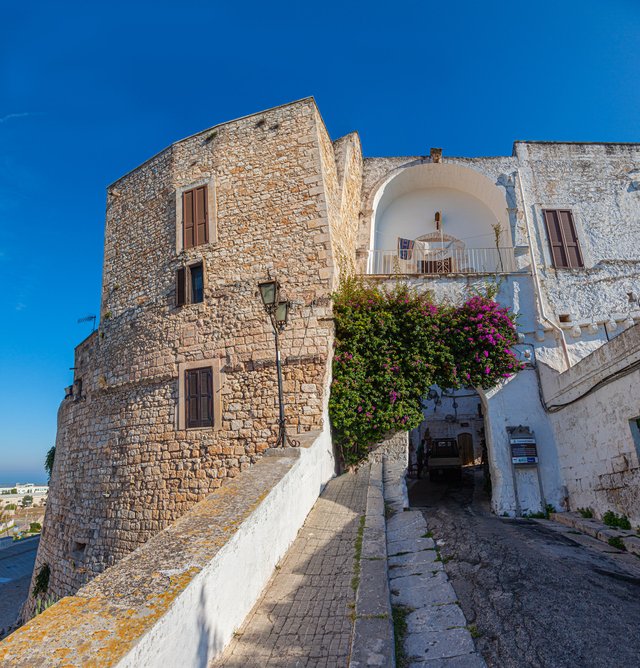 Ostuni
This town not far from the seashore was advised to visit me back in Russia. I have one friend, an Italian, living in Russia. He said that it was necessary to call into this place and I decided to fulfill this mandate without fail.
We arrived in Ostuni in the early morning. We did not know what awaited us, because we were not at all prepared for a visit to this place.
I only knew that this city was called the white city. And for sure. Already literally at the entrance, looking for a parking place, I saw white walls.
They are white because they are covered with lime. Lime is a chemically active element that prevented the spread of various infections. It is a kind of protection against disease.
In addition, the view of the city becomes bright and festive.
We made a small mistake, immediately drove to the very center. It would be necessary to go around the city and take pictures of the views against the background of the sea, but what was - was.
I found free parking almost on the border of the historical zone of the city. You parked and went on a tour of the white city.
The old city, the heart of Ostuni, is a true artistic and architectural masterpiece. The old town is called by the locals "La Terra". Tangled streets lead to the very top of the hill to the cathedral.
The most famous symbol of the city is the cathedral. It was built in the fifteenth century in the late Gothic style. A special distinguishing feature of the cathedral is the pink window on the central portal. The window is interesting with a magnificent fine work of 24 rays.
A walk around the city captured us with its views of the white city. Very narrow streets and white walls around, flowers and a blue sky above your head - it is very beautiful and creates an amazing feeling of beauty.
During the walk, I realized we went to the walls of the old fortress and from this wall we saw the sea. Blue water and the same color sky over the sea. The bright sun and the full head of impressions. White city of Ostuni.