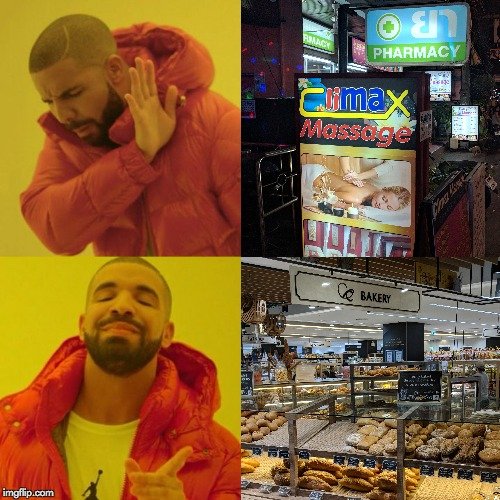 imgflip quality is a pain in the a..
I'd sum up the entire stay with above picture.
Don't get me wrong! If you're either a sex tourist, white trash package tourist, mindless self-indulger or only stay in your 5-star restort, bloody hell, that's your place to go!
But I'll go enjoy myself somewhere else.
In my honest opinion it's really a shame what western tourism did to the Thai culture in this city. I totally understand every Thai person in this particular city who doesn't like farangs.
Mit dem Bild oberhalb würde ich den Aufenthalt zusammenfassen.
Versteht mich nicht falsch! Wenn du ein Sextourist, RTL-All-Incluse-Tourist oder professioneller Abschießer bist bzw. dich nur in deinem 5-Sterne Resort aufhältst, ja halleluja, dann ist das genau der richtige Ort für dich!
Aber ich für meinen Teil machs mir erst mal woanders gemütlich.
Ganz ehrlich gesagt ist es eine Frechheit, was der westliche Tourismus mit der thailändischen Kultur in dieser Stadt gemacht hat. Ich verstehe jeden Thai in dieser Stadt, der einen Grant auf Farangs hat.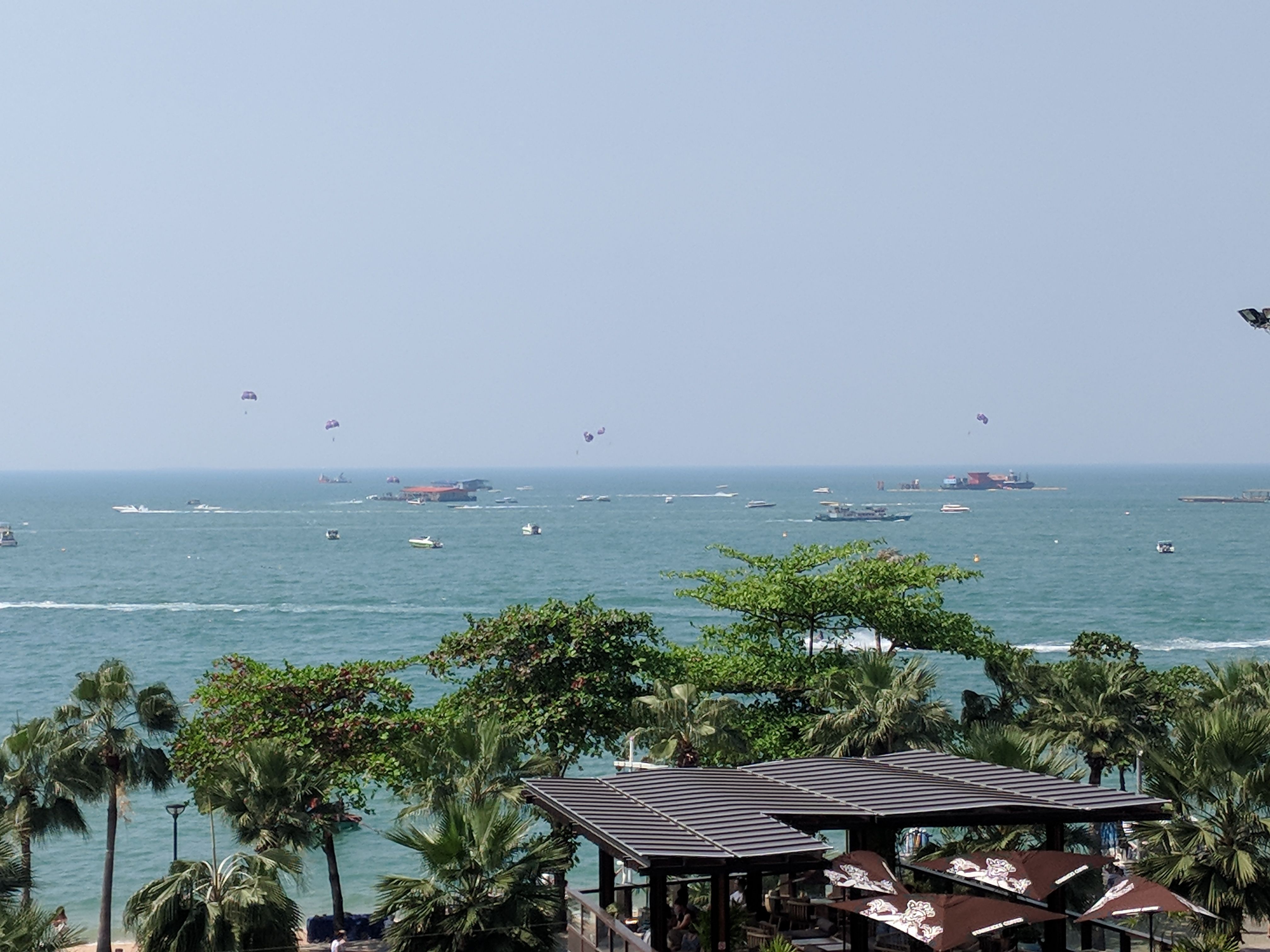 There were 8 parasailers in total at one time. No more comment.
Good for me though!
Since I couldn't move my arms because of the tendonitis and wasn't interested in Pattaya I spent most of my time at the hostel. So I was studying spanish, listening to a great audiobook a friend recommended, dealt with my life goals and thought about a concept for my writing in general and a website I've been thinking about for a while.
Allerdings gut für mich!
Nachdem ich meine Arme aufgrund der Sehnentzündung nicht bewegen konnte und sowieso keinen Bock auf Pattaya hatte, war ich die meiste Zeit im Hostel. Also hab ich Spanisch gelernt, ein großartiges Hörbuch gehört, das mir ein Freund empfohlen hat, mich mit meinen Lebenszielen auseinandergesetzt und ein Konzept für meine Schreiberei und eine Website (die mir schon länger im Hirn rumgeistern) durchgedacht.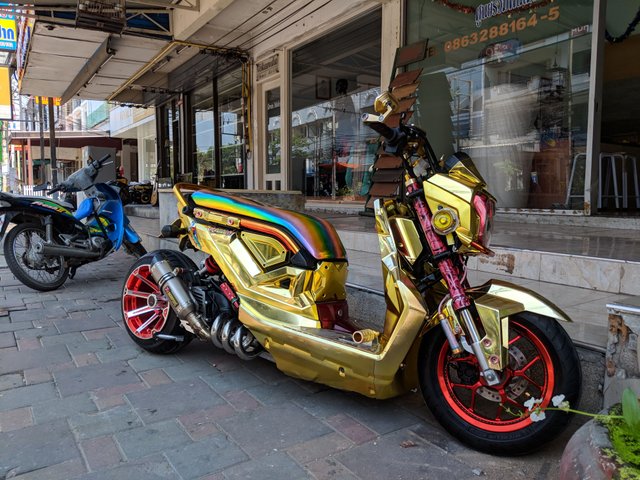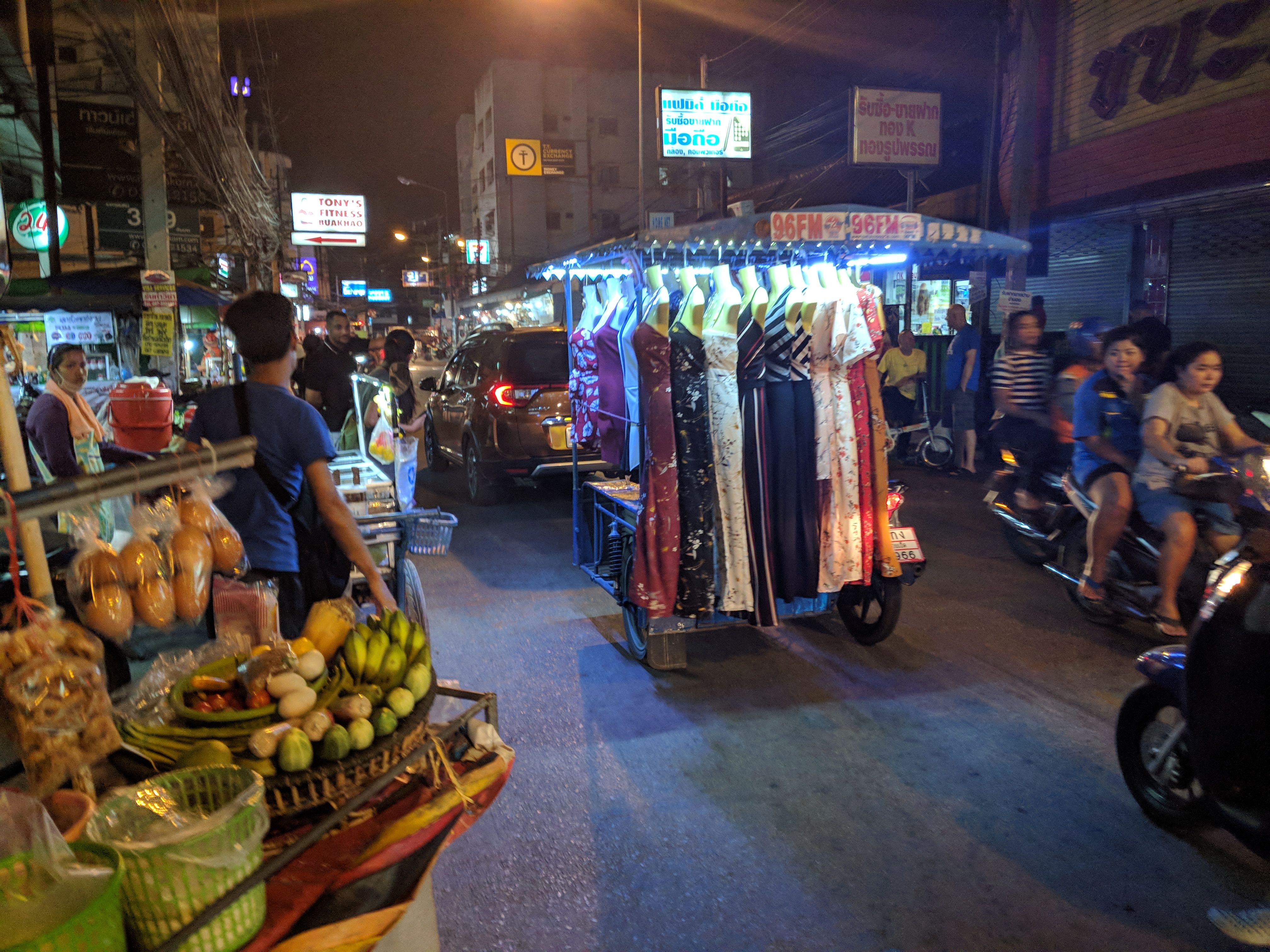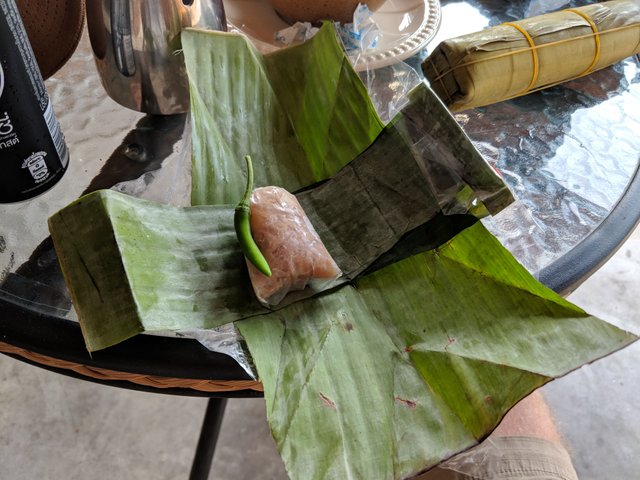 wait... that was weird. This one was better: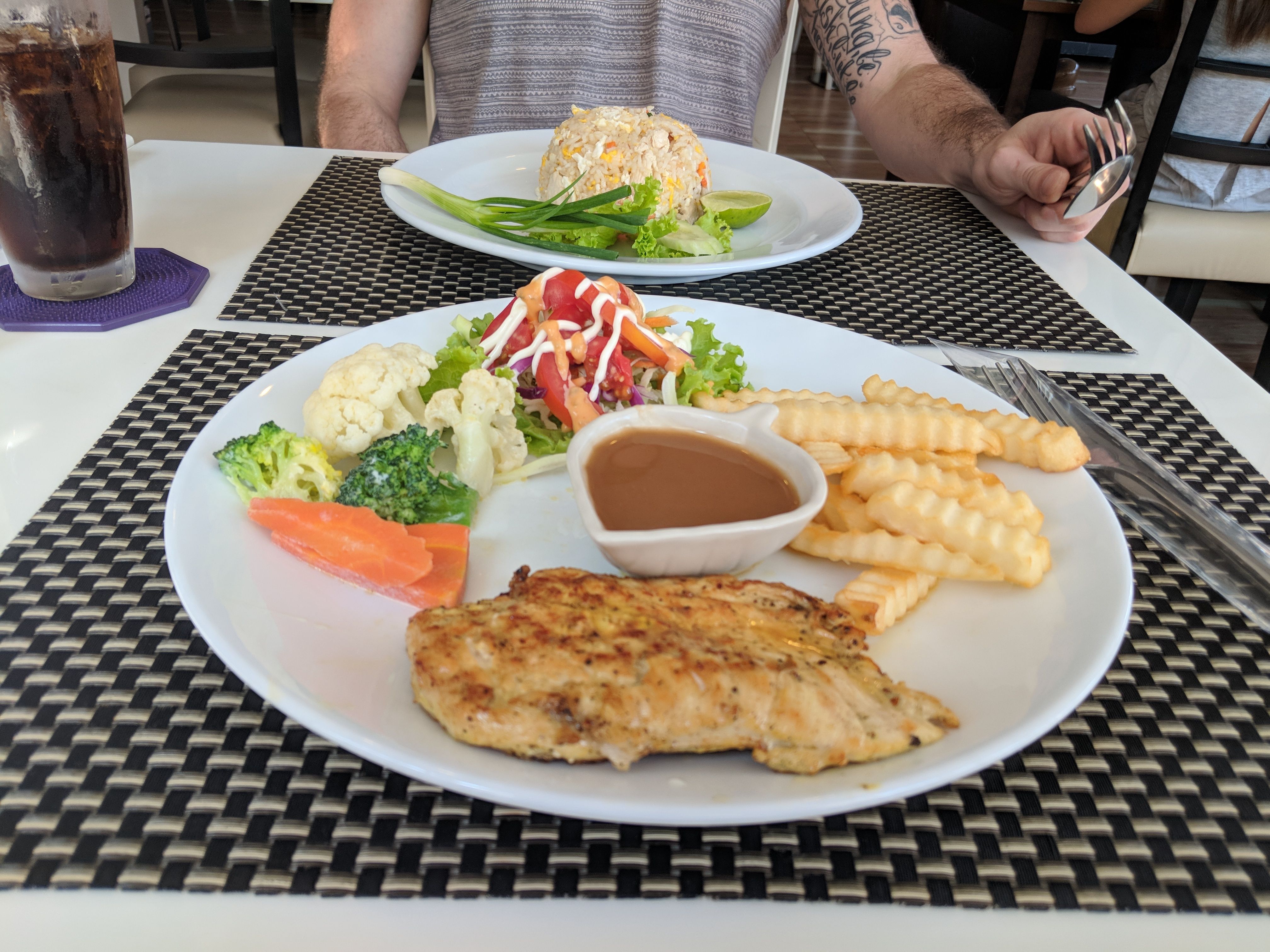 Not everything in Pattaya was bad. There were some cool things to see and if you spend a lot of money, you can surely have fun. It was time to move on again though.
We got in contact with a nice local which would bring us down to our next destination for gas money only. She herself was Thai and never was where we are going. Win-win. Plus Flo and me both were able to drive on the left side finally! :D
(Yeah, yeah. We both got international drivers licenses. Don't worry.)
Nicht alles in Pattaya war schlecht. Es gab schon einige coole Sachen zu sehen und wenn man ne Menge Geld ausgibt, kann man bestimmt seinen Spaß haben. Jetzt war es auf jeden Fall Zeit zum Weiterreisen.
Wir haben ne liebe Einheimische kennengelernt, die uns nur für Spritgeld zur nächsten Destination fährt. Sie ist selbst Thai und war noch nie dort, wo wir hinfahren. Win-win. Zudem konnten Flo und ich endlich mal auf der linken Seite fahren! :D
(Jaja. Wir haben beide internationale Führerscheine. Keine Sorge.)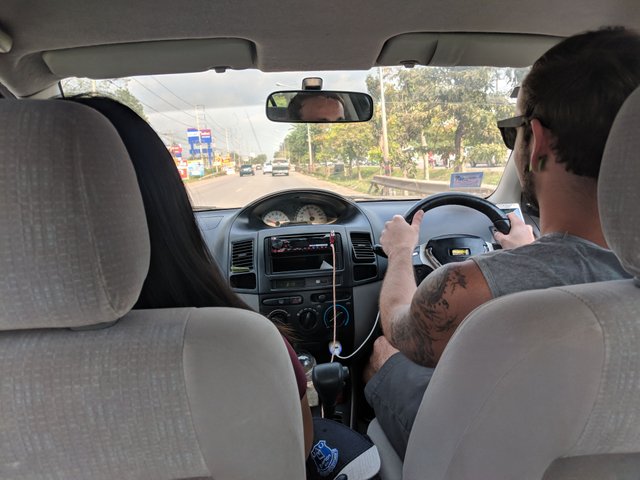 Koh Chang - Elephant Island
We're heading down to a real beauty in the south-east, close to Cambodia. It's about 3,5 hours ride until we get to the ferry.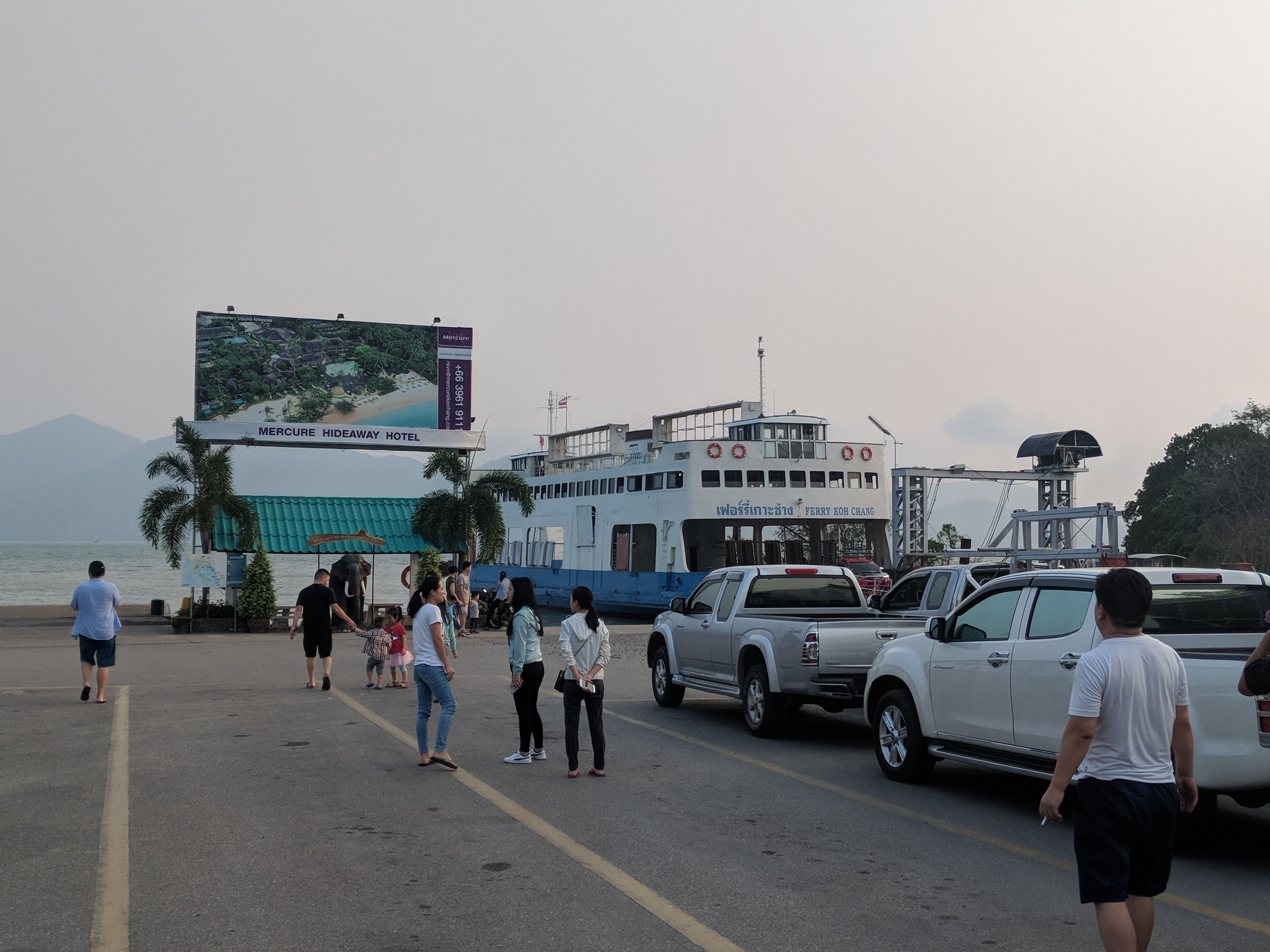 As we get onto the ferry we're already quite hungry. "No hot food! Have sandwich!" "Ok, tuna sandwich please." Needless to say it was gross, haha! The tuna spread was sweet, the bread was sweet. What the heck. :D
Ziemlich hungrig steigen wir auf die Fähre. "Kein warmes Essen! Habe Sandwich!" "Ok, Thunfisch Sandwich bitte." Klarerweise wars grauslig, haha! Der Thunfischaufstrich war süß, das Brot war süß. Was zum Geier. :D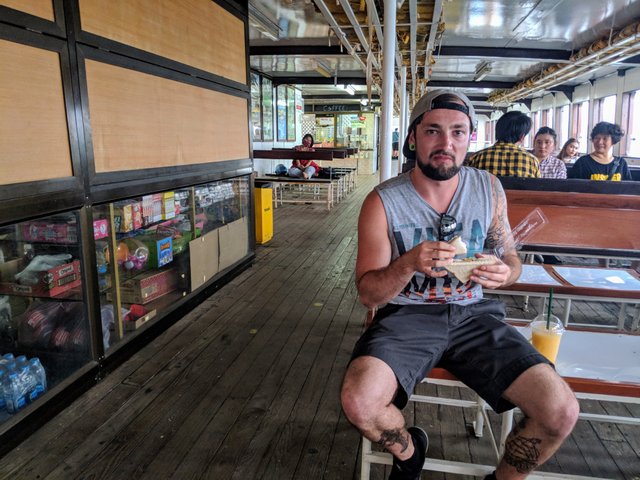 Here you can see HOW disgusting it was :D
Setting over I can already sense it. This. is. it. Looks like a jungle from the ferry. Oh yeah!
Wir kommen der Insel näher und ich kann es förmlich spüren. Das. Ist. Es. Sieht aus wie ein Dschungel. Oh yeah!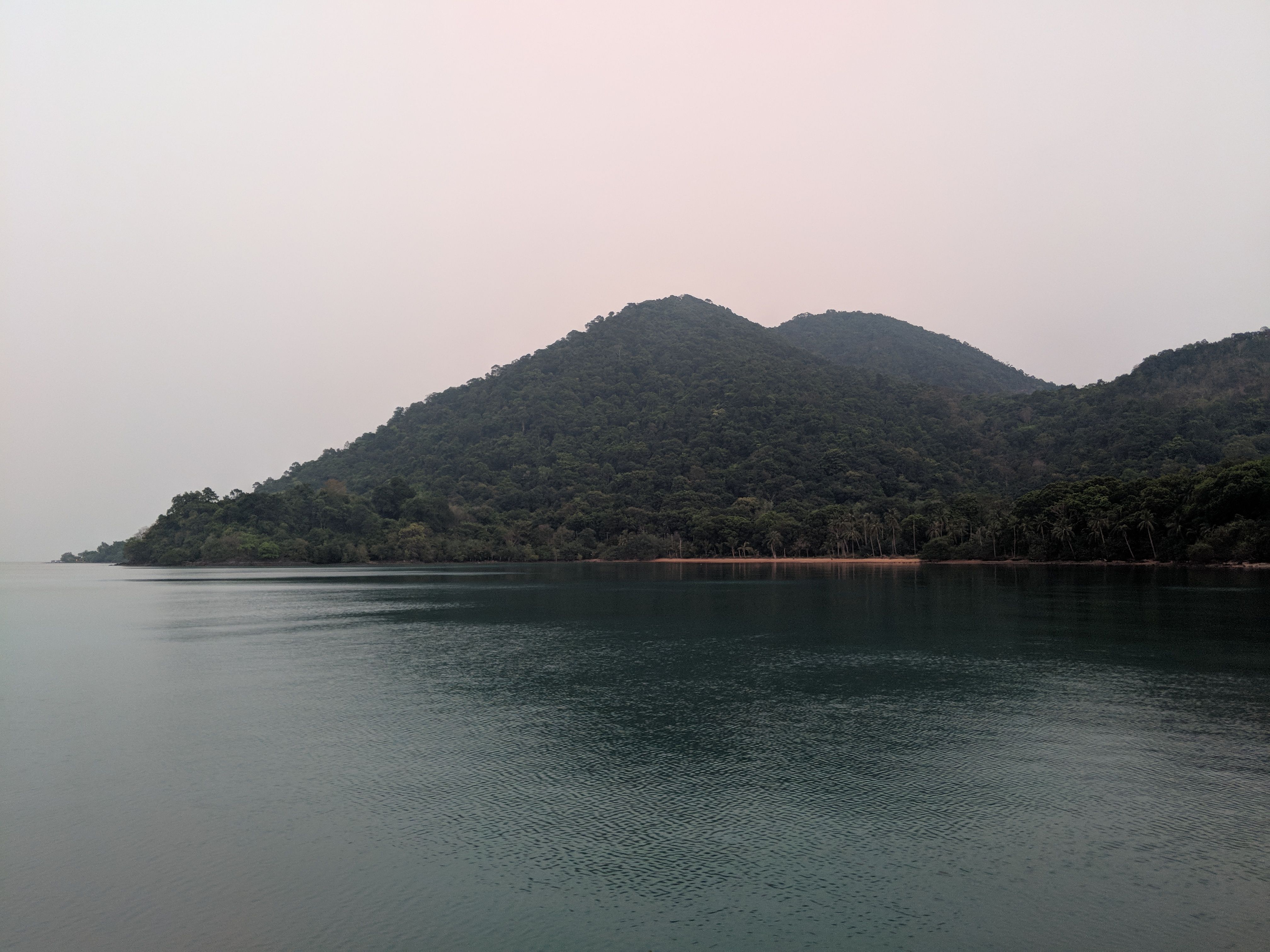 After having some actual food on the island…
Nachdem wir uns richtiges Essen auf der Insel gegönnt haben...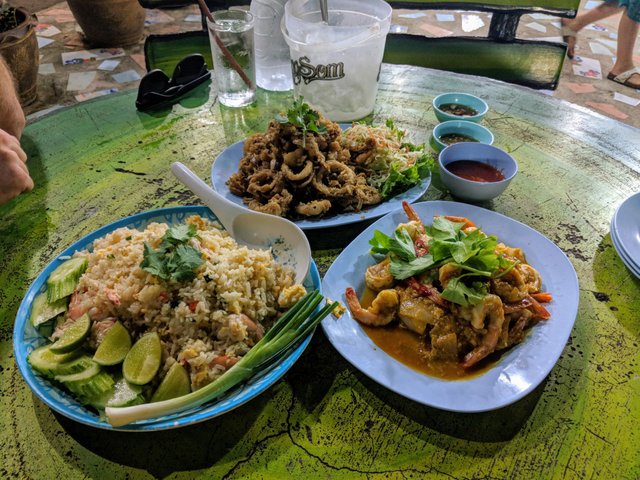 ...we proceed driving to the accommodation. And that was a task of it's own. After driving across the island for one hour and the car overheating one time we couldn't find it. We end up at a dirt road with broken signs. Suddenly feels like a bad horror movie.
We head back to civilization. Talk to locals. Oh, it's said dirt road. We finally get there after roughly 9 hours of travelling in the car. Amen.
Looks like it was worth it:
...sind wir zur Unterkunft weitergefahren. Das war erst was. Nachdem wir für eine Stunde quer über die Insel gefahren sind und das Auto dabei einmal überhitzt ist, konnten wir sie nicht finden. Wir kommen schließlich zu einer erdigen Straße mit kaputten Schildern. Fühlt sich plötzlich wie ein Horrorfilm an.
Zurück zur Zivilisation. Mit Einheimischen sprechen. Oh, es ist die erdige Straße. Nach einer einstündigen Autofahrt kommen wir schließlich an. Amen.
Es sieht aus, als wäre es das wert gewesen: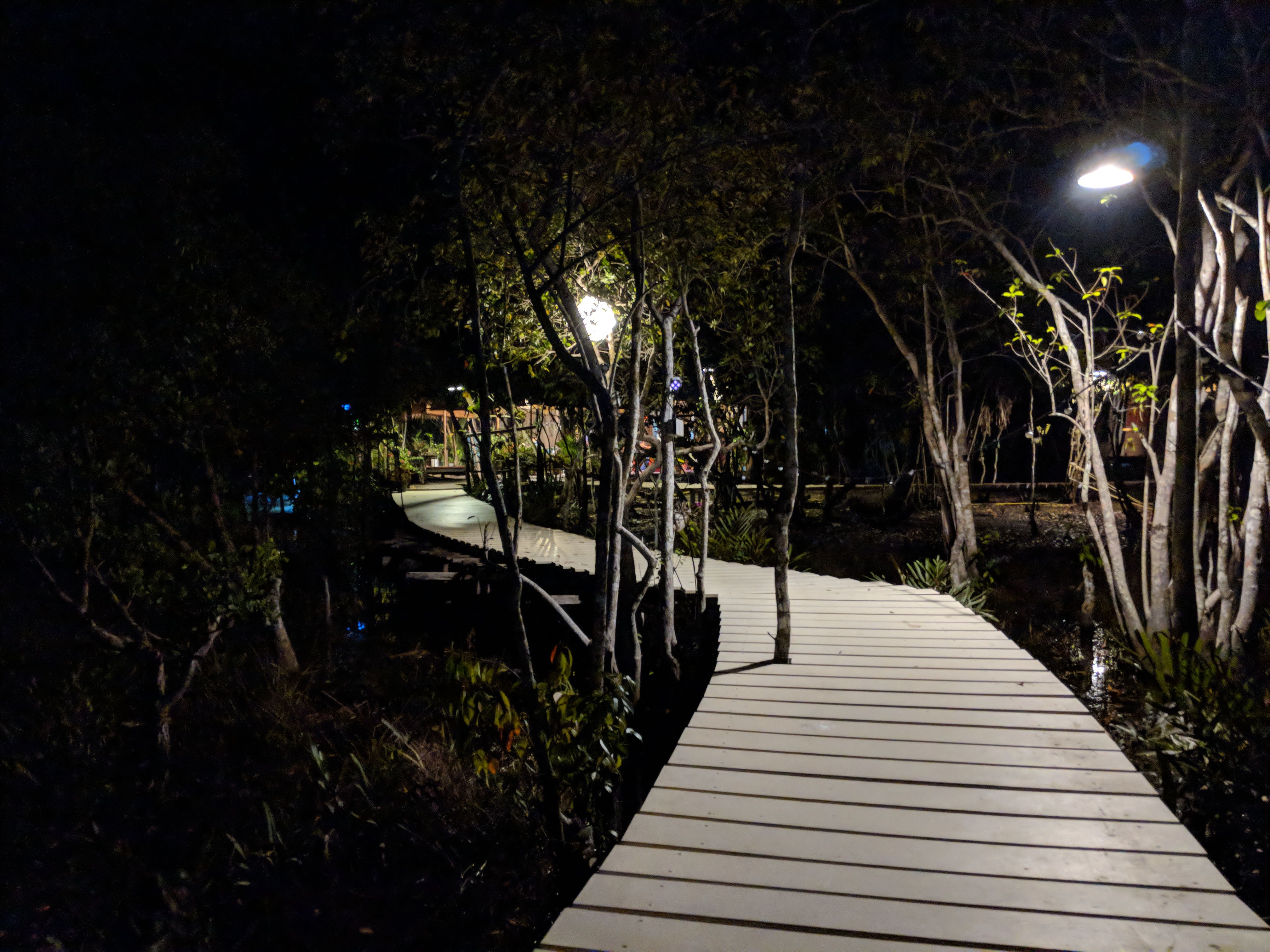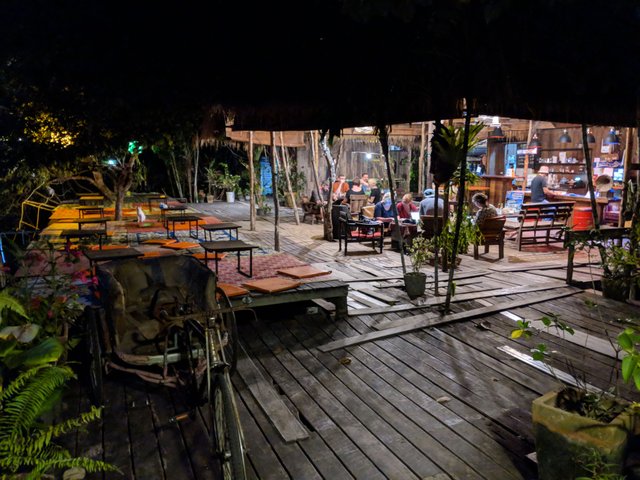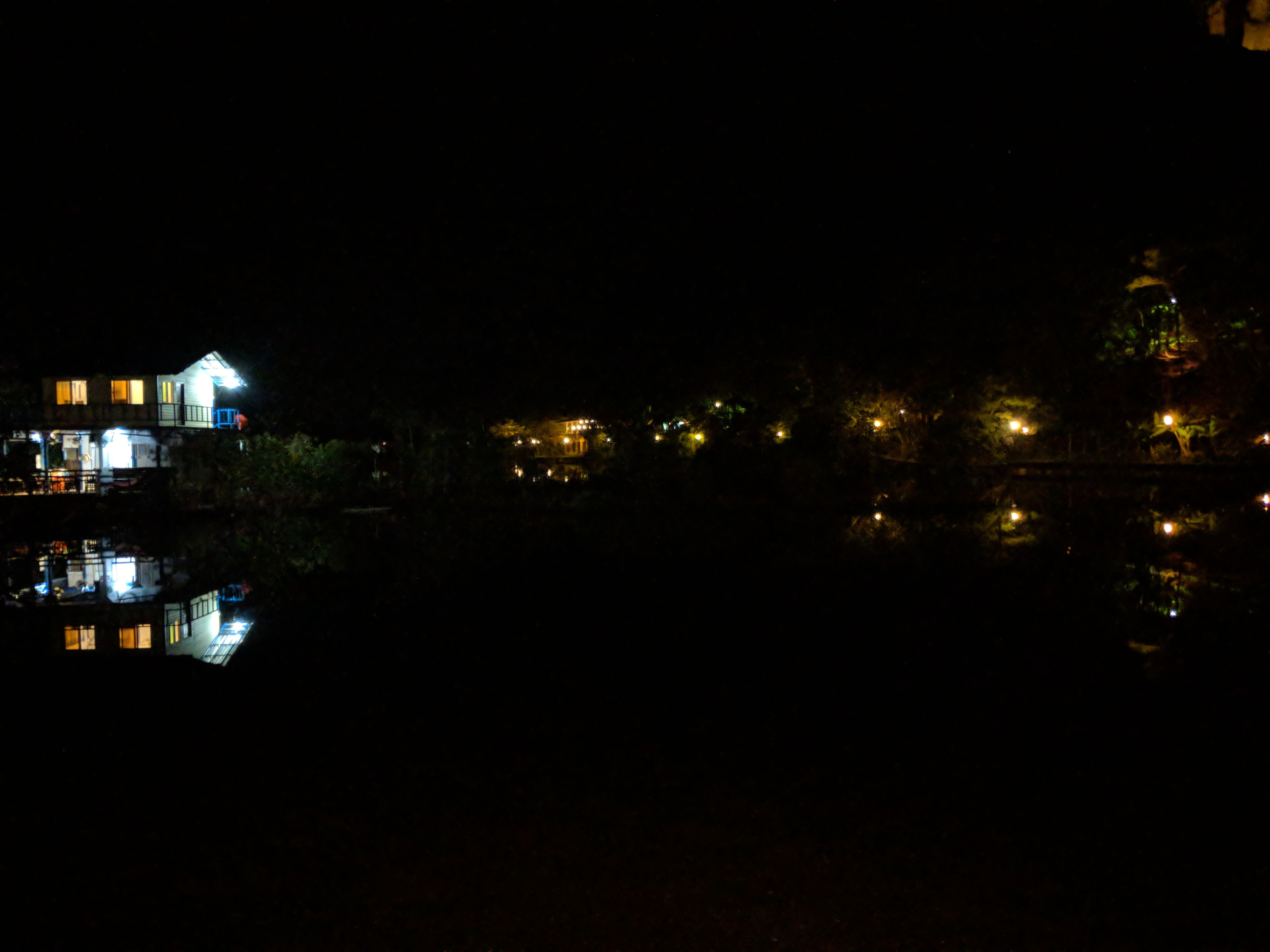 Good night everybody! Tomorrow I'll let you see more of that beautiful island and come up with an announcement. :)
Gute Nacht allerseits! Morgen lass ich euch mehr von dieser wunderschönen Insel sehen und was Bekanntgeben. :)
Übrigens @sportfrei - danke für die Tipps! Hab mal ein Leo auf dich gehoben - das Chang wird's dann gleich am Lonely Beach drüben, hehe.
---
Here you saw my personal opinion of that Pattaya I couldn't befriend.
I'm happy to tell you that another Steemian (@travelshots) made an effort looking at Pattaya the other way around.
Personally I think he did an awesome job looking for and presenting the treasures of Pattaya!
You find his posts right here:
"Disgusting PATTAYA" - Part 1 [EN/DE]
"Disgusting PATTAYA" - Part 2 [EN/DE]
"Disgusting PATTAYA" - Part 3 [EN/DE]
Das hier war meine persönliche Meinung zu dem Pattaya, mit dem ich mich nicht anfreunden konnte.
Da freue ich mich, dass ein anderer Steemianer (@travelshots) sich bemüht hat, Pattaya von der anderen Seite zu beleuchten.
Wie ich finde hat er wunderbare Arbeit dabei verrichtet, die schönen Seiten von Pattaya zu finden und zu präsentieren.
Du findest seine Artikel hier:
"Disgusting PATTAYA" - Part 1 [EN/DE]
"Disgusting PATTAYA" - Part 2 [EN/DE]
"Disgusting PATTAYA" - Part 3 [EN/DE]
---
Hope you had a good read! Always happy about feedback.
Hoffe, du hattest Spaß beim Lesen! Bin immer offen für konstruktive Kritik.
More pictures on instagram: https://www.instagram.com/yourmateyo ☺
Guess what? I've finally got a solution for listing the historical posts!! (work in progress; just figured it's mobile cancer. working on a solution/the actual site.)
You find every other blog post in chronological order right here: http://yourmates.world
All the best,
yourmate :)