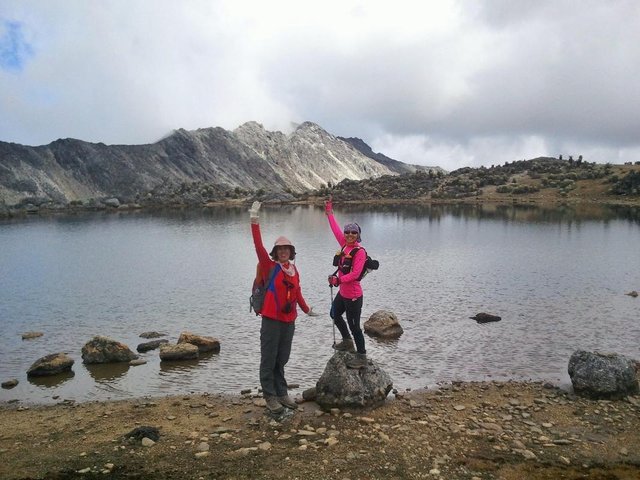 Hi, dear steemians, lovers of travels and nature:
I made this photo of these two beautiful friends and trekking mates near one of the many lagoons we find on the way to the heights of the Sierra La Culata National Park, which is in the Venezuelan Andes, in the state of Merida, during a brief pause on the way before reaching the top of the Las Verdes peak, 4,570 meters above sea level, from where you can see three beautiful emerald green lagoons, which is the reason for the name of the peak. This, which is in the photo is not green but gray because it reflects the color of the sky.
This time I was part of the excursion organized by the Centro Excursionista Caracas (Caracas Excursionist Center) during which we had Francisca Pena as captain and Yraly Camargo as guide, who has climbed peaks from all continents. With the leadership of this two women, and a mayority of female walkers, we were able to reach three peaks, the Piedras Blancas (White Stones), also known as Misamán, its aboriginal name, which with its 4.748 meters above sea level is the fifth highest peak in Venezuela, the Las Verdes (The Greens) peak and the Los Duendes (The Elves) peak, all located within the area of the national park.


Thank to @kalemandra by creating and curating #Colorchallenge.
Here is the weekly agenda:

#MondayRed
#TuesdayOrange
#WednesdayYellow
#ThursdayGreen
#FridaySkyblue
#SaturdayIndigo
#SundayPurple


100% original content. Texts and picture are of my intellectual authorship.
It would be a great pleasure for me if you visited my blog--
@yomismosoy