FLIXBUS REVIEW 2019 / ERFAHRUNGSBERICHT
Der Flixbus Alptraum 2019
Hier die Geschichte, die das wahre Gesicht eines Konzerns wiederspiegelt, der sich in keinsterweise um seine zahlenden Kunden kümmert, und in keinsterweise Kundenorientiert und unternehmerisch handelt.
Ich bin anfang Januar von Offenburg nach Berlin mt dem Flixbus gereist. In Frankfurt war ein Zwischenstopp mit ca 3h Aufenthalt.
Beim Einsteigen in den 2 Teil der Reise hat sich folgendes Szenario abgespielt.
Nach ca 1-1,5 Fahrtzeit von Frankfurt entfernt, hielt der Bus an einem Autohof. Bevor ich ausstieg, hab ich den Busfahrer gefragt, ob es zeitlich passt in den MacDonald zu gehen. Darauf hin meinte er ja, 15 Minuten.. Ich bin dann im besagten MCD zuerst auf die Toilette, bevor ich mich dann an die Bestellung gemacht habe - und siehe da….
Derselbe Busfahrer steht mit mir in der Reihe und hat sich auch was zu Essen bestellt. Nachdem seine Bestellung da war, dreht er sich um, und schaut mich noch an, läuft aber schnell raus.
Meine Bestellung dauert noch ca. 1:30 länger..
Zu diesem Zeitpunkt hatte ich nur mein Smartphone bei mir.. während mein Gepäck mit meinen ganzen Wertsachen und meinen Koffern im Bus verstaut war.
Ich laufe raus aus dem MCD und bemerke, dass der Bus ohne mich losgefahren ist. Mitten in Deutschland, bei Eiseskälte, ohne zu wissen wo ich bin. Danke lieber Busfahrer!
Ich war erst geschockt.. aber nach einigen Minuten tiefen Durchatmens und klarer Gedanken fassen, bin ich den Autohof um bei Ficksbus Customer service anzurufen. Denn im Bus befand sich mein Laptop, meine Kameras und noch viele weitere wichtige Dokumente. Doch stattdessen dem Busfahrer bescheid zu geben, dass man mein Gepäck sichern muss.. wurde ich vom Customer Personal angeschrien, da ich in dem Moment mit einer Flixbus Customer Service üblichen Antwort nicht einverstanden war.
Also Flixbus setzt mich aus und hilft mir nicht.. Deshalb habe ich dann eine Freundin angerufen.. Diese hat an bei der Ankunft mein Gepäck 'geklaut'- andernfalls hätte ich mein Lebenswerk nie wieder gesehen. Wenn ich diese Freundin nicht gehabt hätte, wäre der Schaden in den 5stelligen Bereich gerutscht.
Da aber auch in den nächsten 12 Stunden kein anderer Flixbus an dieser besagten Haltestelle angehalten hat, durfte ich in die nächstgelegene Stadt marschieren bei 0 Grad Celsius, und mir am Bahnhof ein Zugticket für 109 Euro kaufen. Alles aufgrund einer Fehlinformation und einem Fehlverhalten eines Busfahrers.
Wenn Sie bis hierher gelesen haben, können sie sich sicher vorstellen wie ich mich gefühlt habe.. aber die Krönung kommt erst noch.
Natürlich habe ich den Fall danach gemeldet und wolte meine Unkosten ersetzt haben von dem Marktführer-StartUp-Unternehmen. Auf meine Email bekam ich die Antwort dass es 2-3 Wochen dauert bis man mein Anliegen bearbeitet. An dem Tag habe ich auch den Facebook Customer Support kontaktiert.. der mir die selben Ausreden brachte.
Am 4. März 2019 ( fast 2 Monate später) habe ich erneut angefragt, da mich das ganze Unterfangen viel merh gekostet hat, und ich mir keiner Schuld bewusst bin.
Deshalb habe ich den Social Media Kanal erneut angeschrieben, der mir dann sagte dass mein Anliegen noch in der Bearbeitung ist.
Dieses Verhalten mit solchen Situationen ist berechnend, denn bei den meisten Beschwerden meldet sich in der Regel nach 2 Monaten niemand mehr. Diese Handhabung ist von Flixbus bewusst gewählt. Denn als Antwort bekam ich dann, dass mein Anliegen, das durch den Busfahrer verschuldet wurde, nicht gerechtfertigt ist, und man nichts für mich tun kann. Die GPS Daten wären korrekt…
Hier sind einge der Templates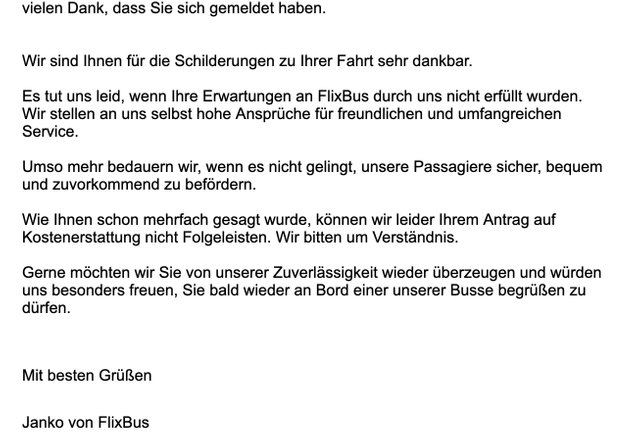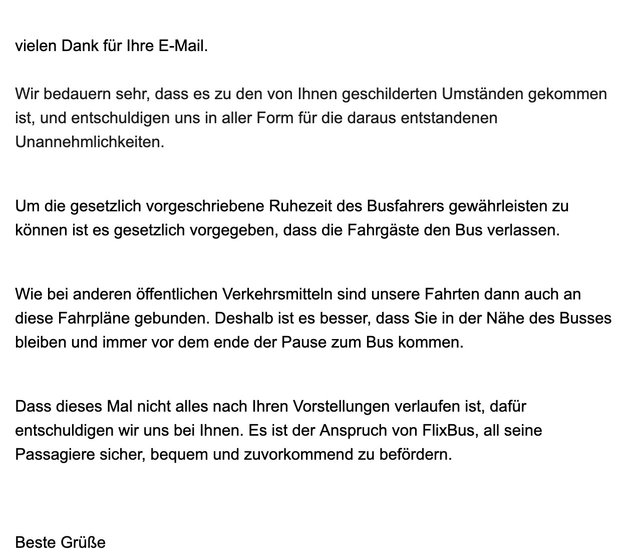 Meinem Anliegen, meine Kosten zu erstatten wurde nicht ansatzweise entgegen getreten. Das Geld ist mir mittlerweile egal, ich bin einfach nur angewidert von den Email-Templates die mir da gesendet wurden, und will mit diesem Post verdeutlichen.. nur weil die Preise billig sind, sollte man sich trotdzdem überlegen was für ein Unternehmen man da unterstützt.
Vielen Dank dafür!
---
FLIXBUS REVIEW 2019
The Flixbus Nightmare 2019
Here is the story that reflects the true face of a group that does not care about its paying customers, and is by no means customer focused and entrepreneurial.
I traveled from Offenburg to Berlin with Flixbus Europe at the beginning of January. At the Flixbus Frankfurt Mainstation was a stopover with about 3h stay.
When I entered the 2 part of the trip, the following scenario occurred.
After about 1-1.5 hour of driving time away from Frankfurt, the bus stopped at a parking space. Before I got off the Flixbus, I asked the bus driver if there would be enough time to go to the MacDonalds. He said yes, 15 minutes .. so i went there, stopped at the toilet and ordered food.
The same bus driver was suddenly in front of me in the line and has ordered also something to eat. After his order was delivered, he turns around, and looks at me, but also runs out quickly.
My order delivery lasted about 1:30 minutes longer.
At that time, I just had my smartphone with me .. while my luggage with all my valuables and suitcases was stowed in the bus.
I run out of the McDonalds and notice that the Flixbus left the parking space without me. In the middle of nowhere in Germany, freezing cold, without knowing where I am. Thank you, dear flixbus driver!
I was shocked .. but after a few minutes of deep breathing and clear thinking, I walked into the gas station to call the Flixbus Customer service. Because in the bus was my laptop, my cameras and many other important documents. But instead of telling the bus driver that I need to secure my luggage .. I was shouted at by the customer staff as I did not agree with a Flixbus Customer Service usual response at the time.
So Flixbus puts me out and does not help me.
That's why I called a friend. She 'stole' my luggage' when the Flixbus arrived in Berlin- otherwise, I would never have seen my work tools again. If I had not had this girlfriend, the damage would have slipped into the 5-digit range.
But since also in the next 12 hours no other Flixbus stopped there, I was allowed to march to the nearest town at 0 degrees Celsius and buy me a train ticket for 109 euros at the station. Everything due to misinformation and misbehavior of a bus driver.
If you've read this far, you can certainly imagine how I felt ... but the coronation is yet to come.
Of course, I reported the case after that and wanted to have my expenses replaced by the market leader startup company. On my email, I got the answer that it takes 2-3 weeks to work on my request. That day, I also contacted the Facebook Customer Support .. who made the same excuses.
On March 4, 2019 (almost 2 months later) I asked again because the whole thing cost me a lot and I am not aware of any guilt.
That's why I wrote to the social media channel again, who then told me that my concern is still in progress.
This behavior with such situations is calculating because with most complaints usually after 2 months nobody announces any more. This handling is deliberately chosen by Flixbus. Because in response I got that my concern, which was caused by the bus driver, is not justified, and you can not do anything for me. The GPS data would be correct ...
My request to reimburse my costs was not rudimentary. The money doesn't matter to me, I'm just disgusted by the email templates that were sent to me and the bad behavior, and I want to clarify with this post .. just because the prices are cheap, you should consider what a company you want to support.
Thanks a lot for this!