Squid-Like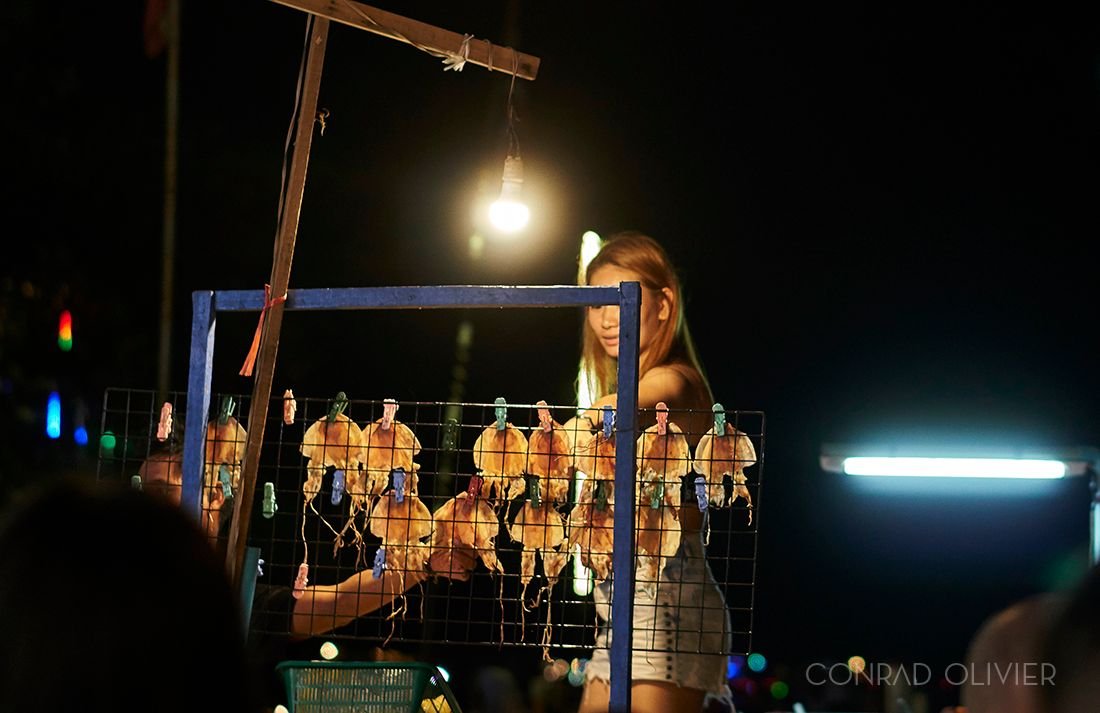 I couldn't resist the fact that the colors in her hair and skin resembled the backlit squid - so I chose to frame the image in a way that obstructs details on her face in order to push the interesting juxtaposition of colors.  You are what you eat, right?
Treasure Hunter
I had read about metal detecting on Thai beaches before I went as I was considering bringing a detector along, but later decided it wasn't feasible as I bring a fair amount of camera gear.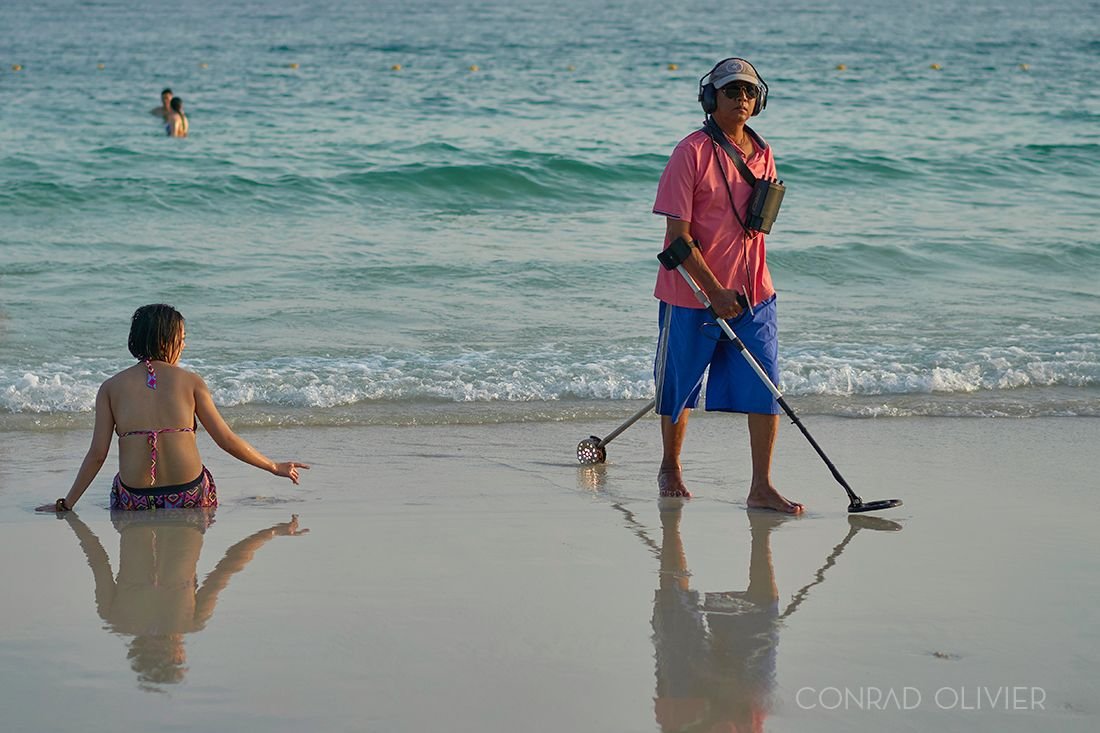 According to the expat forums, it appears to be okay to search for items on a beach though you'd need to report any relics to the authorities.  I suspect though that this beach would be a bit different in that it's inside a government controlled park - the current government is run by the military  (according to one report, Thailand ranks #2 in terms of countries likely to experience a coup - this is nothing new, of course and it's only around a 10-12% chance at the time of writing).  Hence, this Thai gent may have no problems detecting during the day (as he likely knows the local park rangers), the same might not be true for an unaccompanied foreigner (by this I mean, you are detecting without a Thai partner/friend/spouse to help iron things out).   Later, I noticed some other guys detecting at night (when the park officer's, dressed in military fatigues, are usually not on the prowl for the 200 baht entry fee or whatever other fees they might come up with...).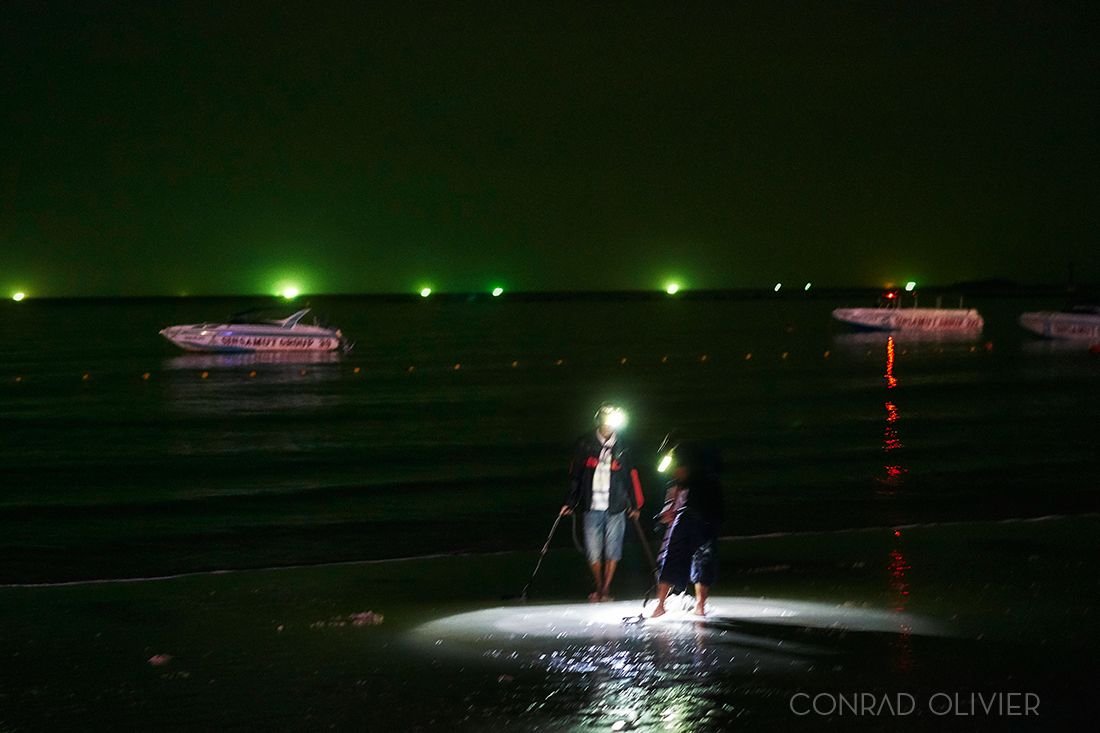 This image was shot handheld at an ISO of 8000 for 1/4 second f/2 55mm (Sony A6500). The green cast is the reflected light from the squid fishermen out along the horizon.  To the naked eye, one only sees the faint green glow of the lights used to attract the squid.
Squid Fishing
Keeping with the theme of green light, I went out on a squid fishing boat one evening.   There were only two crew members on board the small vessel.  For 500 baht per person, I found this outing to be a good deal (approx $14USD) as it included some chicken rice soup, drinks and grilled squid that we'd hopefully be catching.   A few of us caught a squid or two, but most did not.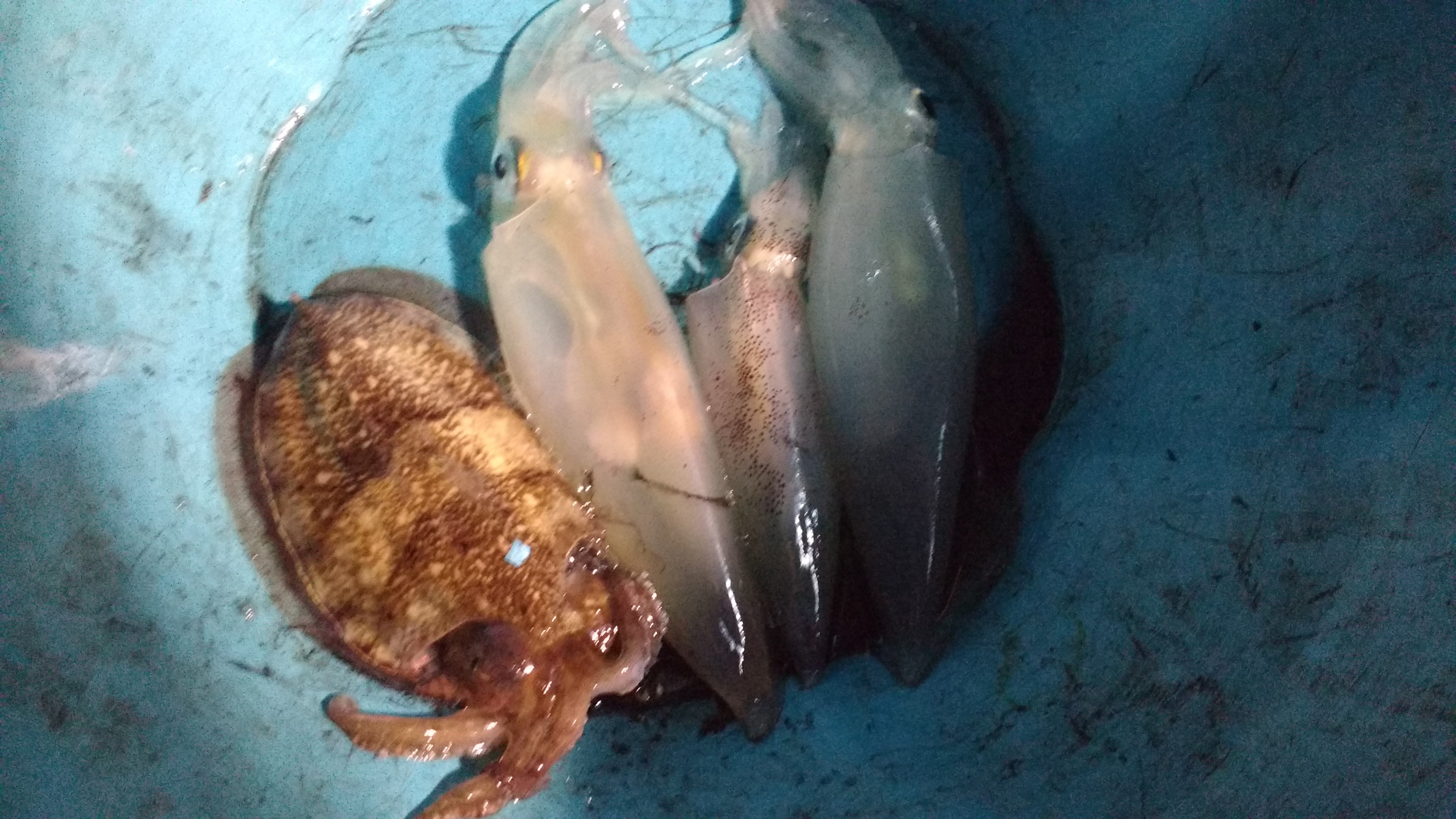 After a while, several of the women on board began feeling seasick.  If you've never experienced it, you cannot fully emphathize.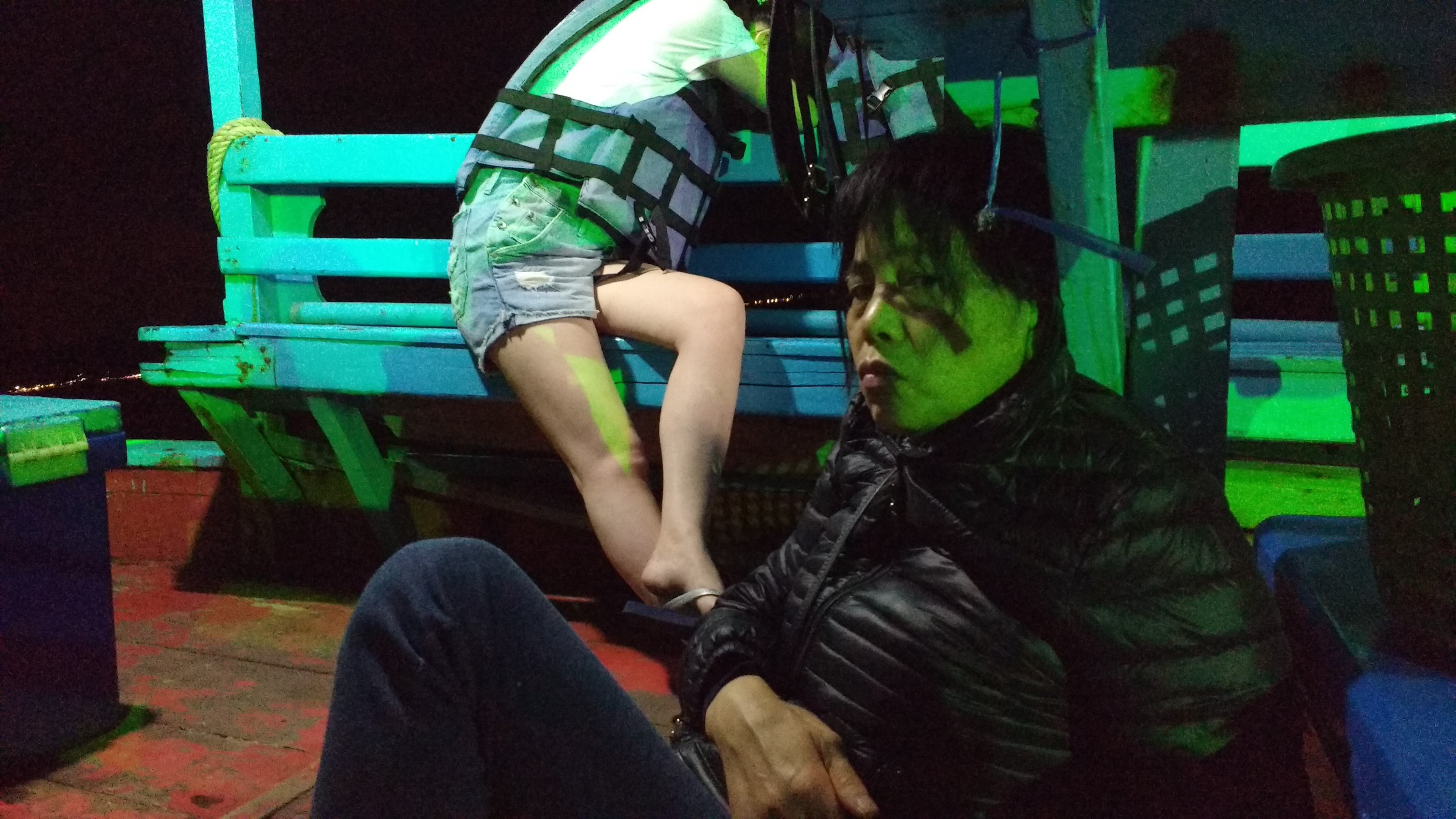 I didn't realize she was staring into my mobile... oops.  Her son requested that we return to the pier 2 hours earlier than scheduled.  Everyone agreed as there were 4 or 5 women who were suffering out of about 12 people.  
 The water was quite calm, but I suspect that was the first time for many of these city dwellers to be on a boat in the sea, witness the amount of bycatch that perishes to harvest handful's of squid.  The crew put forth a really good effort trying to save as much of the bycatch as possible.  
Here he prepped the net and we watched how they use the green light to attract the squid along with a white light.  Then add a red light to the mix.  Slowly reducing the intensity of the green light, then the white until only the red remains.  It was ominous as you could see fish and squid just below the net.  The red light was dimmed slowly until it was pitch dark and a sudden sound startled most I suspect as the weighted net was dropped on whatever was under it.  The water was around 15 meters at most as I'd hit the bottom with my fishing line wrapped on a water bottle squid fishing setup.
Cleaning the squid was straight forward.  The ink sack was an item that was removed along with part of the head and eyes.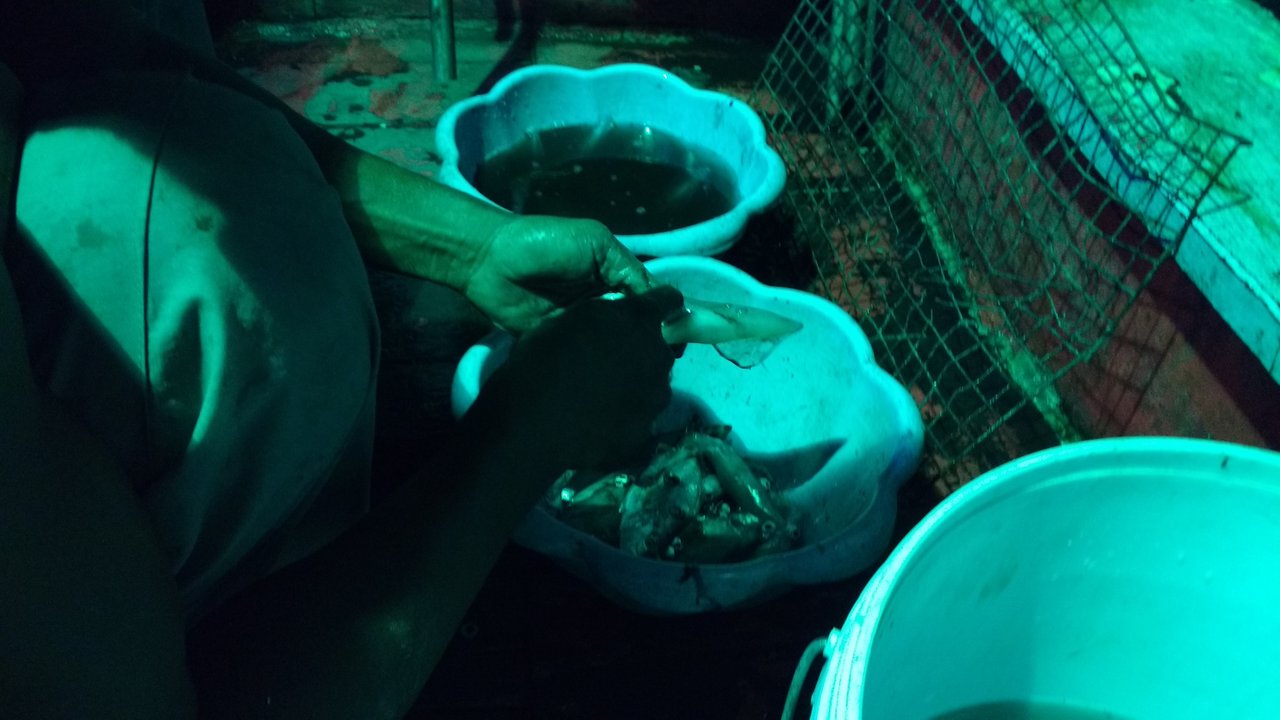 He grilled up about 16 of them and we had them with a sauce similar to prik nam pla.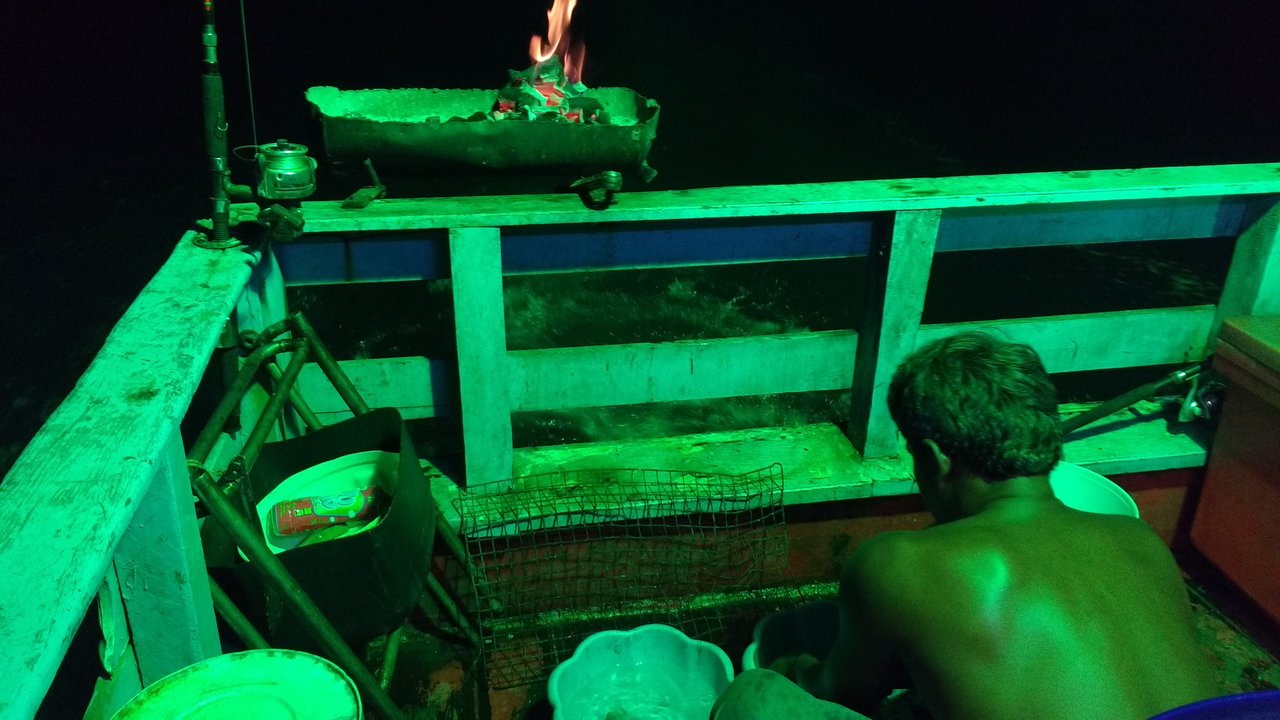 Back to the Beach
Okay, you are sick of seeing green light and now have no need to ever go squid fishing, right?  Here's a nice breakfast I had the next morning.  Who doesn't like ice cream for breakfast!!! (60b - cappuccino & 120b for the plate of toast & fruits)