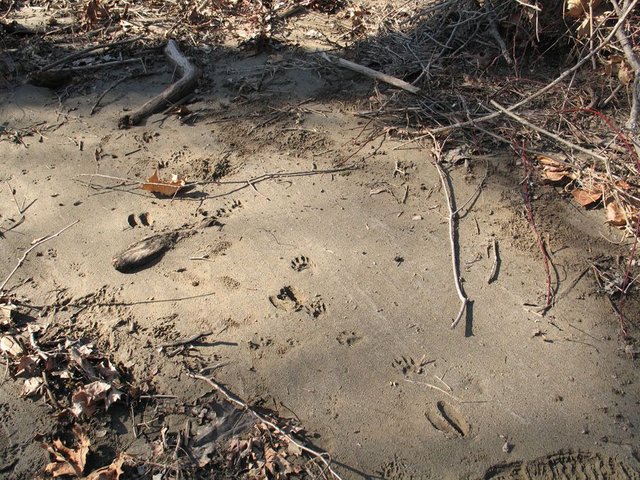 Future Fossils...Raccoon and Deer Can be Friends.
Each year the stream by my studio floods leaving behind as much a foot of rich sediment on its banks. Here we can see the tracks of animals that come here for water and food. The tracks that look like small hands are those of Raccoon (Procyon lotor) and those looking like two part hooves are Whitetail Deer,(Odocoileus virginianus) . And of course the one on the bottom right is Homo sapiens the human that is me! :)
We all came here for the sustenance this running water brings. Of course it was at different times but I thought the title would be fun. Someday, millions of years from now, when this sediment is buried thousands of feet below the earth perhaps these will be preserved as fossil tracks for future paleontologists.
(please click on the photo for a larger image)
---
To my Steemit explorer friends,
I have probably taken over a million photographs of the natural world since childhood; this is a daily series of some of those I most treasure.
Where They are From
Many are from an organic orchard that I created on the hill above my home. When you are raising trees from saplings you are out in all weather at all hours and see remarkable things.

Some are from my art studio and my efforts there- especially those on behalf of the Tibetan people.

Still others are from my wanderings in the wilderness with compass and map my companions. Many are featured from posts I have created here on Steemit and I will link to those whenever possible if you wish to read more of the how, when and where.
Please upvote if you liked this post, and follow for more journeys through our mysterious and amazing world. And please comment as I greatly value these and will answer any questions you may have (and generally go to look at your posts of course since I consider a group of friends the most valuable possible outcome from efforts on Steemit.
*This photo was taken with the Canon EOS 70D, 18-55 mm lens