I have been absent from wifi, cell phone reception and basically most of modern day civilization, which I truly believe is something we all need to do from time to time. My work took me on a 68 foot sail boat, Island Roamer, and my job as a guide and crew member was a great learning experience and also prime opportunity to simply stop, breathe and take a moment to really appreciate where I was.
The west coast of Canada is stunning and for the most part remote, untouched and littered with wildlife, such as, bears, eagles, whales, orca, dolphins, seals and seals amongst many more species. Exactly what you are going to encounter is not known, which to me is just apart of the beauty. Wildlife never runs to our time schedule and simply being grateful of being in such a place I believe is the most important thing. Seeing certain species is just a bonus luxury that adds to the journey.
Being on a sail boat with people for 7 days at a time can have its challenges, actually, simply living on a boat has its very own unique challenges that will arise without warning. All apart of the fun. This moment I took this photo was when we were motoring through a narrow channel and my wide angle was able to capture the vessel and both shorelines, as we slowly cruised through watching eagles hunting fish in the shallows.
---
There is something peaceful and relaxing about motoring or sailing at 8 knots through the Great Bear Rainforest and if it isn't on your bucket list than I can only strongly recommend that you do indeed put it on your list.
---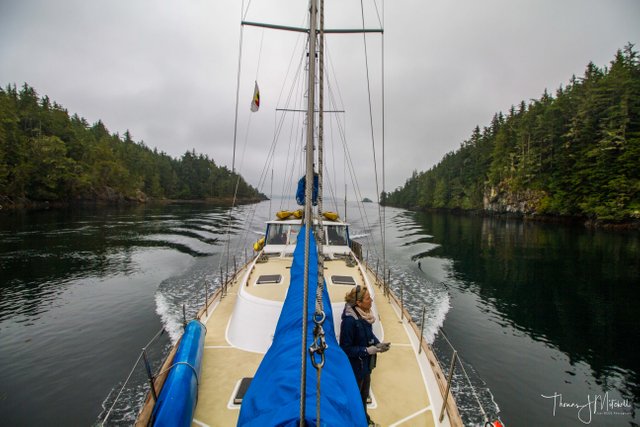 Click image to view full size
---
Check out Blue water adventures if you are interested in learning more about exploring the remote regions of the west coast of Canada & Alaska
---
Thanks for reading and all the support, Steemit!!

Dont forget to Upvote & Resteem!!!

All stories & photographs are of my own work unless noted under the picture in question.

For more stories and photos check out my Instagram feed

Check out my website - Just BCOZ Photography