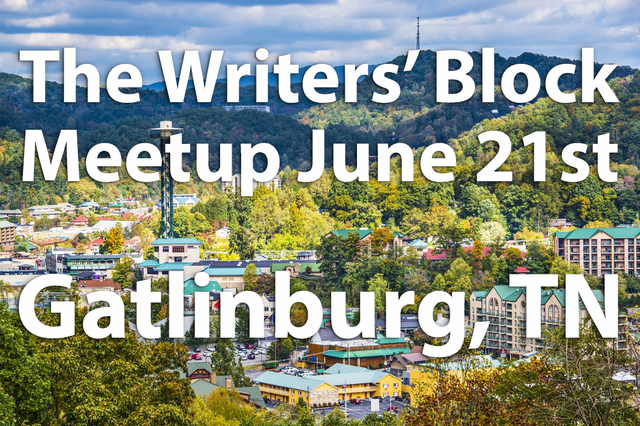 Source
A few days ago @gmuxx announced that The Writers' Block will be having its first official meetup. During a recent @thealliance meetup, attended by fellow co-admin @rhondak, her husband @sk43 and legal eagle @anarcho-andrei, connections were made and projects planned which will drive The Writers' Block much further along its ultimate journey of becoming a crypto-backed publishing house. To this end, a hastily arranged meetup was planned for @gmuxx as co-admin and other TWB members to get together with certain parties and discuss things further.
The date has been set for June 21st and will last until the 24th. @sk43 has secured us a lovely cabin in Gatlinburg, TN with the capacity to easily sleep 8, but local motels will accommodate more. Although this is a TWB meetup, any other Steemians that wish to join us for this gathering are more than welcome.
Earlier today @rhondak put out a call for donations on The Writers' Block Discord server to help towards the cost of the cabin and to help with travel costs for TWB members who would otherwise struggle to travel to Gatlinburg. We are extremely happy to announce that so far we have received 25 Steem and 122.568 SBD in donations!
Many thanks to @jonknight, @shadowspub, @asunalyn, @dreemsteem, @anomadsoul, @jackmiller, @hazem91, @damianjayclay, @negativer, @hispeedimagins, @creatr, @kristyglas, @jordan.lesich, @crimsonclad and @juliakponsford for your awesome generosity!
NOTE: although @gmuxx is flying in from the UK, he has secured a loan to pay for his flights and will not seek to be reimbursed, rather it will be repaid via his own blog. He will also be contributing towards the TWB fund.
If you would like to contribute towards the costs of this meetup donations in Steem or SBD can be send to @thewritersblock account. Every little helps! Thank you in advance.
---
Are you a writer or keen to learn? Do you wish to join a community of like-minded individuals who can help hone your writing skills in the fields of fiction, non-fiction, technical, poetry, or songwriting? Join us at The Writers' Block by clicking the logo below.