La sciuta di San Sebastiano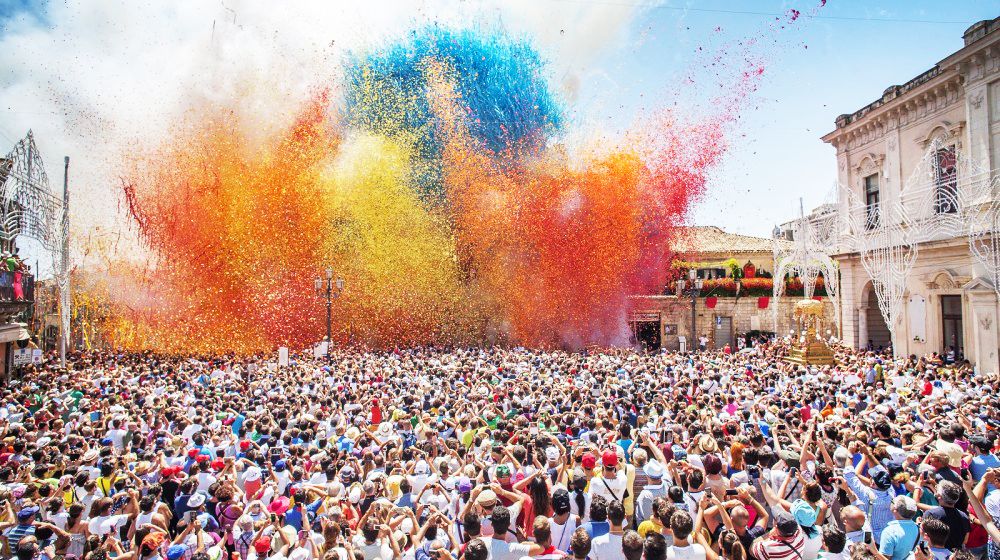 source
The leaving of Saint Sebastian
In Palazzolo Acreide (Syracuse) the great devotion for Saint Sebastian has its roots in very ancient times as evidenced by the Chapel dedicated to him in the ancient Church​ of the Annunciation from XV century. The festival, set for the recurrence of January the 20th, in Palazzolo replicates August the 10th, with the same great devotion but with an important public audience, great spectacularity, ​and exceptional folklore.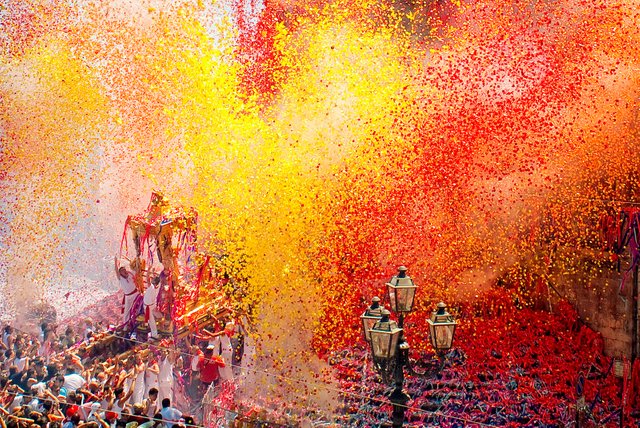 source
Nowadays, in addition to the secular traditions that characterize the festival ​ the are new rites and new initiatives that give to the celebration a greater prestige and a greater resonance even outside the local boundaries. The most touching and spectacular moments are many.
The Celebration
On the eve of the 9th of August, the gala tour and the "SVELATA" (the exposure) of the seventeenth simulacrum of Saint Sebastian martyr, greeted by the people.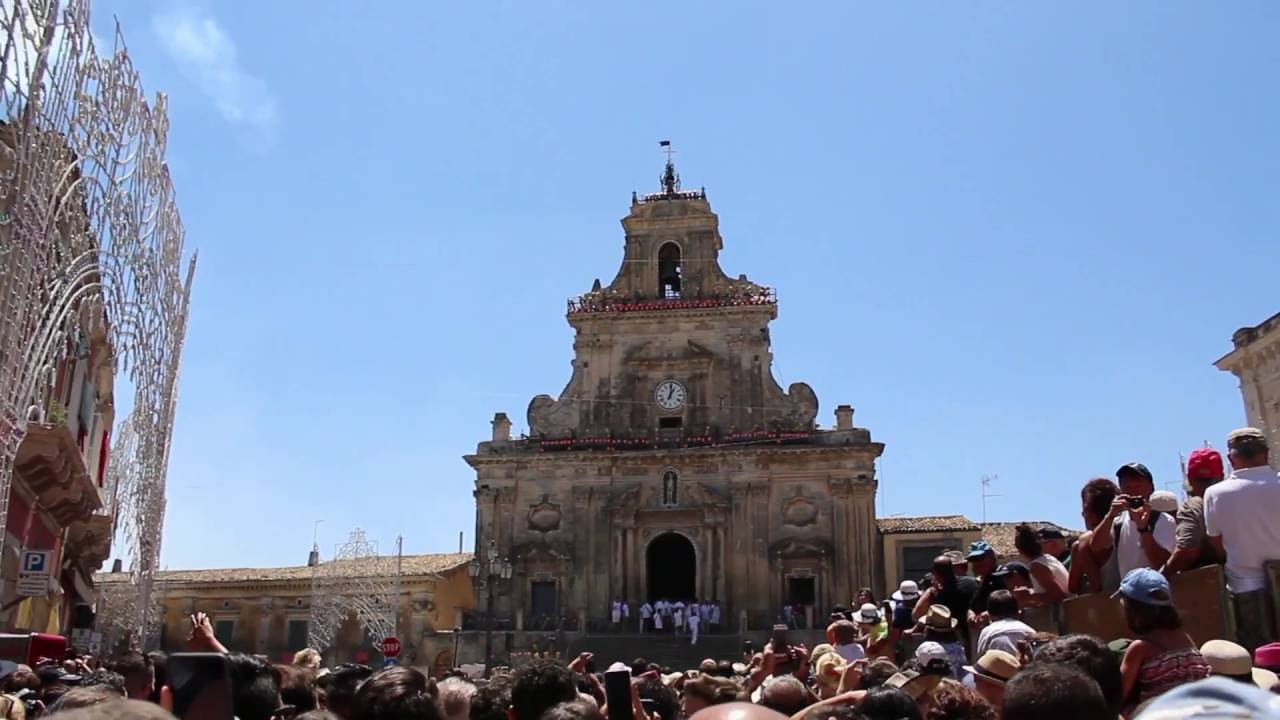 source
the 10th of August, at 8.15 AM there is the shoot of 21 cannon strikes and the departure of the "CARRO DEL PANE" (the bread wagon) accompanied by the marching band and the traditional collection of the "CUDDURE", (donuts of bread offered to the saint) and of the laurel, (... the laurel remembers the sacred laurel forest in Adonis where Saint Sebastian, bounded​ naked to a tree, was target of the Mauritanian archer's arrows...);
The most suggestive moment
At 13.00, there is finally the most suggestive moment the "sciuta" (the leaving) of the relics and the simulacrum of San Sebastiano. Announced by the sound of bells, under a multicolored rain of thousands of ticker tape called "NZAREDDI", fireworks, the music of the marching band appears the two sacred chariots containing the simulacrum and the relics of Saint Sebastian.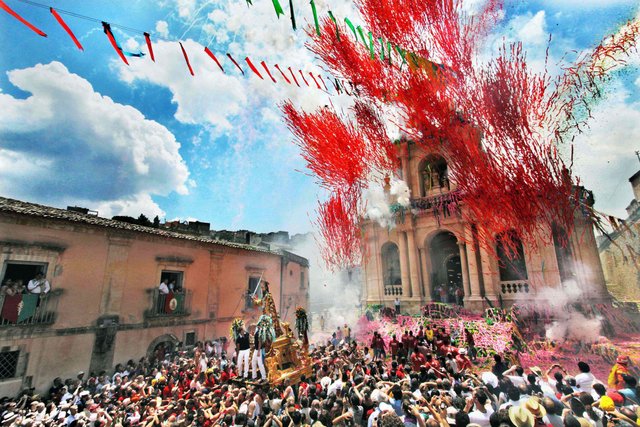 source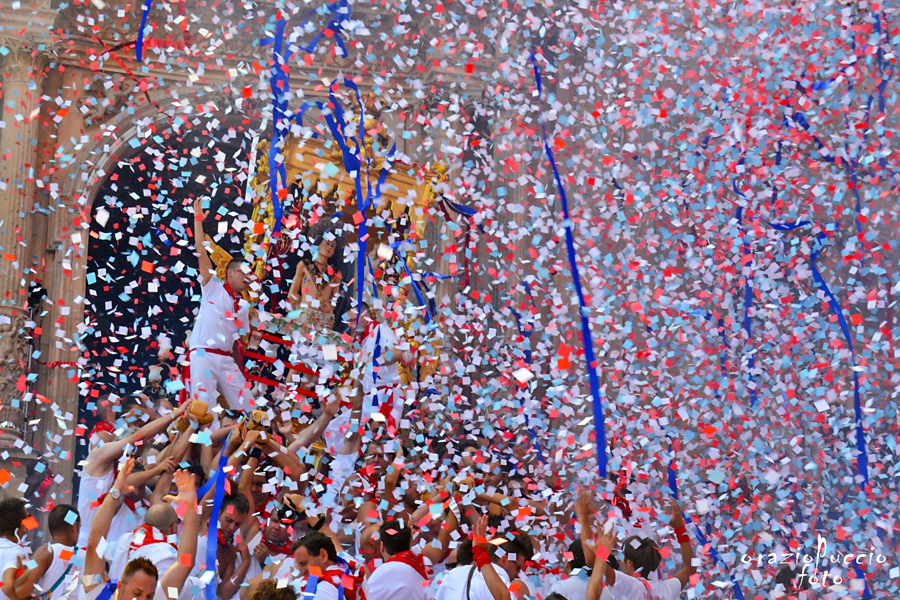 source
The two sacred chariots are followed by barefoot women and thousands of devotees, while babies and children are spoiled and "offered" to the Saint. Then the ​program of the celebration continues with the "Human Chain" along the uphill of via Fiumegrande. At 20.30 the evening procession and the musical show. Closes the party a show of fireworks synchronized​​ to music.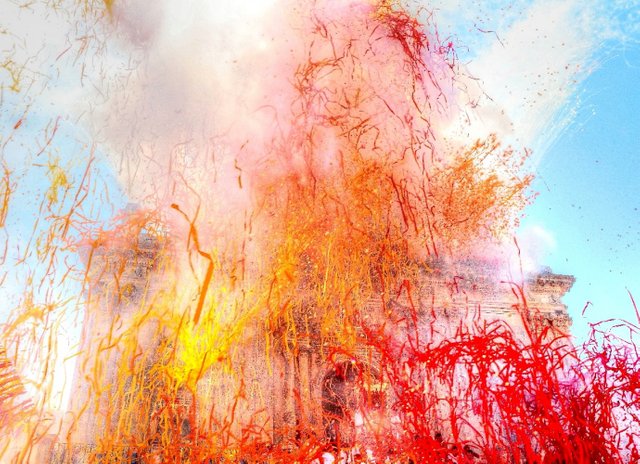 source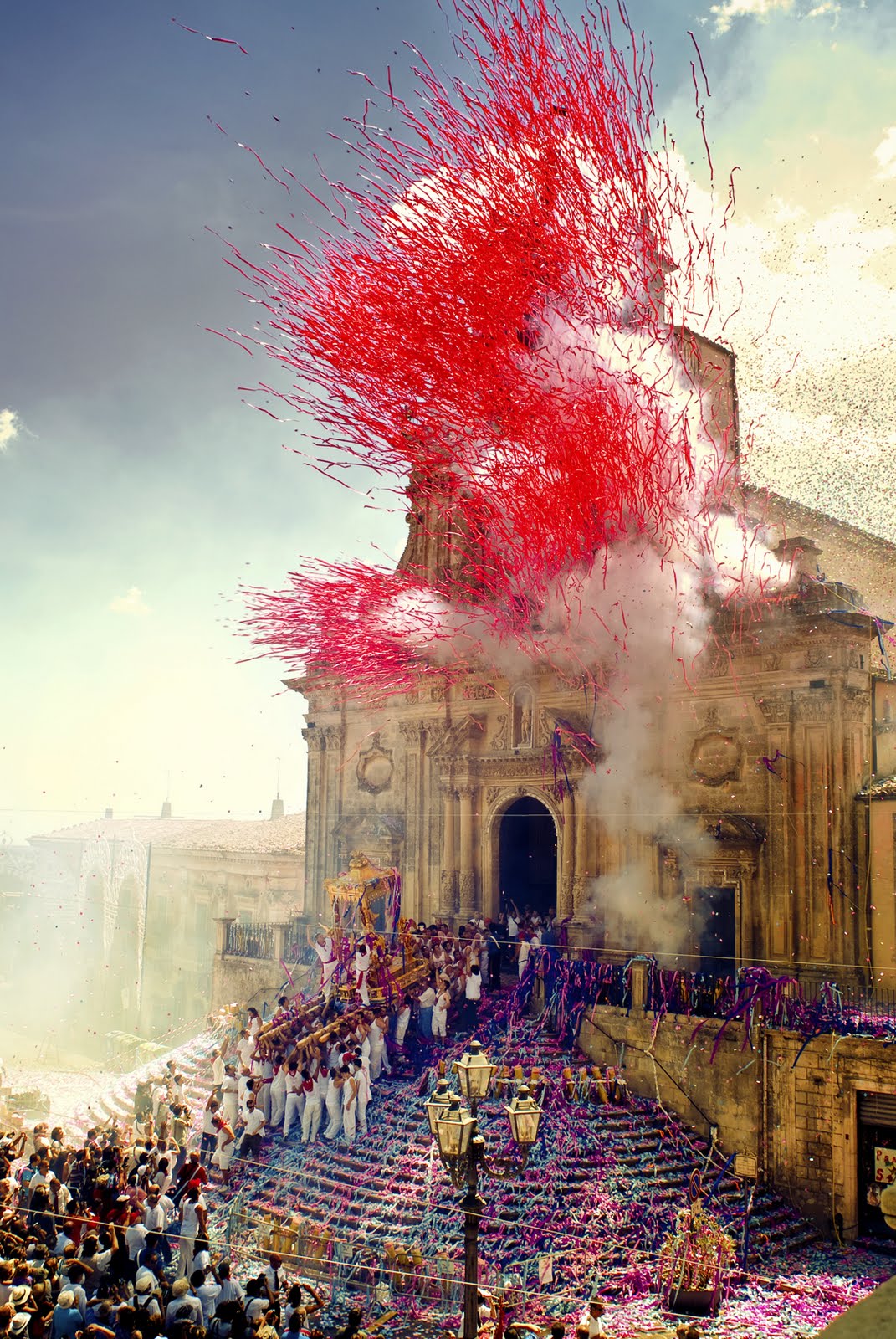 source
If you are in Sicily during this celebration it deserves a visit.
Enjoy!
If you like this post, please upvote, comment, follow, and resteem! Thanks for your contribution!
PLEASE DON'T FORGET TO