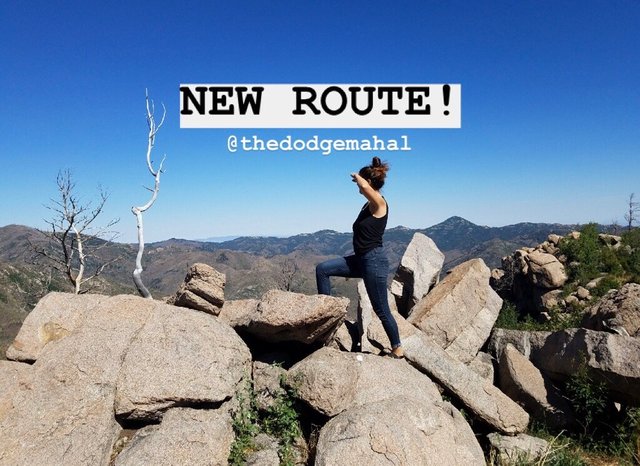 First of all, @richardcrill and I would like to give a HUGE thank you for such an amazing response to our first official travelogue in the Dodge Mahal! We're overwhelmed with gratitude & can't wait to share more with you! 🙏
Where We're At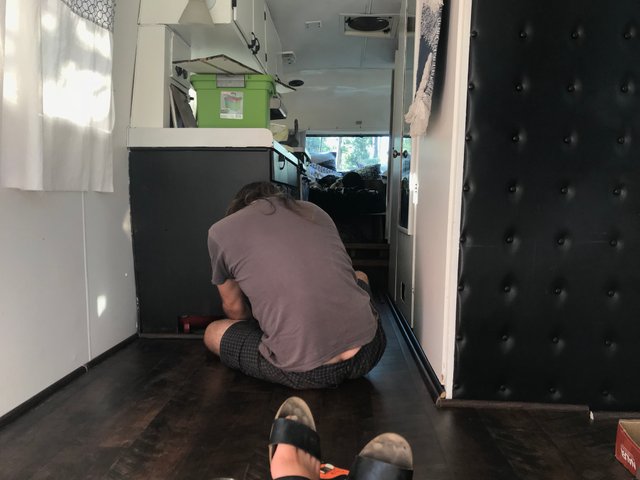 (Watching Ike install the quarter round - not pictured: me helping )
This is our last week in Ruidoso, NM before we start trekking across to the West coast. We've mostly been working on renovations & catching up with some work for our Amazon store, so I'm afraid we don't have too many adventure photos yet!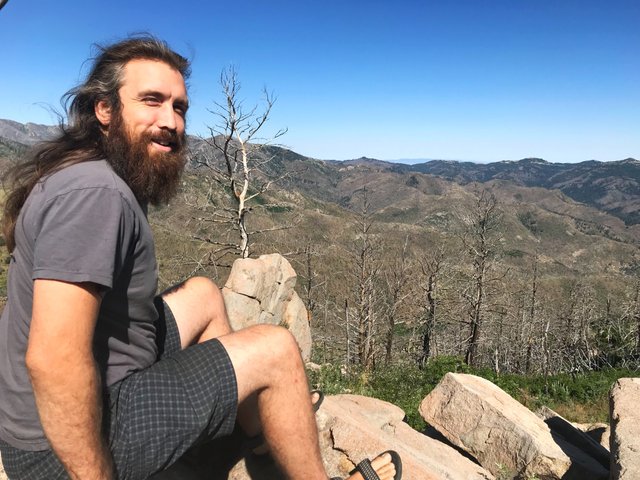 (Best way to start your morning! Almost better than coffee.)
BUT we did finally got a little bit of nature time this morning - Ike's brother, who's been in Ruidoso working for awhile, woke us up this morning to take us to this awesome lookout point with a gorgeous view of the mountains! More photos to come in our next travelogue post!
Where We're Going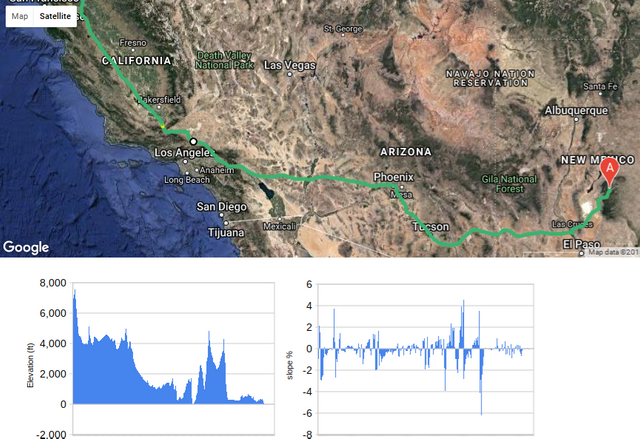 Our first destination once we reach the West Coast will be Sacramento! We're visiting one of Ike's very good friends. Our main objective is to spend most of the summer months in the cooler, Pacific Northwest so I'm afraid this trip through California will be short & sweet. BUT don't worry - we'll definitely be taking our time on the way back down the coast after it starts to get cooler. If we're passing you on this trip up the coast, we'll try to catch you on the way back down!
NEW Route!
We've changed a few things about our new route - first of all, we made our original route before we started driving our RV. Now that we've put some miles on the Dodge Mahal, we now know we want to avoid the mountainous routes. We used this awesome free website called Flattest Route to look at the elevation on the way.
There was no way we could get away without driving on some elevation, but I think the Dodge Mahal can handle the small amount we'll encounter on this route. I will say that it handled the elevation from Texas to the mountain town of Ruidoso, NM like a pro. And we were (unknowingly) riding on 6 cylinders the whole time 😂
Part 1 📍


(Ruidoso, NM to Flagstaff, AZ)
The first leg of the trip to Flagstaff, AZ should be easy, breezy! We'll probably only stay a couple days max. The main reason for making Flagstaff a stopping point is to make sure we have everything ready for the next half of our trip - the desert 🔥🔥🔥
Part 2 📍


(Flagstaff, AZ to Bakersfield, CA)
Oh, man - not gonna lie, we're kind of dreading this part.
We'll be leaving the nice, cool weather in Flagstaff, AZ to cross the desert on our way to sunny California!
We're looking at temps on the drive that are in the 110+ degrees range. To get some form of relief, we're going to make this drive at night. And hopefully (if all goes well 🤞) we can make the drive in one night.
There's also one point of elevation that we're a little nervous about - you can't see it on this map, but when we look at the elevation on Flattest Route, you can see the highest & lowest point will be right after we pass through Needles, CA. Has anyone else made this trip? Any tips for us?!
Part 3 📍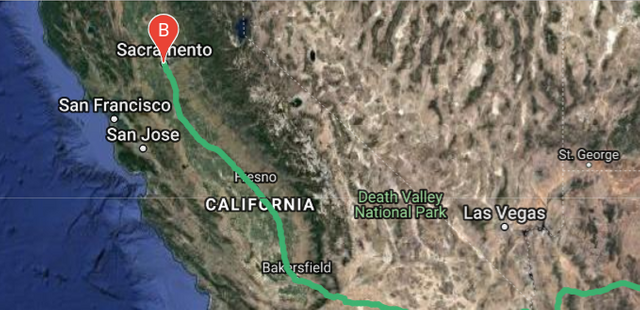 (Bakersfield to Sacramento)
When we get to this part of the trip with the desert behind us, we'll be golden 👌
From here, we'll mosey our way up to Sacramento, possibly going off route to visit some of our favorite Steemians on the way! We also thought about just driving up the coast all the way to the Northwest, but we're leaning more towards saving that for our trip down the coast - less tourists. But this part of the trip can be a bit more improvised since we're not literally running away from the heat.
What's Next?!
After CA, we're heading up to Eugene, Oregon to visit my good friend & her new baby that will hopefully have popped out by then!! I love that we have friends IRL that we're able to visit on this trip - it seriously makes it all worth it!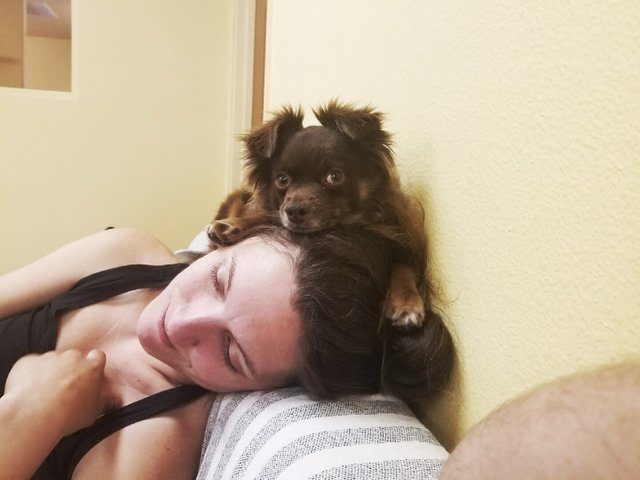 (My thinking cap)
We're going to enjoy the last few days of our time here in Ruidoso & hopefully get some more nature time with the dogs! We plan on vlogging alot of this next trip too, so stay tuned!
Life Update!
If you read our first travelogue, we told you about our new passenger, Larry, that helped us fix our RV when we were stranded in Roswell. Well, he ended up wanting to go back to his home in Roswell. We were both sad to see him go, but just so grateful for all of his help!!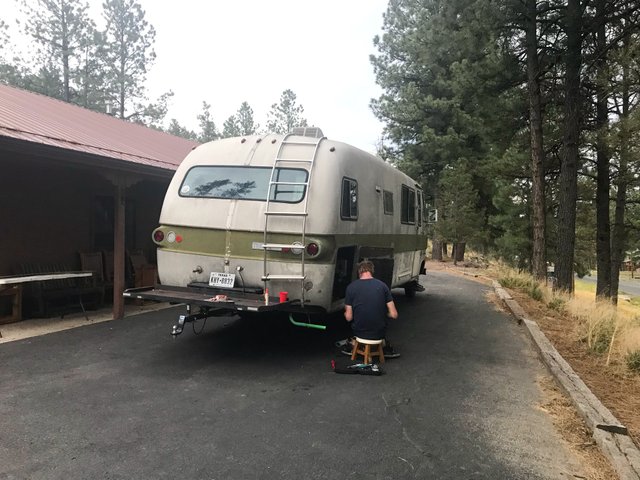 (Live long & prosper, Larry!)
We drove him back to Roswell in my car & he had us drop him off by the coffee shop that we picked him up from. He disappeared into one of the alley's and he was gone, just like that. I wish we had a way of getting in touch with him, but I have a feeling that if we wanted to find him, we could. I'm still convinced he was an alien 👽🖖
✌️&❤️
@thedodgemahal Crew!
✍️ Update by Lindsey
FOLLOW OUR PERSONAL ACCOUNTS TOO!!
@lindseylambz
@richardcrill