Before getting active on here the past few days, my life had already been a cyclone of changes. I decided in September to finish my Ph.D. this year and to leave academia (a full-time professoriate membership has kinda been my life dream and "thing" for a decade now; oh, how your twenties surprise you...). After telling my committee and a few close friends (@hella has been an essential confidante), I went on my first ever getaway that lasted more than four days. This was after I decided to go another way in life, but already having the vacation planned, I reframed it all in classically me melodramatic terms: this was not going to be an ordinary break from work, but my "discovering myself" trip.
Given all of that, I suppose the upshot of this post is that I came to Steemit with all of the essential parts of the quarter-life crisis starter kit. And kaboom that dynamite has gone on the blockchain​. 💥In a good way, I think.
---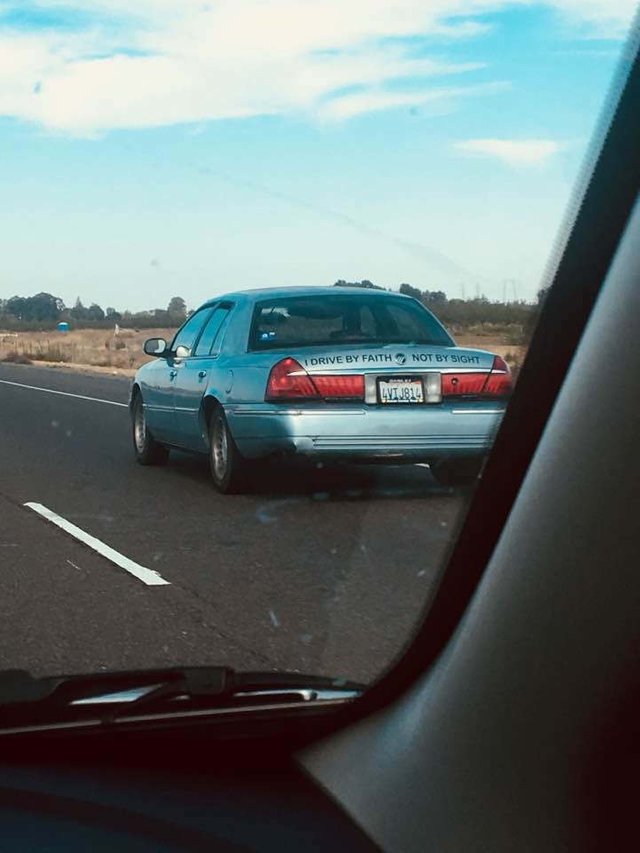 Source: @spectrums. I took this in the passenger's seat on the way back to Oregon from California; it was a hit on Facebook, which I haven't updated much since posting this photo on the road.
---
I was moved to write this post to reflect on the fact that my introduction here seems so callow, dangling on my feed like a post I wrote as a teenager on Xanga. I reread those words earlier today, and I suppose I'm basically free-writing here because​ I need to process​s where @spectrums is at. Since writing that post, I know some different memes than I did before; right now, typing, this is me plus the new experiences of having lost a few scales as a "minnow"; the passage of time here has since led to me falling in love with @jerrybanfield's sorting hat—and it's a hat on a whale, I now have picked up, some odd days ago, adrift in the Steemit world of Youtube. Today I finally joined Discord (thank you @crimsonclad for making me feel welcome; and kudos to @jrswab for integrating me over there a bit, and for the lead). A few weeks after writing my original introduction, I've made a new Steem blockchain module in my brain, spending the last week getting used to this ecosystem, unearthing new things about myself unrealized before (I still can't believe I have a cryptocurrency database now?). I've also been struggling intellectually and politically to update my software with new knowledge on cryptocurrency; I was not aware of the possibilities.
What's really going on here, huh?
After a dedicated week, I was left in a state a bit like this below last night, which is one of my favorite memes ever. Britney Spears before the breakdown—stoned.
Jokingly, at one point after ranting about Python and the blockchain to my partner, I turned to him, quoting Britney (he's very familiar with the meme, given my regular performance): "I know that sounds so weird...have you ever seen Back to the Future? Is that possible, to time-travel—speed? Yes, it is, Kevin." My point in bringing in Spears is obviously this, of course: I do not believe I will ever be a libertarian, not even a fashionable crypto-libertarian, and I must somehow consolidate my politics with the platform (I mean, I barely know a humanities scholar who didn't have to for the purposes of treating Facebook like LinkedIn [that's a thing we do, btw]); my suspicion of—and profound disagreement with—much of the utopian libertarianism I've seen so far here, well: between us, this does not preclude shared memes of exhaustion with the analog world and its cruelties. I get it; in fact, my senior year of high school I wrote a parodic essay on The Fountainhead​ and placed in the top ten essay category worldwide in a contest annually held by the Ayn Rand Institute. To imitate something, you have to really dig into it; that's the proof-of-brain, at least I'm of that opinion. I am interested in y'all on the right; yes, I do also know the difference between a fascist and a libertarian, and isn't that exemplary of something​ we can all be glad about here?
We want similar outcomes quite often; so let's build this blockchain, that's how I'm seeing it. ​​ My take on political economy lives in a dream baked up in Chile in the 1970s, one which ended with the US-led coup of Chile and the dawn of neoliberalism. I'm familiar with the cultural politics of the neoliberal period in the Americas through my study of multicultural right-wing politics in that era (see my "Right-Wing Rainbows" series : posts 1 and 2). I'd say that my utopia—a loaded term, but useful shorthand for me in this post—is convivial with diagnoses shared among libertarians; mine is what I could call a cybernetic socialism, which I won't dive into here, but interested parties should see Eden Medina's excellent book on Salvador Allende's Chilean cybernetic project, proyecto Cybersyn for an example of my utopia, but one I'm willing to update with the token abstract machine. They were running IBM machines. I keep wondering what Gilles Deleuze, Stafford Beers, or Salvador Allende would think of all this business about the blockchain.
I'll get to that in a future post digging into my personal journey into memetic theory, and my abandoning of classical Marxist analysis​ in the process—I don't want to write too long a post here, so I'm saving it, but let's tentatively title it "auto-didactic trailer trash kid uses the Internet​ to eventually move to the city, then discovering information theory while studying right-wing politics for his doctorate."
---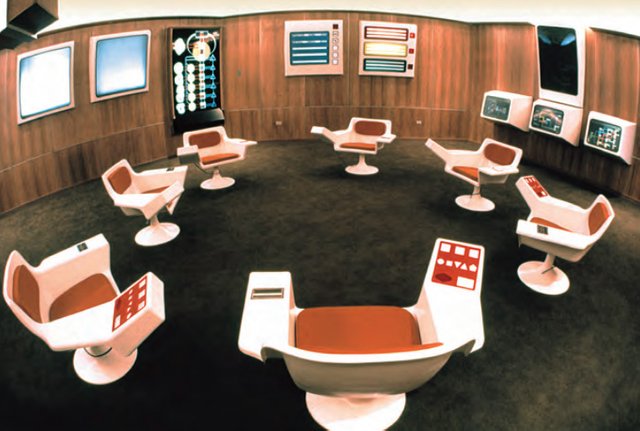 Source: https://99percentinvisible.org/app/uploads/2016/10/cybersyn-room.jpgThe command center of Project Cybersyn, what is about the equivalent of a classical version of somethin​g like "proof-of-brain" on the Steem blockchain.
---
California Dreamin' and East Coast Steemin'
So yeah, I vacationed with my partner since introducing myself to Steemians a few weeks ago. We went from Portland to San Francisco, then looping back, snaking along US Route 101 South; North, we took on another highway, the name of which I don't recall (nor will I look up right now because I've gotta tend to some Steemit rookie mistakes-style housecleaning); though content and bopping along just fine, relishing the views, I nonetheless was going inwards a lot—I had Steemit on my mind. I read a ton on cryptocurrency before leaving NYC, and though I resisted touching a physical QWERTY keyboard while away, my brain still felt connected—"online" somehow—while I processed all that I'd just learned about the Steemit platform. Viral, Steemian memes were officially hosted in my brain. I couldn't help but think in analogies of evolution between the platform and the coastal forests, in terms of the evolutionary algorithms at work, perceived by me while I stared at the sea.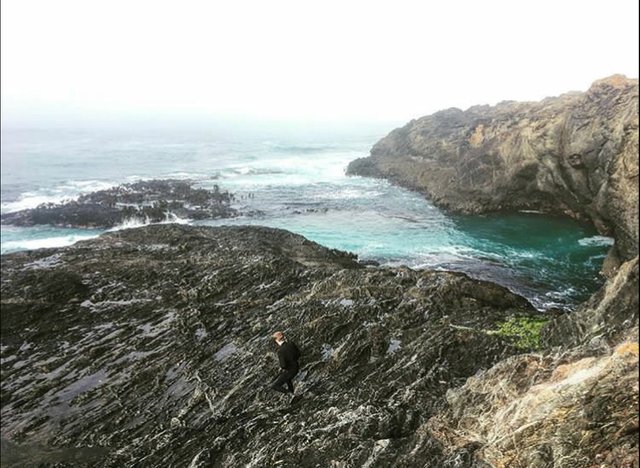 Me, staring on the Pacific for the first time, but computing memes per usual. Taken in Mendocino, CA.
These personal things matter to the abstract concerns of this blog because I am talking about the inner changes of my memes since leaving the institutional world I had grown comfortable with, the modern US university system. My memes are changing as my memetic environs do. So, forgive the hybrid nature of this post, but I have another purpose here as well: while it's moreover a post of the "I woulda put this on Facebook except life is different now" variety, it's also the third in a series meant to blend my analysis of right-wing aesthetics with personal reflections on the thematics of living through a moment of unclear political horizons and being a Steem wallet holder— and therefore somebody who cares deeply about adding value to the blockchain beneath this one interface that, for now, is what I call home in the world of cryptocurrency. Next on the blockchain for me? Probably Dmania and Dtube on the content side, and I am still familiarizing myself with the Steem Python documentation, but I cannot wait to get active on Utopian.io.
In a post from the other night, which I wrote when I was caught up in the excitement of figuring out what the Global Blockchain Technologies investment meant, I ended a post with language that is still relevant, and I'll use it as a refrain between posts to call it quits today as well.
Steemit is where writing, visuals, audio, as well as any other bit of information or action—or even whole programs—can deliver packages of serialized (or not) and hyperlinked objects: memes, units of information that can be replicated and put in our wallets. This is a memes and not a means economy, one wherein any meme can attach to the blockchain like a crustacean. Though it sounds a little hyperbolic, I'd confidently argue that there is an oceanic​ feeling here as we hedge our bets on content and the platform's architecture (at least on my feed, particularly after a wave of posts from Steemfest crashed ashore).
Where in the interference patterns are we floating and evolving our rewards pool? Where and when in the ripple of the blockchain algorithm will we land? I hope not chaos, but tonight I'm doubting it will be entropy that prevails as it has elsewhere​, even if it's a little loud in here right now.
But I can also end with the same words as the title, words I took from the bumper sticker in the first photo I put here, something I snapped when that wise wise man driving that Town Car passed by on that California highway, somewhere out there in that state: "I DRIVE BY FAITH • NOT BY SIGHT"
---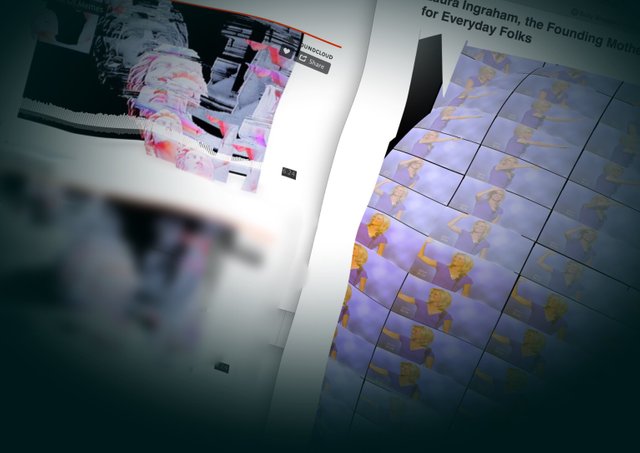 An unnecessary computer doodling, made from a screenshot of my desktop as I wrote for Steemit in these few days as a minnow.
---