"Leaving this country was heartbreaking. What an adventure!"
「  The City of Chefchaouen, Morocco  」

T H E   F I N A L   C H A P T E R
---
Dar Mounia, Chefchaouen
Sunday, 2 September 2018
---
It was my last night in Chefchaouen before my coach back to Fes to catch my flight the next evening. The passage of time while I spent my week here was strange - it was as if time itself stopped while in this magical place. It was incredibly calm and relaxed in Chefchaouen, where the locals didn't seem to mind the simple, chilled and laid back lifestyle. So much so that it almost seemed like all my troubles simply... vanished.
As part of my last day, I decided to wander into my local haunt, Place Outa el Hammam, which is the main square of the Chefchaouen's medina. After a quick mint-tea-break, I decided finally to enter the red-walled Kasbah that stood in front of the square. I have to admit, I thought it was sort of royal palace as I'd not seen many people go in and assumed entry was forbidden. There were no signs to say the cost, nor that it was visitor-friendly. Determined to make the most of my last day here, I ventured to the grand red-brick arch entrance and tentatively walked in. That was when I saw a small, discrete booth to my right. I ventured in, and paid a modest sum of 10 Dirhams, or about 1 USD to the sleepy guard in the booth and was let inside.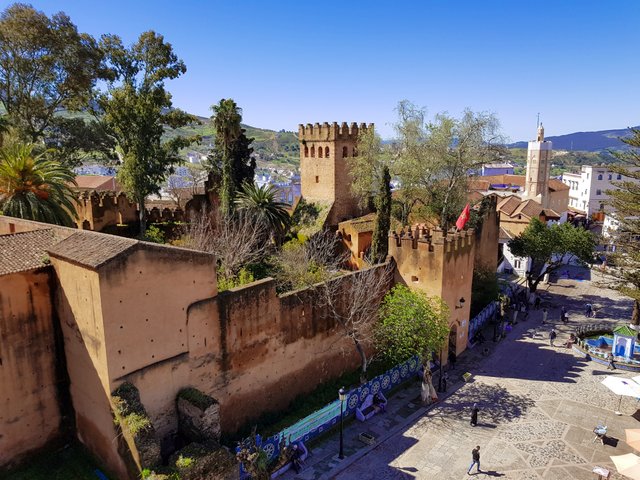 View of Place Outa el Hammam and Chefchaouen's Kasbah
No one was here, no visitors, no security, no one; apart from the lone cleaner slowly sweeping the fallen leaves on the red-brick path that encircled a grand water feature in the middle of the Kasbah. To the corners of the Kasbah were giant red-clay watchtowers. Within the Kasbah is a small ethnographic museum and art gallery, both of which were housed in a smaller compound to the west of the Kasbah. But this wasn't the reason I was here - there was a watchtower with my name on it, and I just knew I had to make my way to take in some spectacular views. I wasn't wrong.
Up wooden, winding staircases, the view from the top was mesmerising in every direction. On one side, a complete panorama of the rolling, green hills that encompassed Chefchaouen, and on the other the view of the Kasbah courtyard in the foreground, the with stunning blue houses in the background lining the mountain ridges. It was a welcome break having this view to myself this time, compared to sharing it with others at the top of the Spanish Mosque which you can see at the top of the hill in the picture below if you look closely!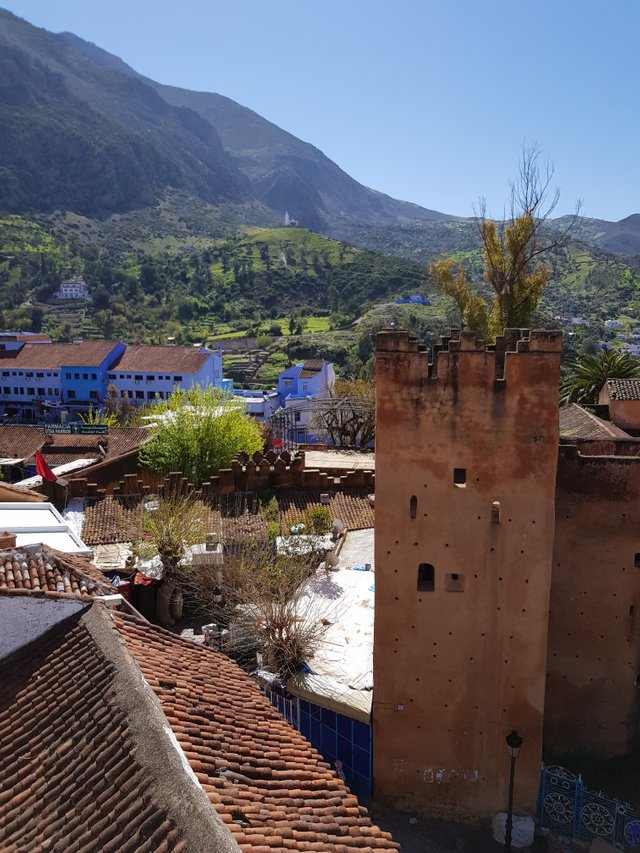 One of the Kasbah watchtowers, with the Spanish Mosque in the distance on the hillside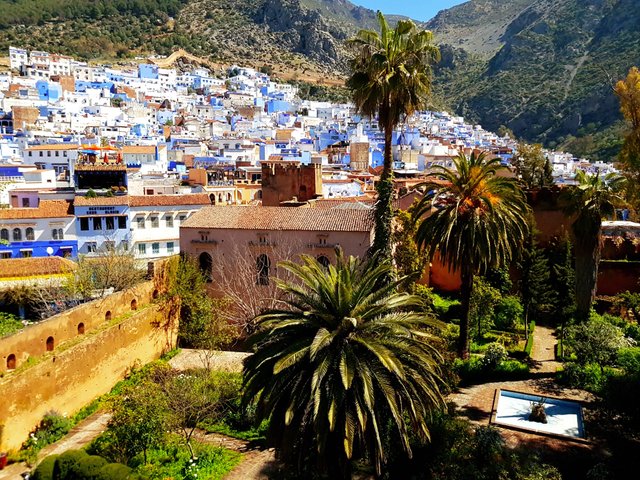 The Kasbah courtyard and Chefchaouen behind it
Towards the evening, I decided to wander some more, really snaking my way into the deeper parts of the alleyway maze, to the areas which I didn't recognise (because after a week here you really do get to memorise the twists and turns of the alleyways!). As such, I've shared a lot of my photographs at the end of this post for you all to go through! I have hundreds of photos so could only share a few due to bandwidth issues, but with enough demand I'd be happy to share some more later down the line!
As evening drew, I dined alone again, by candlelight, for the last time here - content in my solitude. I decided to have it in the main square overlooking the Kasbah, with a pleasant acoustic performance echoing across the plaza whilst I dined. I had a mix of beef tagine, salad, soft bread and frites - something I'd had often during my stay here (as the tagine is always to die for!). It's a little bit more expensive here in the plaza, about 50 Dirham for a meal and tea, but the view and music was more than worth it.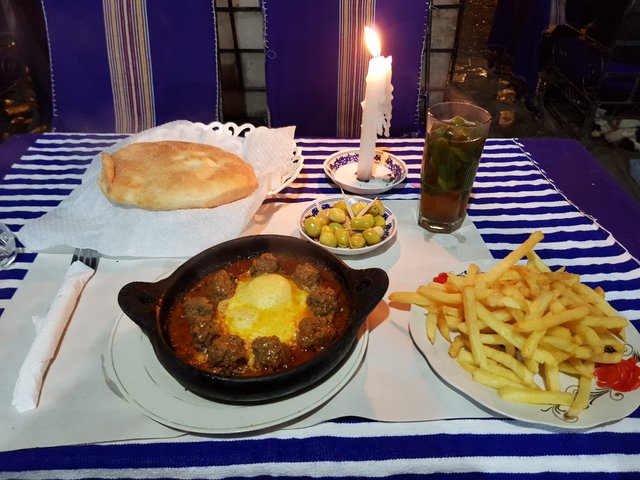 Tagine in Place Outa el Hammam
The next day I checked out of Dar Mounia and took the four hour coach bus as early as I could to spend a few hours in Fes before my flight. And more importantly, to have lunch with friends I had made in Fes previously. After we met, hugged and eventually at lunch, we exchanged stories of laughs, hardships, favourite moments but universally we felt a sadness that the trip was coming to an end. They had a few more days to go - lucky for them - but I did not.
There is one solace I can take from leaving though. First are the incredible experiences I've had, and more importantly, the friends I've made. Not just in Morocco, but also on this platform. You guys have been my friends in my pocket who have travelled with me and for that I'm forever grateful. Using Steemit as a medium in writing about all my experiences, sharing it and engaging with every single one of you has made my trip memorable, for a number of reason. Firstly, I feel like I've managed to convince some Steemians to put Morocco on their list to travel to. Secondly, people who may not have the means to go have told me how thankful they are for showing them a glimpse of this country. Lastly, and funnily enough, it's thanks to the blockchain. Posts on the Steem blockchain are irrefutable, un-erasable and in essence, are forever. And using this magical platform has allowed me to keep my experiences around Morocco... Well. Just that. Forever. For me to look at and have in years to come.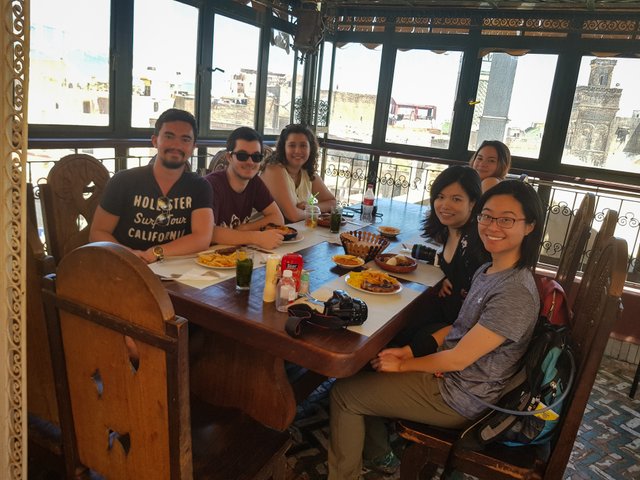 My last meal in Morocco, with great newfound friends
Here's to many, many more memories and adventures to be forever made on the blockchain. And I look forward to having you all with me when those memories become made. I appreciate having you all here. Thank you everyone, you're all incredible, wonderful people and I mean that from the bottom of my heart.
And with that, stay tuned for the next adventure - my favourite country on this entire planet: The Philippines!!
Much love,
Stephen
---
F I N A L  P H O T O G R A P H S
The City of Chefchaouen, Morocco
---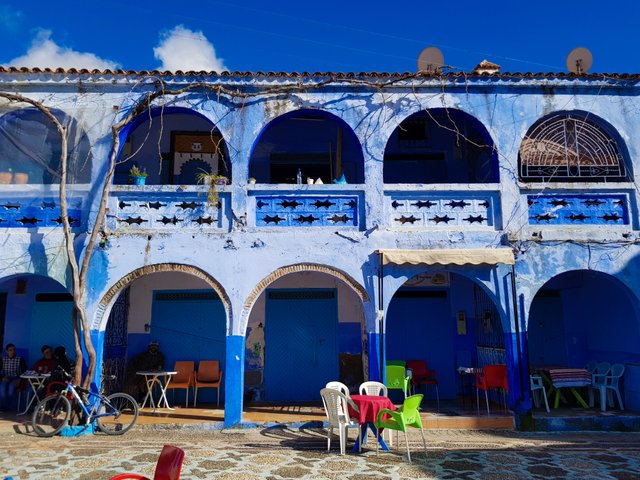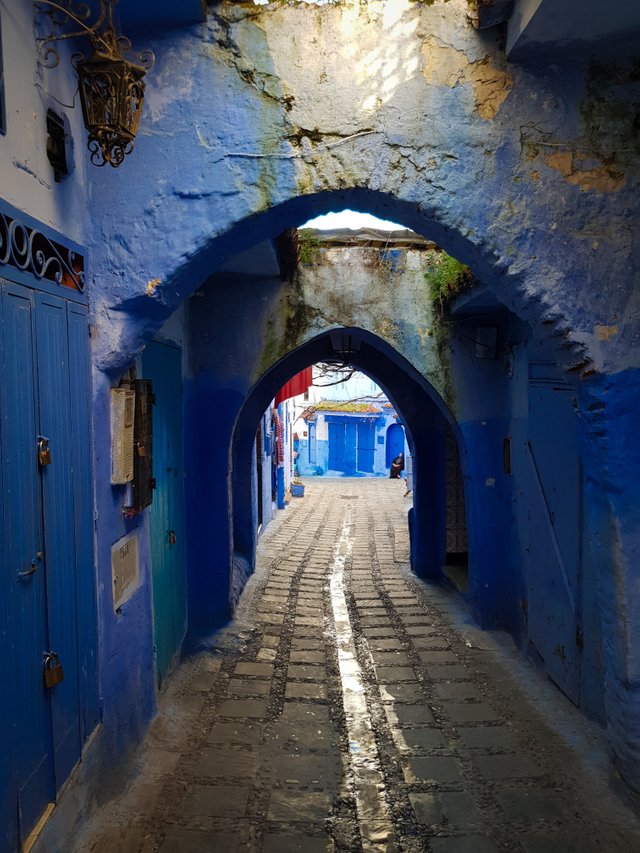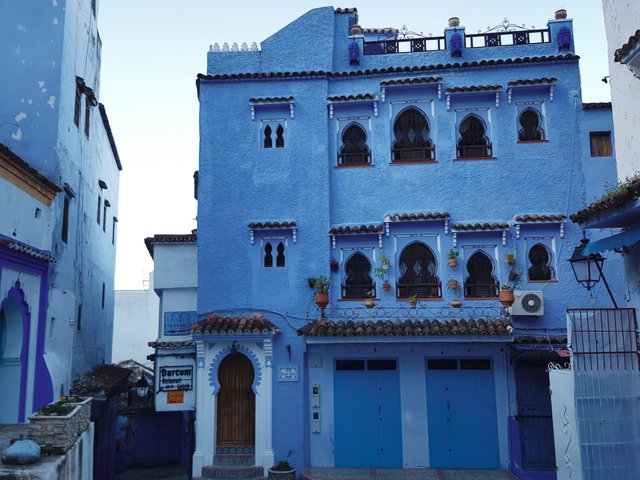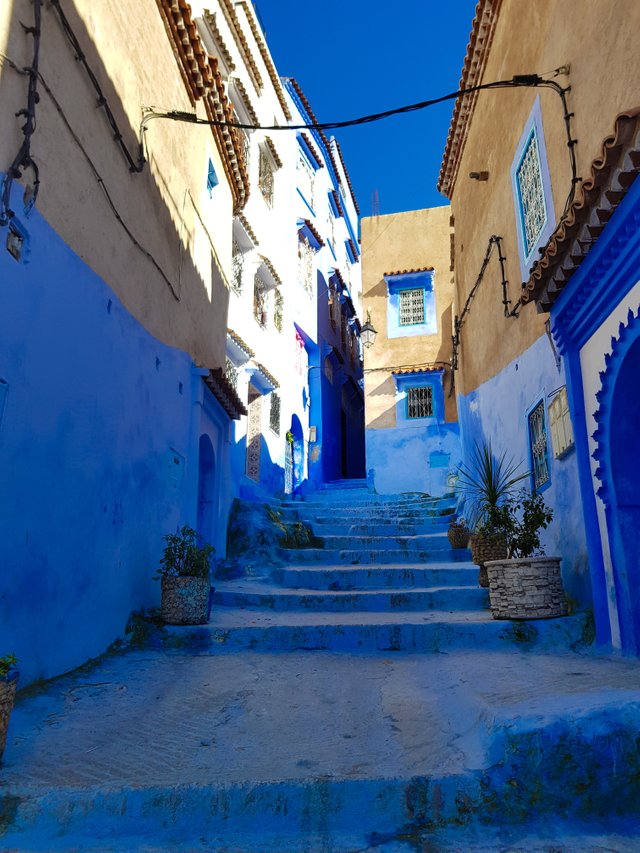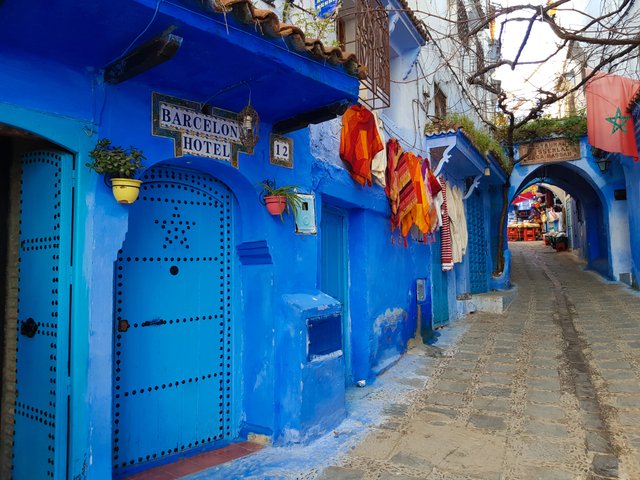 ---
D E T A I L S
🌏 | Chefchaouen, Morocco
📷 | Canon PowerShot SX730 HS
🎨 | Lightroom Mobile edits used
---
Over the next few weeks I'll be trekking through Morocco and I'll be sharing with you my stories, emotions, advice and tips about this wonderful place. I will be doing this while sharing my photographs with all of you too. I sincerely hope this inspires you to go out there and travel!
Please do follow if you want to keep up with my journey through this country <3
Any upvotes or reblogs are hugely appreciated! Much love, everybody.
---
P R E V I O U S   P O S T
Click on the photograph in case you missed the last adventure...
---
I N S T A G R A M 📸

Follow on Instagram for more! Comment and say hello 💙
@stephengreenprice