Dear Steemit Friends
I am so excited to participate in  @eroche challenge to share about a Jewish culture celebration that I love attending.  I want to share with you about this special event that takes place when a boy turns 13.  
On this day, when the boy turns 13, it is not an ordinary birthday like any other birthday.  Rather it is called a Bar Mitzvah Celebration that takes place for the entire family, relatives and friends.  
Everytime when I watch a Bar Mitzvah taking place, my heart is truly inspired.   My heart goes out to bless the family as I watch the whole ceremony taking place.  Watch how this little boy kisses his grandfather for this special occasion.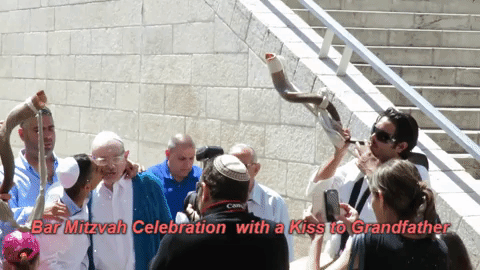 I live in Hong Kong but whenever we have the opportunity, my husband and I would go to Israel to spend our time studying there.  By spending extended time in Israel, we get to learn about the country, the places and also the Jewish culture that we don't get to see if we were just tourists. So we were very fortunate to be able to visit Israel for the first time in 1998 with our friends and coworkers.  From that very first visit, it  started the fire within us to go back to visit the land of Israel time and time again in subsequent years.  After 4 visits, we took a group of our church members to for a study tour in Israel in 2015. 
The Jewish culture is fascinating and it sheds a lot of light for us to draw closer to God to understand the Bible better.

What is a Bar Mitzvah?

• "Bar" is "son".
• "Mitzvah" is "commandment".

Literally it means "son of the commandment".


What does it mean to become "son of the commandment"?
In the Jewish culture, when a boy reaches 13 years old, they automatically become a 'Bar Mitzvah".  This is a 'turning point' of the little boy's life as he is now obligated to observe the commandments in the Bible.  Before the age of 13, children are encouraged to follow the commandments in the Bible but they are not required to do so.  But on their 13th Birthday, they are now under obligation to put God's commandments into actions.
For the Jews, the commandments of God are written in the Law of Moses.  We know the 10 commandments are given on Mount Sinai to Moses.  Moses had written 5 books in the Old Testament of the Bible, and this section of the Bible is called Torah.  The religious Jews spend all their lives studying the Torah as it gives them specific instructions of how to live a life that is pleasing to God.  So for all Jewish boys, they prepare for this big transition in their lives to follow the Torah for the rest of their lives.
Here you see the family helping the boy to touch the Torah Case at the Western Wall in Jerusalem.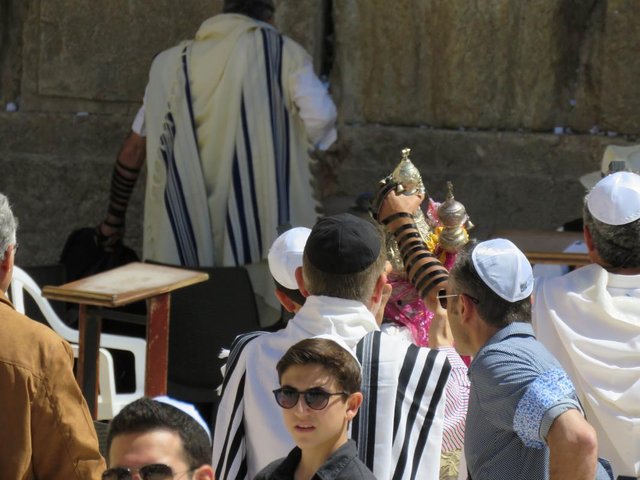 We managed to get a hold of this boy with the leather binding of the arm as he touches the Torah.  The leather binding of the arm and the head with tefillin remind him that from this day forward, his life is committed totally to live for God   He is now committed to control his actions and thoughts by studying the Torah so as to bring blessing to himself and to others.
Bar Mitzvah is Automatic
You will be surprised to hear this.  In fact, no ceremony is really needed to confer these rights and obligations at all to the boy when he turns 13.  It is automatic.  
For most Jewish families, the father will conduct a small ceremony at home to impress a unique experience to the little boy's life.  It serves as a reminder for them  that they are "sons of commandment" and that they are now held responsible to understand God's commandments and act upon them.

For some Jewish  families, they make it a point to make it a "Big Celebration" by bringing the boy to the Western Wall.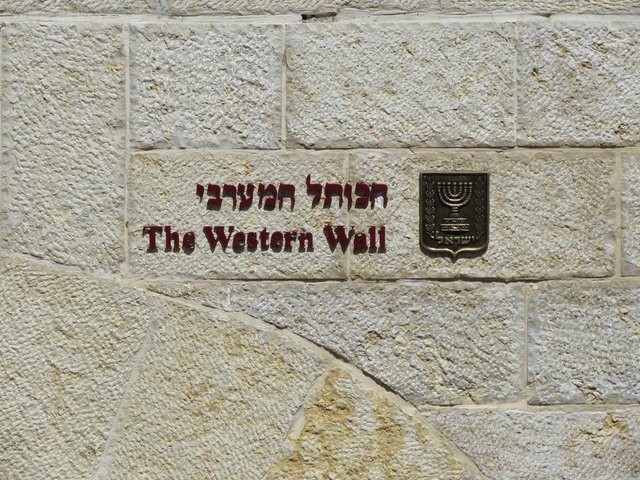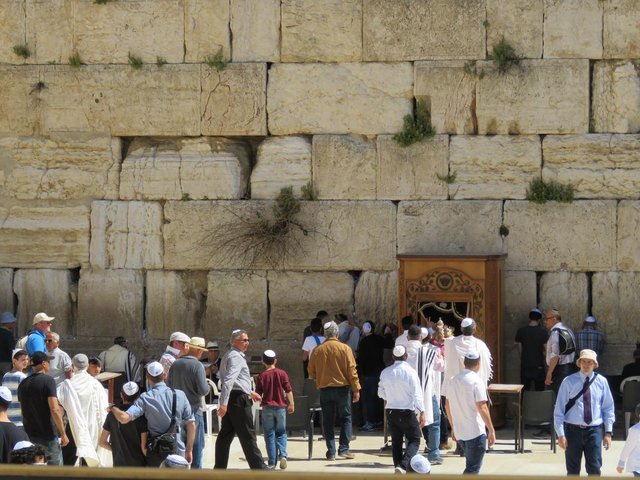 Ceremony Times at the Western Wall

The Bar Mitzvah's Ceremony does not take place every day at the Western Wall.  If you want to see this event, you will see it on Mondays, Thursdays or Rosh Chodesh (the 1st day of the Hebrew month).  The reason is that the Torah is read by the rabbis there on these designated days.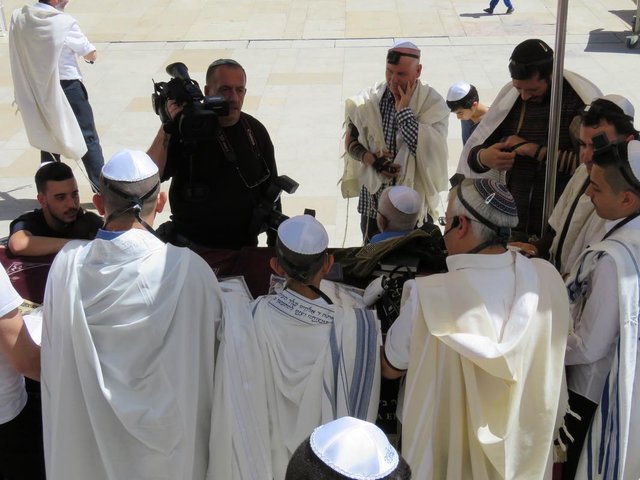 The ceremony time starts as early as 7 am and finshes at 3pm.  
Different families gather here for their ceremony and procession.  From beginning to end, a Bar Mitzvah ceremony takes about 30 to 45 minutes for each family.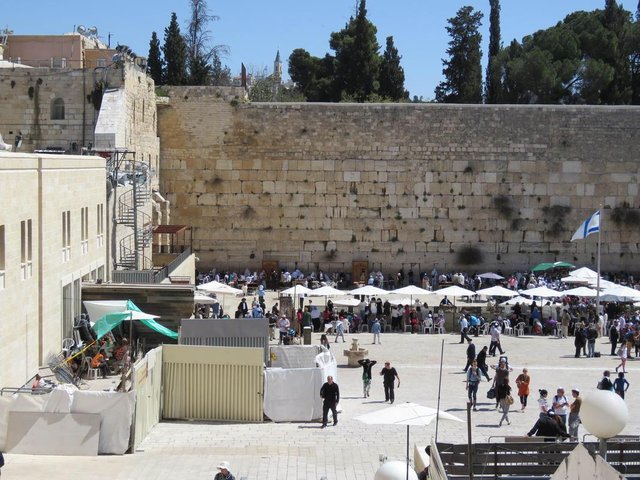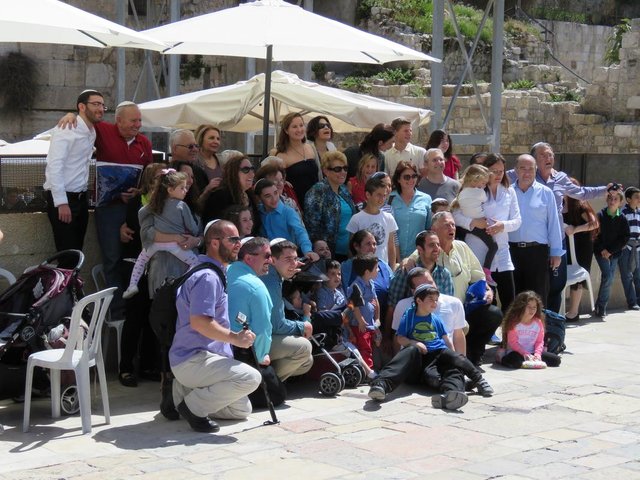 Families gather around here in a procession line to get inside the Western Wall for the Bar Mitzvah Celebration.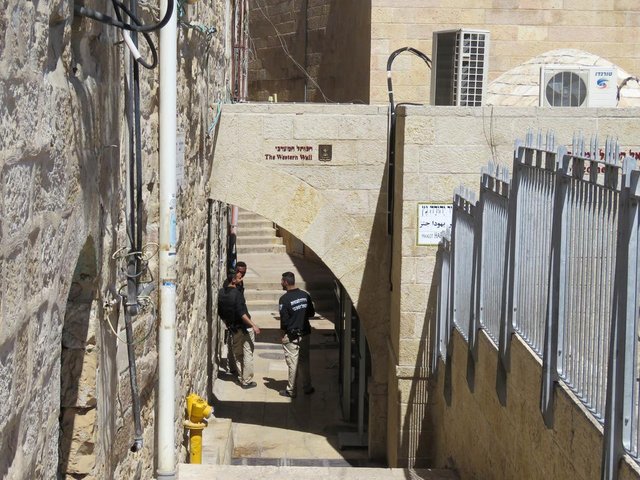 Before they enter the Western wall, families will pray, sing and dance as they follow the procession line to go inside the Western Wall. 


Families need to register with the Western Wall Heritage Foundation ahead of time to secure a place for them to hold the ceremony.  After a date is set, the family then invite relatives to celebrate with them.  Usually we see a crowd of at least 50 people surrounding the little boy for his Bar Mitzvah.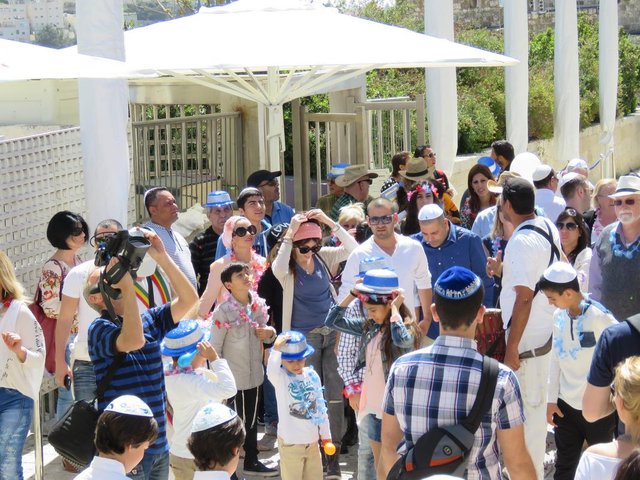 It is quite a lively event with dancing and music. 
Here is the father dancing with his boy turning 13.
Click on the following video to watch the dance.  It is heart-warming. You will also want to get up to dance with them and snap away.
Get ready . . . clap with them . . .  da da da dum ...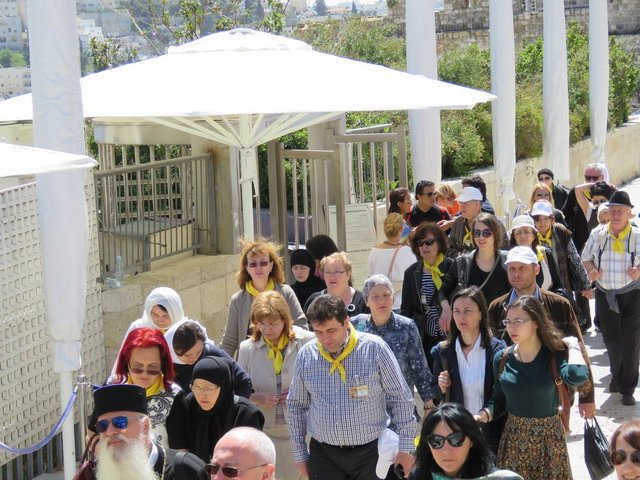 The celebration begins with setting free the balloons!
We took a video of this momentous occasion.  
               Up, up, up the balloons go.   
              We all want to fly up high in the sky.  
              Do you? 
             I  do. 
            So do they!

Each family has its Tabernacle of Tent
The Jewish families love these Tabernacle Tents.  It reminds them of  Exodus when the Israelites wandered into the wilderness living in tents.  God asked Moses to build the Tent of Tabernacle where God promises to come down in His glory to live with the Israelites so that they can sense His presence.  Whenever Moses entered into the Tent of Tabernacle, God's glory descended.  Everyone would be in awe to wait for Moses' instructions.
The tabernacles remind them of God dwelling among His people.
The tents remind them of their 'pilgrim' lives on this earth.  We are all pilgrims on earth as the earth is not our permanent home forever.  We live as pilgrims so that we do not need to attach our thoughts and lives to this physical world which will all pass away.  One day, we all pass on.  Nothing lasts. Not our physical home. Not even our physical relationships.  Not even our physical life.  So we need to dwell more on the Bible and read about eternal laws where God's Kingdom is, where we all need to strive to enter.   When people say they want to go to heaven, it means to enter into God's Kingdom.  What is so precious is that we can have a taste of it today on this earth.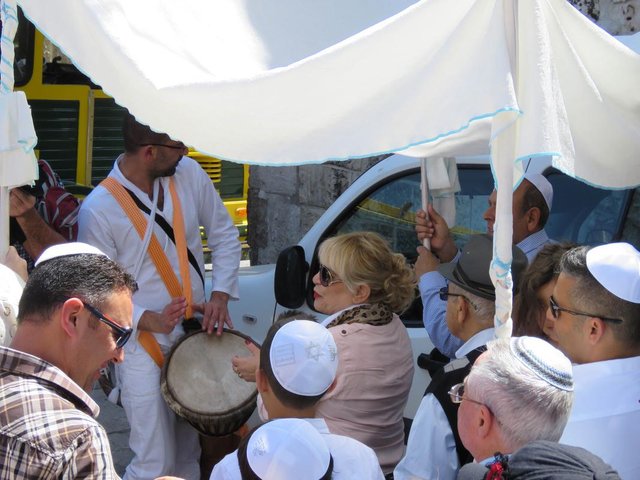 The  Shofar
In the entire procession of dance, they blow their traditional shofar to 'announce' to everyone that the ceremony is beginning.  The Shofar is  an ancient musical horn made of ram's horn used for Jewish religious purpose. It does not have any pitch altering device.  
In the video here, you can hear the sound of shofar.  I love it.  
A Solemn Respectful Event Also 
Look at how the grandfather  dresses himself on this special occasion for his grandson.  What a great honor, eh?
He is quite up to date.  I think he is talking on a mobile phone.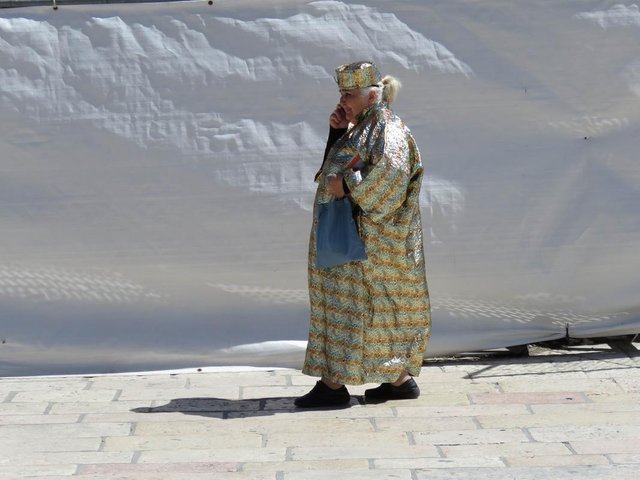 The father  usually recites a blessing thanking God for removing the burden of being responsible for the son's sins as the son is now old enough to be accountable for his own actions. 
There is the reading the commandment in the presence of a Jewish rabbi.  The rabbi then confers the blessing onto the little boy in the presence of his father and family.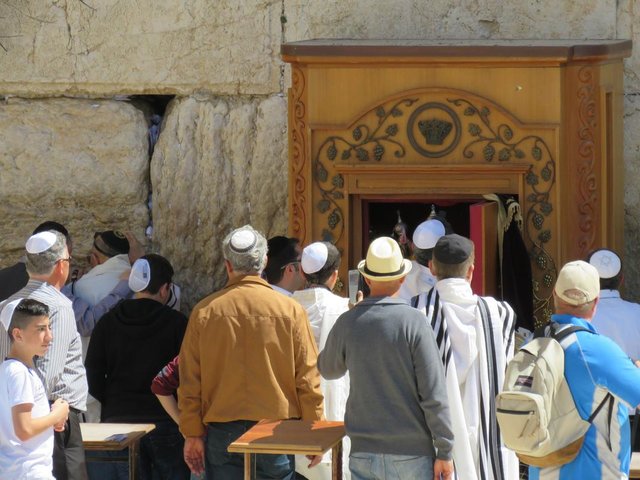 I like the way the values the Jewish families have for their children.
When I watch all these ceremonies that take place, it is truly a magical moment for them, and also for me too as an onlooker watching their ceremonies.  
In my chinese culture, we don't have such celebrations at all.  
When I grew up, we always celebrate our parents or grand parents birthdays.  Their birthdays are always special and worthy of celebration because of their elderly age.  This is the mentality of the older chinese generation after the second world war period.  Life was difficult and hard then. It was not easy to live past 60 or 70.  Their generation was also  baby boom years where every family usually has 1 handful of kids, at least 5 or 6 in one family.  Children were many and therefore not so important.  That was how I grew up.
The modern culture has changed in this new generation.  Children are of great importance, sometimes even more important than the elderlies.   It has swung to the other extreme where children nowadays do not know how to respect the elderlies, the older generation.
So when I look at these Jewish grand parents and parents celebrating this big occasion for the young boy, my heart is touched.  It is heart warming.  It is really a celebration of life for the little boy so that at 13, he moves forward with hope and confidence with all the support given to him by the elderly people.  This is truly a blessing.
This is something we can all learn from the Jewish Culture.
Look how the family members bond together - old and young alike!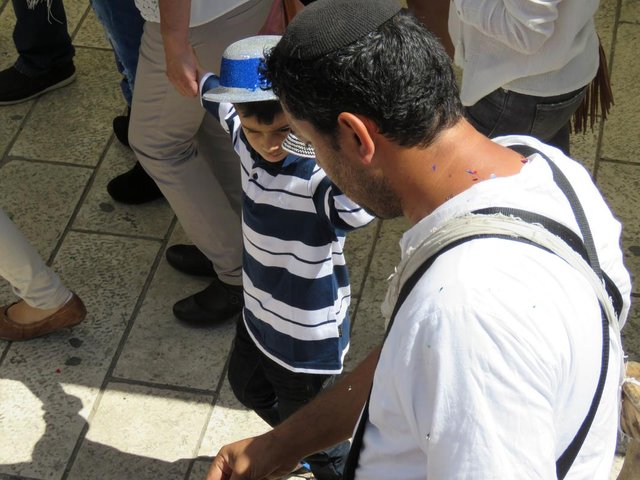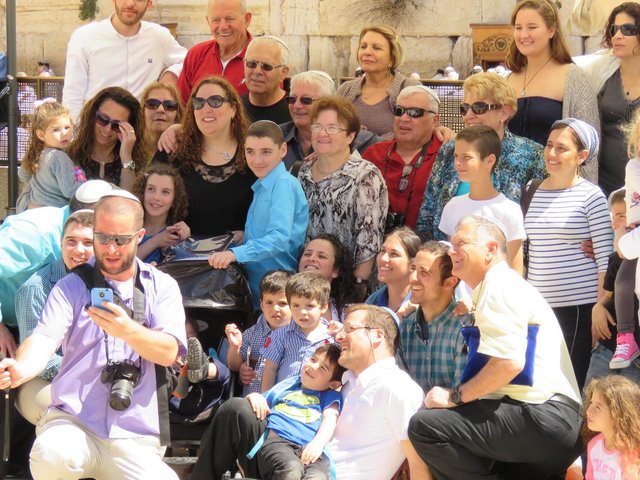 A Certificate is Given in the Bar Mitzvah Celebration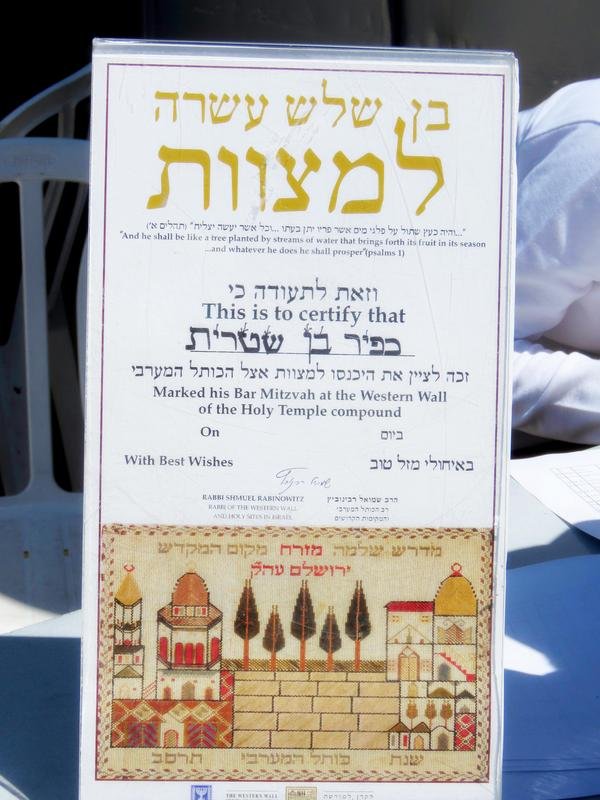 When the ceremony is finished with dancing procession, the reading of Torah, the blessing from the father, and the prayer by the rabbi, a certificate is given to the boy.
His Hebrew name is written there to certify that his now truly a "son of commandment".  
As I said earlier, all Jewish boys become a 'son of commandment' automatically without a ceremony.  
I believe going through the ceremony is a good event for the boy to mark this transition of his life.  It is a memorable event for him, for his father who gave birth to him, for the grandfather who can guide the little boy with lots of life's wisdom, as well as for the mother and the entire family, siblings, relatives and friends to celebrate his 13th birthday in a most meaningful way.
I hope you have enjoyed reading this post as much as I had put into sharing of this Jewish special culture with you.
We need to embrace good culture traditions.
If you like this post, please upvote, resteem and comment below.
I love to hear from you,
Rosa