The Return Home To Brighton, England After 4 Years Of Travel! - LOCAL STREET ART, HISTORY, CULTURE, LIFE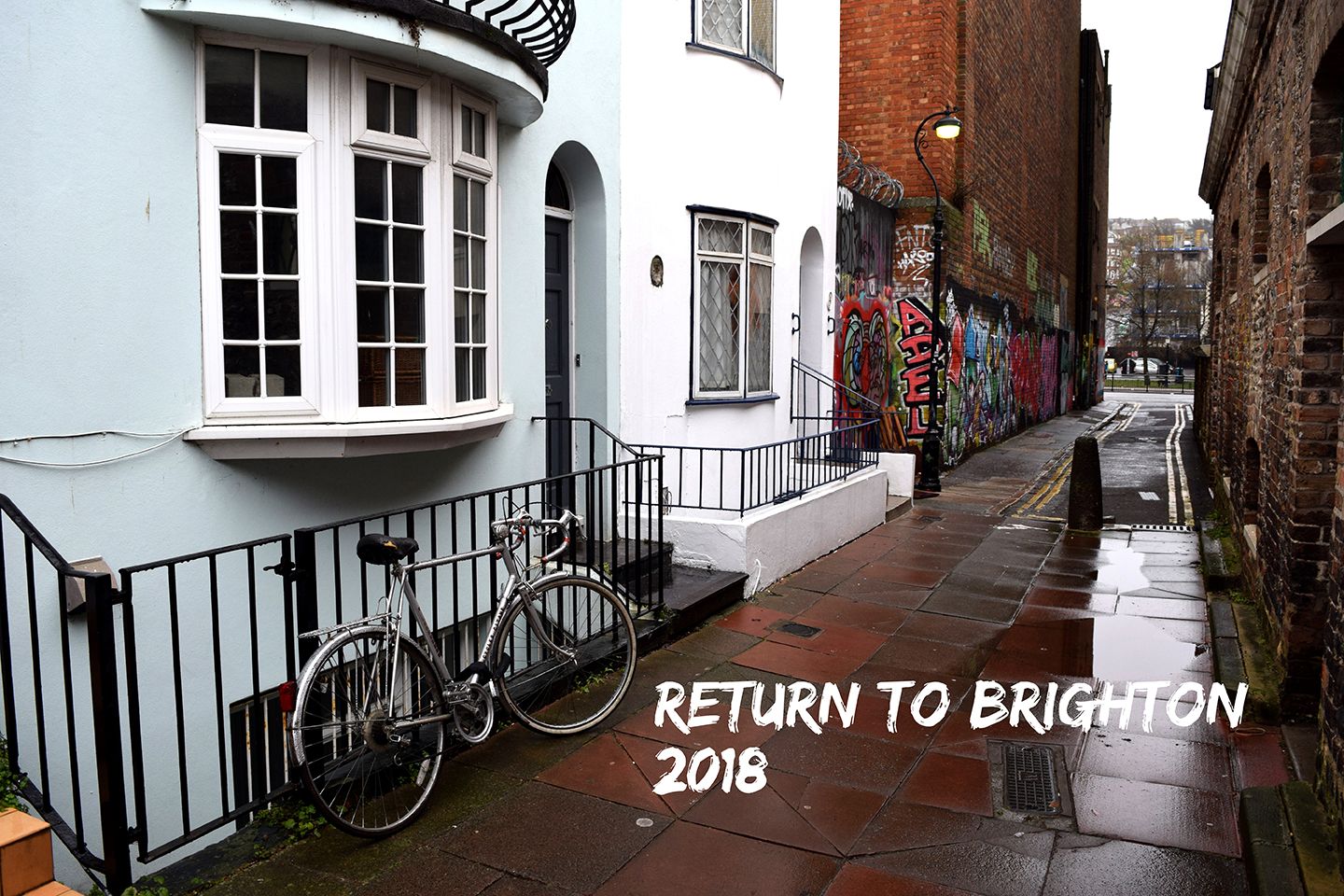 Years Of Living A Nomadic Life
After living in Queenstown, New Zealand, The Gold Coast, Australia, and travelling around Asia and the Pacific Islands, finally it was time to return home to the place I was raised up, and see friends and family, old and new.
Above image; 'The Back Alley' - I opted to choose a photograph of a Brighton street, my back alley in fact, to show a glimpse of the real Brighton streets up close, instead of something much more commonly associated with the City and widely recognised. Why? Because this is where I grew up, and walking back here is like stepping through time. It is significant to me and this post.
Brighton, once a small fishing town, now a lively 'City' (It still seems like a big town to me) on the South East Coast of England, is my hometown. I moved to Brighton when I was 3 years old, having left London due to some unfortunate circumstances, with my mum having to leave her now very valuable house behind in Stretham, London.
I spent a few years living in a couple of places in Brighton & Hove, before moving to Cheltenham Place in 1996. This is where I spent most of my years before going to Preston, Lancashire to study at University, and then to begin world travel July 2009.
Arriving Back In Brighton After The Longest Period Away From Home
I got off the train at Brighton Station. The sights, sounds, and smells, narrow streets, tiny shops, and southern English accents brought back many fond memories of my childhood and teenage years instantly. It was a strange feeling, after 4 years away from home, living in big open spaces, surrounded by epic mountains, lush forests and crystal clear lakes when I was staying in Queenstown, NZ, and right by the warm, sandy beach and clear ocean which I would swim in almost daily in Broadbeach, Gold Coast, Australia.
There was an expected sense of nostalgia as my mind ran through many memories of the past, flashing by rapidly in my mind. It was the first time that I've had this kind of experience upon returning home before. My previous longest trip away, was when I returned to Brighton December 2011 from India and Nepal, after spending 2.5 years away travelling. There was strong reminiscence of the past back then, but definitely not to this degree.
My cousin Jack greeted me outside the entrance of the station, he asked me what it was like, my first few words to him was "This feels really strange".
And it wasn't just this unusual experience of feeling like I was stepping back in time which gripped me, as on this return things seemed more different then any of my big trips away before. I felt I had changed more as an individual. I was different. I had seen, experienced, learned and grown so much in these 4 years. Was this having an effect on how I perceived my return home?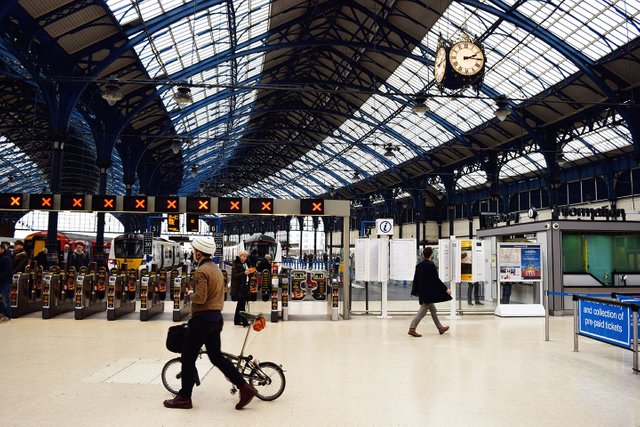 Above image; Brighton Station.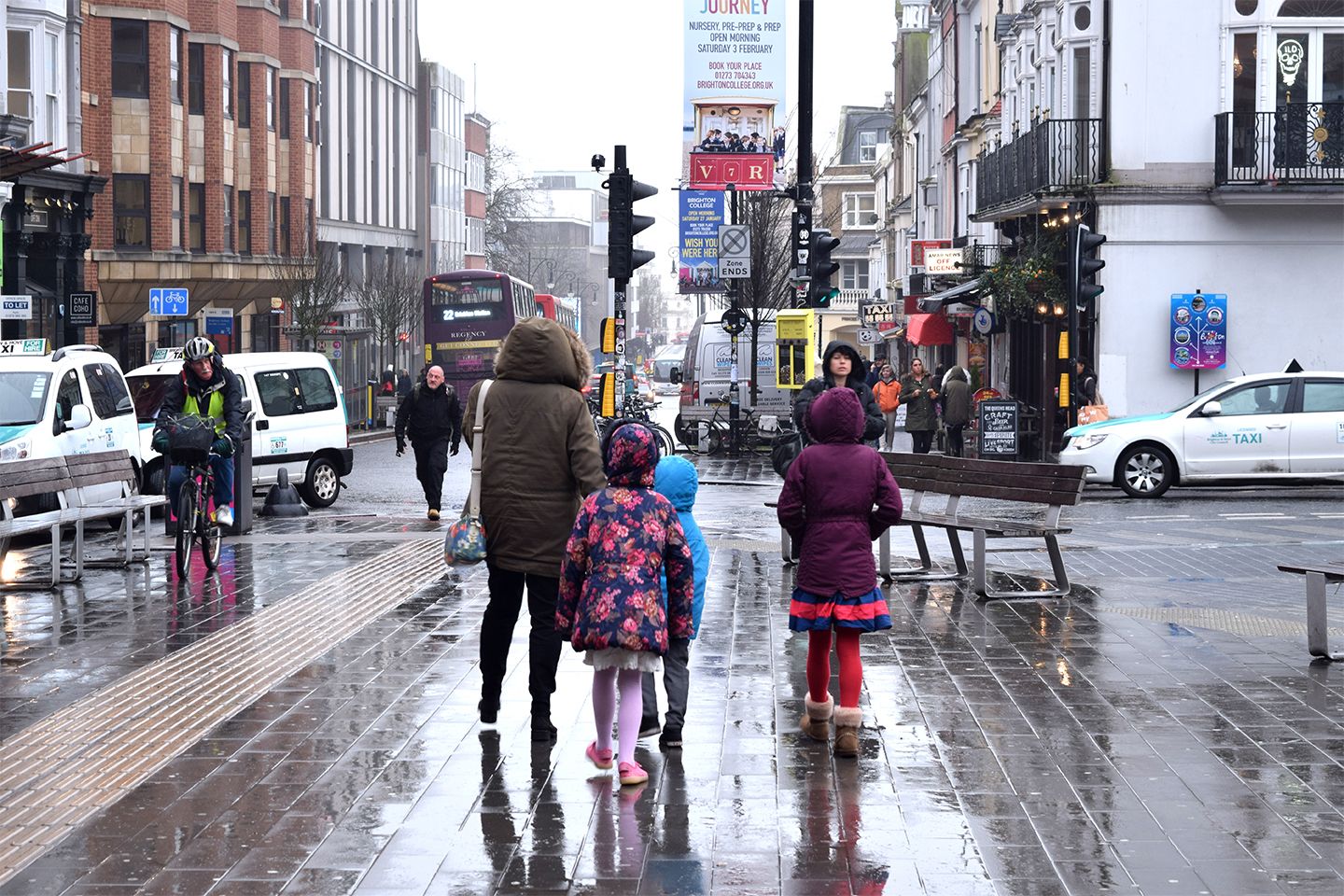 Above image; Walking out of Brighton station onto North Road.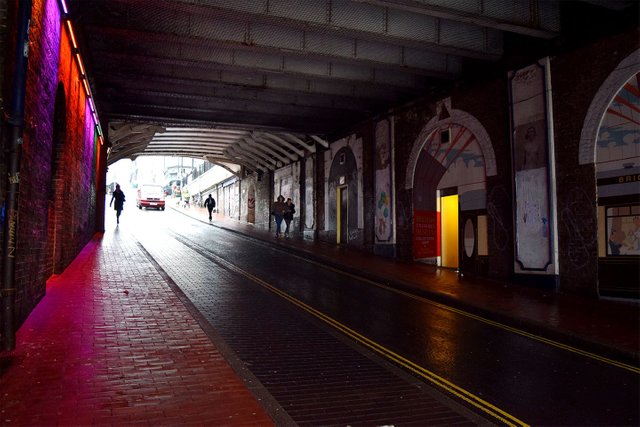 Above image; Tunnel beneath Brighton station, home of the iconic Brighton toy museum.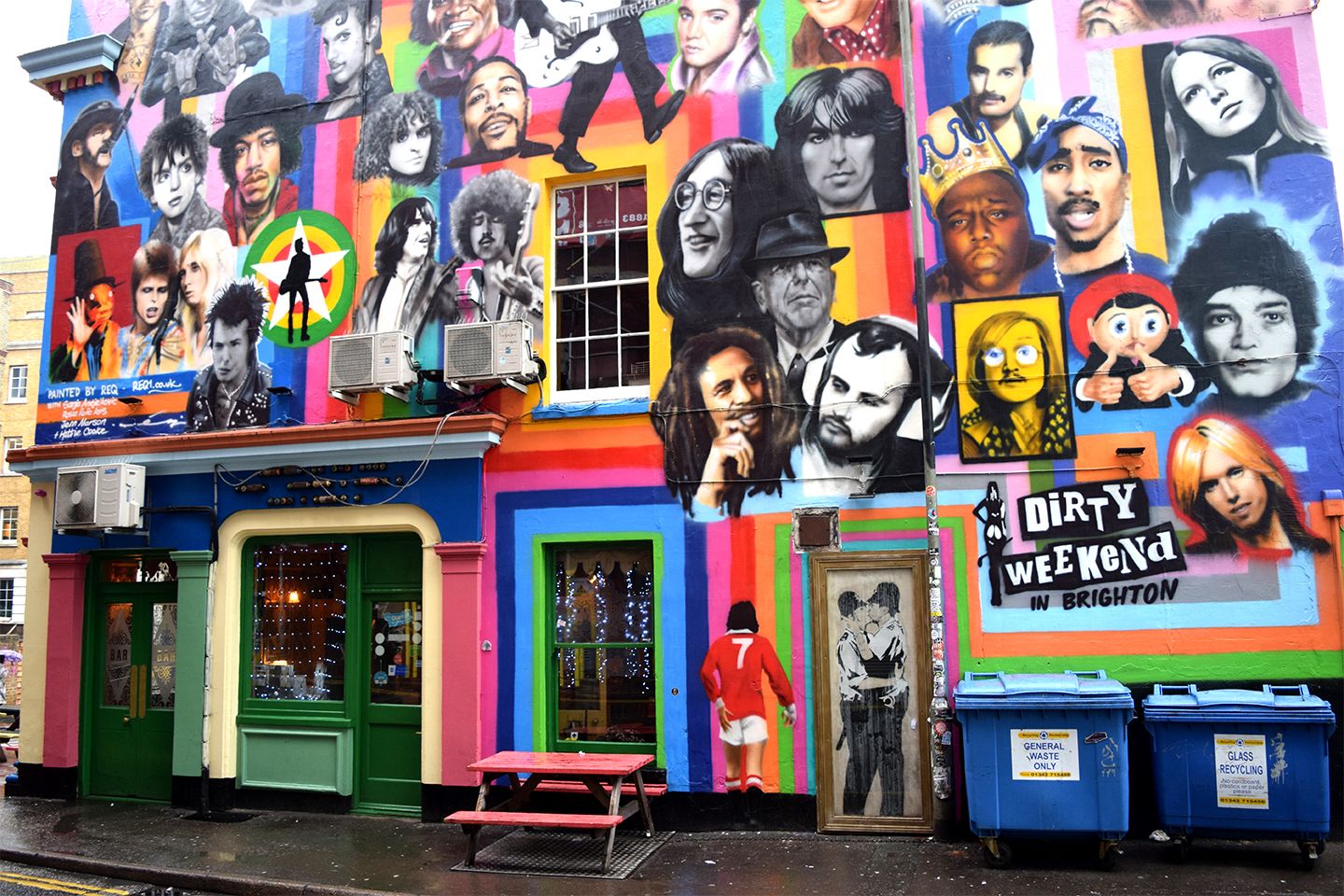 Above image; Side of the Prince Albert pub.
Street Art In Brighton
As you walk down the underground tunnel from Brighton station, you can enter the Brighton Toy & Model Museum, and then you are greeted by the Prince Albert pub, which is now decorated in mural art, and a famous Banksy piece of street art.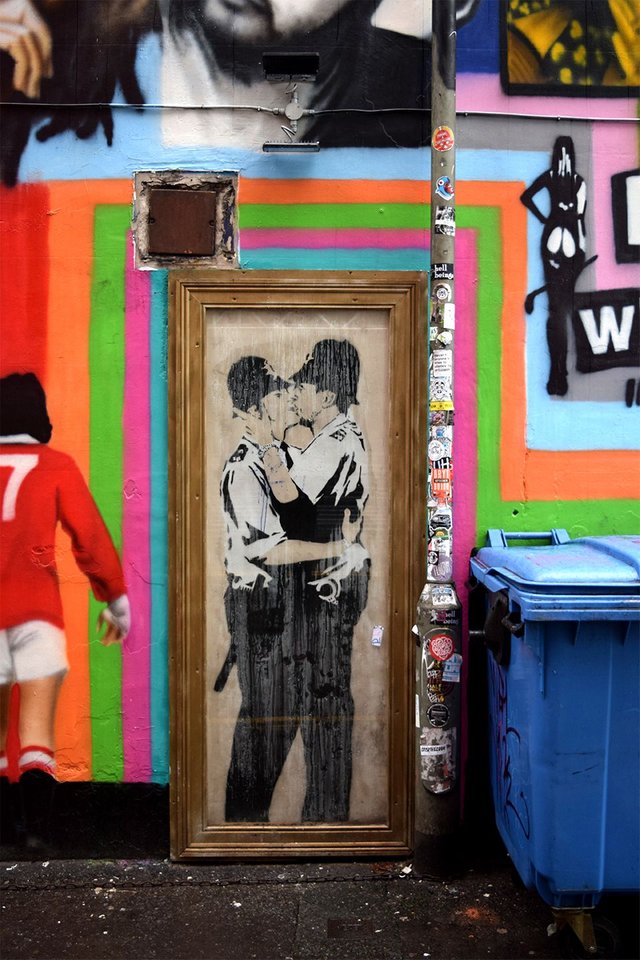 'The Kissing Coppers'
The famous street artist Banksy's Brighton piece, just around the corner from the top of Trafalgar stret was auctioned off to a buyer in Miami, U.S for £345,000. The piece remains on the side of the Prince Albert pub, 'protected' in a street frame of wood and plastic.
This piece by Banksy has been here for years. It inspired me to go on a Banksy street art hunt in New York, U.S.A late 2013, trying to locate and photograph all of his 'hidden pieces'.
Mural art now covers not only pub walls in Brighton and streets and alleyways around the city, but also shops, flats and houses. I'm sure the old graffiti art Rare Kind Gallery, (now a record shop) which was originally positioned at the end of my street on Cheltenham Place when it first opened years ago, now occupied by 'The Fountain Head' pub (named after Ayn Rand's classic?), had an influence on the budding graffiti and street art scene here.
I've always wanted to work at Rare Kind, I wonder what they might think of my art work if I showed them my development today? I'd have to locate where they are today first and make sure they are still up and running.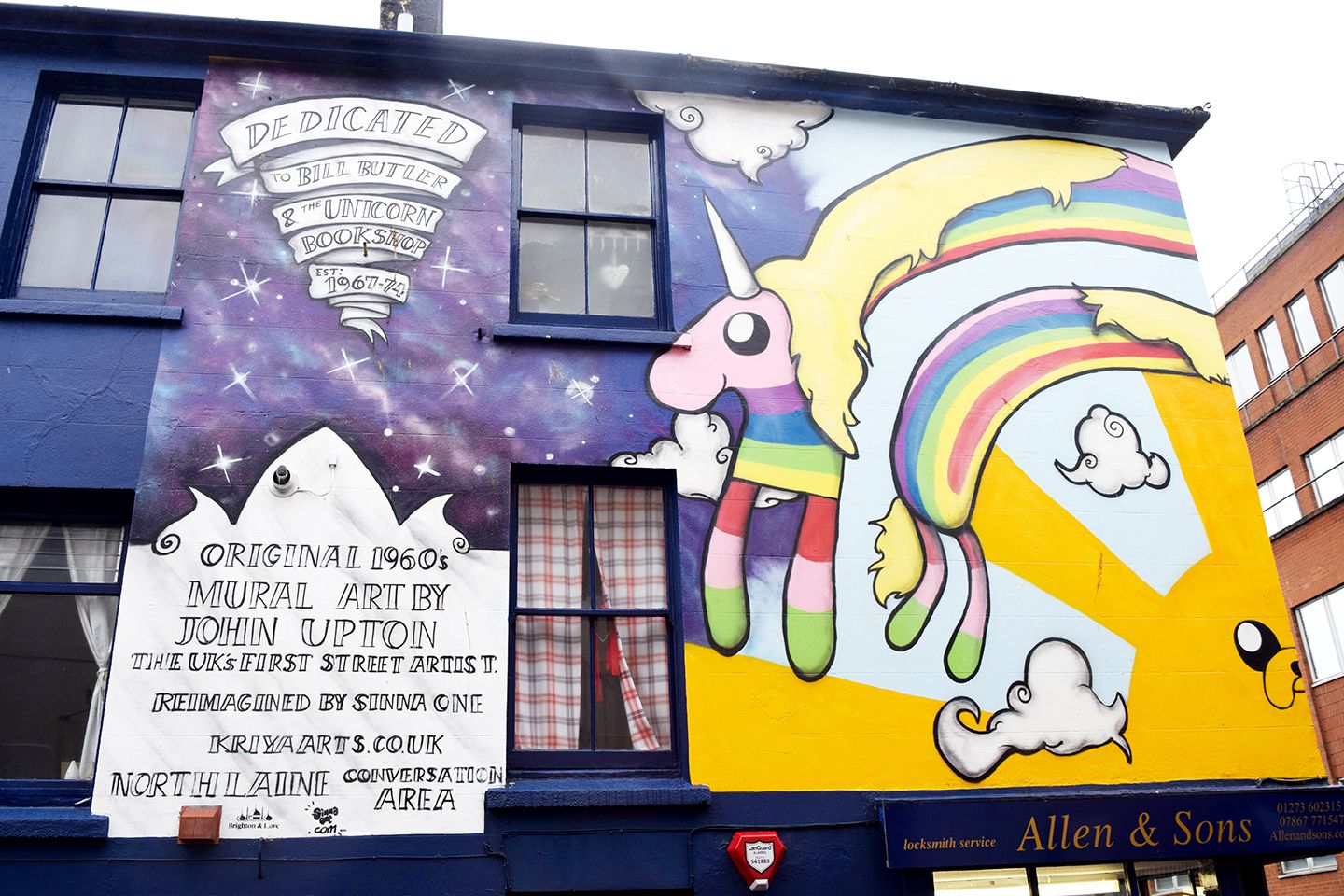 Above image; Original U.K street artist dedication.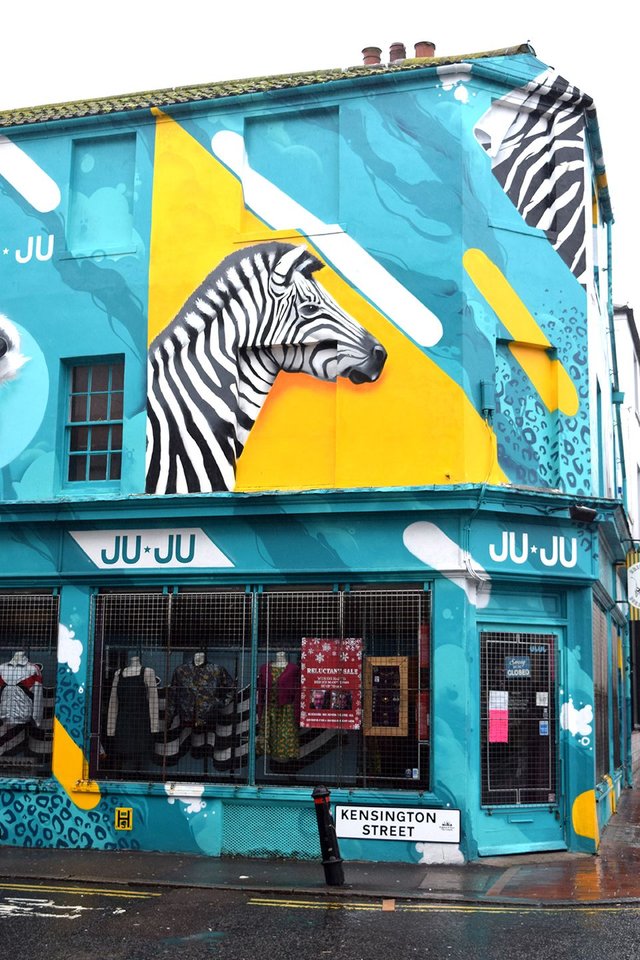 Above image; Mural Art on a shop on Kensington Street.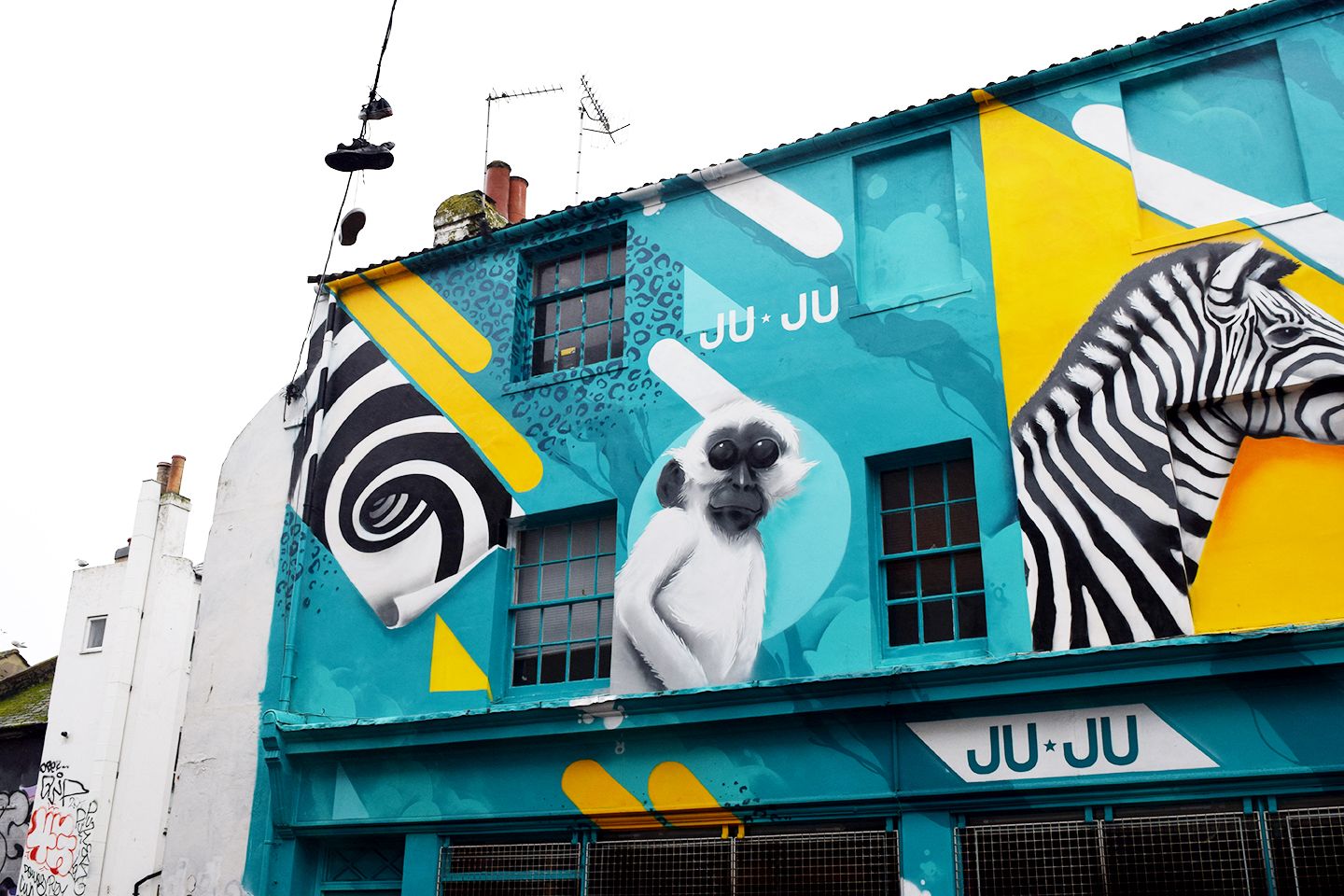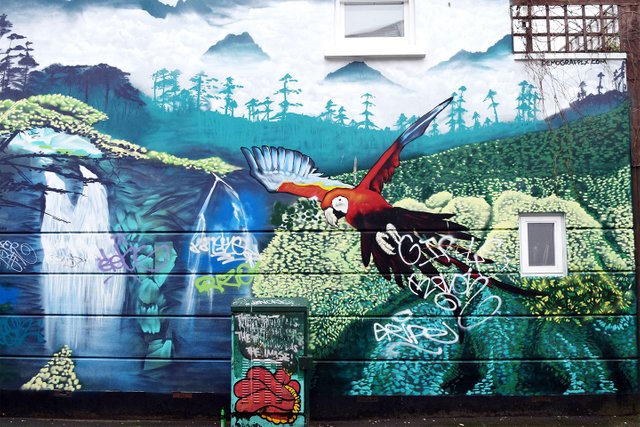 Above image; Tropical/rainforest street art close to my house.
Cheltenham Place Situated In The Historic North Laines
My street, Cheltenham Place, is considered prime location in Brighton. You walk out of my house, and to the right you have 'The Basket Makers Arms' and 'The Eagle' pubs at one end, and to the left you have 'The Fountain Head' pub, formerly the first graffiti gallery in Europe, 'Rarekind'.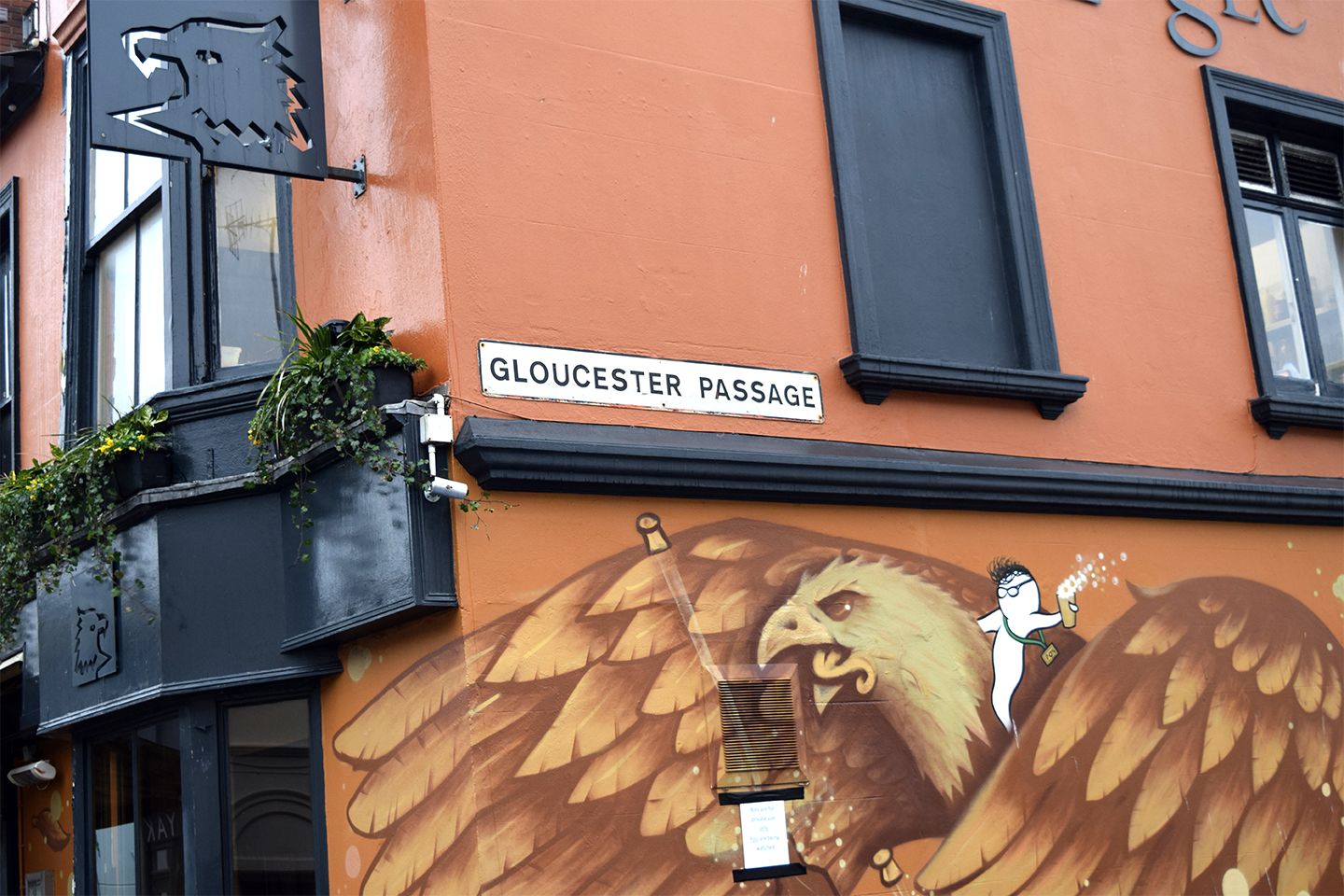 Above image; Gloucester Passage, home of 'The Eagle' pub, one of 3 on the end of my street, Cheltenham Place.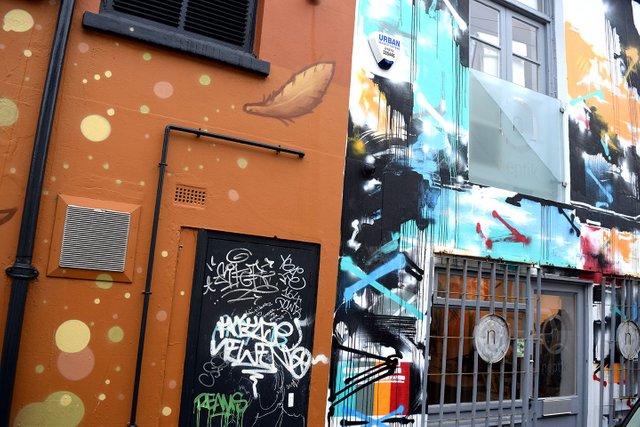 Above image; The Eagle pub, leading into a Graphic Design agency.
Traditional U.K Pub Life & Culture
Brighton is now home to about 900 pubs. That's a lot for a small city! As I previously mentioned, 3 are positioned at either end of my street. If you aren't already aware, pubs are an important part of life and culture all around England and the rest of the U.K. The word 'pub' being an abbreviation for 'Public House', where traditionally people would sometimes open up their homes for the public to sit in and socialise.
Unlike American bars, in a British pub you go to the bar and order a drink yourself instead of table service. If you are with a group, it is common courtesy to offer/get your friends a drink (a round) as you go to the bar, and bring them all back to the table yourself. Your friends/group usually take turns to do this.
Traditional pubs in England have always been a place for locals and travellers to gather and talk about the current times, the weather (of course, we're British), and quietly discuss 'conspiracy theories', such as the 'accidental death' (unlawful killing) of Princess Diana. Maybe not amongst the proud royalists mind you!
Pubs are a place to relax, unwind, and speak your mind. And it is not an obligation to get 'pissed' on alcohol, despite the binge drinking culture here. You can just as well order water, a juice or soft drink if you prefer.
The Basketmakers Arms - The Oldest Local Traditional Pub
The Basketmakers Arms pub has been around longer than the other two pubs at the ends of my street. Quite a bit older in fact, since the 19th century! This particular pub is a favourite of the locals. It's cozy, warm, and decorated with traditional local, national and cultural memorabilia.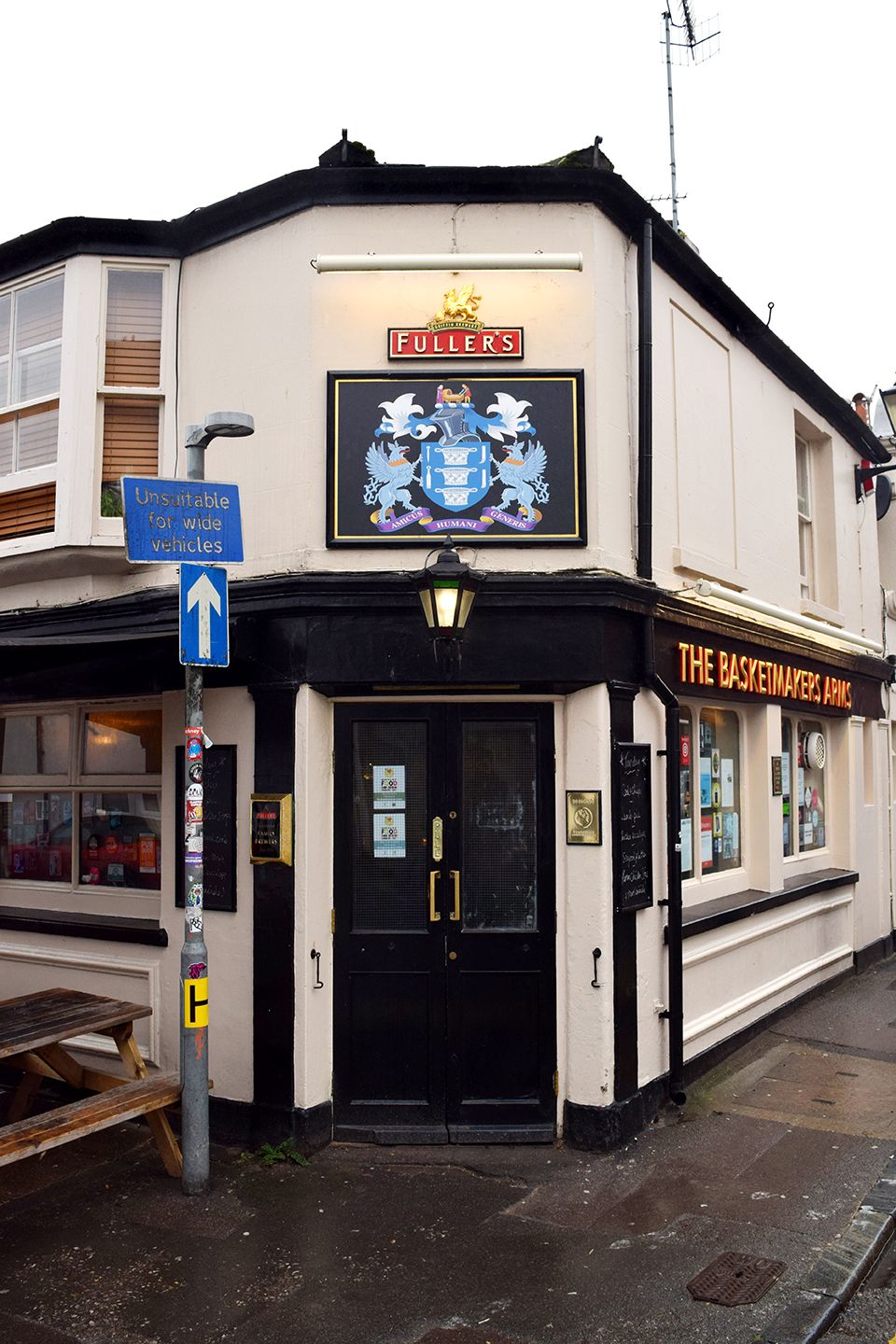 Above image; The entrance to 'The Basket Makers Arms' pub at one end of my street.
Take note! Only small vehicles can pass down my street.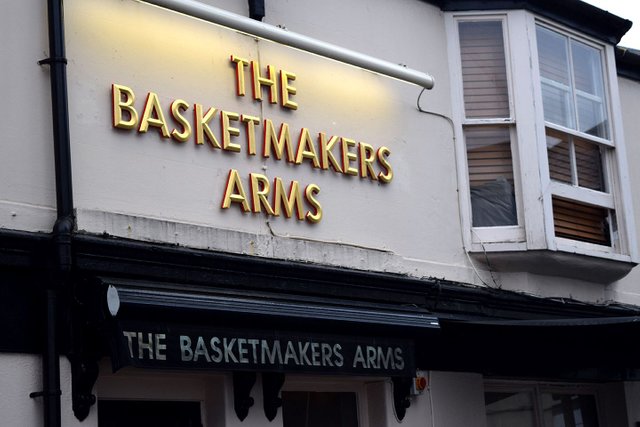 Above image; The street side view entrance of The Basketmakers Arms.
The Basketmakers Arms has been around since the 19th century. The inside is full of English history, especially related to alcohol, brewery's, Brighton and old advertisements.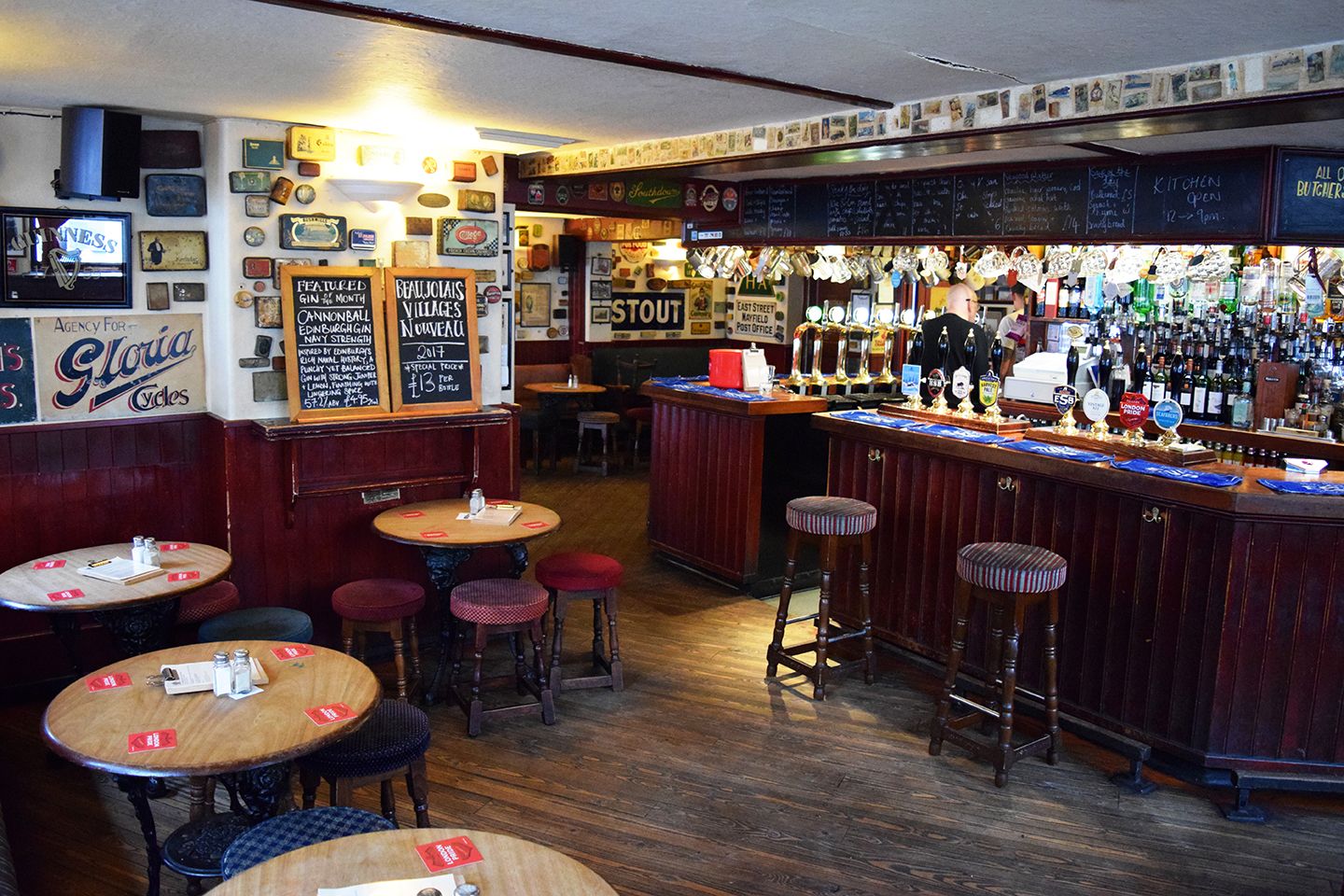 Above image; The view of the interior as you walk through the main entrance of The Basketmakers Arms.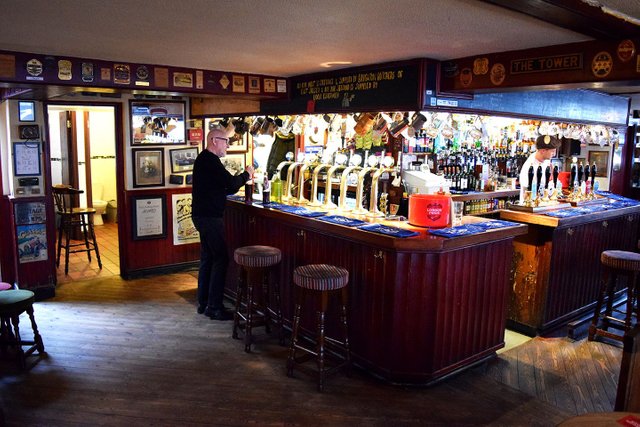 Above image; The far side of the bar view, with pub owner Blue who has co-owned the pub for 25 years.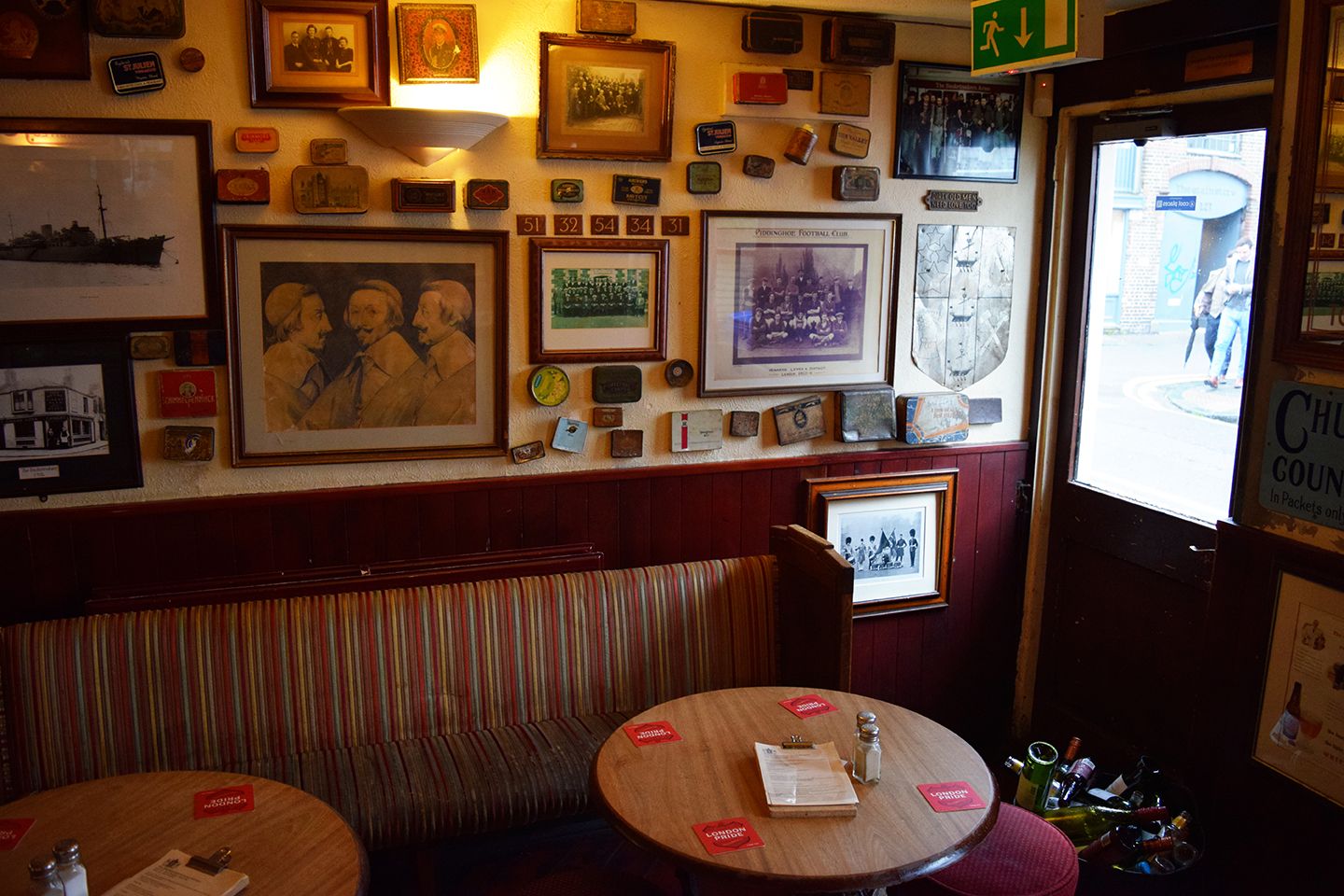 Above image; The side street entrance to the pub.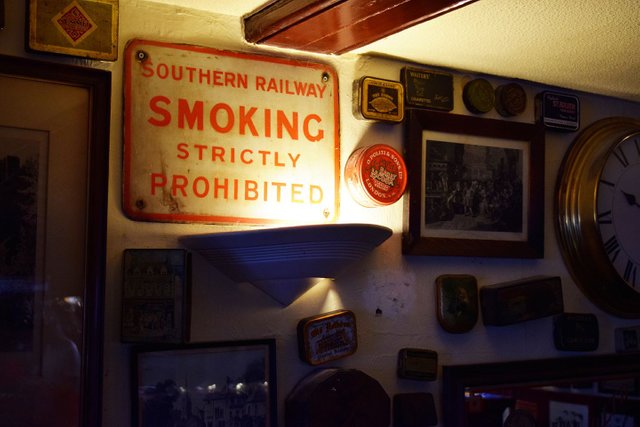 Above image; Old cans, tins, containers, photos, posters decorate the walls.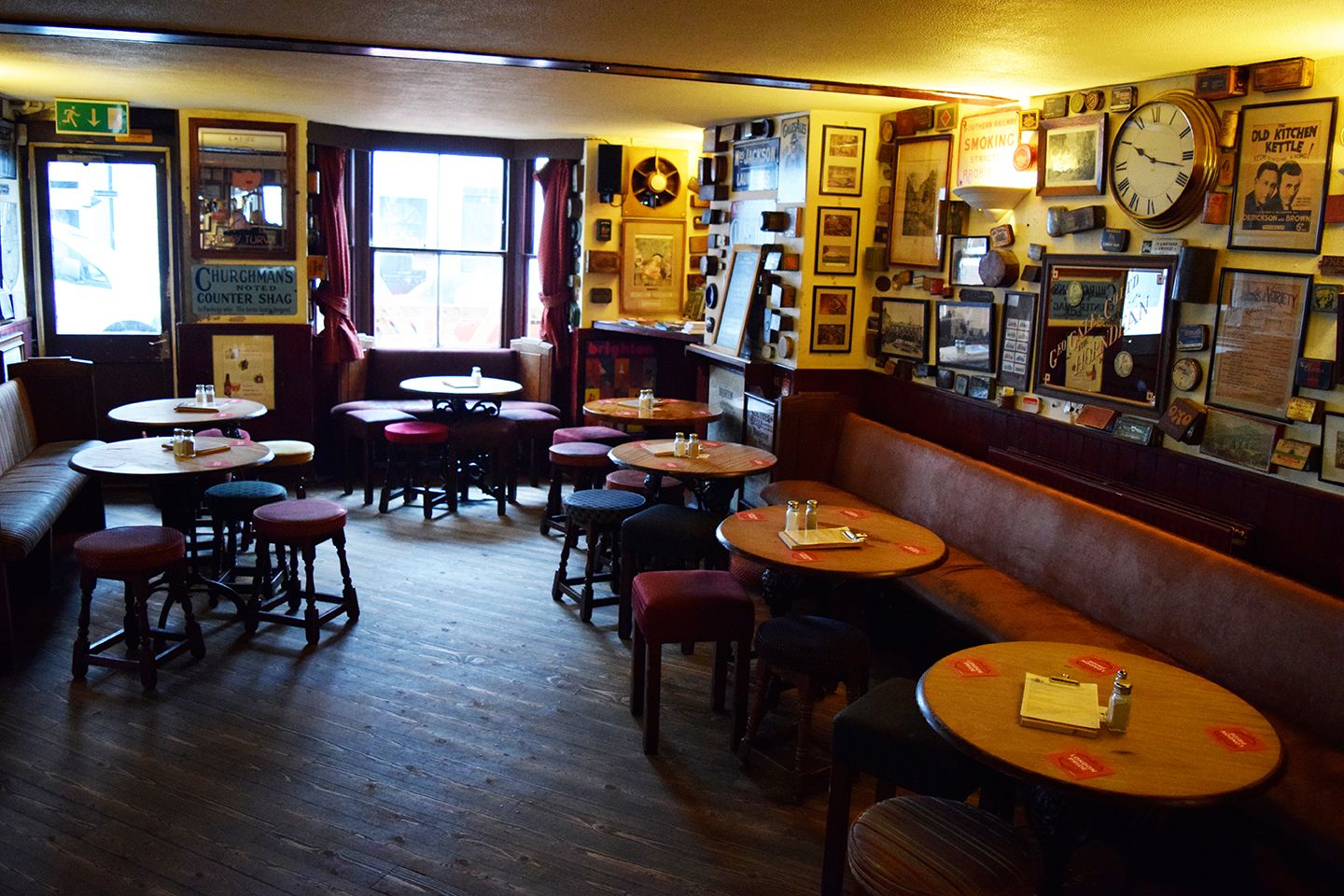 Above image; View from the back of the pub, looking at the side entrance.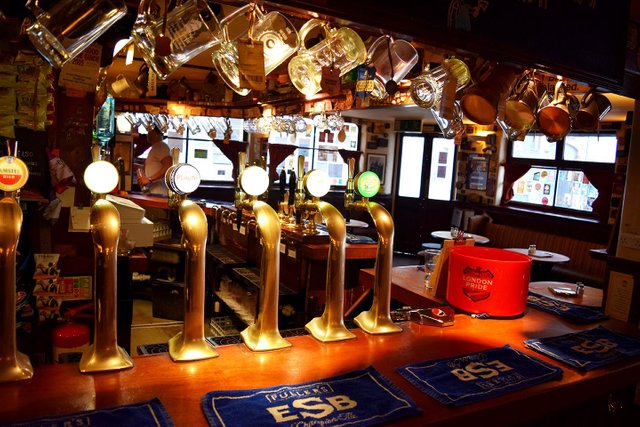 Above image; Close up view of the bar,. The smell of fresh polish for the brass taps filled the air as I took this photo.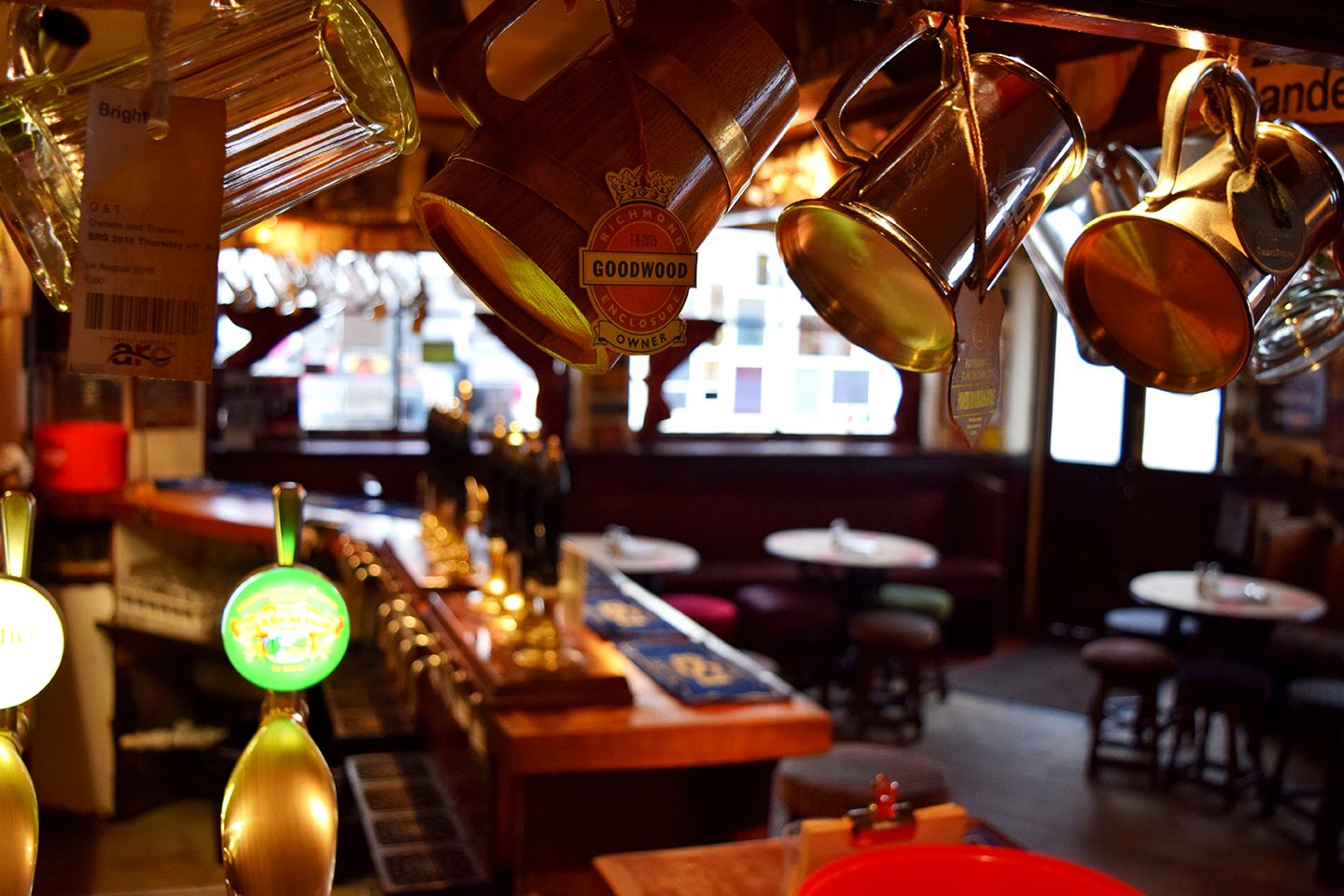 Above image; Old, traditional beer glasses.
Welcome To My House (apparently)
My house was once a brewery from 1850's until 1914, originally called 'Ashby & Co Malthouses, Smithson's Brewery', later ' 'The Bedford Brewery'.
Funny that, considering the amount of drunks and alcoholics who have passed through my house, and have pretty much claimed 'sanctuary' over the years, always turning up at my house as a safe and comfortable place to have a drink, as 'friends of the family' (mostly my mum). They all seemed to be unusually drawn to my house like a magnet. I always thought it was my mum's charismatic open nature and warm personality, but maybe there was something else energetic about the place which attracted these types like moths to a flame? Lovely people though despite being seriously annoying on multiple occasions when raving drunk after midnight, well, most of them. Ha!
The street itself is typical of all those in the North Laines, narrow, uneven, lively, one way access, and surrounded by old traditional 'cottage' buildings and homes.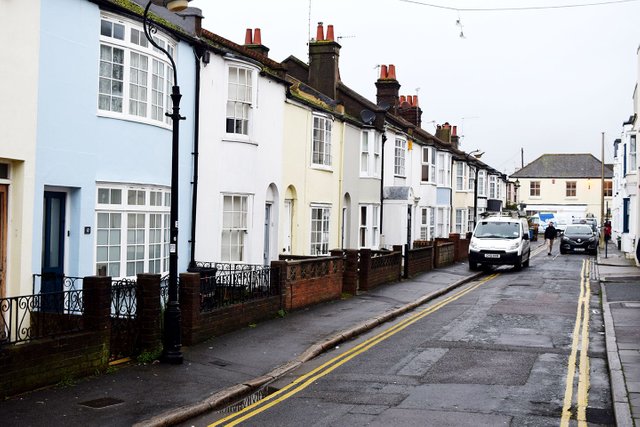 Above image; View of Cheltenham Place to the right of my house (as you exit).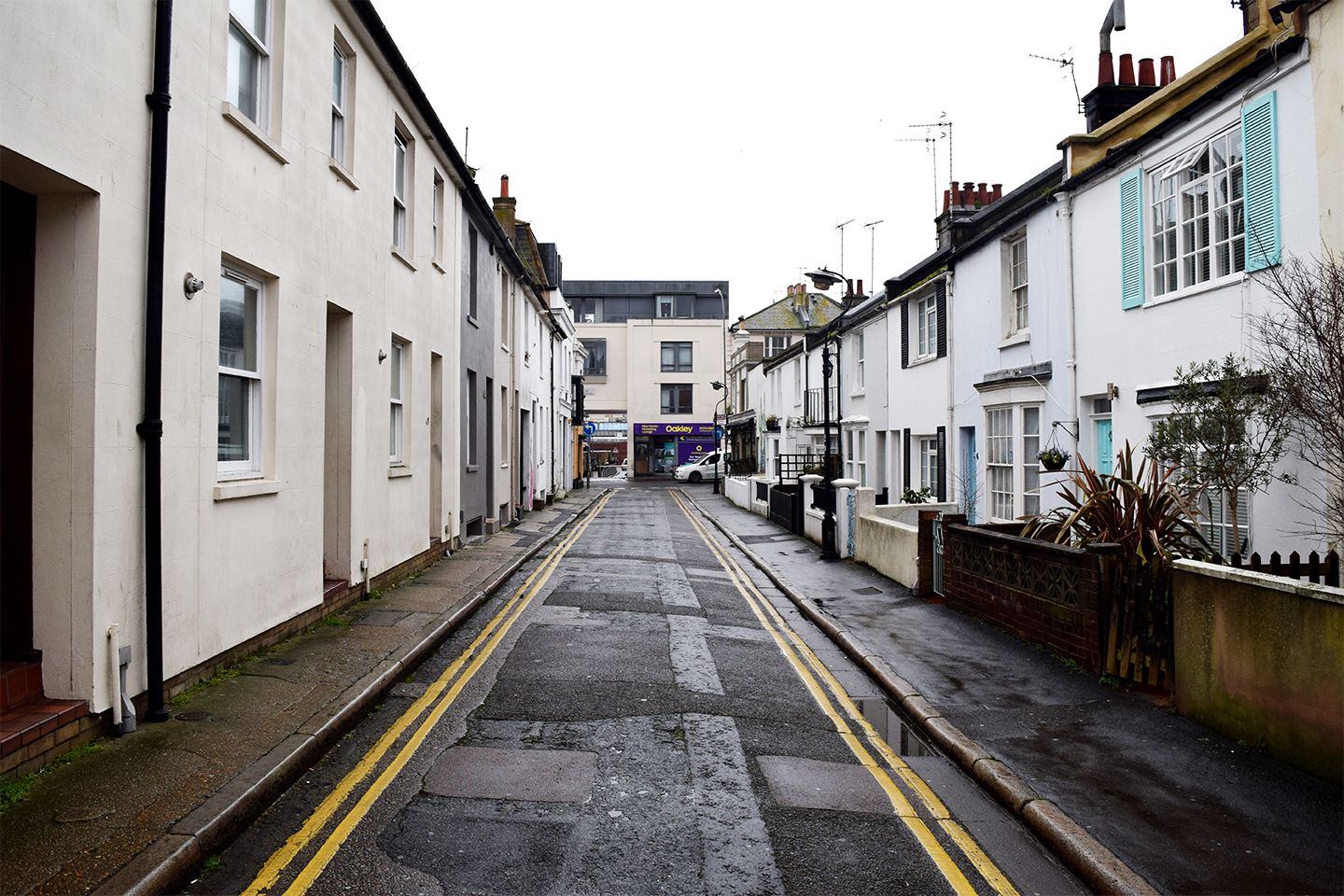 Above image; View of Cheltenham Place to the left of my house towards The Fountain Head.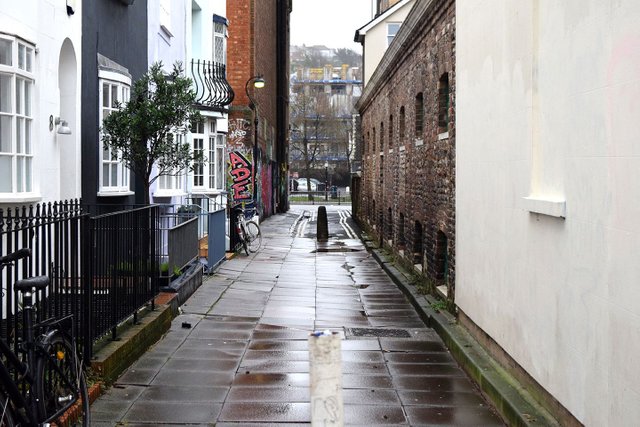 Above image; View of the back alleyway, around the side of my house.
More privately owned houses, flats, and an abandoned building (previously used as the home of illegal squat raves)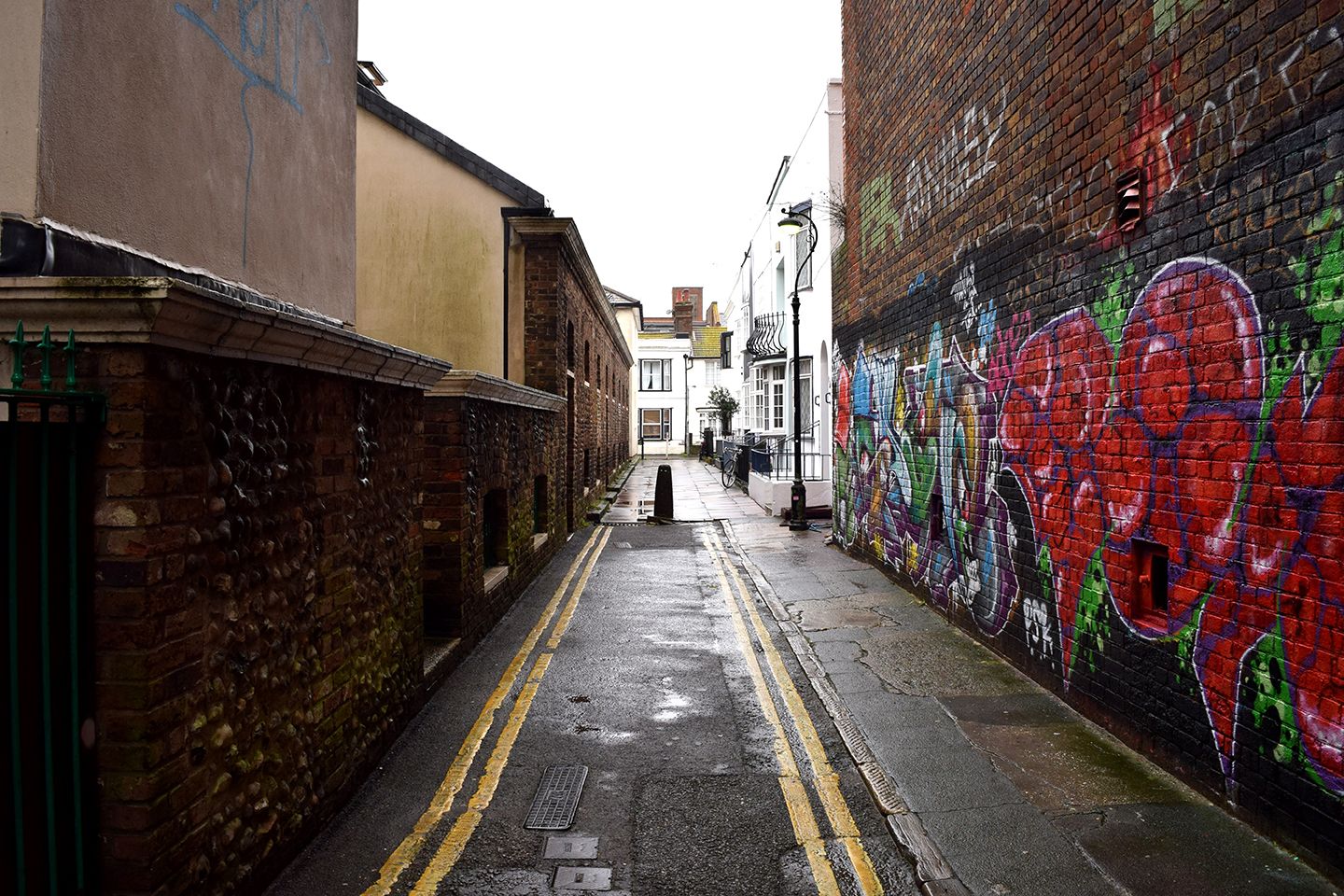 Above image; View of the opposite end of the alleyway.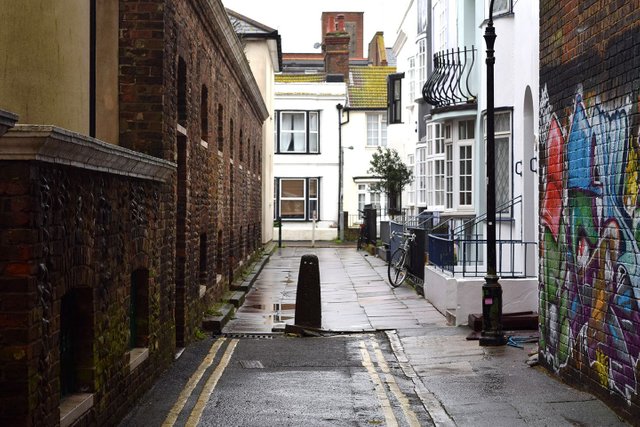 Above image; Close-up, looks a bit eerie don't you think?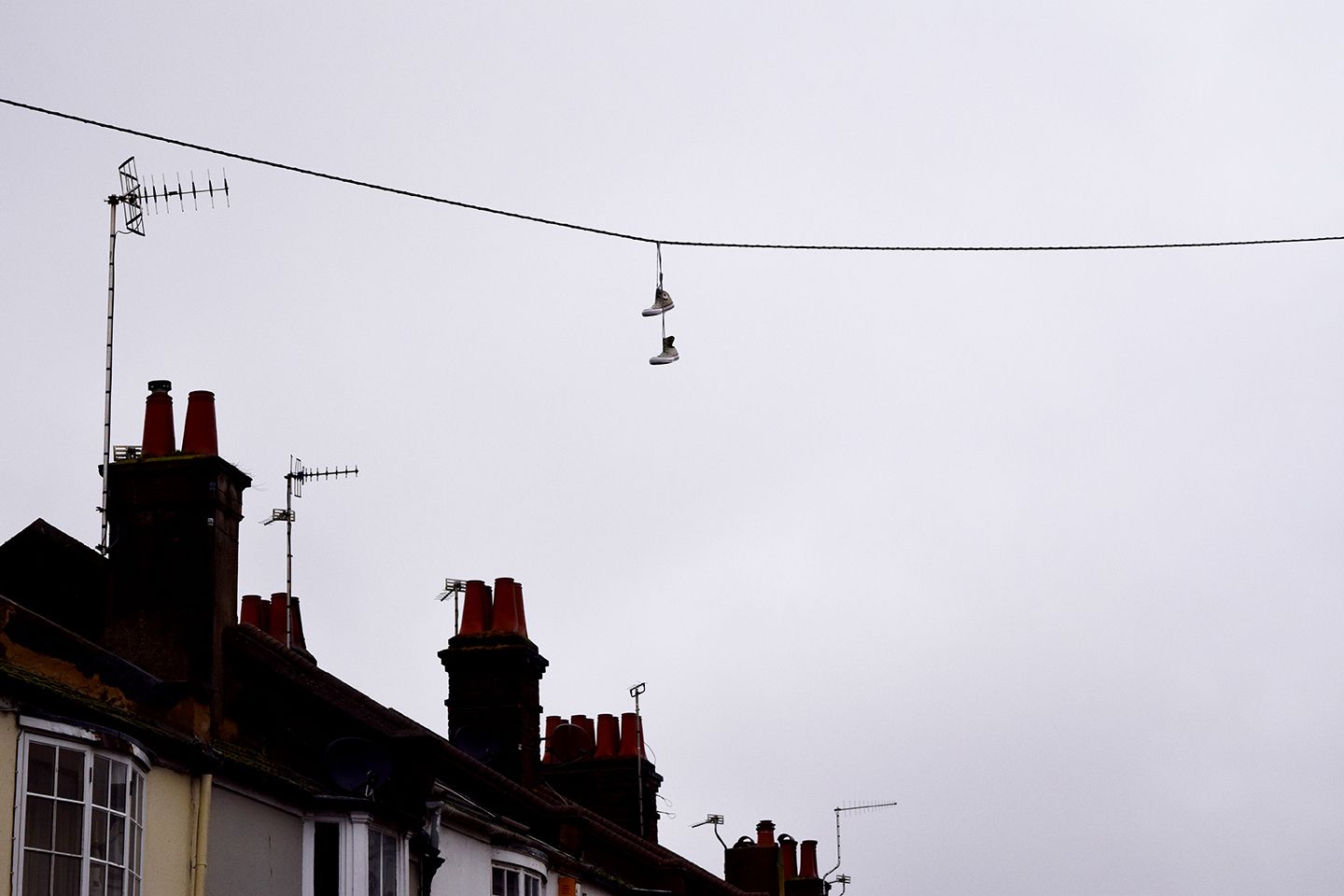 Above image; Shoes over an electric cable on my street. Somebody marking their territory?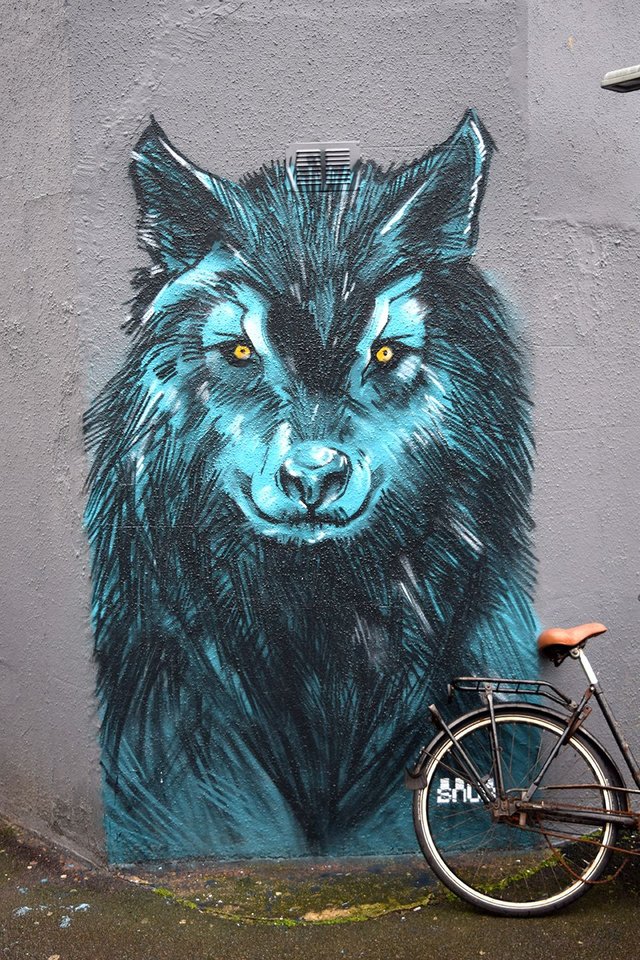 Above image; And the new wolf who watches over Cheltenham Place.
So that's it, I hope you enjoyed my post covering my return home, some insight into Brighton street/pub life and culture, where I live, and a little bit of history.
I'll probably make another post on Brighton in the not so distant future, covering more of the iconic tourist sites, and of course, the famous Brighton beach!
Thank you all for taking the time to read and appreciate my post!