Pemirsa di rumah dan penonton di studio, kali ini saya akan menceritakan kepergian kami jalan-jalan ke Laweung dan sekitarnya. Kepergian? Bukan kata yang cocok, maksud saya cerita perjalanan kami ke sana. Pokoknya begitu-begitu lah, mari kita simak sampai habis.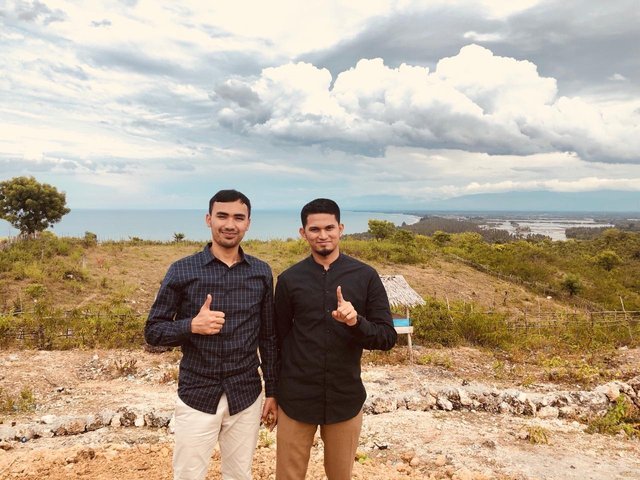 Pada pagi hari adalah hari libur sehingga malas bangun pagi, tapi bangun juga karena sudah janji ke rumah beberapa teman, dan ingin menyenangkan Imam, seorang teman yang sedang kuliah di Australia, yang dianya ia sangat ingin akan makan lobster karena tahun lalu, selama hidupnya belum pernah memakan lobster, tapi di Australi mungkin sudah pernah, tapi dia mau merasa bagaimana rasanya lobster di Pidie, tanah kelahirannya.
Maka setelah gagal tahun lalu, tahun ini kami pergilah. Ada beberapa teman yang juga ikut seperti ustad Ikhsan Effendi, Ustad Subki, Arifin dan Agha. Kami pada jam makan siang menuju Laweung yang berjarak sekitar 7km, 3 ons dari kota Sigli.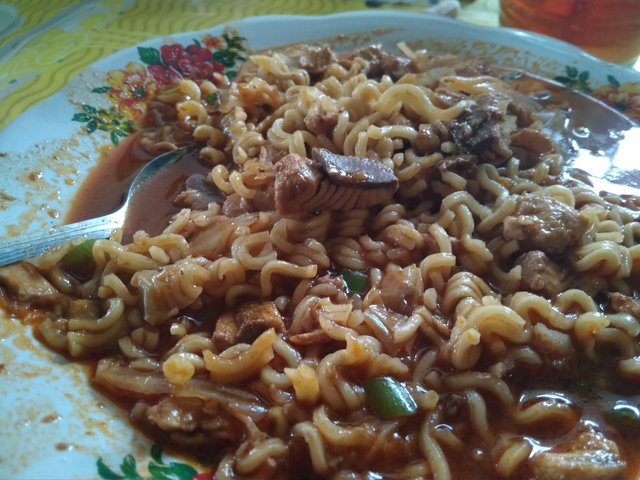 Setelah berbelok-belok dan salah jalan sekali, kami sampailah di Ujong Pi. Daerah ini merupakan tempat syuting film Life of Pi (bohong) terkenal dengan mienya yang enak dan pemandangannya yang indah. Ujong Pi adalah perkampungan nelayan. Yang mana nelayan itu adalah orang-orang terpilih untuk menyelamatkan ikan yang tenggelam di laut.
Hal yang unik adalah kami harus membeli ikan sendiri, atau lobster kalau ada, untuk teman mie (bukan kata yang tepat) maksud saya untuk dimasak bersama mie, sehingga menjadi mie mainstrem seperti mie udang, mie kepiting dan mi hun (bukan padanannya) maka kami mencarilah ikan, rupanya tak banyak nelayan yang melaut siang itu. Jadi kami berdialog dengan warga dan menanyakan dimana dijual ikan, kata mereka ke desa sebelah, Blang Raya kalau tak salah nama desannya, padahal salah Striker Mesir, #eh? Maka kami ke Gampong sebelah, dan di RCTI-nya (singkatan yang lebih tepat TPI-nya) ada ikan, tapi tak ada Lobster. Kami memilih membeli tuna, tak tau tuna apa ikan ini, apa tuna runggu, tuna wisma atau tuna cinta.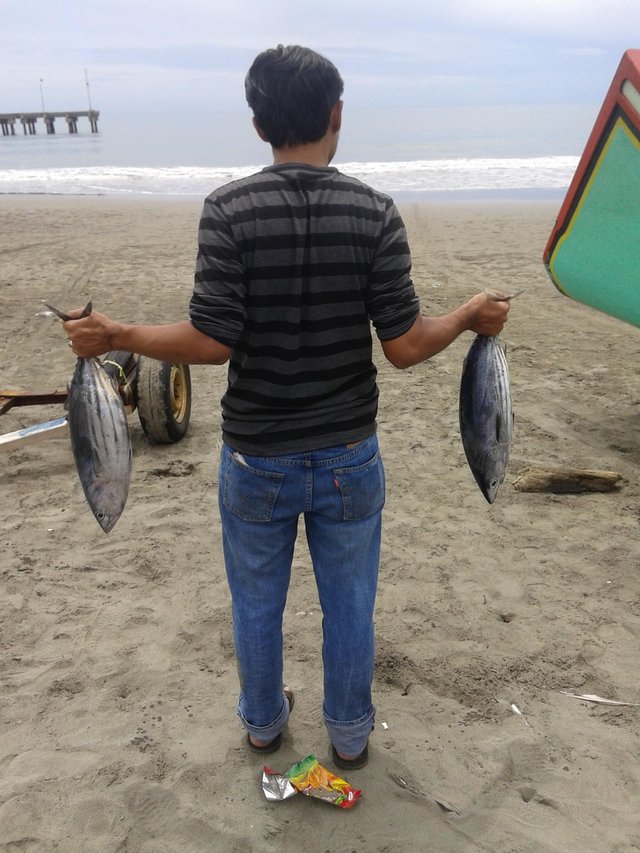 Laweung memang terkenal dengan mie dan dermaga Ujong Pi yang menjadi ikon swafoto anak-anak alay kalau mereka kemari. Mie dan dermaga ini berdekatan jadi sekali merangkul dayung dua pulau terlewati, kita bisa makan mie sambil menikmati pemandangan laut dari dermaga.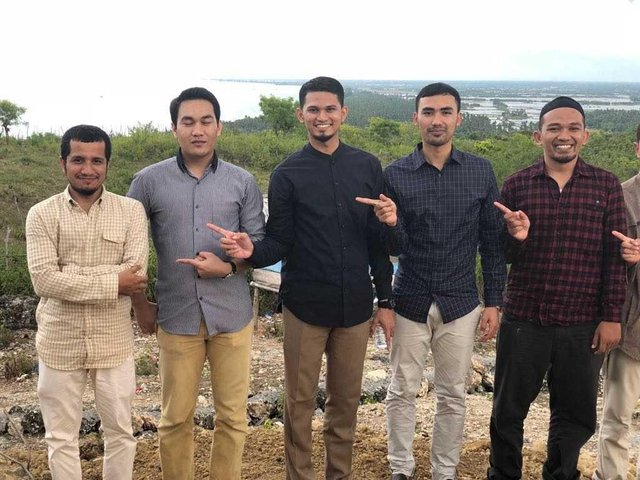 Setelah makan kami pulang, tapi jalan yang kami lalui berbeda. Kami mencoba peruntungan dengan melewati jalan Guha Tujoh-Batee. Di sana ada spot menarik untuk foto, Gunong Kulle. Terletak diatas gunung, dengan pemandangan laut dan kota Sigli di kejauhan membuat spot ini sering dikunjungi wisatawan lokal dan wisatawan interlokal yang tahu-tahu saja. Karena aksesnya masih ada beberapa kilo jalan yang belum di aspal dan di gunung ini sepi, seperti aku tanpa dirimu. #eak!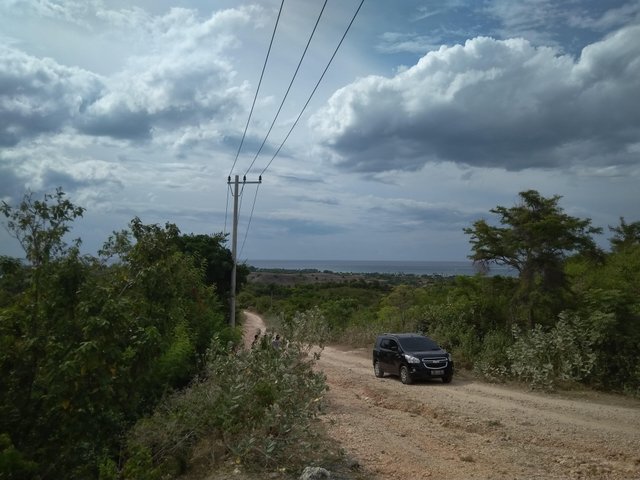 Maka karena bagus pemandangan warga membangun kafe-kafe tempat duduk minum sambil menikmati indahnya pemandangan. Desain kafenya masih buruk, kalau kita duduk di Jambo yang disediakan pemandangannya tak nampak dan kalau mau foto kita harus mencari sudut sendiri.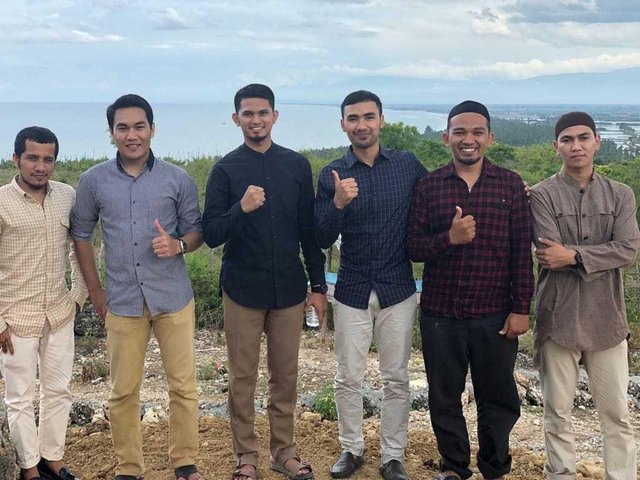 Maka kami berkreasi sendiri setelah mobil ustaz Ikhsan hampir tak bisa menanjak kesini dan sudah luka gores di dindingnya akibat sarana jalan tak ada dan pohon berduri di samping jalan. Merupakan pengalaman seru bisa menikmati hari di gunong Kulle ini. Kami meneruskan perjalanan pulang karena sudah senja. Dan banyak cerita hantu yang Apin dan Imam ceritakan di perjalanan karena mereka pernah melewati jalan yang mirip seperti ini yang penuh misteri.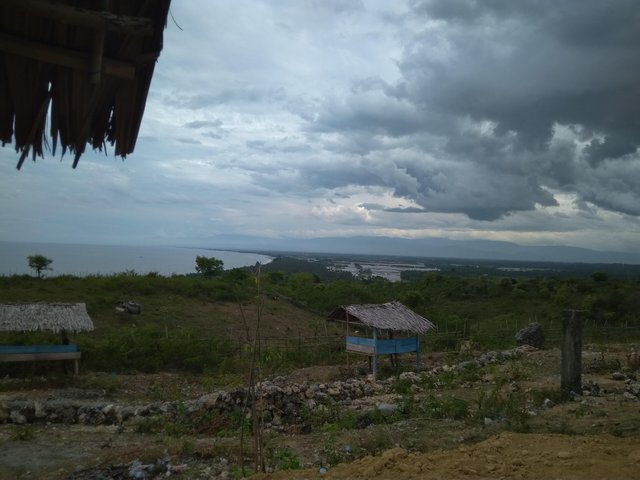 Demikian pemirsa, saya merekomendasi anda semua di rumah maupun di studio untuk sekali-sekala menikmati enaknya mie Laweung dan berfoto di puncak Gunong Kulle.
ENGLISH
Travel With Me # 17: Finding Lobsters In Ujoeng Pi, Laweung and Enjoying the View of Gunong Kulle, Batee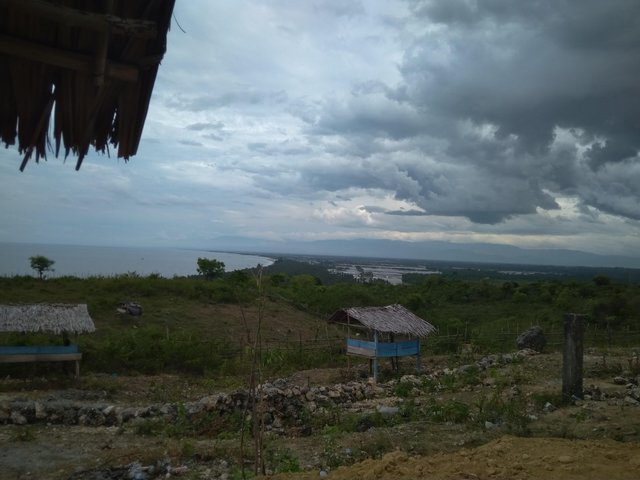 This time I will tell you about our trip to Laweung and its surroundings. Departure? Not a suitable word, I mean the story of our trip there. In the morning is a day off so lazy to get up early, but woke up also because it had been an appointment to the house of some friends, and wanted to please Imam, a friend who was studying in Australia, whom he really wanted to eat lobster because last year, had eaten lobsters, but in Australi it might have been, but he wanted to feel what it was like for lobster in Pidie, his homeland.
So after failing last year, this year we go. There are some friends who also participate like ustad Ikhsan Effendi, Ustad Subki, Arifin and Agha. We are at lunchtime to Laweung which is about 7km, 3 ounces from the city of Sigli.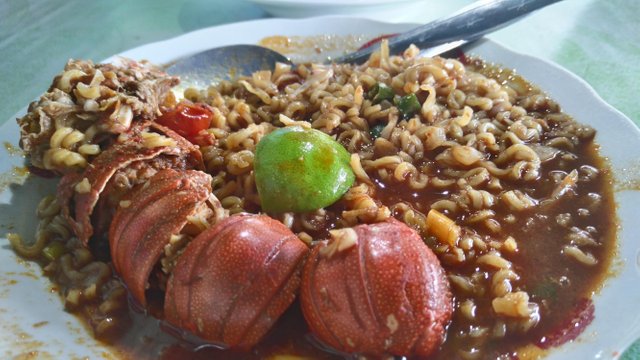 After twisting and misdirected, we arrived at Ujong Pi. This area is home to the film Life of Pi (lies) famous for its delicious mienya and beautiful scenery. Ujong Pi is a fishing village. Which fisherman is the chosen people to save the fish that drown in the sea.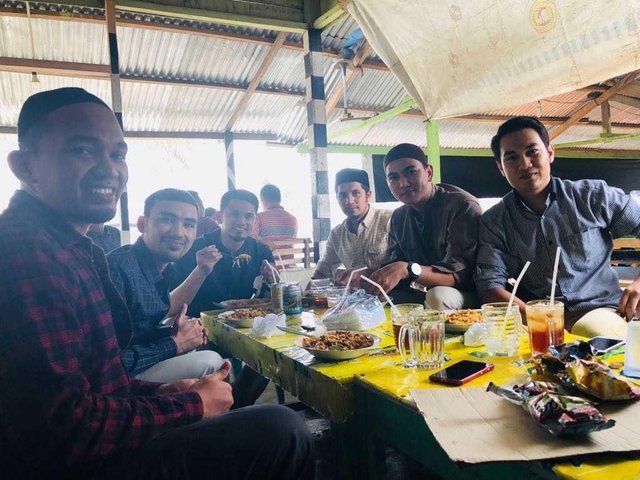 The unique thing is that we have to buy our own fish, or lobster if any, for my noodle friends (not the right word) I mean to be cooked with noodles, so it becomes mainstrem noodles like shrimp noodles, crab noodles and hun noodle (not the equivalent) look for fish, apparently not many fishermen who go to sea that afternoon. So we had a dialogue with the residents and asked where the fish were sold, they said to the next village, Blang Raya, if not one of his desan, when one of Egypt's strikers, #eh? So we went to Gampong next door, and on his RCTI (a more appropriate acronym of his TPI) there were fish, but no lobster. We chose to buy tuna,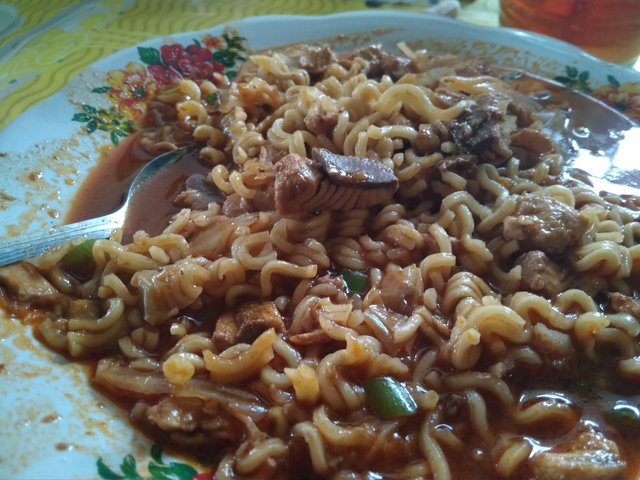 Laweung is famous for its noodles and Ujong Pi pier which became the icon of swafoto teenagers if they come here. Noodles and docks are close together so once embracing paddle two islands passed, we can eat noodles while enjoying the sea view from the dock.
After the meal we went home, but the road we went through was different. We tried our luck by passing Guha Tujoh-Batee road. There is an interesting spot for photos, Gunong Kulle. Located on a mountain, with views of the sea and the city of Sigli in the distance makes this spot often visited by local tourists and long-distance travelers who know it. Because the access there are still a few kilos of roads that have not been on the asphalt and on this mountain deserted, like me without you. #eak!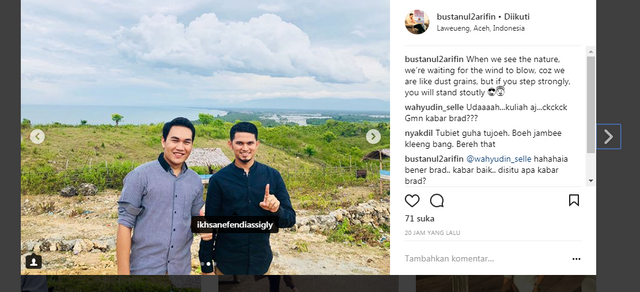 So because of the nice view of the residents to build cafes drinking coffee while enjoying the beautiful scenery. The cafes design is still bad, if we sit in Jambo (hut) provided the view is not visible and if you want a photo we have to find its own angle.
So we created ourselves after Ikhsan's ustaz car could hardly climb here and had a scratch on the wall due to the lack of roads and spiny trees beside the road. An exciting experience to enjoy the day in this gunong Kulle. We went back home because it was already dusk. And a lot of ghost stories that Apin and Priest are telling on the journey because they've passed this way like this mysterious.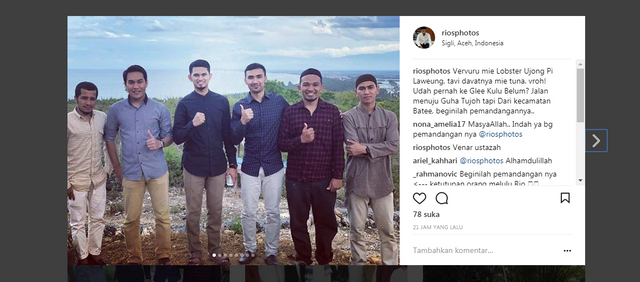 So viewers, I recommend you to enjoy delicious noodles Laweung noodles and take pictures at the top of Gunong Kulle.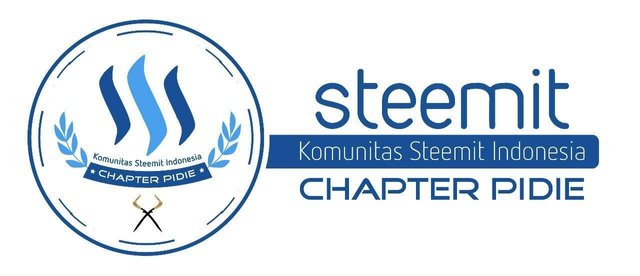 Source