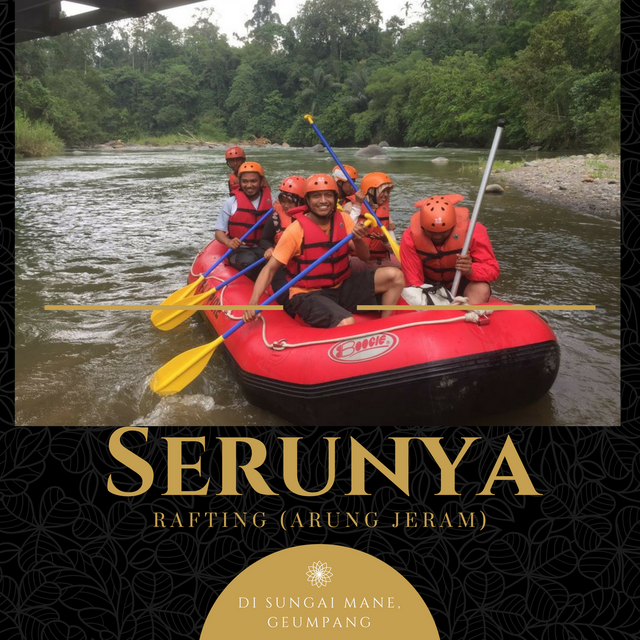 Saya sudah tahu kata arung jeram (rafting) sejak SD, walaupun maknanya salah. Kami bocah-bocah yang tinggal di bantaran Lueng Balee Sukon (Kali Balee Sukon, sebuah sungai yang dibuat pemerintah untuk pembuangan air banjir di desa Mee Tanoh, Pineung, Pidie) di sana kami menyebut menyebrangi sungai dengan air setinggi lutut dengan arung jeram. Juga pernah naik kayu hanyut dan batang pisang yang dikreasikan menjadi rakit, dengan arung jeram.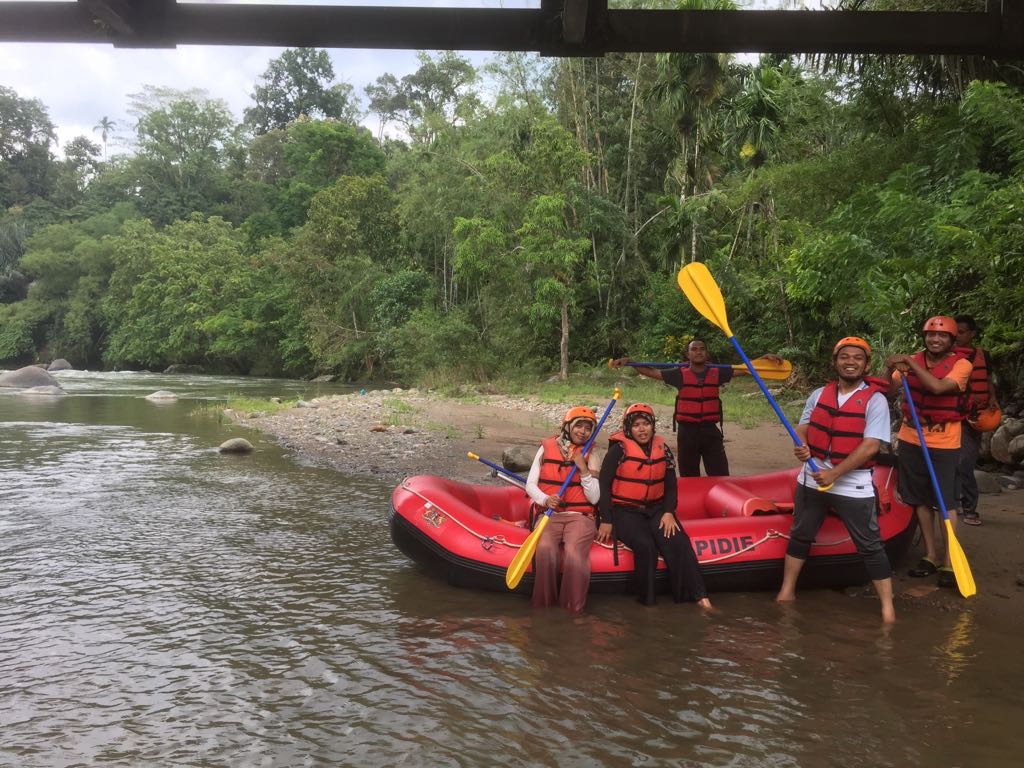 Setelah 20 tahun akhirnya saya baru merasakan bagaimana rafting yang sebenarnya. Diajak oleh Ferdi, Marjan, Rita dan Hani saya menuju Mane, Geumpang setelah dijemput sukarela di Taufik kopi pagi kemarin (07/04/2018). Perjalanan dari Sigli ke Mane mengunyah waktu satu jam lewat enam puluh menit. Dengan riang gembira kami menuju sungai Mane. Setelah makan daging rusa di Keude Tangse, tapi Hani tak makan karena dia anak alam dan rusa itu makanan yang dilindungi? Eh, maksud saya binatang yang dilindungi.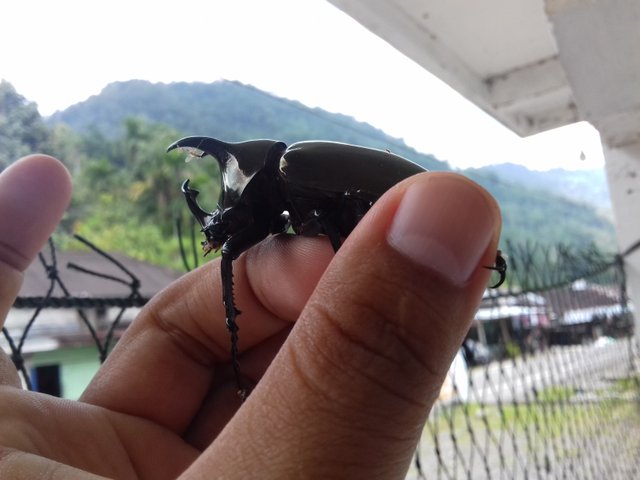 Kami tiba di Krueng Mane hampir jam dua siang, berbicara sebentar dengan adik-adik yang lagi latihan rafting dari universitas Serambi Mekkah di pinggir sungai yang akan kami arungi dan lalu memakai atribut untuk rafting. Saya awalnya tak berani rafting, tapi setelah melihat dan menimbang, lalu saya memutuskan untuk ikut juga. Karena ada pepatah mengatakan, tidak pernah mencoba, maka tidak akan pernah gagal. Ups bukan itu pepatahnya, tapi When was the last time you did something for the first time? Yang artinya jangan merokok sembarangan.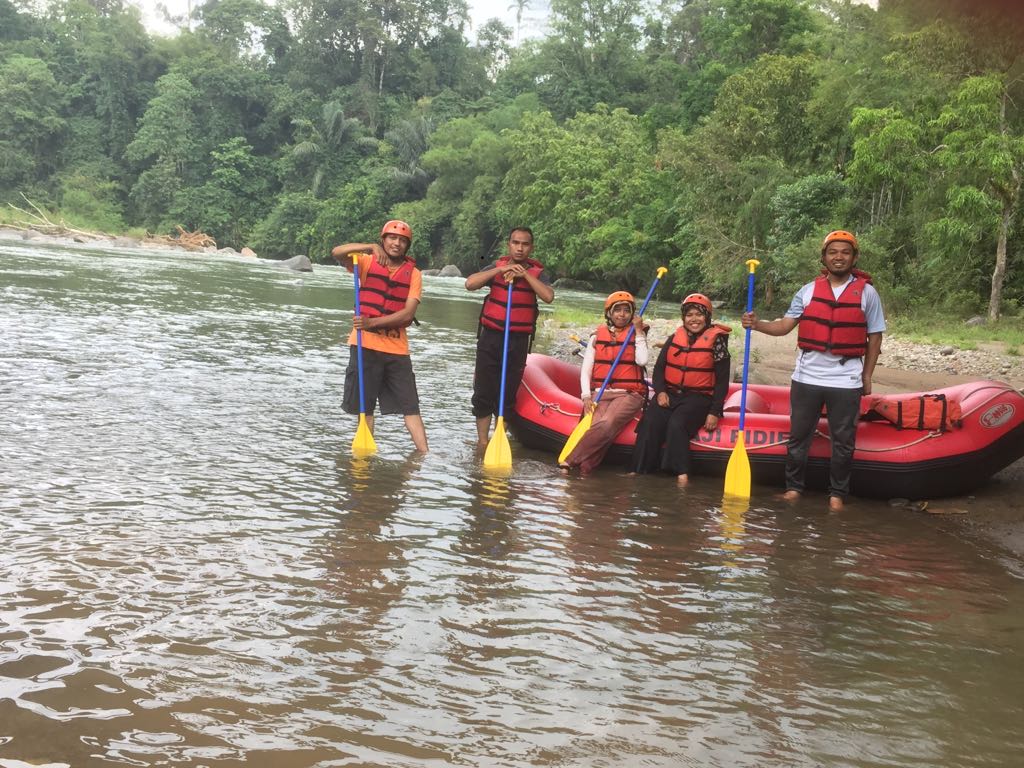 Maksudnya kita harus selalu mencoba hal-hal baru dalam hidup, tentu saja yang positif dan sesuai syariah. Kali ini saya memastikan memakan livejacket dengan aman, ter –klik semua dan memakai helm, biar tidak ditangkap polisi sungai, eh? Maksud helem ini supaya aman tak terbentur batu (meantok) batu sungai, kalau jatuh dari boat.
Seorang satu dikasih dayung, karena perahu ini perahu karet tak bermesin, walaupun ini tahun 2018 dan mesin sudah ditemukan tahun 60an, tapi tetap saya kru rafting Ceritapidie.com ini belum maju-maju. Tapi memang ini tak perlu mesin, karena tidak melawan arus dan white water rafting memang tak perlu boat mesin, apalagi kapal pesiar?
Kami berempat lalu memanjat boat. 4 orang di tengah dan dua di depan sebagai kemudi,satu di belakang sebagai kapten yang menunjukkan kemana perahu diarahkan. Setelah semua siap, kami pun berlayar. Awalnya ada briefing, misalnya kanan maju. Jadi para arung jeramers yang sebelah kanan saja mendayung perahunya ke depan, dan yang kiri mendayung mundur. Ada juga boom yang mana semua yang di perahu harus merapat ke tengah supaya perahu tidak meuapam. Eh meulungkop atau bahasa indonya terbalik. Ini dilakukan kalau menghadapi jeram yang berbahaya.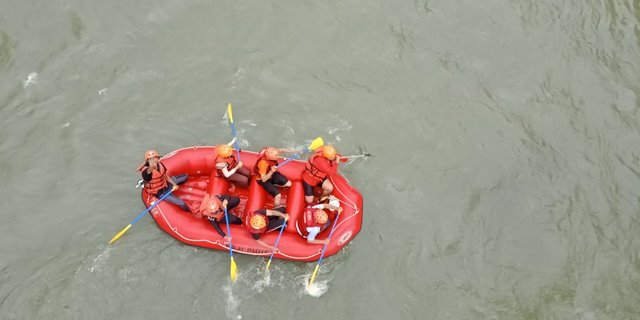 Alhamdulillah jeram di Krueng Geumpang ini semua tidak sangat berbahaya, tidak sekalipun perahu kami terbalik karena kami bawa cewek dan harus menjaga betul-betul supaya keselamatan wanita di perahu terjaga, kalau cowok semua mungkin boleh lah sekali kita coba untuk membalikkan perahu, biar sensasi arung jeram semua bisa kita rasakan.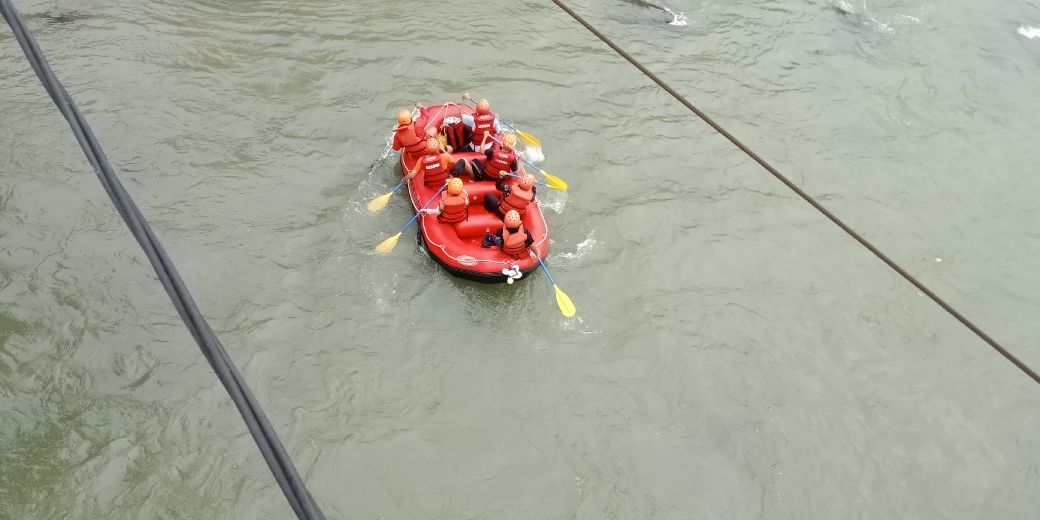 Para kru Cerita Pidie sangat profesional dalam mengelola jeram ini. Menurut Rahmat, dia sudah pernah Jeram ke berbagai tempat di Indonesia sudah mengarungi jeram yang berbahaya dan pernah ekpedisi sampai berhari-hari dengan perahu karet untuk arung jeram. Katanya yang paling indah Krueng Teunom. Selain asik jeramnya, indah pemandangannya, juga banyak ikannya.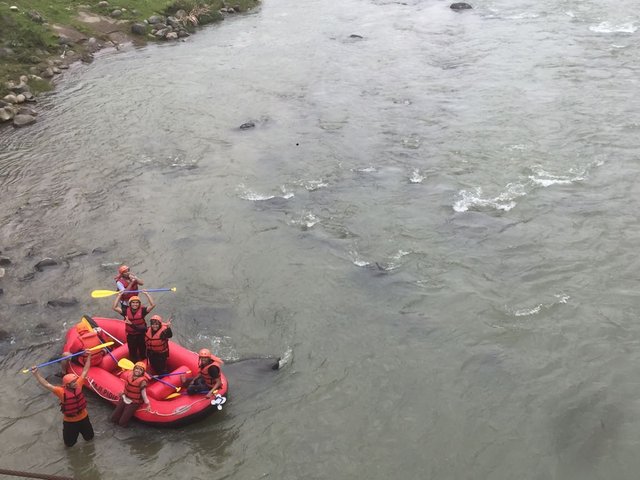 Rahmad adalah pemandu yang kekar dan tenang dalam segala situasi, puluhan jeram kami lewati dengan baik tampa takut sedikit pun. Takut sikit lah, tapi pembawaan pemandu yang tenang dan terlatih membuat kami merasa di boat yang aman.
Jeram yang kami arung hari ini 9 km dengan tiga kali istrirahat di pinggir sungai untuk menambah energi dengan makanan ringan dan air mineral. Kami mengarungi berbagai jenis jeram dari Jeram selamat datang sampai jeram ... lupa saya namanya. Kalau mau extend lagi sampai 15 km, kita bisa merasakan jeram master yang katanya sangat menantang.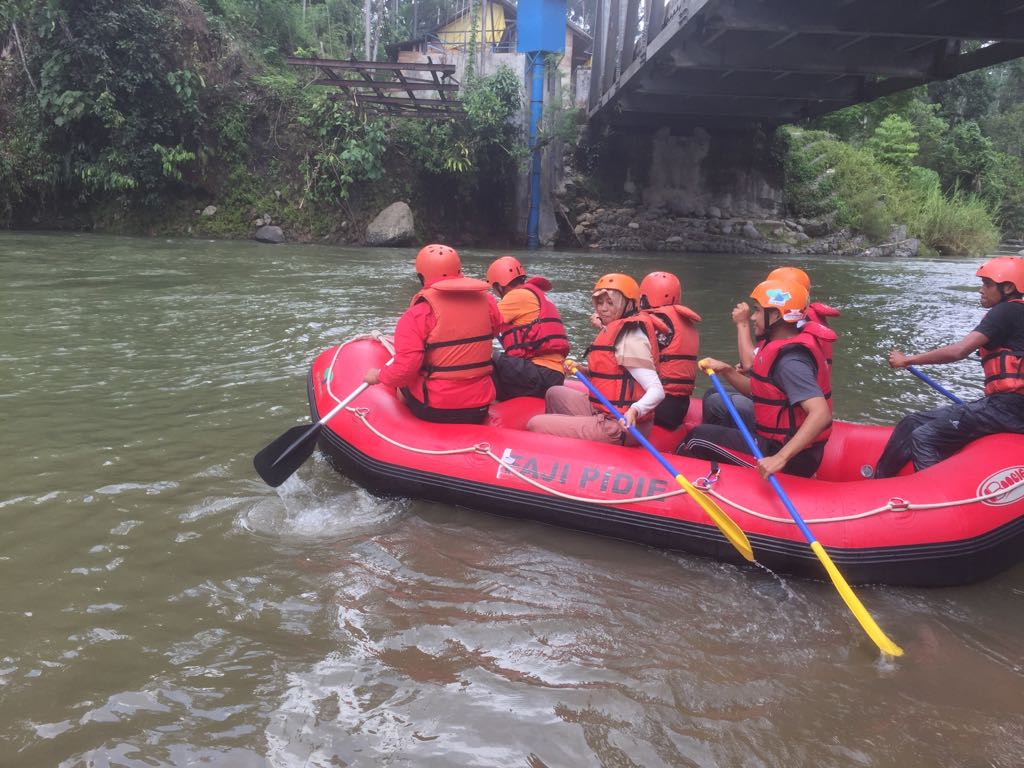 Kita selama dua jam di dalam sungai, di pinggir bisa kita lihat pemandangan burung-burung langka dan pemandangan tebing yang indah dipenuhi akar-akar pohon, juga sesekali melihat para pemancing dan anak-anak bermain. Kita juga bisa melihat dua jembatan gantung di arung jeram 9km ini.


Untuk mengarungi jeram ini, penyewaan boat, equipmet dan pemandu profesional kita harus merogoh kocek 150ribu/jiwa, minimal harus lima orang. Tapi kalau anda tidak punya kawan dan kesepian sendiri saja ada paket eklusif 1 juta rupiah. Ada juga paket murah, kita hanya perlu membeli batang pisang bekas dari warga setempat, sehingga nanti arung jeramnya dari batang pisang dan helemnya dari bekas kaleng cat yang ada logo KSI eh SNI.
Kalau anda berminat mengikuti tantangan arung jeram ini bisa menghubungi +6281262601800 nama beliau @zianmustaqin, juga punya akun steemit dan grup steemit @ceritapidie
English Version, Fun Rafting at Mane River, Geumpang, Aceh
I already know the word rafting since elementary school, although the meaning is wrong. We were the boys who lived on the banks of Lueng Balee Sukon (Kali Balee Sukon, a river made by the government for the disposal of flood water in Mee Tanoh village, Pineung, Pidie) where we called crossing the river with knee-high water with white water rafting. Also ever ride driftwood and banana stems that create into a raft, with white water rafting.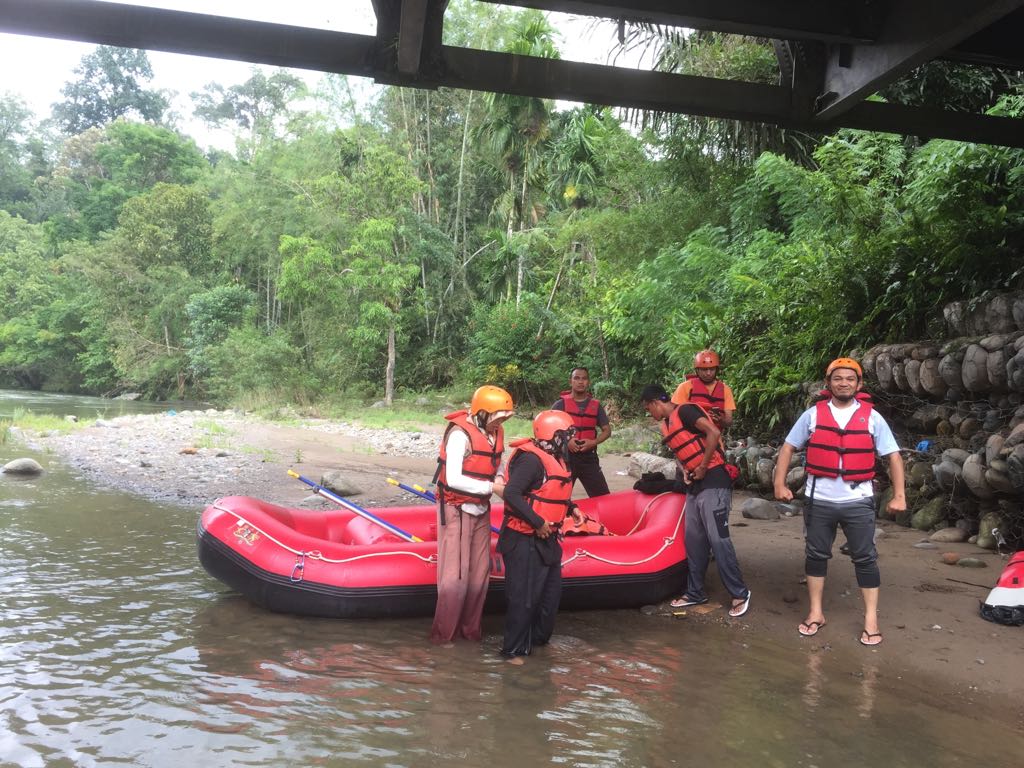 After 20 years I finally feel how the real rafting. Invited by Ferdi, Marjan, Rita and Hani I headed to Mane, Geumpang after being picked up voluntarily at Taufik coffee yesterday (07/04/2018). The journey from Sigli to Mane chewed an hour past sixty minutes. With joy we headed to the river Mane. After eating venison at Keude Tangse, but Hani did not eat because he's a natural child and the deer were food protected? Uh, I mean a protected animal.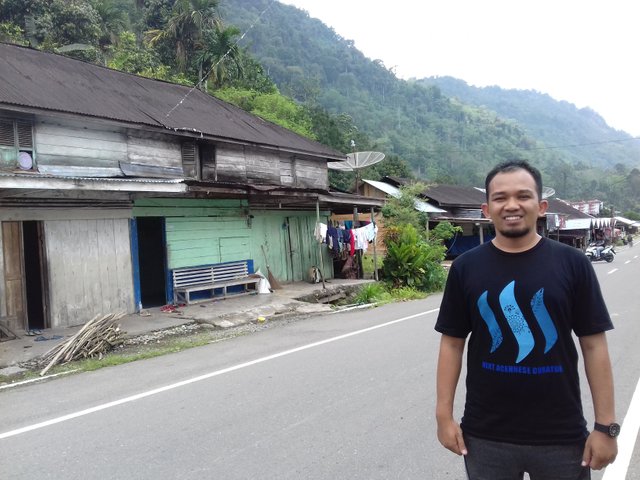 We arrived at Krueng Mane almost two o'clock. Speaking briefly with the younger siblings who again exercise rafting from the university foyer mecca and then wear attributes for rafting. I initially did not dare to rafting, but after seeing and weighing, then I decided to go too. Because there is a saying, never try, it will never fail. Oops is not that proverbial, but when was the last time you did something for the first time? Which means do not smoke indiscriminately.
That means we should always try new things in life, of course, positive and sharia. This time I make sure to eat life jacket safely, click all and wear a helmet, let me not catch the river police, eh? The purpose of this helm so safe not hit rock (meantok) river rock, if falling from the boat.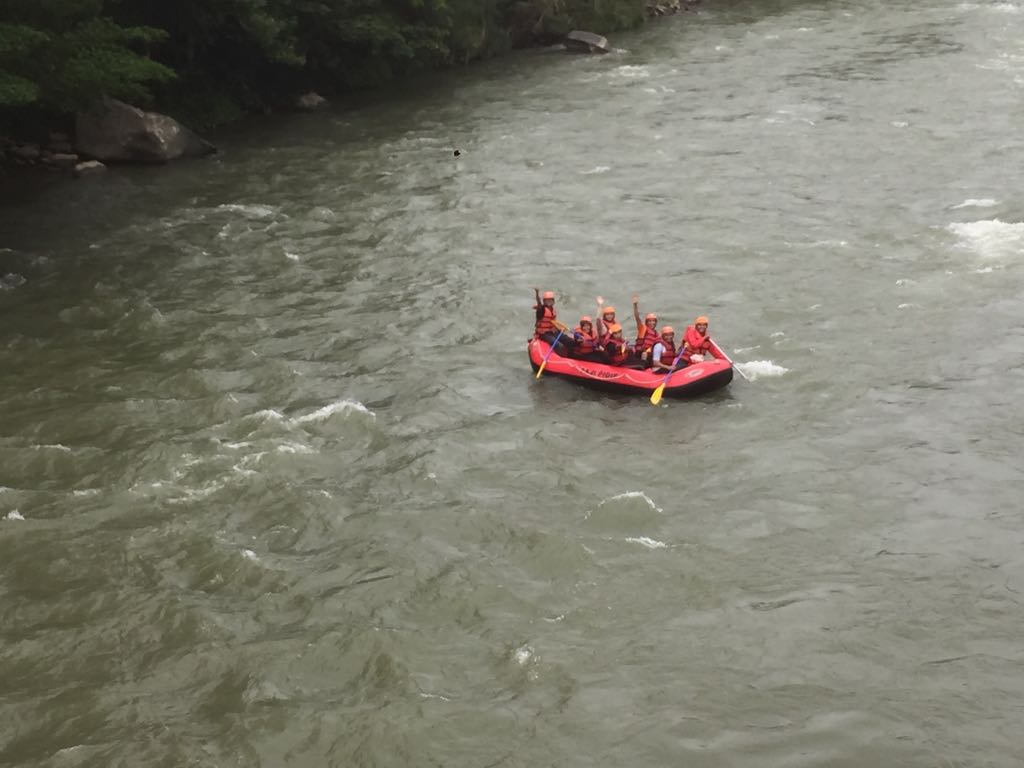 One is given a paddle, because this boat is a non-engined rubber boat, although it's 2018 and the engine has been found in the 60s, but still my crew rafting Ceritapidie.com is not advanced. But this does not need a machine, because it does not fight currents and white water rafting does not need a boat machine, let alone a cruise ship?
The four of us then climbed the boat. 4 men in the middle and two in front as the rudder, one behind as a captain who shows where the boat is directed. After all was ready, we sailed. Initially, there was a briefing, for example right forward. So the right-handed rafter rowed their boats forward, and the left rowed backward. There is also a boom where everything in the boat has to dock to the middle so the boat will not muzzle.
Alhamdulillah rapids in Krueng Geumpang this is not very dangerous, not even our boat upside down because we bring girls and have to keep really so that the safety of women in the boat awake, if all men may be once we try to turn the boat, let the sensation of white water rafting all we can feel.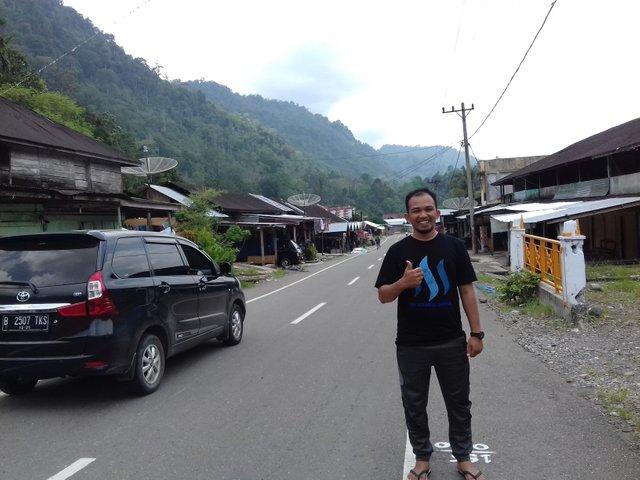 The crew of Story Pidie is very professional in managing this rapids. According to Rahmat, he has been to Jeram to various places in Indonesia has waded through the dangerous rapids and had expedition for days with a rubber boat for rafting. He said the most beautiful Krueng Teunom. In addition to the cool rapids, beautiful scenery, as well as many fish.
Rahmad is a strong and calm guides in all situations, we have tens of rapids well without fear. Being afraid, but the guidance of a quiet and well-trained guide made us feel in a safe boat.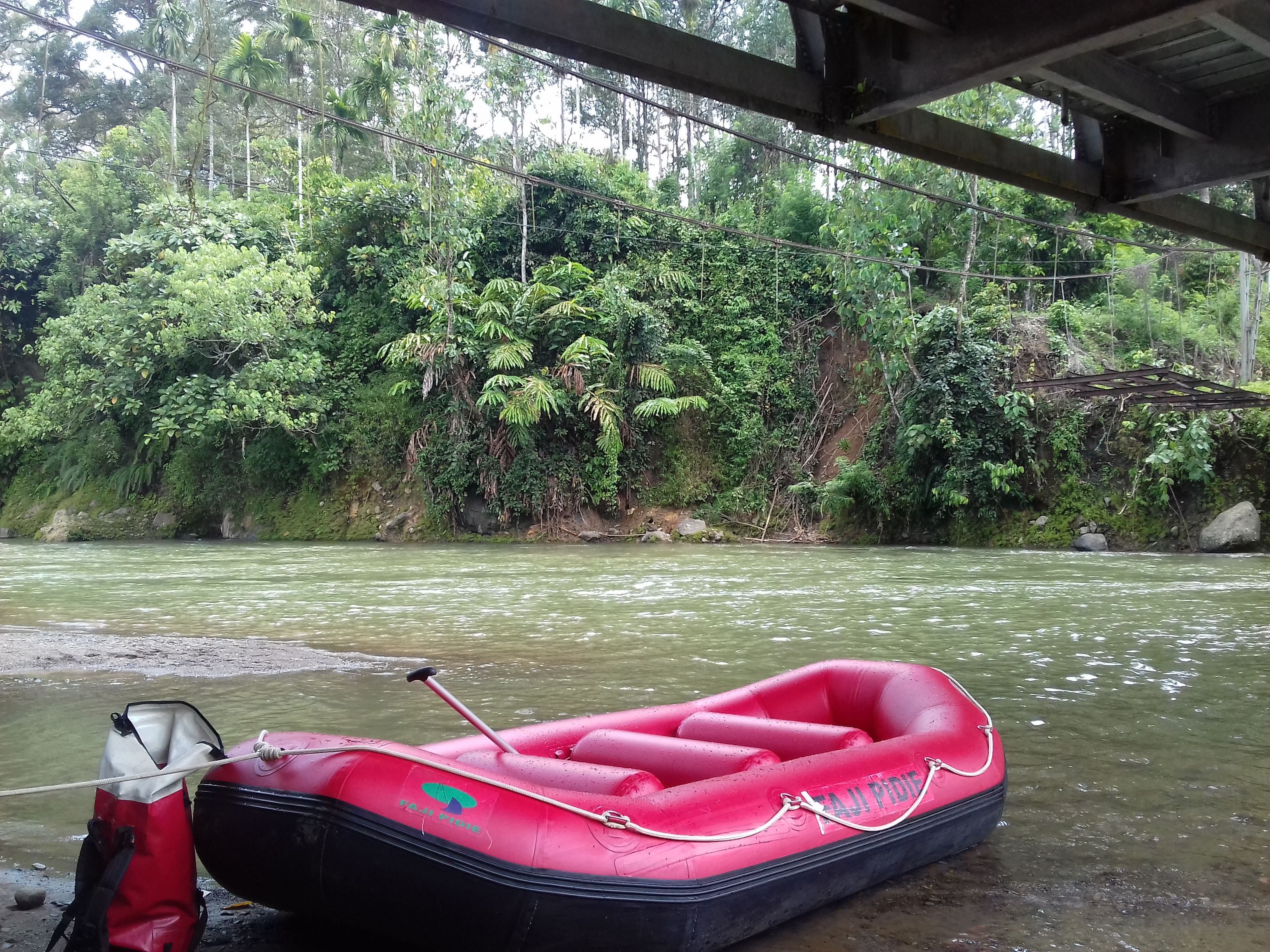 The rapids that we whitewater today are 9 km with three times resting on the banks of the river to add energy with snacks and mineral water. We waded all kinds of rapids from Jeram (river wave) named welcome wave to rapids wave. If you want to extend again to 15 km, we can feel the rapids (jeram) master which he said is very challenging.
We are for two hours in the river, on the edge we can see the scenery of rare birds and beautiful cliff views filled with tree roots, also occasionally see the anglers and children play. We can also see two suspension bridges in this 9km rafting.
To navigate this rapids, boat rentals, equipmet and professional guides we must spend 150ribu / soul, at least five people. But if you do not have friends and alone alone alone there is an exclusive package of 1 million rupiah.
If you are interested in following this rafting challenge can contact +6281262601800 his name @zianmustaqin, also have steemit account and steemit group @ceritapidie