There is one golden rule when it comes to nightlife in Ibiza. You need to be at the right place at the right time. Hi Ibiza, Pacha, Amnesia, Ibiza Rocks, Es Paradis and Privilege are the most famous clubs in Ibiza. There is a ticket seller on almost every street corner so it is impossibe to miss who performs where during your stay. I have to admit that I am not a massive music fan but it was a very unique experience to watch Eric Prydz and David Guetta live in Ibiza.
1.Hi Ibiza
My favorite nightclub on the island. It is formerly known as Space Ibiza. I went there on Tuesday 20th of June for Eric Prydz openning party. Tickets were €50 per person and that´s usually what you have to pay for this kind of parties.

I have never seen the old club(Space Ibiza) but i can definetely say that they made a great job here. There is a massive entrance area with palm trees and garden which used to be a parking place before. It looks really classy. Once you enter the building, you arrive in first room where you find to hottest dancers and big dance floor. There is a DJ performance in that room as well as every other one in the club.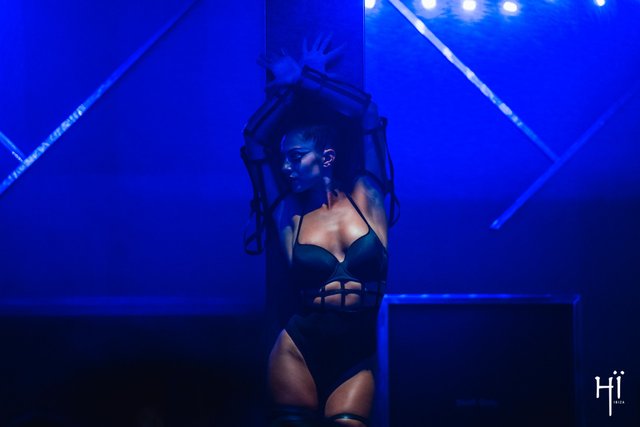 If you need to go to the restroom in Hi Ibiza, it might take you little longer to find it. Because it´s called Wild Corner and it is an unoffical club with a DJ booth. In the beginning of the the night, there were only people using the restroom and enjoying the music, but when I visited it at 5am in the mornning, it was full of people dancing. I have to admit that I have never seen something that cool. Simply impressive...
There is also an open area called Secret Garden. It is a fancy area with several bars on different corners. Each corner has a concept such as Tequila Stop, where you only get tequila, Heineken, where it´s possible to buy only bottle or glass beer, and the main bar for coctails and other stuff. Prices? A bottle of beer €14, vodka mix(only Grey Goose) €25 and shots €19. I was expecting it to be an expensive place, but not that bad. Does it worth it? Absolutaley.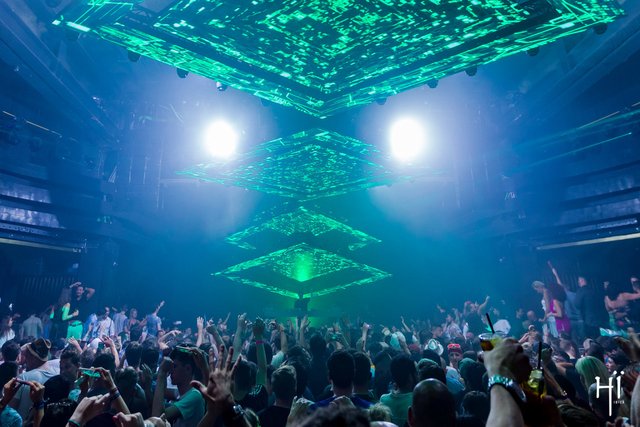 2.Pacha
Pacha is my second favorite club. I was there to watch David Guetta. Ticket price was €80 per person an it was the most expensive party I have been so far. All other clubs I mentioned above have pretty much the same prices for drinks, except Pacha which is slightly more expensive. This makes them the most expensive nighclub on the island.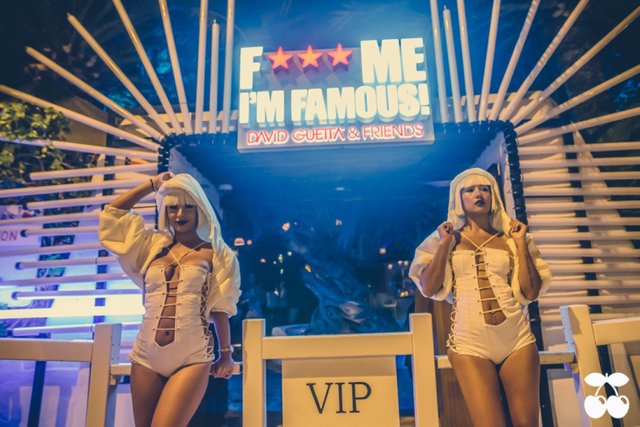 The club is really good. Like all other parties, it starts around midnight and last till 6-7am in the morning. There is a big dance floor in the center and vip areas around then bars and sitting areas on upper areas. Pacha is the right place for people over 25.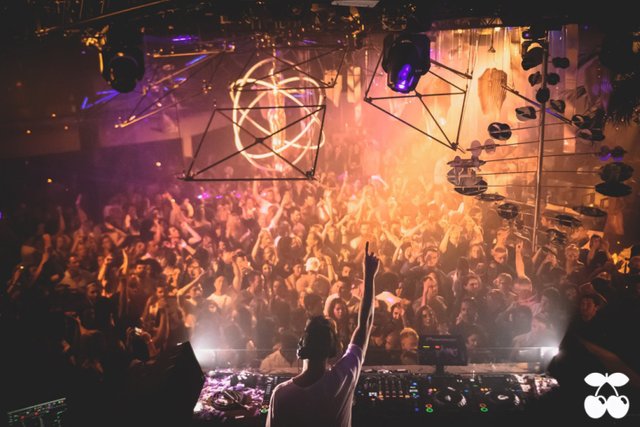 3.Amnesia
Most popular night club on the island. Everyone is dying to go there every single night. I still don´t understand why. Don´t get me wrong, it is a nice and big club, but it is not as good as Hi Ibiza or Pacha. Mostly young tourists like this place due to its reputation. Go and try it if you are in Ibiza, but don´t set your expectations too high.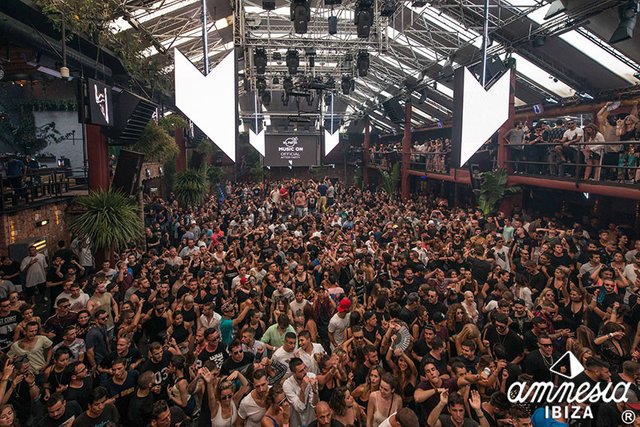 4.Ibiza Rocks
This is the hotel i have been staying at. They are known with their pool parties. I think it´s a bit too noisy and their music style is not really my favorite. Craig David is going to perform here soon which i would love to see as a fan, but I will be leaving before that date. Entrance fee is areound €15 per person depending on the party and the artist on the stage. If you want to give it a try, i think sundays are the best day for it. Drinks are reasonably cheaper here.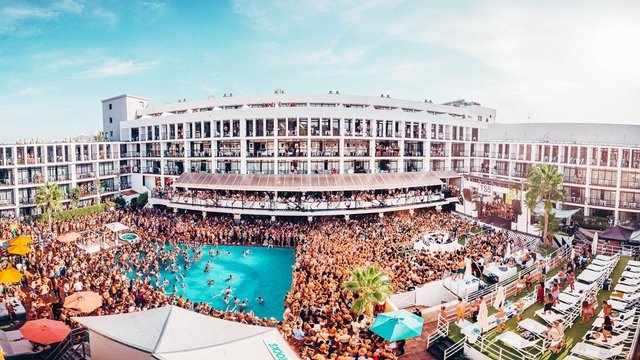 5.Es Paradis
The club is in the center of San Antoni. If you enter the club before 2am you do not have to pay anything. Just make sure to get a free entrance ticket(paper bracelet) from the people on the beach side. After 2 am, it is €30 per person. This club is not as famous as the others. It is big but I have never seen it getting full during my visits. It´s not worth visiting if you have to pay for entering. Give it a try before 2 am and find it out yourself. There is a small pool in the middle of the club which they fill with wather late in the night. It gets a bit wild after that but then again, you have to spend entire night here to see it.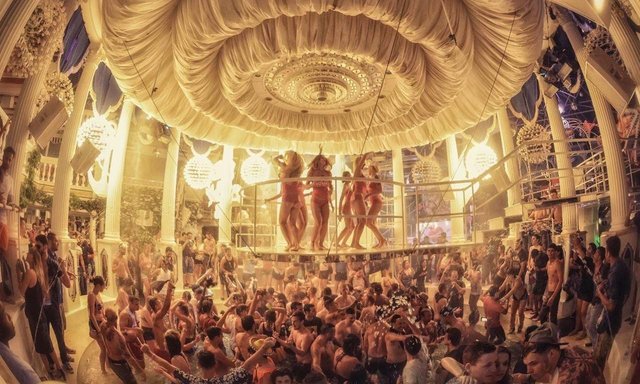 6.Privilege
I was told that this is the hidden gem on the island. Mostly people over 25 are visiting this place and it has a good repuatation. However, i was truly disappointed with it. It is a very old complex in the middle of nowhere. Toilets were so old and club was not looking fresh. I was there only once, so i might have been unlucky due to club being not so full, but they should definetely spend some money to change stuff here. Enterance fee was €25 per person which is not worth at all.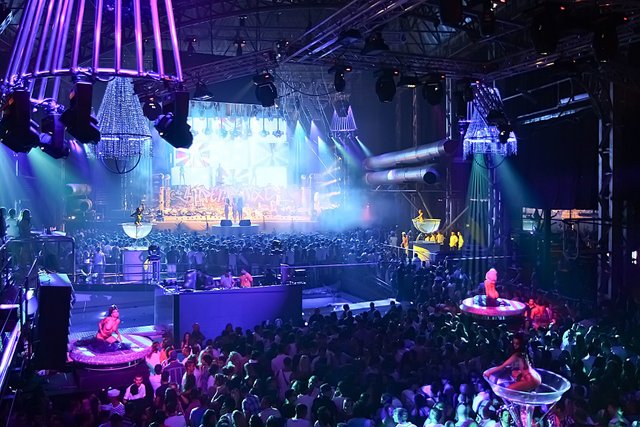 TR
IBIZA: En iyi gece kulupleri (Bolum 2)
Ibiza´da gece hayati ile ilgili altin kural su; Dogru zamanda dogru yerde olmalisiniz. "Hi Ibiza", "Pacha", "Amnesia", "Ibiza Rocks", "Es Paradis" ve "Privilege adanin en onde gelen gece kulupleri. Oylesine meshurlar ki, her kose basinda partiler icin bilet satan bir saticiya rastlamak mumkun ve bu nedenle hangi kulupte o gece kim cikiyor, kacirmaniz neredeyse imkansiz. Bu tarz muziklerin buyuk bir fanatigi olmadigimi itiraf etmeliyim, ama Eric Prydz ve David Guetta gibi unlu DJ leri Ibiza´da canli izlemek gercekten sira disi bir deneyim oldu.
1.Hi Ibiza
Adadaki favori gece kulubum. Eskiden "Space Ibiza" adiyla biliniyormus. 20 Haziran sali gecesi Eric Prydz´in acilis partisi icin gittim bu kulube. Giris ucreti kisi basi €50 ve bu fiyat genelde bu tarz partiler icin odemeniz gereken miktar.

Kulubun eski halini hic gormedim amd burada cok iyi bir is cikardiklarini soyleyebilirim. Mekan palmiye agaclariyla suslenmis cok genis ve guzel bir girise sahip. Bu alan daha once otopark olarak kullaniliyormus. Yeni hali gercekten cok sik. Binaya girdiginizde ilk girdiginiz alan guzel danscilarin ve dans pistinin oldugu ilk bolge. Tum diger alanlarda oldugu gibi burada da bir DJ gece boyunca performans sergiliyor.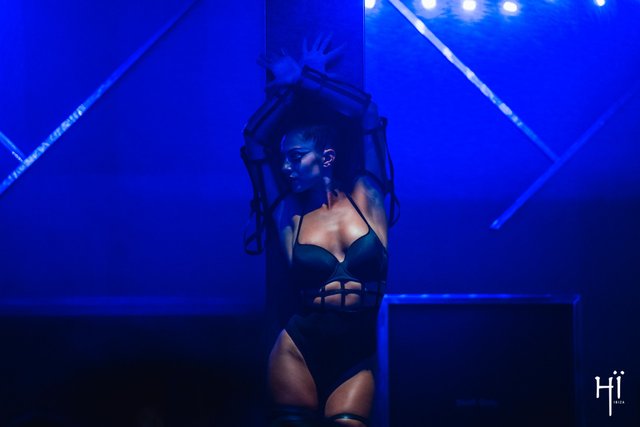 Burada tuvalete gitmeniz gerekirse nerede oldugunu bulmaniz normalden biraz daha uzun surebiliyor. Cunku WC isareti yerine Wild Corner yazan tabelayi takip etmeniz gerekiyor. Burasi aslinda tuvaletten ziyade kulubun baska bir bolgesi. Ortada bir DJ kabini ve arkasinda gece boyunca tuvalete giden insanlar icin muzik yapan bir DJ. Ilk once bunun sadece etkileyici bir dekor oldugunu dusunmeme ragmen, sabah 5 civari tuvalete tekrar gittigimde tuvaletin dans eden ve orada eglenen insanlarla dolu oldugunu farkettim. Kabul etmeliyim ki gece kulupleri ile ilgili simdiye kadar gordugum en sira disi seylerden biriydi. Tek kelimeyle etkileyici...
Mekanda ayrica Secret Garden adinda bir acik alan bulunuyor. Burasi her bir kosede farkli konseptleri olan farkli barlarin bulundugu bir alan. Mesela Tequila Stop barinda sadece tekila shot satin alabilirken, Heineken barinda yanlizca sise veya bardak satin alabiliyorsunuz. En buyuk bar olan kosedeki genis barda da kokteyl ve diger icecekleri bulmak mumkun. Peki fiyatlar? Bir sise bira €14, mix vodka(sadece Grey Goose) €25 ve shot icecekler €19. Pahali bir mekan olacagini biliyordum, fakat bu fiyatlar gercekten benim beklentimin uzerinde cikti. Peki deger mi? Kesinlikle.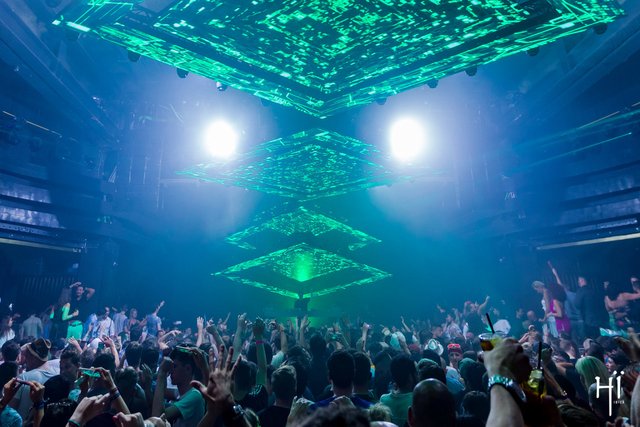 2.Pacha
Pacha benim ikinci favori mekanim. Buraya David Guetta´yi izlemek icin gittim. Giris ucreti kisi basi €80 ve bu fiyat simdiye kadarki gittigim mekanlar arasinda en pahalisi. Yazinin basinda bahsettim tum kulupler asagi yukari ayni fiyatlara sahip, fakat pacha daha da yuksek fiyatlar ile adadaki en pahali mekan olarak pahalilik listesinin basinda yer aliyor.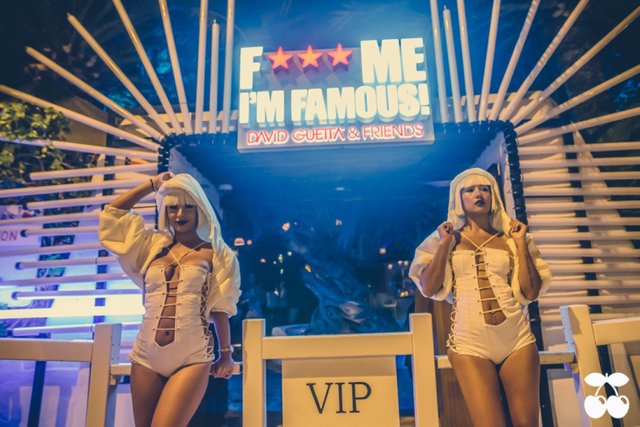 Kulup gercekten cok guzel. Diger tum partiler gibi gece yarisi 12´de basliyor ve sabah 6-7´ye kadar suruyor. Tam ortaya kurulan dans pistinin etrafina VIP alanlari ve daha yukari bolgelere dogru barlar ve oturma alanlari kurulmus. 25 yas ve uzeri olanlar icin Pacha gercektende gorulmesi gereken bir mekan.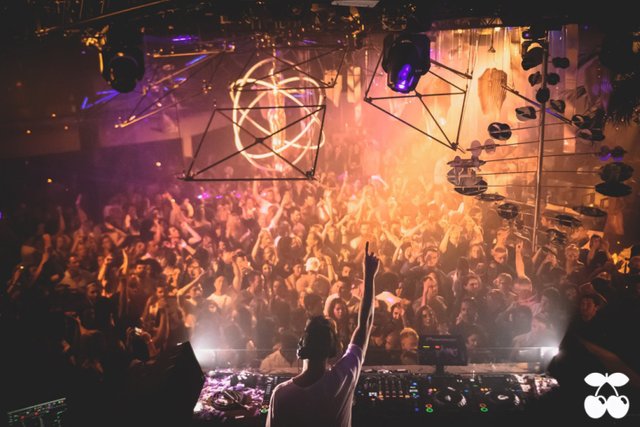 3.Amnesia
Adadaki en unlu ve en cok konusulan gece kulubu. Herkes buraya gitmek icin can atiyor ve ben hala neden oldugunu anlayabilmis degilim. Yanlis anlamayin, kulup gercekten guzel ve buyuk ama bir Hi Ibiza veya Pacha seviyesinde degil. Ozellikle gencler burayi cok tercih ediyor. Ibiza´ya gidiyorsaniz bir gece gidip gorun ve eglenin ama cok beklentilerinizi cok yuksek tutmamanizda fayda var.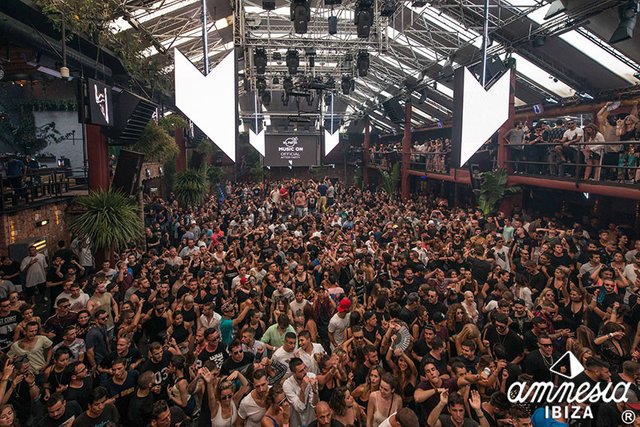 4.Ibiza Rocks
Bu mekan benim kaldigim otel. Genellikle havuz basi partileri ile biliniyor. Bence biraz fazla gurultulu ve muzik tarzi tam olarak bana gore degil. Yakinda Craig David´in katildigi bir parti duzenlenecek burada ve eski bir Craig David hayrani olarak gormeyi gercekten cok istedim. Fakat ne yazikki benim kaldigim tarihlere uymuyor. Eger buraya gelmeyi planlarsaniz en iyi gunun pazar gunu oldugunu belirtmek isterim. Giri ucreti kisi basi €15 civari ve bu fiyat partiye gelen DJ lere gore biraz degisebiliyor. Ickiler diger kuluplere nazaran biraz daha ucuz.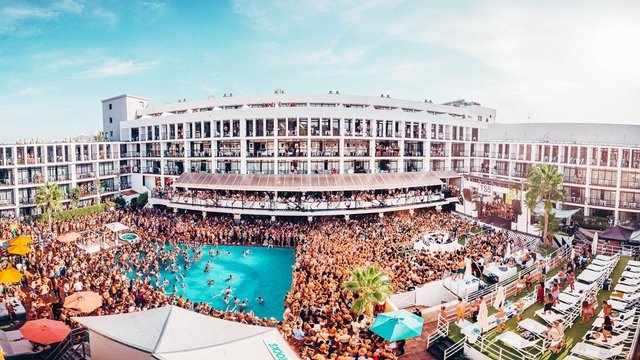 5.Es Paradis
Bu kulub Sant Antoni merkezinde. Eger mekana saat 2´den once girerseniz kumsal yolunun uzerinde ucretsiz dagitilan biletler ile para odemeden giris yapabilirsiniz. Yinede bu biletler sadece 2´ye kadar gecerli. Daha gec girmek istediginizde kisi basi €30 odemeniz gerekiyor. Bu kulup digerleri kadar unlu olmasada guzel partiler oluyor. Oldukca buyuk bir mekan ve benim gittigim zamanlarin hicbirinde tamamen dolmadi. Para odeyerek girmeyi hakeden bir mekan degil bence. Erken saatte gidip ucretsiz girerek denemek en iyisi. Mekanin tam ortasinda minik bir bos havuz bulunuyor ve gecenin ilerleyen saatlerinde bu havuzu doldurduklarinda oldukca eglenceli hale gelebiliyor mekan. Fakat yinede butun gecenizi burada gecirmeniz gerekebilir bunu gorebilmek icin.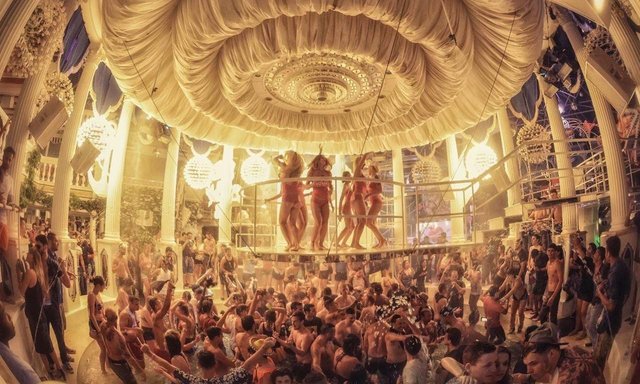 6. Privilege
Adaya yillar once yerlesmis bir ingiliz, bana bu mekanin adadaki gizli kalmis hazinelerden biri oldugunu soylemisti. Ozellikle 25 yasin uzerindeki hem turistlerin hemde yerel halkin gittigi iyi bir isme sahip bu kulup. Ama ne yazikki benim deneyimim tam anlamiyla bir hayal kirikligi oldu. Unutulmus gibi duran bir yere kurulmus eski bir yapi. Tuvaletler oldukca eski ve kulubun ici resimlerdeki kadar guzel durmuyor. Bu mekana sadece bir kez gittim ve belkide cok dolu olmamasi sebebiyle biraz sanssiz bir zamana denk geldim. Ama yinede para harcanip uzerinde biraz yenilikler yapilmasi gereken bir yer. Giris ucreti kisi basi €25 ve bu fiyati hic hak etmiyor.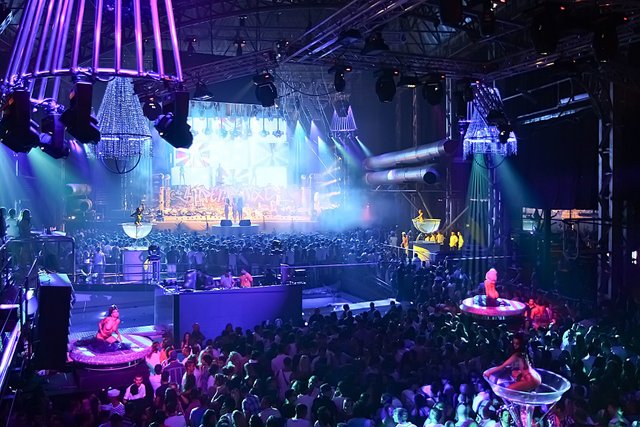 sources
I am the owner of the video. Instagram "@nomad_the_"
Images:
https://www.hiibiza.com/en
http://www.pachaibiza.com/en/
http://www.amnesia.es/
https://www.ibizarocks.com/hotel/
https://www.esparadis.com/
http://privilegeibiza.com/en-gb/