Leon is a beautiful but sleepy colonial city in Nicaragua.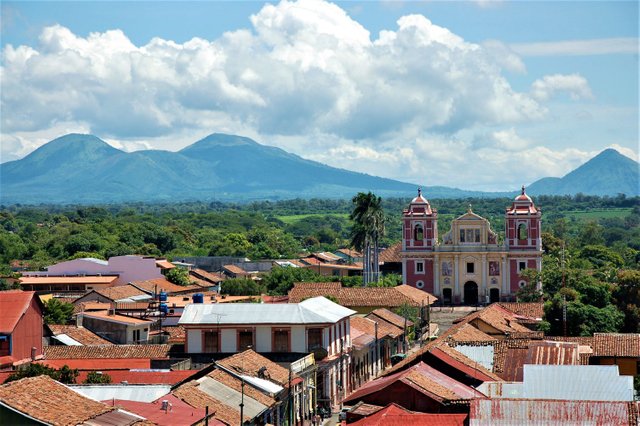 ---
It was a hot muggy day when we arrived in Leon. The streets were dusty in this quiet town, but there was plenty to see and do. We picked up some fresh fried tortillas from the square in the center of town that came with a side of a Latin version of cole slaw. It was great and only twenty five cents.
We then finagled our way to the top of one of the cathedrals in order to get a few shots of the sleepy town. The view was incredible and we could see where we wouldn't to go take pictures from next from up here. We settled in for the evening with a few beers and a great meal, again for next to nothing in cost. I'm really liking the laid back feel of the town, but tomorrow it's a different day.
Tomorrow we head to the Cerro Negro, an active volcano to sandboard down it's steep slops. Stay tuned for that photo!
Some info about Leon, Nicaragua
León is a land of volcanoes, hot weather and interesting cities. Here, visitors will find the ruins of one of the first Spanish colonial cities that were built in the continent, which are preserved thanks to the volcanic sand that buried the place after an eruption. The elegant city of León preserves its attractive historical center and colonial buildings. Also, there are many natural attractions as well as little known and remote rural areas.
Leon is one of the most important cities in the country. The center itself is an attractive destination due to its museums, art galleries, colorful colonial architecture, an imposing cathedral, and the facades of its churches. The city also has hotels, restaurants, local tour operators, bars and clubs. It is also a good starting point to explore the region.
Source
---