Tourism strangles history - Nashkel's travel diary #4 - PART 1
Killing in the name of Money
Cittá di Volterra, Tuscany, Italy
Tourism is a controversial topic, I admit.
I myself am a Tourism Management graduate. It is a huge opportunity for developing countries and can earn a gargantuan bag of money for countries with rich history.
Every minute a traveler/tourist spend in a destination worth 3-4 times more than a local. They are super high spender and since the lack of experience and knowledge they are super easy target for scammers and tourist traps.


The whole motivation behind tourism and travel is based on our essential need of getting satisfied. Satisfaction through purchasing, collecting, experiencing. It is a pursue of happiness.
If we are on holiday, we want a glimpse out of the treadmill. No alarm clock in the morning. No penny counting. We are craving for new impulse. And our wallet is thick. Most of the times.
An average day of a Tourist in Florence, Italy
8:30 AM. Clock isn't ringing, but we are stuck in our routine. We wake up, get up, make our coffee and breakfast. Since we are on holiday we bought our breakfast previous day and contributed to the local economy.
10:00 AM. Backpacks on, we are heading into the city to do some sightseeing.
The Piazza is fulfilled with people. The air is heavy , sun is shining and every second person run into us. We are suffocating as watching the queue of the ticket office. Approximately 1500 people are standing in line.
Oh an idea! We should purchase our ticket online! Few minutes later we realized it is sold out for five days. Heading toward the other ticket office, where we find fifteen-hundred more people waiting hopelessly.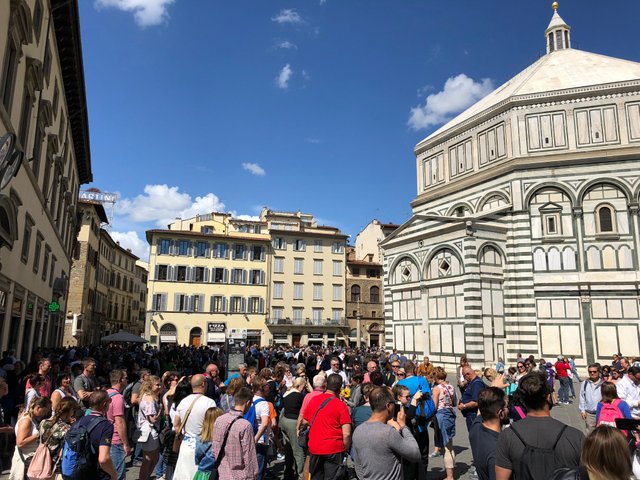 Piazza Duomo, Firenze, Italy


This is not even the entrance, only the ticket office. That queue is approximately 1 km long. Okay, this isn't the day we visit the Duomo. At least we saved 20€ for now. Obviously you cannot enjoy these monuments in such crowd.
11:00 AM. Lets go to the Piazza Signoria. But first have a coffee somewhere. An other contribution to the economy. Overpriced of course, but much needed on day started that bad.
Piazza Signoria is probably even worse. The Piazza is filled with cheap souvenir stalls, aggressive tourists, homeless people and beggers. A fridgemagnet costs around 4€. Obviously overpriced. In the corners, beautiful little Gelatarias, Cafés, Restaurants. Not so expensive, but sadly their food is pretty cheap too. We tried a few on previous days. Cheap ingredients, frozen food, absolutely not authentic. Not a problem though since every table and chair is occupied.
02:00 PM Had a lunch in a restaurant we found on Tripadvisor. Authentic, cozy little restaurant with real value. Real tuscan delicacy can be found here like Cinghiale (Wild boar) stew.
03:00 PM We are getting tired. Tired of people, queues, aggressive people. Everybody is rushing, taking pictures, selfies.
We stopped for a couple of mintues and tried to enjoy the moment. Gazed into the small details of the Duomo. Every square centimeters is perfectly carved. Mezmerizing view and moment interrupted once every minute by a stereotypical tourist in ITALIA baseball cap and Quechua backpack. It was enough for us and went back home disappointed.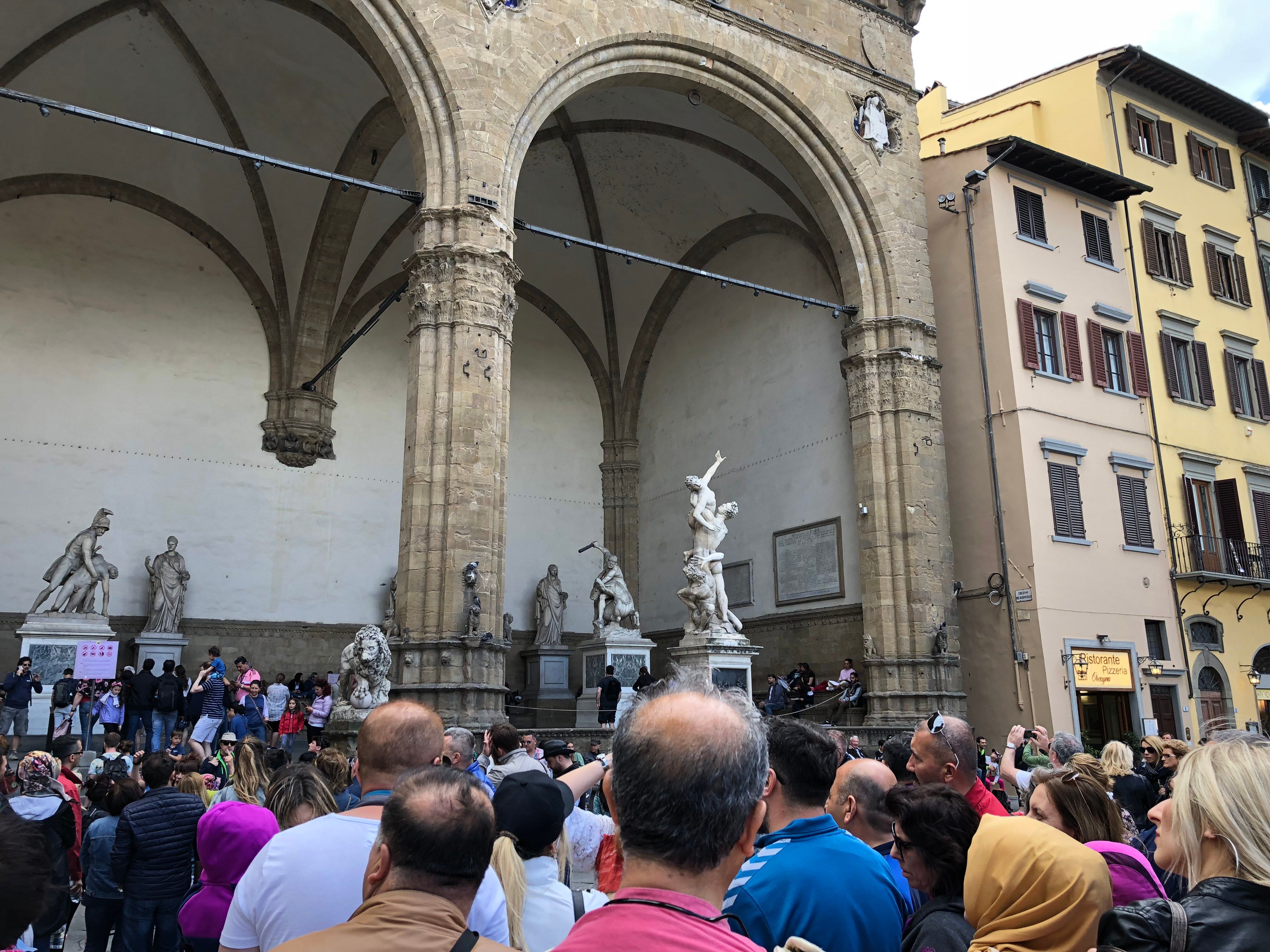 Piazza Signoria, Firenze, Italy
A bad day for us, a bad day for everyone
The crowds in Italy's large cities are insane. My guess is that I am on approximately 500 stranger's photographs. It is impossible to take a decent shot. It is impossible to enjoy the history, architecture and the overall feeling of a destination, because we ruin the experience for each other. I am disturbing someone's personal space and they do the same with mine. Hours and hours waiting for a ticket to the Duomo, where you are basically running out from since you cannot stand the crowd inside.
The idea of travel, tourism is not the same anymore. Most of the people aren't traveling to enjoy the view, to learn about culture or anything related to the destination. They are visiting to take photos, impress friends, relatives, peoples of instagram and facebook. They are buying cheap souvenirs, eating cheap, not even local foods. The main point is to be present there. We are witnessing the downtrend in tourism. Overflowing beautiful cities and making them impossible to live, impossible to enjoy.


Florence is in huge trouble. Venice and Rome is in even bigger.


If you are intrested in PART2 of this series, please feel free to follow me @nashkel and hit the upvote button. In next part I'll tell you how is the situation in Siena, how an average tourist behave and how I would solve this huge ever emerging issue.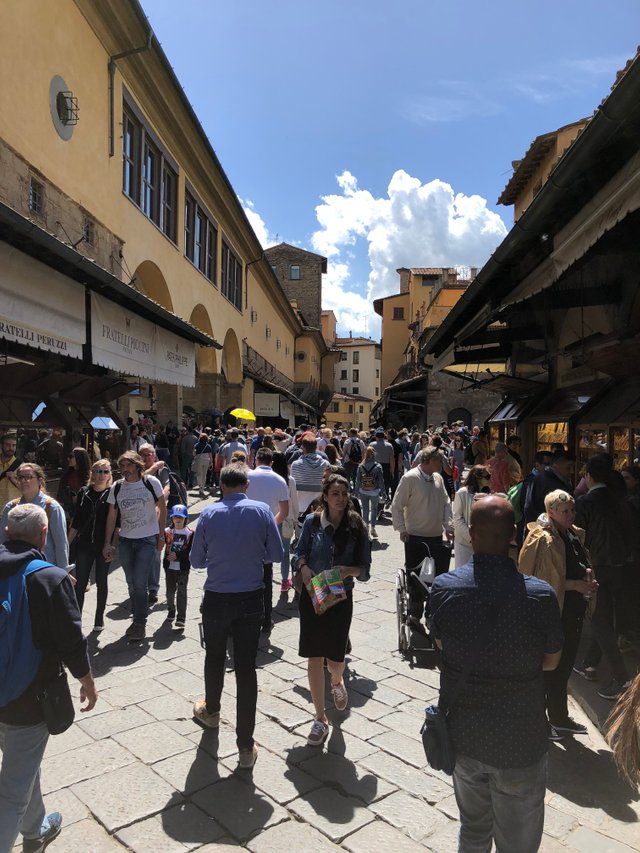 Ponte Vecchio, Firenze, Italy - The crowd is unbearable