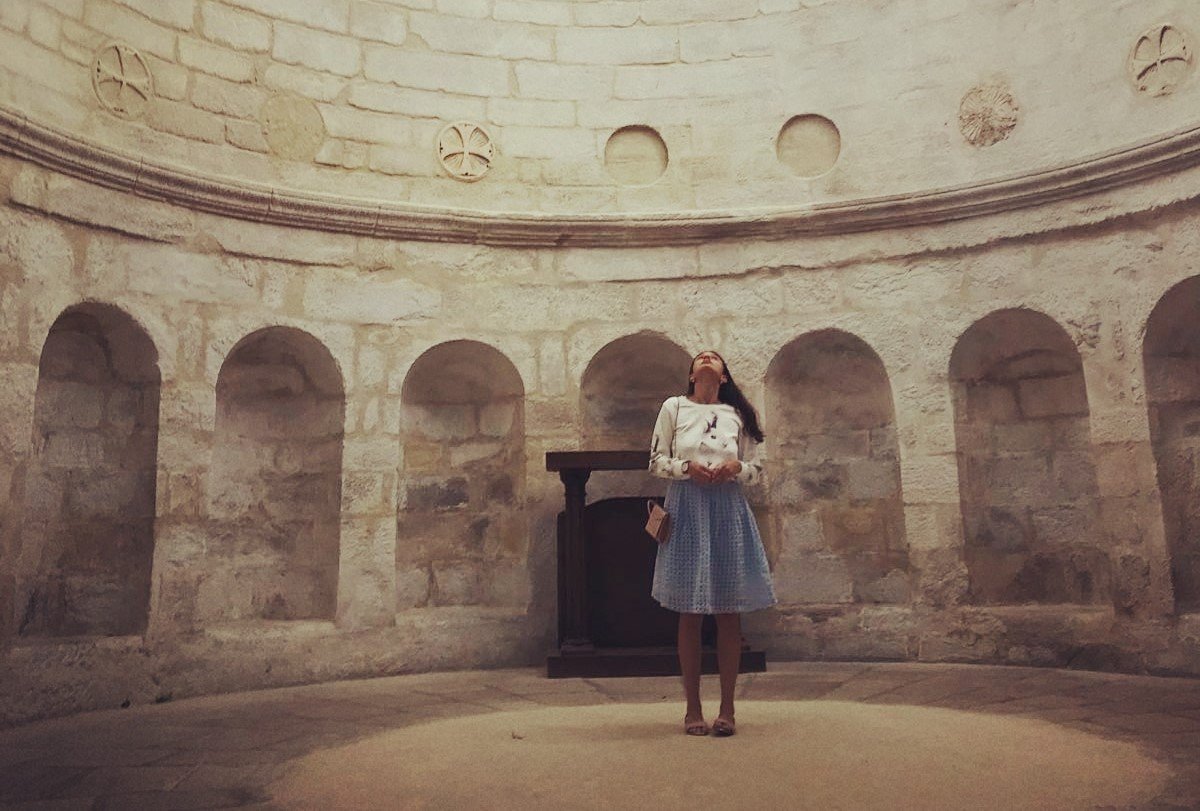 On my second exploring day in France, we went to a really beautiful and touristic city called ''Vannes''. It is a coastal town with nice architecture and good food. A lot of small shops selling trinkets and fashion articles. Even art of a most peculiar sort. I liked it here a lot. One thing that I did notice is that France is a little more expensive than Germany. It might just be the fact that we visited a lot of touristy places but I noted that the supermarkets have a little higher priced labels as well.
In Vannes we mostly just walked around. We also had some food and Kubby bought herself a fashionable hat that was on the higher end of quality. I saw some alluring French architecture from various periods of time and it spoke to me. There was even a port with some private yachts right in the city. It was a nice experience of a more buzzing city as the main tourist street was ridden with tourists from all over the place.
Vannes is also the ideal place for visiting if you want to spend the whole day there. Even if we only stuck around for a couple of hours(four, I think) in town, there were many things we did not explore. We passed on Château de Suscinio and Menhirs and Dolmens in Morbihan that were not that far away. But seeing just the city is still very much worth it as it is a new kind of a fairytale place at the same time being a bigger city.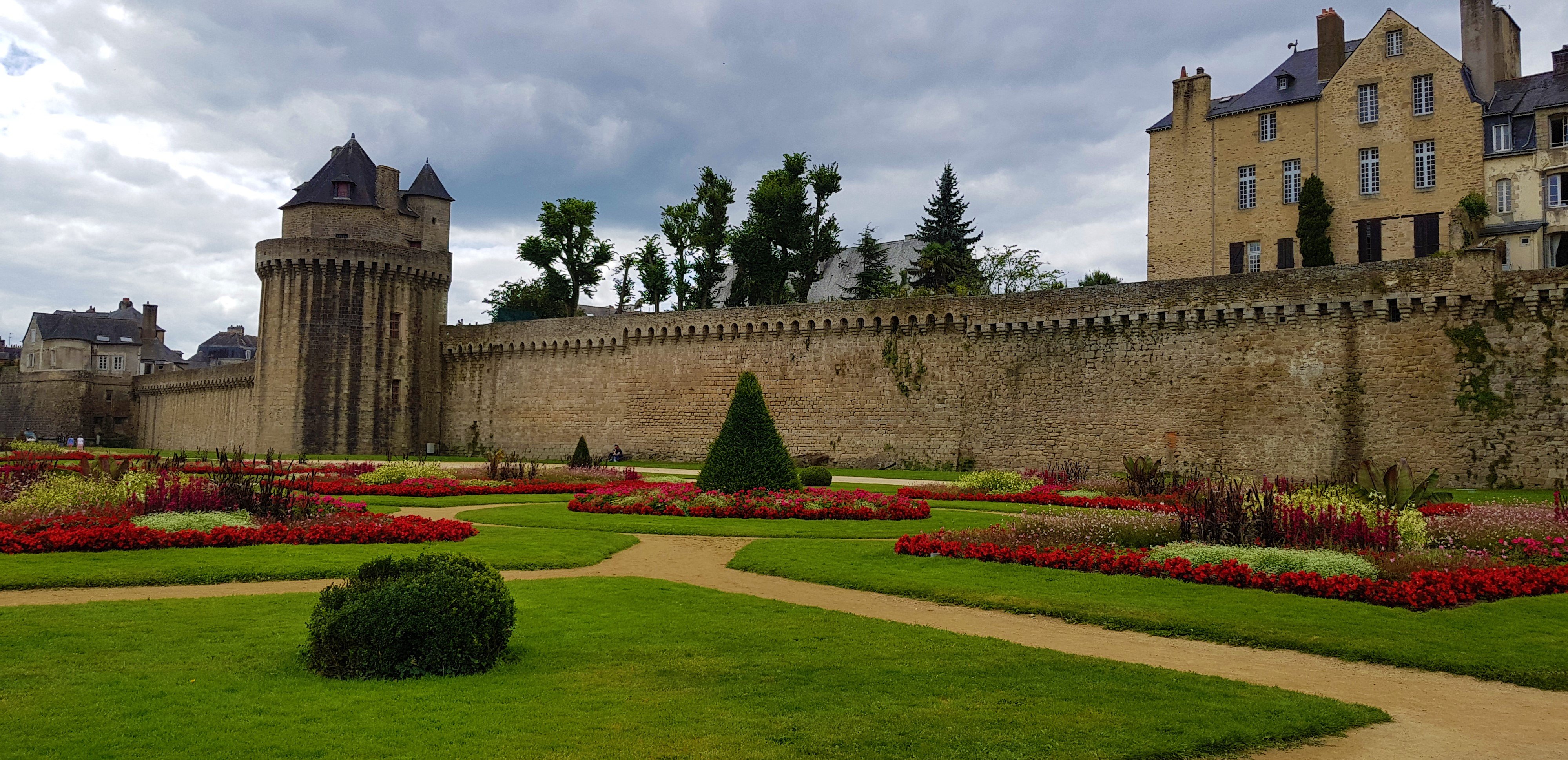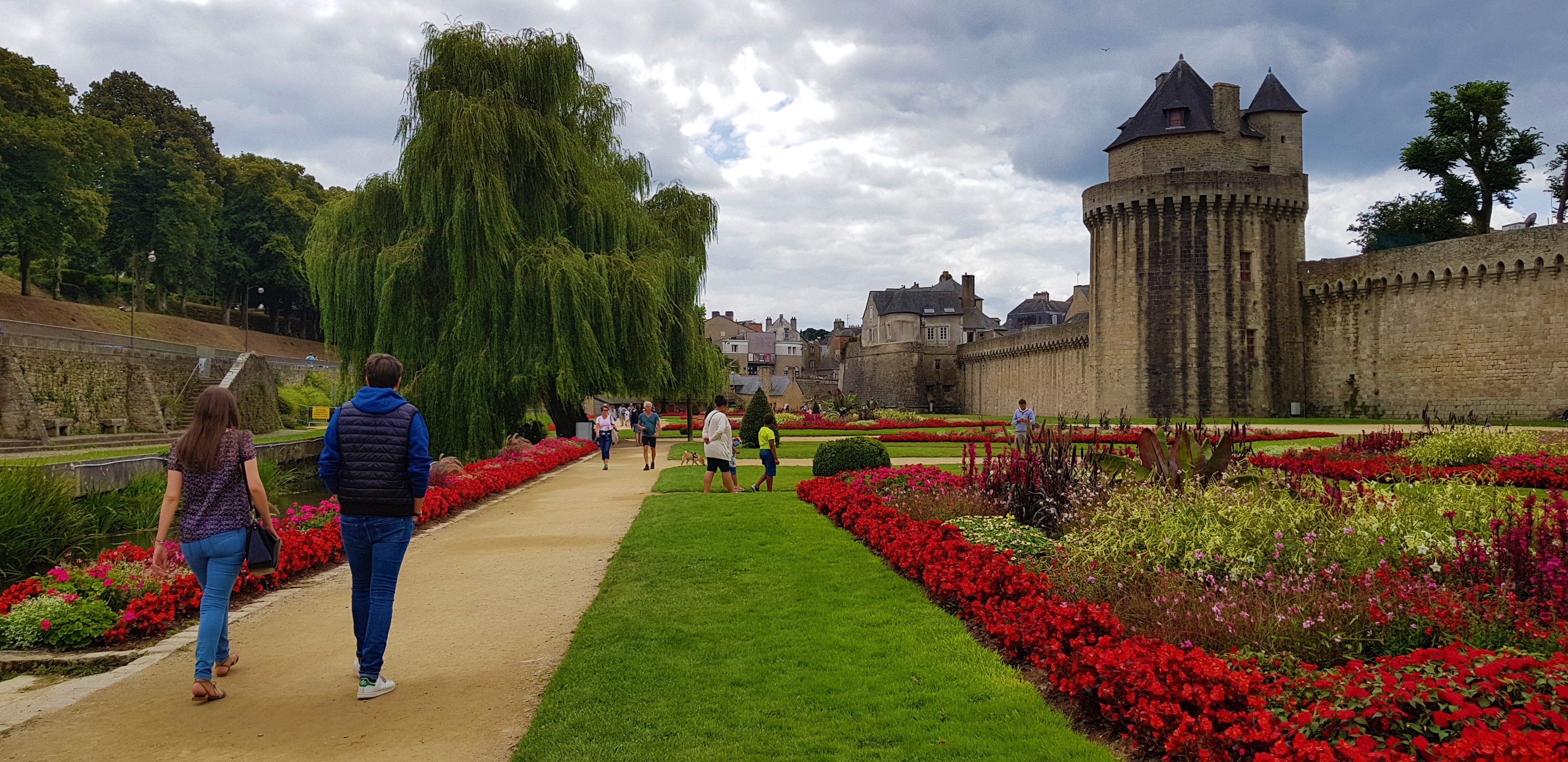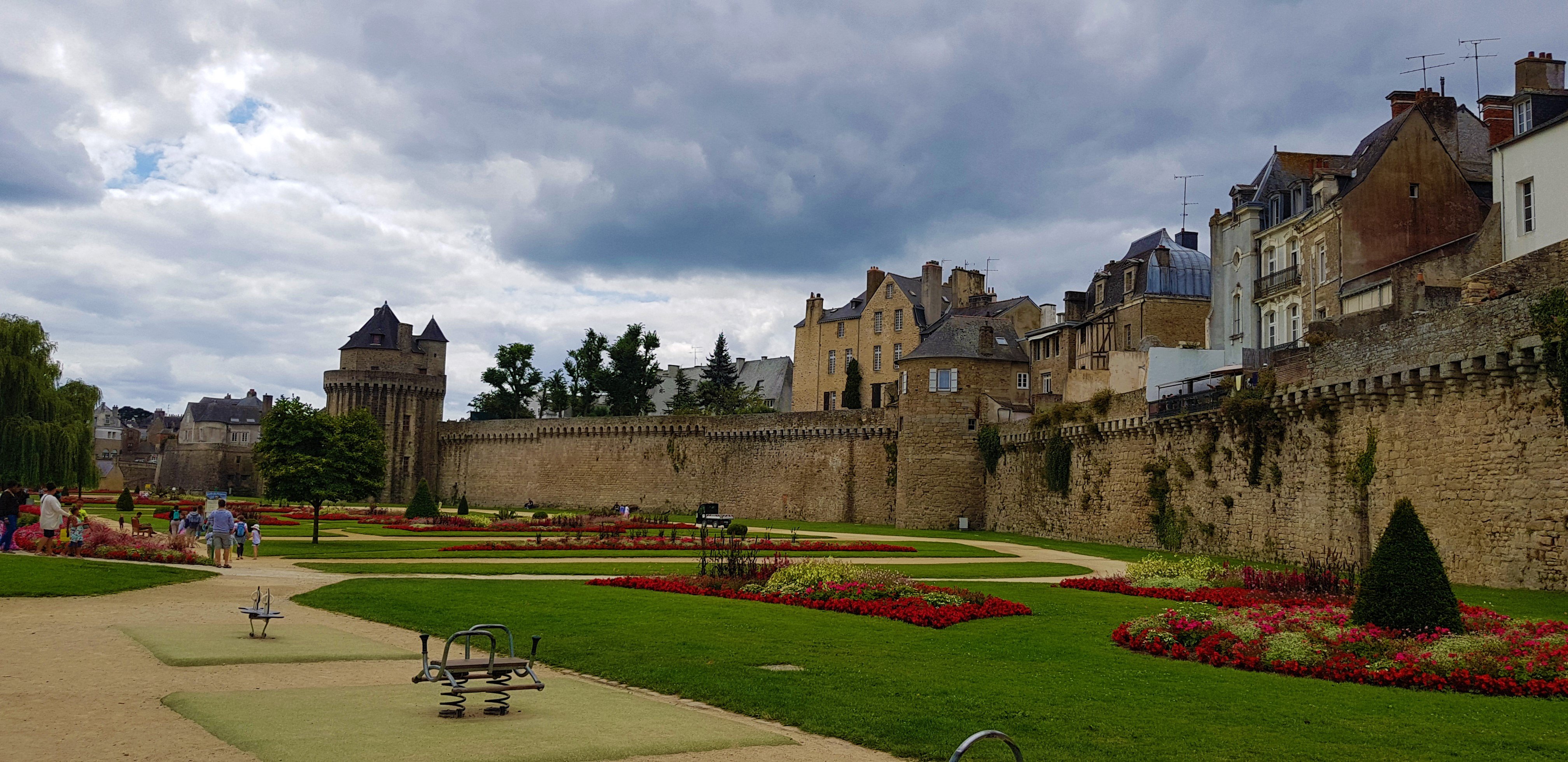 It was still quite early when we arrived and the weather did not seem like it would bring a sunny day. There were some darker clouds in the skies but no rain. And, thankfully, I do not recall there being even a tiny drop of water falling from the sky on this day. So, we left our car in a parking lot a little walk outside the town center and went to explore. We strolled blindly as I had no places in mind to find but one of the first things we came to was this wonderful park.
Filled with flowers of all shapes, sizes, and colors, this seemed like the perfect place to take a stroll in. Here the old mixes with our modern selves and many take their daily walk or just give in to touristy exploration. We took loads and loads of pictures of this place just like many others and the day started turning slowly but steadily, into a sunny promise.
There was also this water body curling on the side of the park and, for the first time in my life, I actually saw an old-time pier. Like they show in the Disney cartoon Snow White and the Seven Dwarfs. It was this low structure with wooden beams and I imagined an old witch taking off from it in an unstable boat. It fascinated me a lot and I do not know why. Maybe because I thought those places only existed in children's tales.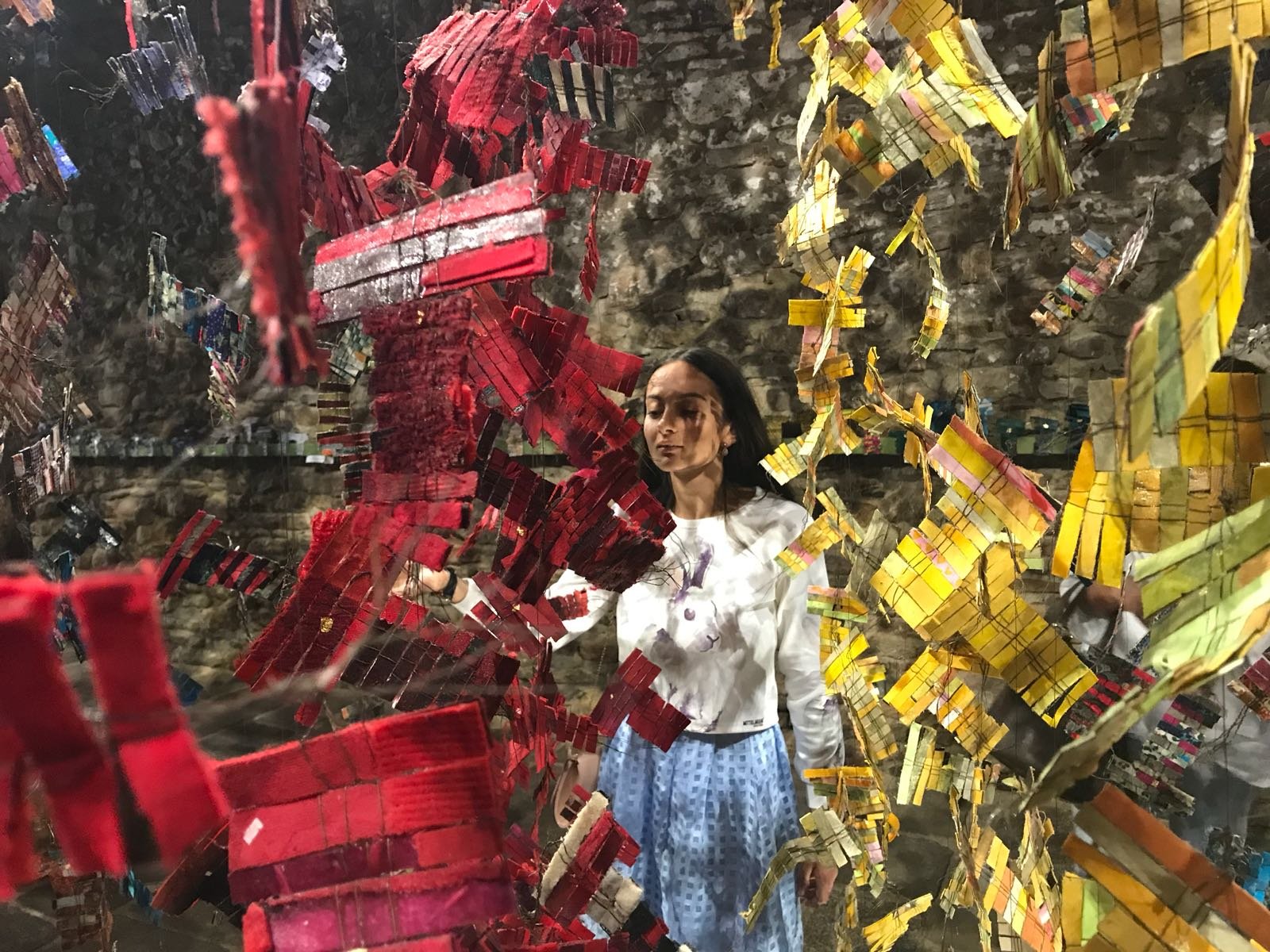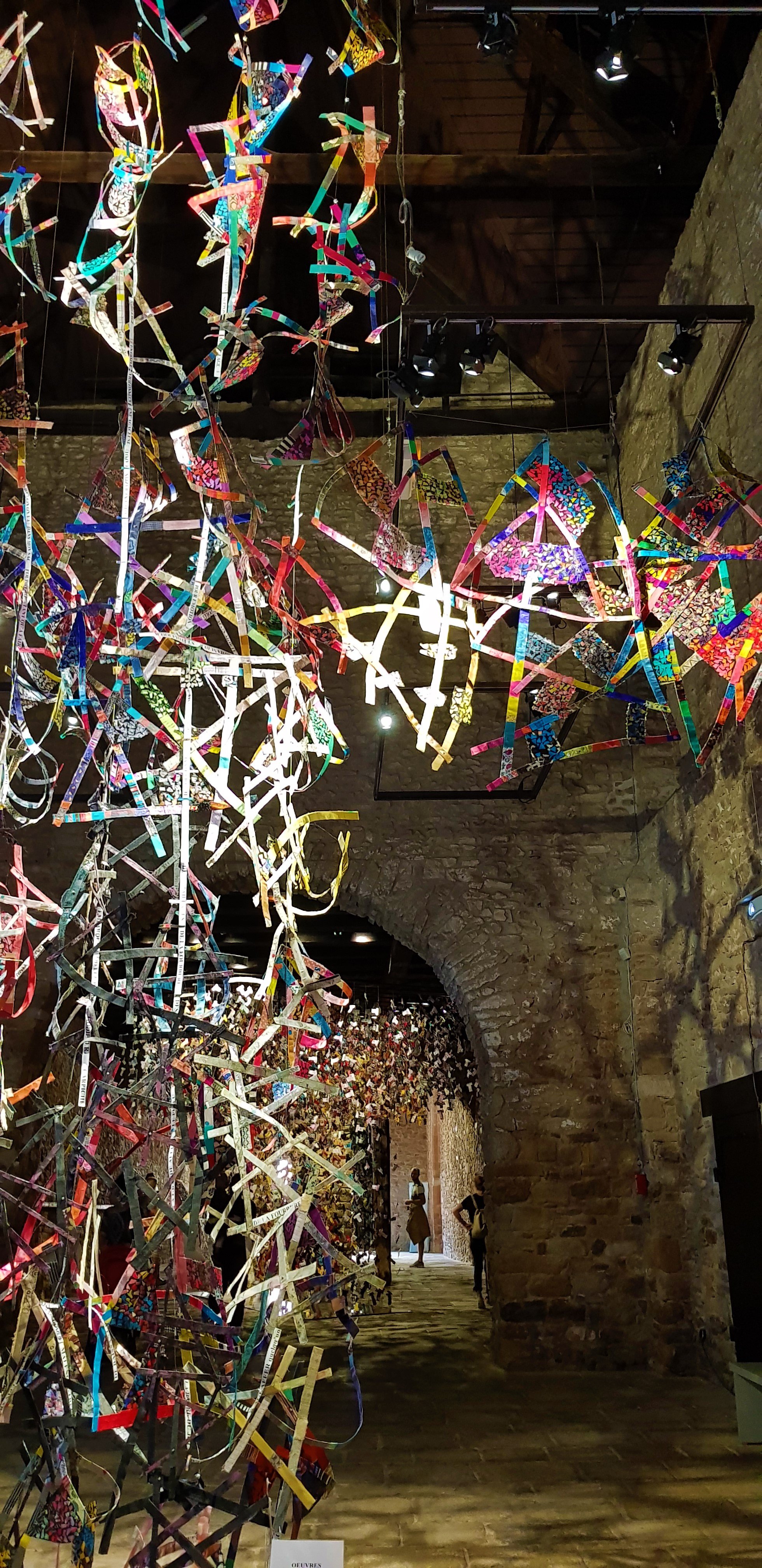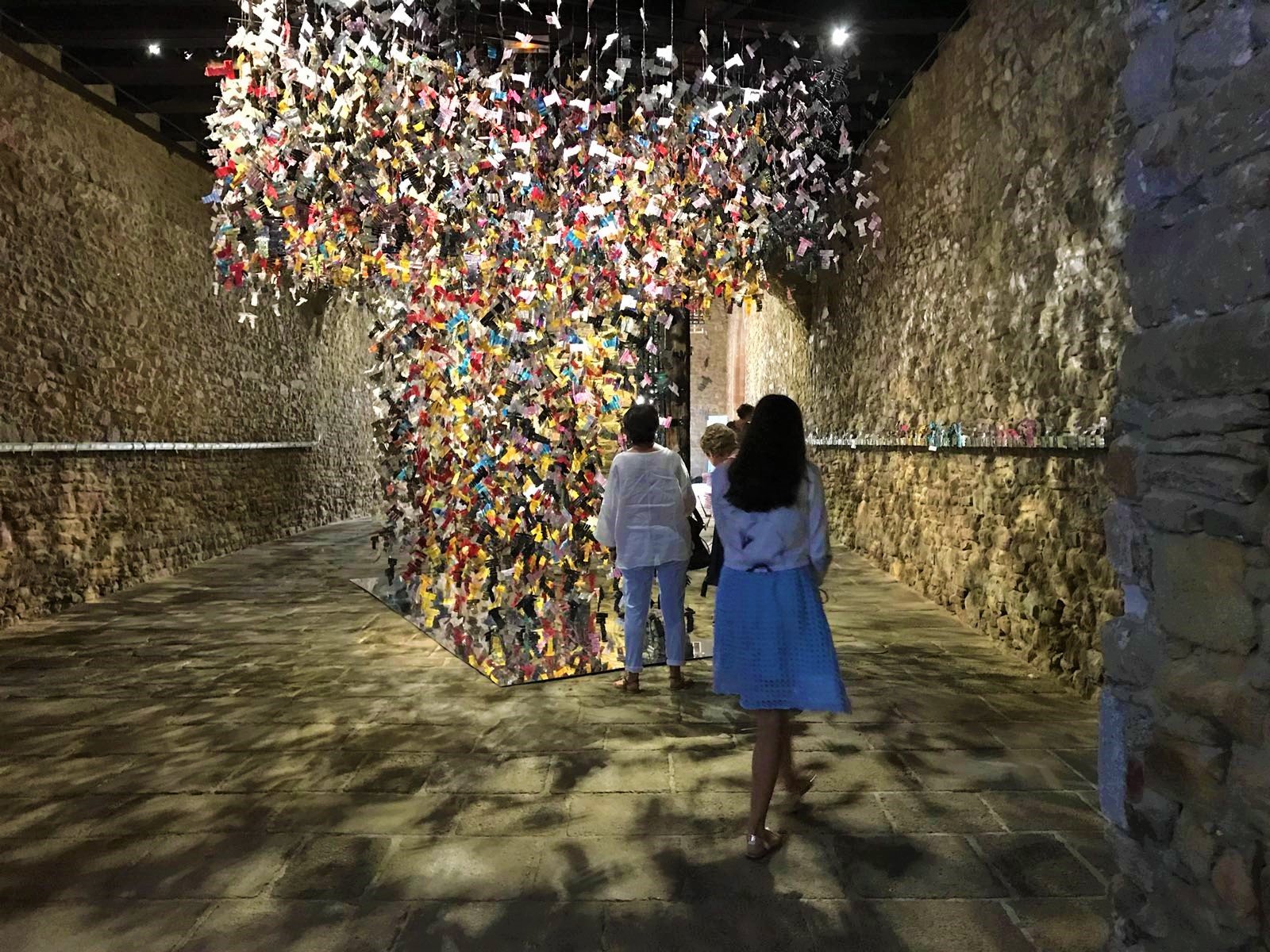 We also passed through this art exhibit that was arranged in a rustic tunnel-like building. It was the kind of a showcase that is not regulated or overseen by a clerk and it was made connecting two streets. I fell in love with the different color combinations and fun pattern play.
The art hung from the ceiling to the floor and it definitely had taken a lot of time to make. Probably many hands as well. The pieces the objects are made of were most definitely paper on the top. I have no idea if a kind of carcass was used but I do not think so. With my observations I guess it was just layers and layers of glued and colored newspapers arranged in various pieces that resembled a flow of a sort.
In some places it was triangles, in others, it was squared. At some points, there was no sense and in others, perfect symmetry ruled. Under at least one of these hanging spider-webs, there was a mirror that made you feel like the exhibit fell for ages to no end. It was quite a nice place to take pictures of and take in without a camera.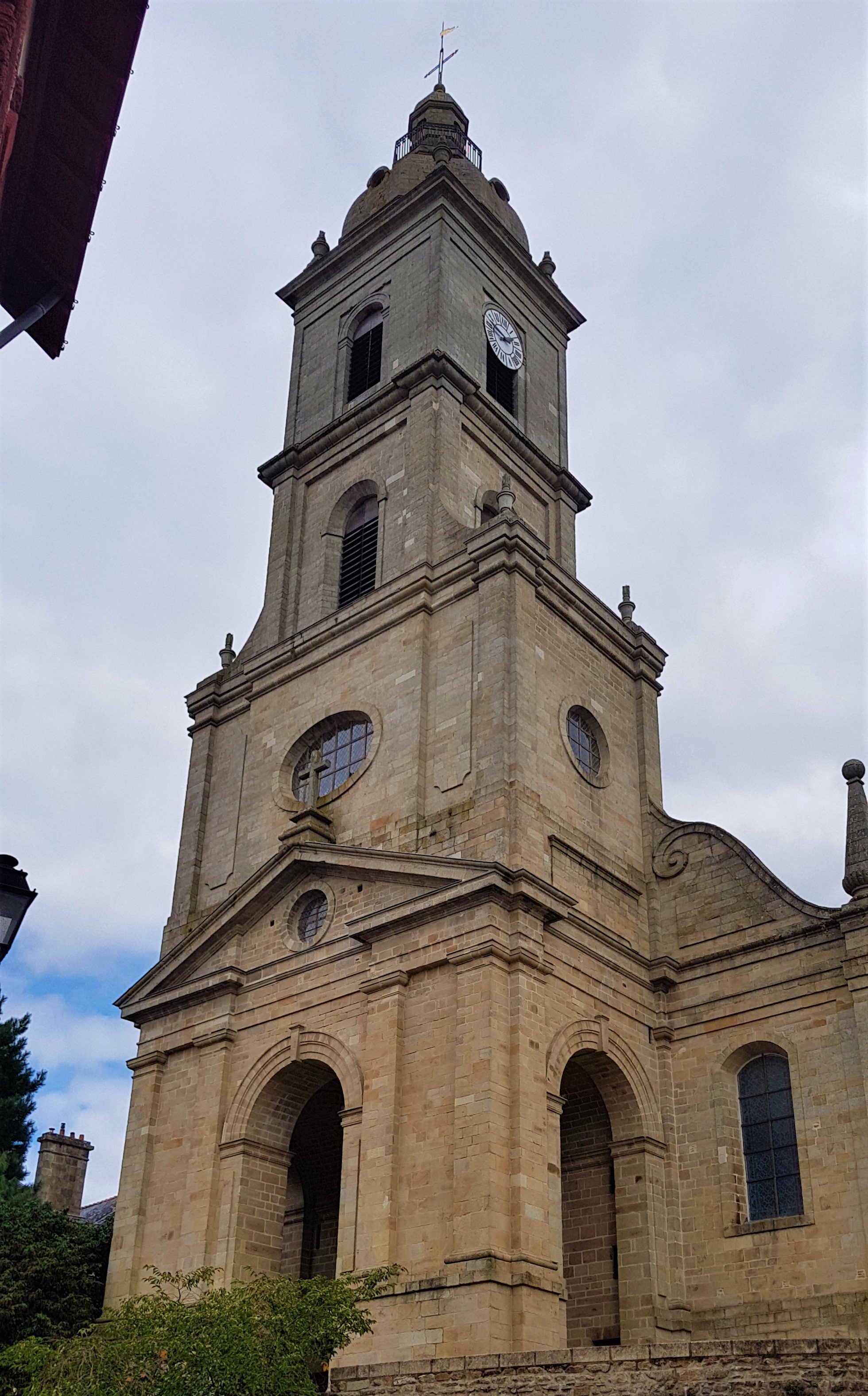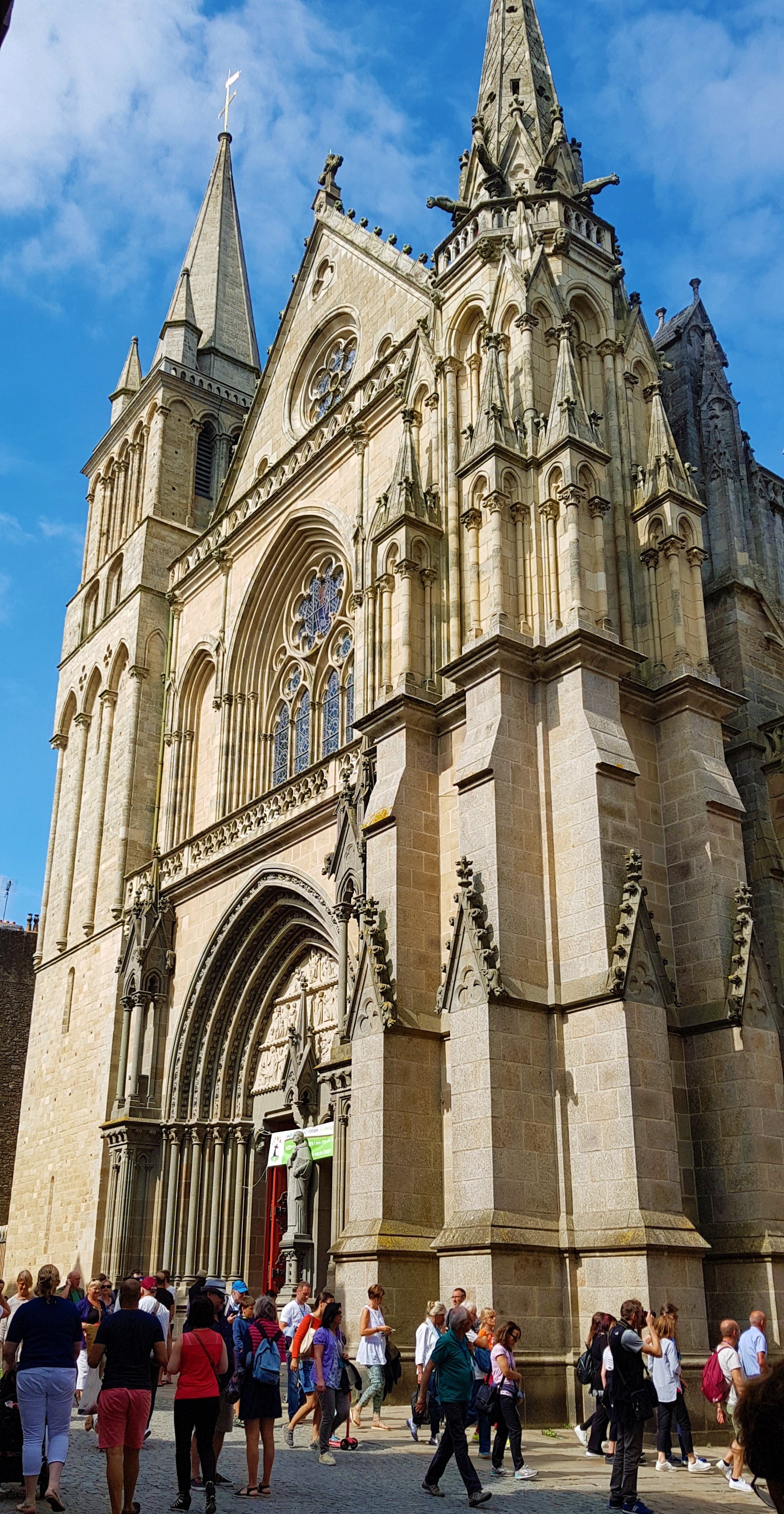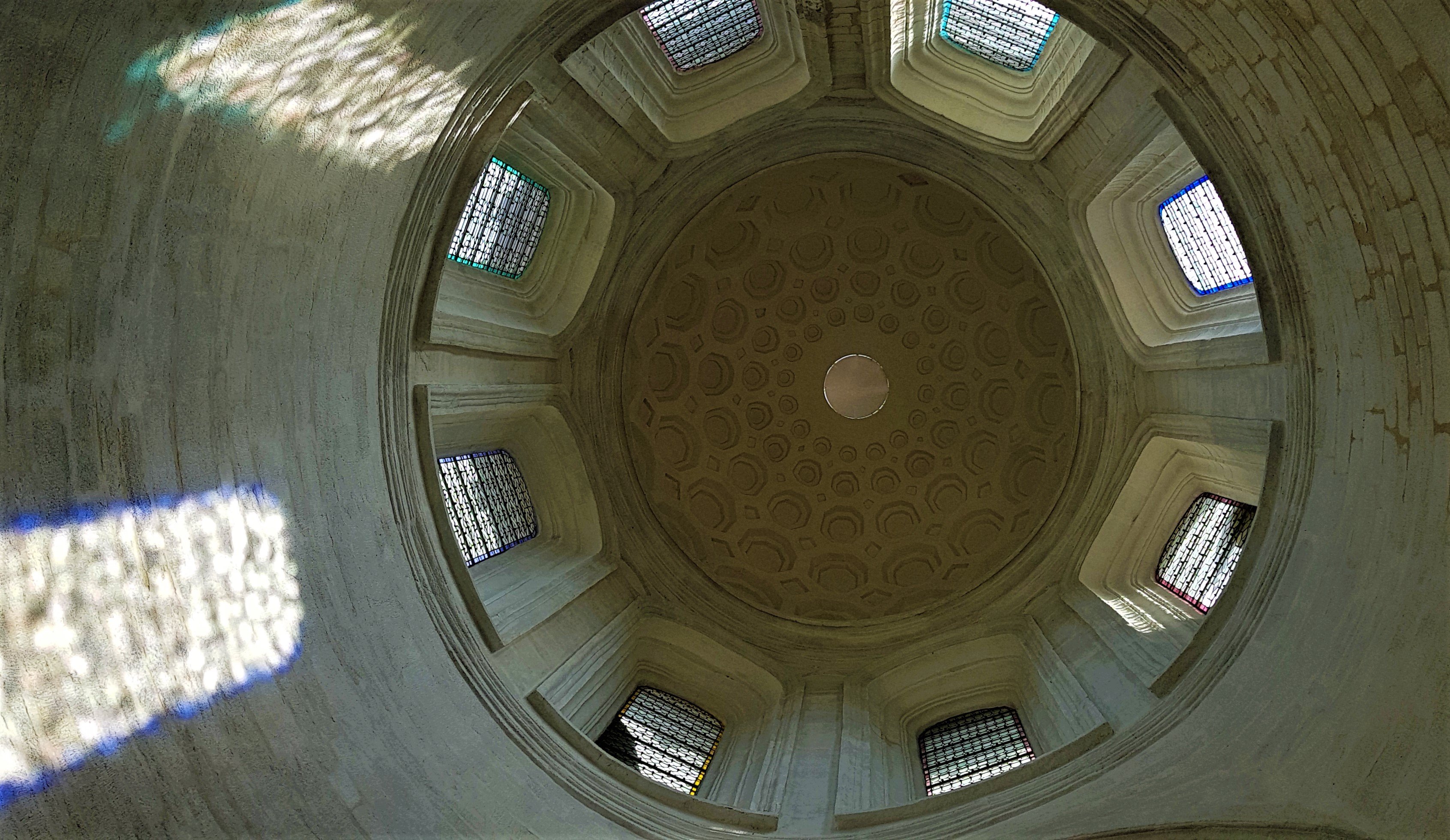 Of course, Europe is unimaginable without its great cathedrals and churches and even though I, myself, am not big on attending any establishment of the sort, I do appreciate the effort that has been put in the architecture here. Not only are the acoustics great inside but the interior is as breathtaking as the exterior.
You can also see the difference between the weather conditions in the first two pictures. I snapped the simple church in the morning and the small cathedral in the afternoon when the clouds had run away and the sun had taken the throne. I also fell in liking with the light playing in the second place of worship. It had this one tower decorated with the symbols of the crusaders and filled with wonderful brightness. The windows were very high up and let through the light that shimmered on the walls.
This was also a busier place. As the day was in full swing and the tourists busy, there were quite a couple of tourist groups in the building and a polite man even directed some of his group mates in the guided tour to the side so I and @KubbyElizabeth could take our last pictures of the place.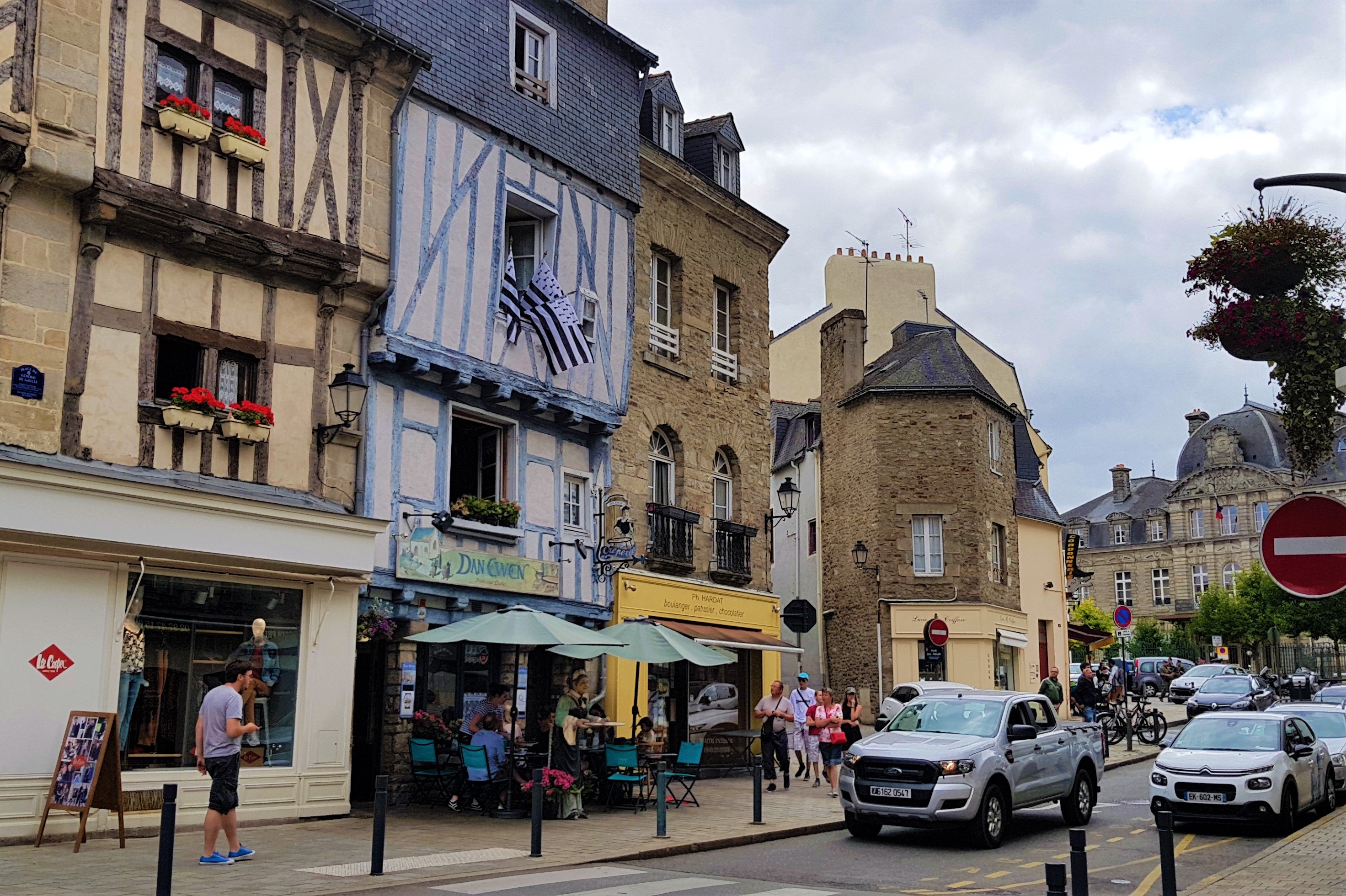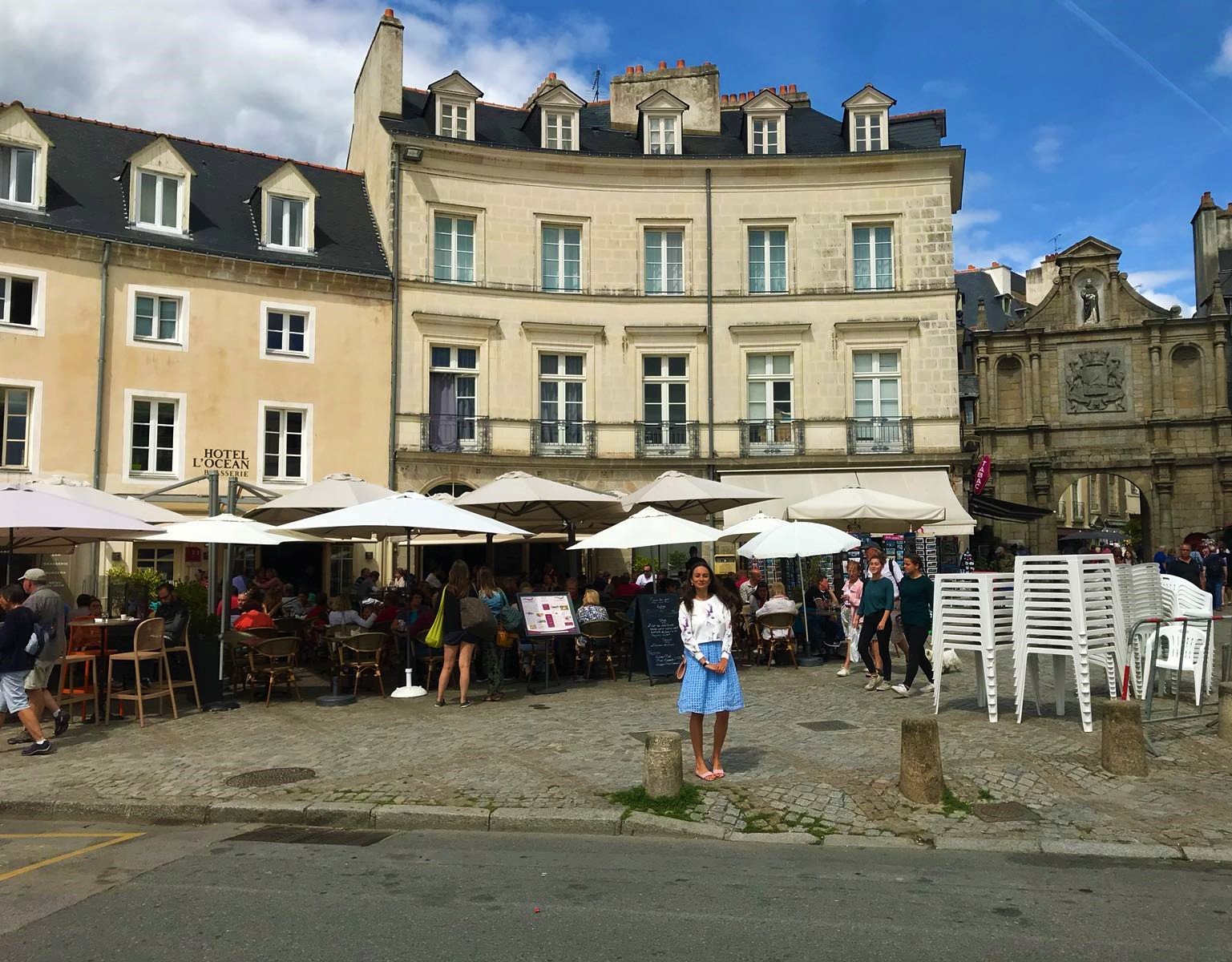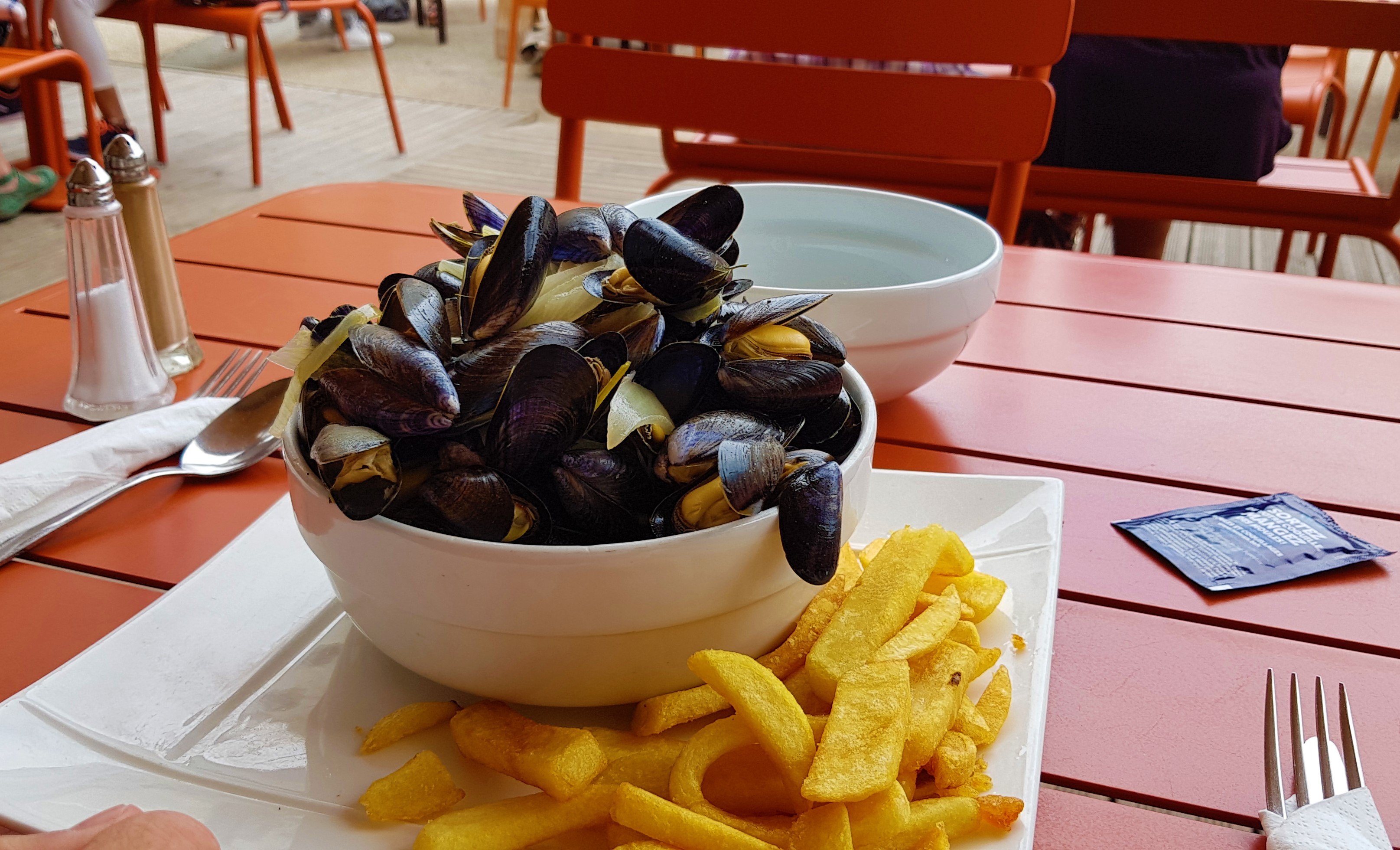 We walked past a couple of places and considered them for having lunch in. Most cafeterias and restaurants were full as it was now when we had wound up on that very busy tourist street that ended up in the port for yachts. There were some things that we considered. Like a crepe or to grab a bite from a street vendor. But we ended up sitting down in this busy cafe tucked around the corner of that popular street.
For the second time on this holiday, I ordered mussels as we do not have them in Germany and I found them very filling and soft in taste. You know, I love food but what you might not be aware of is that I have a special place in my belly for seafood of all kinds. This time my mussels were not made in wine sauce rather than in a lot of onions. They were sweeter in taste and soft. Easy to devour and a perfect hit to my stomach. I tell you, I thought I was in love once more!
It was now when we decided to walk through some shops and check them out for travel memories. Kubby got herself a mug and even found a Brazilian flag in a store. Then she got that hat and I got stuck in an art shop that I loved. It was a little bit like comics which I am not over the top to put on my walls but there were some pieces that were affordable and looked like they could fit in my office. I liked this one in blush colors and with a girl roughly sketched with her back turned to me. It was very simple but, in my opinion, perfect for an office.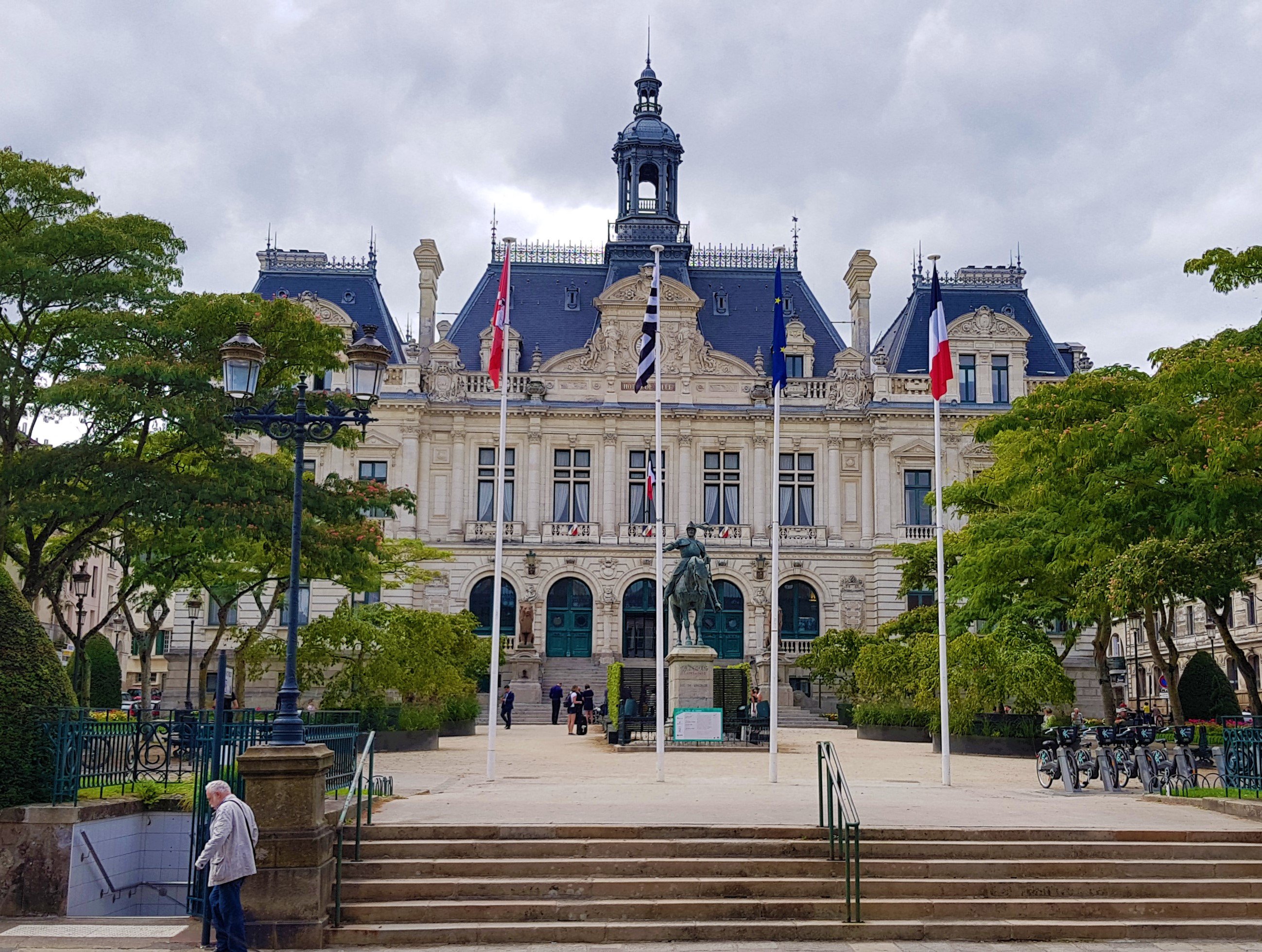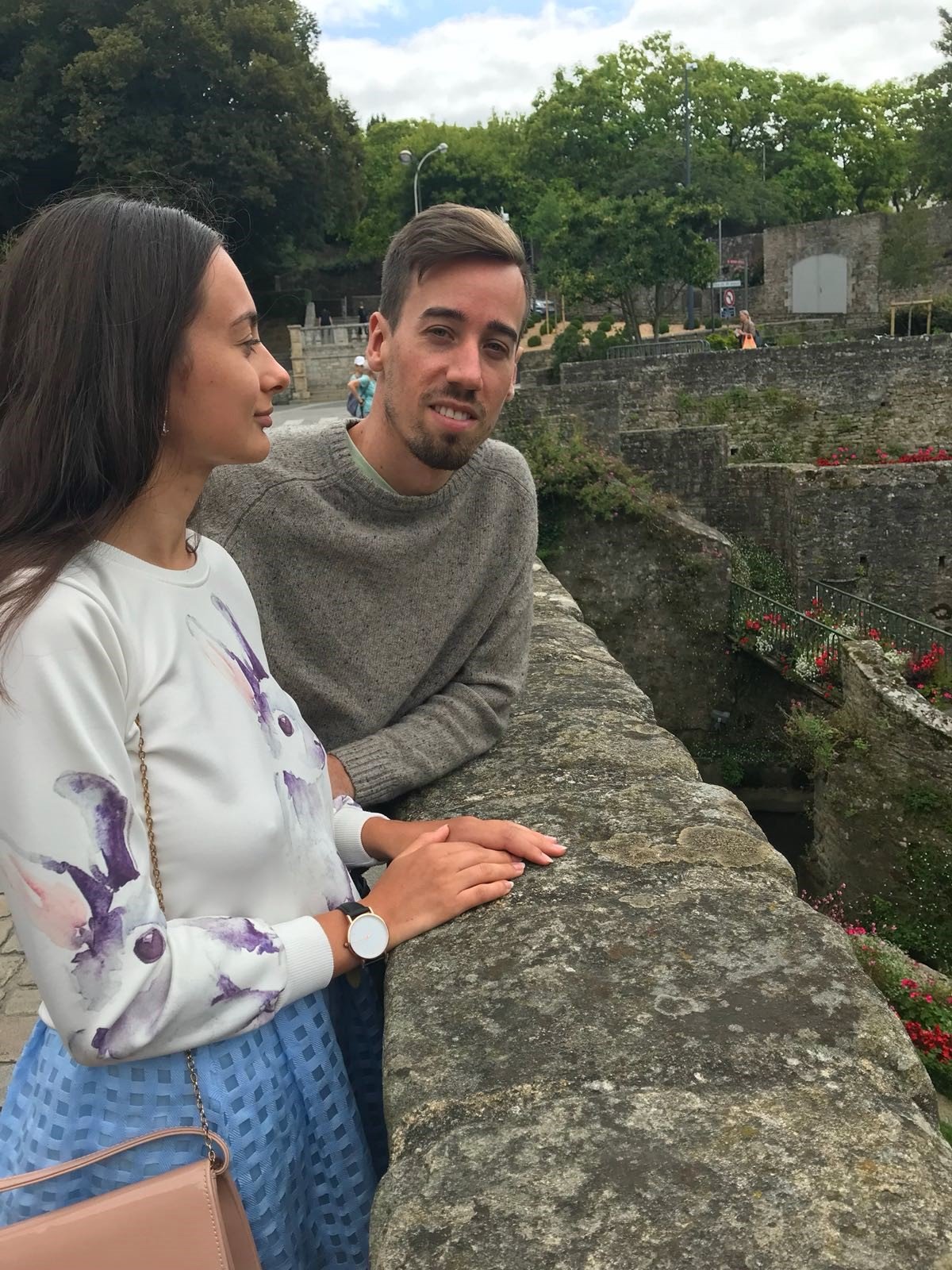 It is so hard to find pictures with just me in them!
I find it very interesting how the French build their walls and buildings in general. Theirs is my favorite architecture in the world. I am not big on modern things either and I always found French Baroque to be the best of them all. Victorian is not bad either as it has some parallels with the style but French style is the ultimate style for me as an individual. That being said, I do like some modern touches in my buildings. A wall with full-length windows on the backyard side, amenities... That kind of stuff.
Also, the picture with the walls. I saw it on multiple occasions how walls would be stuck upon walls. I also find these kinds of structures to be amazing. You might know that I am a helpless romantic. You might not have known it. Now you do. I always found things that reminded me of fairy tales to be of the most extraordinary sort. That is why I have my sweater on that reminds me of Alice in Wonderland. France brought out the dreamer in me more than anywhere else and I wonder if I could live there, if just for a while like I have done so many times before, with other countries.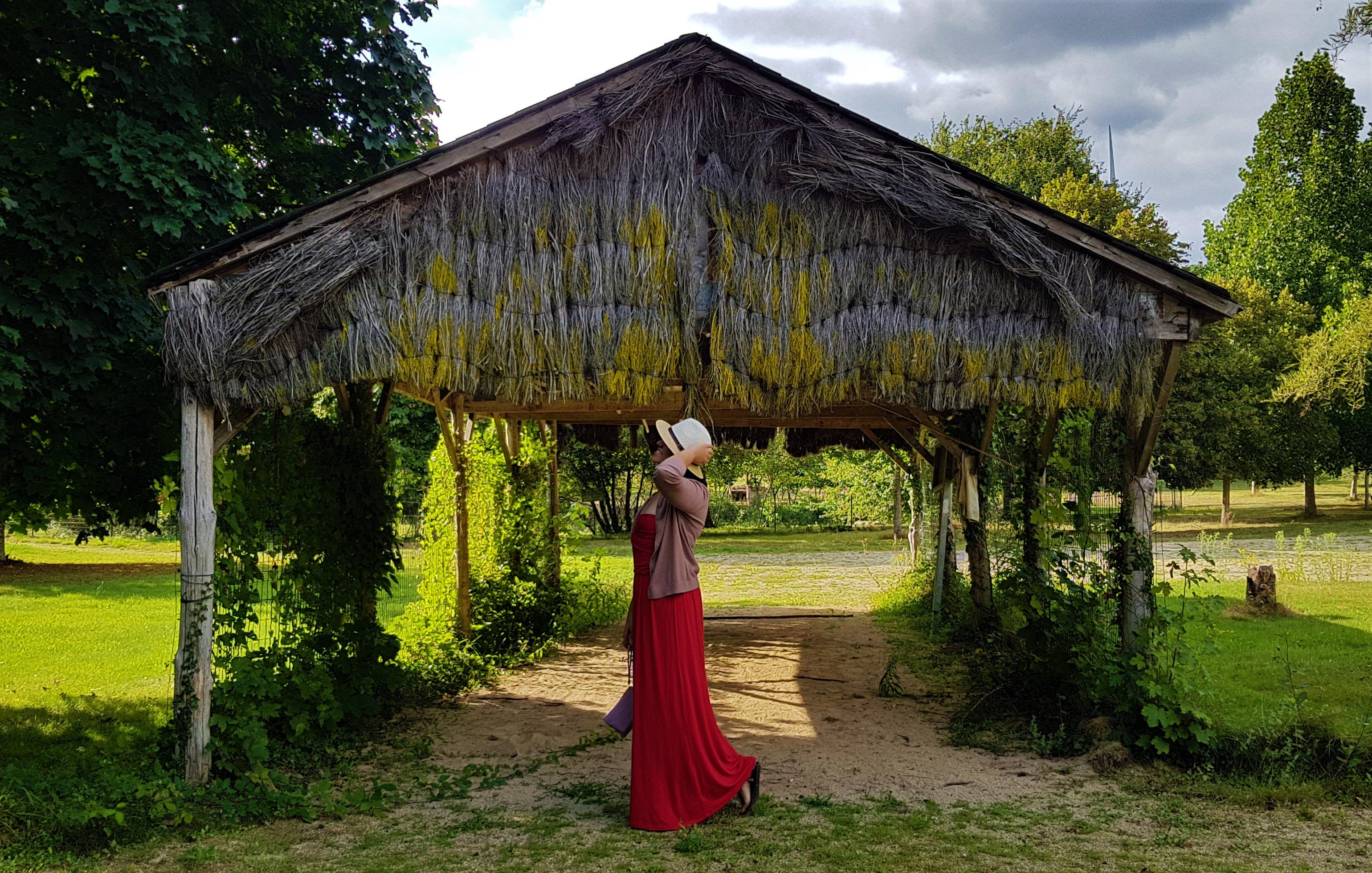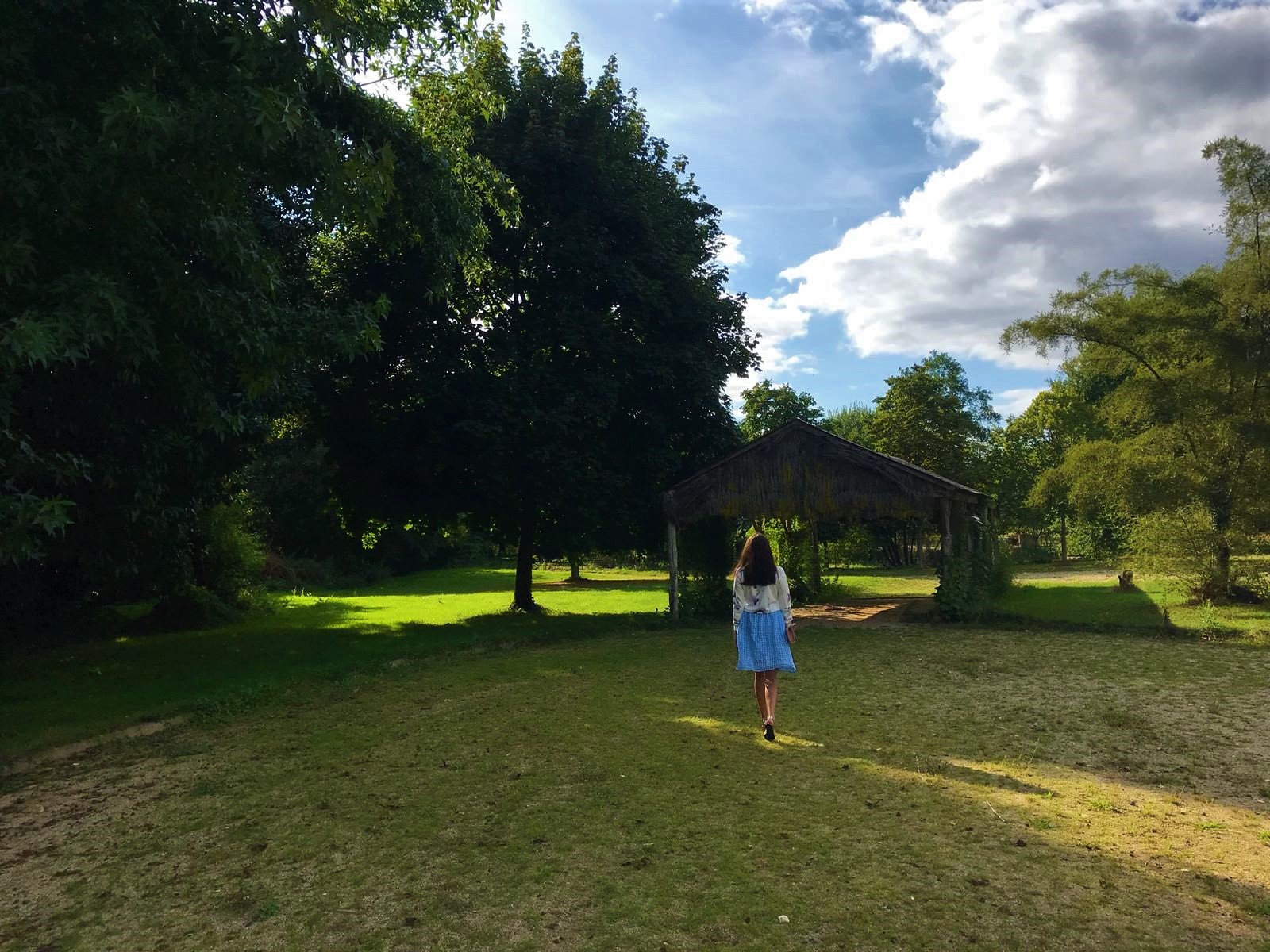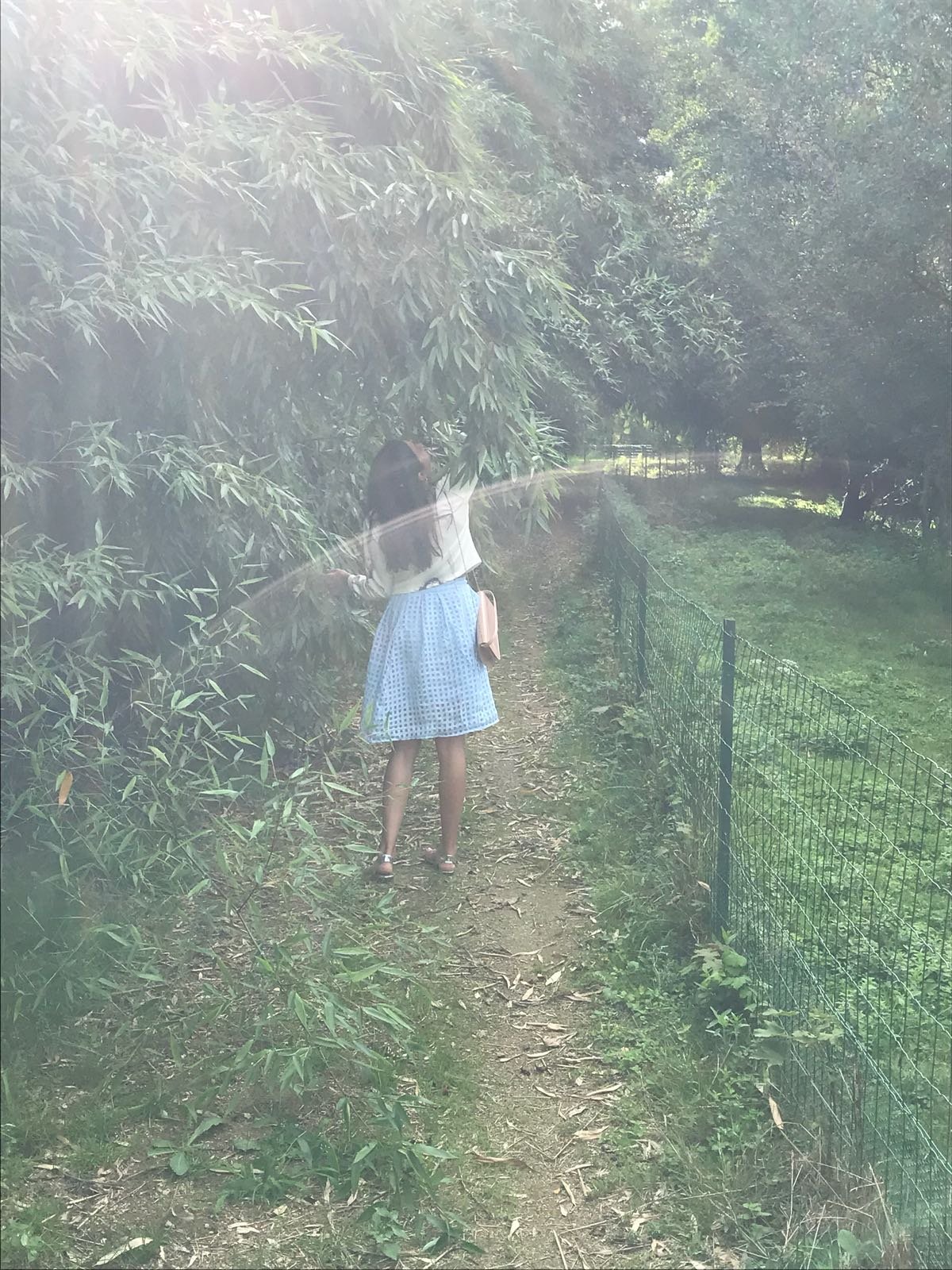 After we left Vannes, we went for a pre-wedding dinner of @Nikflossus. It was then when we saw him for the first time in real life and I got to observe his quiet but determined manner. I had a lot of fun at the dinner as we laughed with Nik senior (not Nik) and Linda (not me). It had a total and absolute blast getting over my insecurities of talking to people. Instead, I blabbed like crazy, probably from being nervous still and definitely way too much.
The food was great the company more so and the evening of three-course meals (my favorite) was basically thrown at me. I have said it before and I will again, all you need to do is give me food and I will most likely like you. I will repay with the same as my show of trust and respect. Yeah... FOOOD!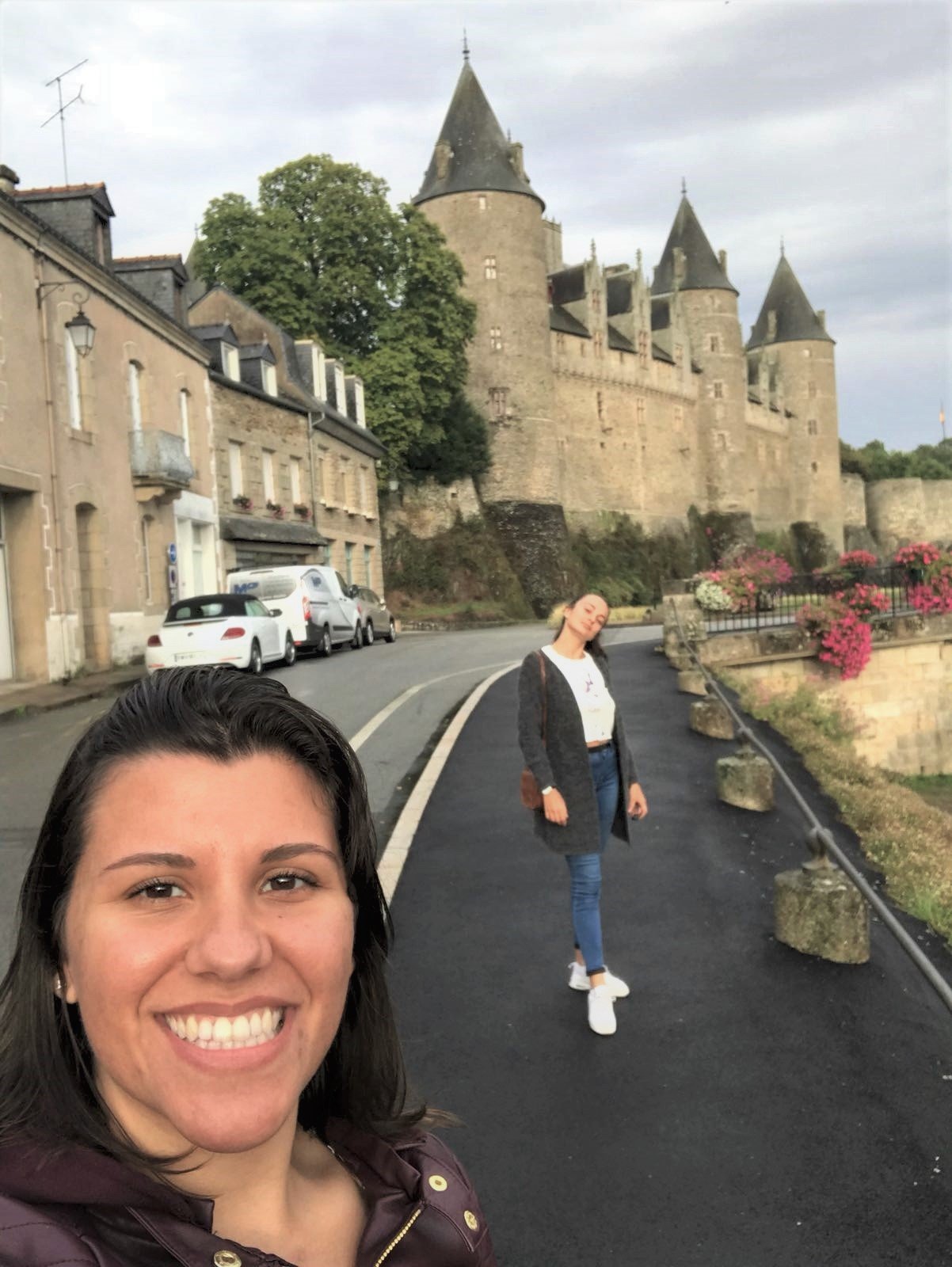 Here is a little peek into the Josselin castle that we will be exploring in the next post!
Have a great day. Today, tomorrow, and forever!
Linda