I wish I could travel more, but if one day I visit these places (see below), the movies depicted them will definitely be one of the reasons, if not the most influential one.

Please Note..:

I don't think it would be right to classify all the movies listed below as "road movies" or "travel movies", but without a doubt, they inspired me to see these places. Also, unfortunately, not all "road movies" or "travel movies" are able to inspire their viewers to travel. This surely is a personal list as you would expect.


Well, let's go!

Movie:
"Cidade de Deus" (2002)
(aka "CITY OF GOD")

Place:
Rio de Janeiro / Brazil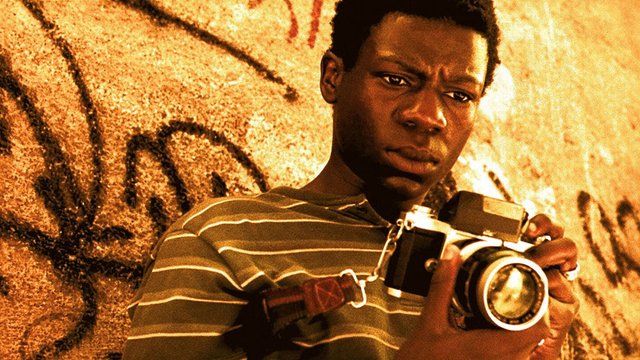 Photo Source

"Cidade de Deus" means "City Of God", but it seems even the God has forgotten the "favela" ("slum") of Brazil's Rio de Janeiro where human life has no value and an extra day on earth is a privilege which isn't easily attained. The movie follows the story of ongoing drug-wars and corruption in Rio de Janeiro's favelas through the eyes of our main protagonist, "Rocket", a quiet boy who wants to become a photographer. Surprisingly, most of the actors and actresses we see in the movie actually aren't professionals but the regular folks from favelas, even from the "City Of God" itself. Recently there is a "Favela Tourism" hype going on and I'm sure that this movie has its own share in it. A must see (I'm talking about the movie, I've never been in Brazil) and maybe one of the most powerful movies in this list.

Movie:
"Diarios De Motocicleta" (1984)
(aka "THE MOTORCYCLE DIARIES")

Place:
South America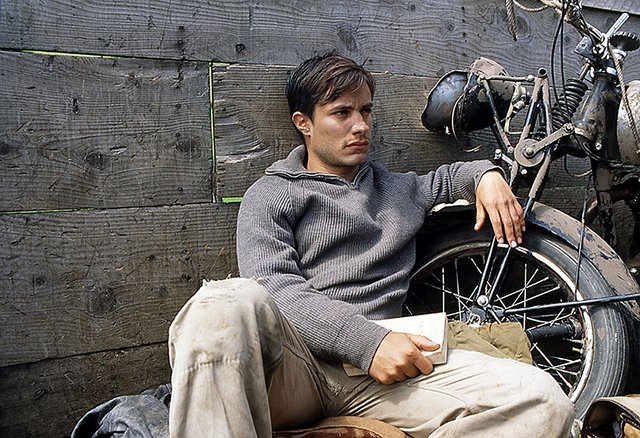 Photo Source

A wonderful "road movie" based on a true story (having said that, as always, within the boundaries of artistic freedom)...

A 24-year-old medical student, Ernesto "Che" Guevara and his friend Alberto Granado tour across South America beginning from Buenos Aires to finally reach Peru to voluntarily work for a leper colony there. During their journey of 14500 kilometers, they visit various places, witness inequality, exploitation and poverty with their own eyes throughout the continent.

In one of my favorite scenes which is heart-wrenching, Guevera and his friend visit Machu Picchu where we "hear" the inner voice of Guevera..: "How is it possible to feel nostalgia for a world I never knew... How can a civilisation that built this [refers to the ruins of Machu Picchu] be destroyed to build this [refers to the city of Lima]"

As naturally expected, the route they followed decades ago now turned into a popular trail for adventurers.

Movie:
"The Fall" (2006)

Place(s):
Numerous Magnificence From The Planet Earth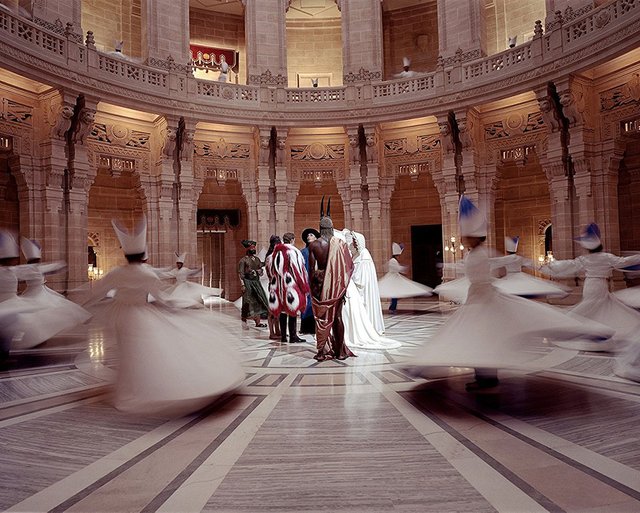 Photo Source

Spellbinding cinematography!
"The Fall" is a cinematic poetry where every single frame would make for a great wallpaper (that doesn't happen frequently), a movie that you'll want to watch again and again! It's all here fellow Steemians; from immenseness of the desert to the green of the grass, from gigantic palaces to magnificent towers, the beauty of the places will enthrall you whenever you see them and you'll just want to be there.

Among many other qualities, what makes this movie so special when it comes to these places is that even though you might already be familiar with these places, this film depicts them in a way that makes them totally "otherworldly" and reflects their magic as you've never seen before.

No, excuses... Just watch this. It's a movie that grabs you even the volume turned completely off, though I never suggest doing so because we also have a powerful "tale" here where reality and fiction intertwine in the most aesthetic way!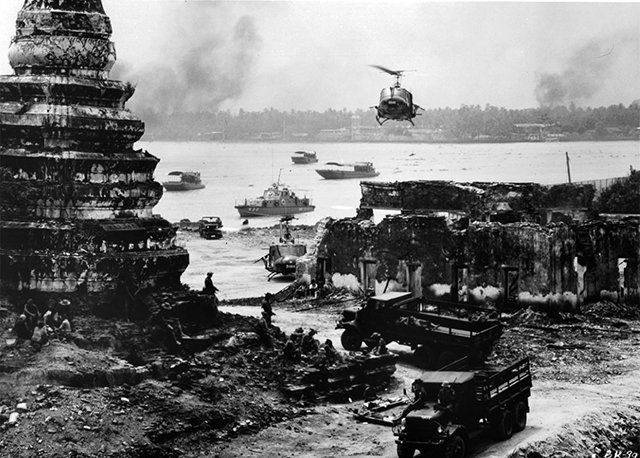 Photo Source

I know it seems bizarre...
"The Killing Fields" is a movie about The Cambodian Genocide perpetrated by the Khmer Rouge regime during their rule between 1975-1979. Depicting a genocide is never an easy job ("is it ever possible to depict a genocide?" would be a great question but it's out of the scope of this post), and this movie, unfortunately, has its own cheesy moments... Nevertheless, it was not the great views of the temple Angkor Wat but the movie "The Killing Fields" triggered me to perform a Google Search in the first place many years ago for the phrase "Cambodia". I wish it wasn't for such a brutal, violent occasion. Haing S. Ngor was won the Academy Award for the "Best Actor In A Supporting Role" who was himself a witness to the crimes of the Pol Pot regime (though you already know I don't care about any awards including Oscars).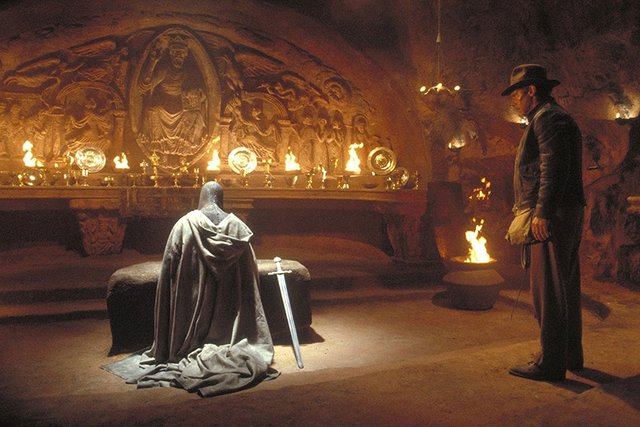 Photo Source

Well, let's admit it: Any scene in any Indiana Jones movie has potential to ignite the fire of travelling. But of all the destinations I've ever seen in these "Indy" movies, my favorite still remains The City Of Petra, the capital of the ancient Nabataean Kingdom (by the way, my own name, "Petros" comes from the same root so I have a soft spot in my heart for this place..: "Petra" / "Petros", meaning "rock" in Greek language, a common name among Armenians. Nabataeans have nothing to do with Greeks, though)

It's interesting that those who responsible from the script manipulated geographical data: As you may remember from the movie; Indy, his father, and Sallah were reaching Petra through the city of Alexandretta which is absurd, because Alexandretta and Petra have nothing to do with each other geographically.

No matter what, the scene where Dr. Jones has chosen wisely (the modest of all chalices) was unforgettable.

Movie:
"Alice in den Städten" (1974)
(aka "ALICE IN THE CITIES")

Place:
Amsterdam / New York / West Germany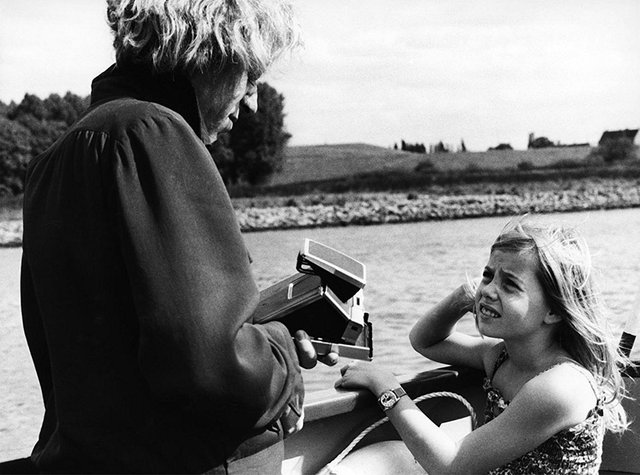 Photo Source

What else could you expect from a movie directed by Wim Wenders other than a masterpiece? That was not even a question. Do you like travelling? Do you like photography? If you like both, then THIS MOVIE IS A MUST WATCH for you!

Philip is a writer who struggles with middle-age identity crisis. While attempting to go back to his home country (West Germany) from New York, he meets a woman who leaves her 9 year old daughter Alice to his care for a while, and then disappears. The movie tells the story of the relationship between Philip and Alice as they try to find Alice's grandmother in West Germany throughout their journey. During their travel Philip will learn more from this 9 year old girl than Alice learns from him..: Unlike Philip, Alice exactly knows what she wants, she's emotionally stable and looks psychologically stronger in most of the scenes than him.

A great road movie with wonderful scenery and powerful story. This film is compared a lot to Charlie Chaplin's "The Kid", and in my humble opinion, this is Wim Wenders' best along with his "Wings of Desire" ("Der Himmel über Berlin").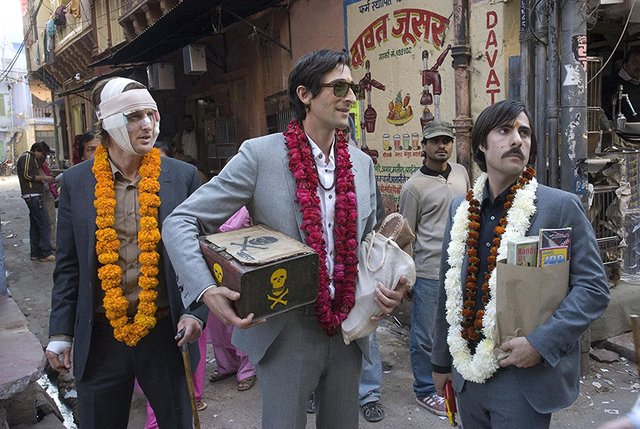 Photo Source

India definitely deserves its own "The Movies That Make You Want To Visit India" list, and there would be at least 20 movies in it (including "The Best Exotic Marigold Hotel" and a few Aamir Khan movies). The reason I've chosen a Wes Anderson movie is because I'm a fan of his work (especially for his love of symmetrical frames), the soundtrack of the movie is so great and the trio we have here is so funny (Adrien Brody, Owen Wilson and Jason Schwartzman)... While watching the movie It dumbfounds me to know these individuals are indeed brothers despite their extremely different personalities. The story of the three brothers who haven't seen each other since the funeral of their father follows an adventurous and emotional route along with mesmerizing India scenery. Even though Francis (Owen Wilson) tells his brothers that the purpose of their journey is utterly spiritual, his actual intention is to bring the family all together.

Note: Even the opening scene of this movie is enough to inspire you to work with Wes Anderson no matter what you'll be doing in the crew. Do NOT ever miss this train ride!

Movie:
"The Rocket" (2013)

Place:
Laos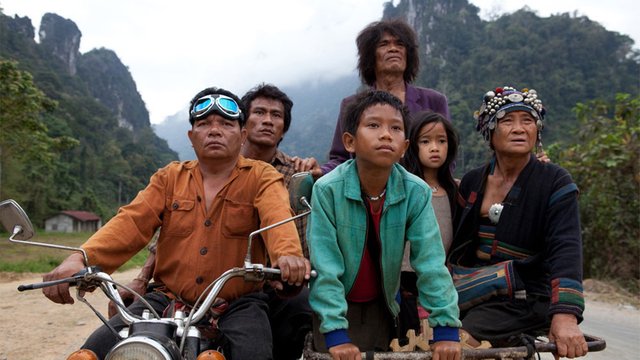 Photo Source

After "visiting" Cambodia in the same region, we're now visiting Laos.
In a small village, a woman (Mali) gives birth to twins but only one of them survives. Her mother-in-law insists that the surviving child should also be killed, otherwise the surviving one will bring "bad luck" to family and their tribe ("We already have lost a child so let's kill another one to protect our family and tribe from bad luck"? I know, it's absurd.) - Finally, Mali convinces her mother-in-law, and the two keep this as a secret.

Years pass, the twin grows and becomes the preteen hero of the movie, Ahlo. Now their village is under the threat of destruction by a flood because of a new dam being built. Does it have anything to do with the tradition that demands the surviving twin to be killed in order to protect the living from bad luck? We'll see. The magnificent beauty of Laos accompanies the adventure while the family seeks shelter.

The climax comes as a "Rocket Competition" (with a cash prize) which also gives the movie its name (and these scenes reminds me a bit of "October Sky") - This is a heart-warming story full of perseverance, human spirit, and all shades of the color green!

Movie:
"The Way" (2010)

Place:
"El Camino De Santiago"
(aka "The Way Of St. James") / Europe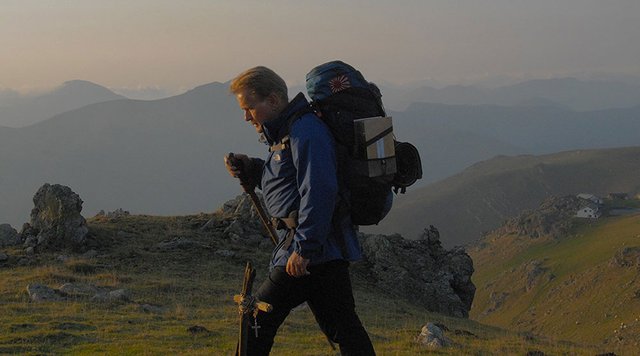 Photo Source

Despite depicting walking The Way Of St. James on foot as a "too easy" task (especially for a relatively old man with no prior training) this is still among my favorite "road" movies. The cast already shines with Martin Sheen, James Nesbitt and Deborah Kara Unger and somehow you end up caring with their effort in search for inner peace, meaning and purpose.

Dr. Thomas Avery (Sheen) decides to walk "El Camino De Santiago" after the death of his son who was killed due to unfortunate circumstances while walking the road himself. He wants to end what his son had started. During the walk he encounters three pilgrims, all have their own reasons to walk the way, and gradually befriends them despite initial struggles.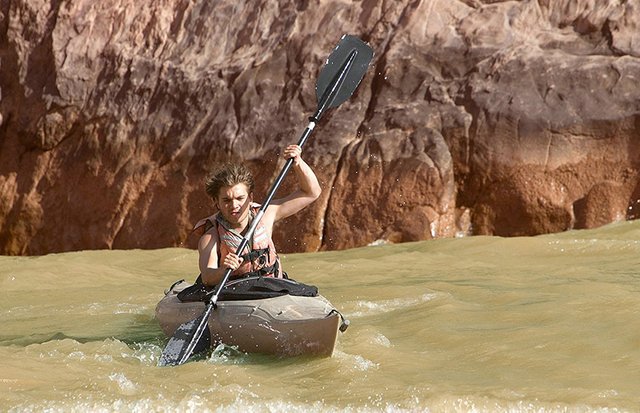 Photo Source

"There is a pleasure in the pathless woods,
There is a rapture on the lonely shore,
There is society, where none intrudes,
By the deep Sea, and music in its roar:
I love not Man the less, but Nature more..."

As a poetry fan it would be an unforgivable sin for me to dismiss Byron's moving words which completely intertwine with the journey of Christopher McCandless and also makes for a great intro for the movie in question here.

First things first: Even though this is an inspiring movie based on McCandless' true story (and without a doubt there are a lot of lessons to be learned from it), I wish his inner search didn't end him dying alone from a disease which could have easily be cured with a simple antibiotic from the "Modern World". Isn't that heart-wrenching? I mean, a satellite phone wouldn't hurt, right? These things can save lives in various critical conditions.

No matter what, this is a movie worth watching; if you haven't yet, you should definitely watch it, it has a cult following among travellers (donating $24,000 to charities is never a bad idea as Christopher already did, but also please don't forget to keep a satellite phone handy - YOUR LIFE MATTERS!)

Movie:
"In Bruges" (2008)

Place:
Bruges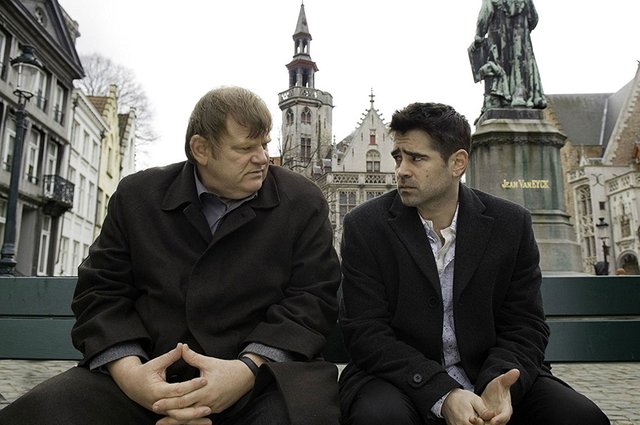 Photo Source

You may remember the director Martin McDonagh from our review of his last movie , "Three Billboards Outside Ebbing, Missouri" (watch that movie immediately).

Ever been to Belgian city of Bruges? No? Then this is the absolute Bruges tour for the NonBrugesers! I've never been there but as far as I can see from the movie, it seems its medieval architecture is very well preserved (probably due to not being bombarded in WW2) - So welcome to the city of canals, medieval architecture, chocolate and beer. I'm 100% sure that there is much more to it but even these would be enough to watch this film.

Two gunmen from London are hiding in the city of Bruges (Brandon Gleeson and Colin Farrel) and waiting for the new orders from their boss (Ralph Fiennes) - One of them enjoys the city while the other simply hates it (for no obvious reason; or may be that's because he killed a boy unintentionally during one of his "jobs" and he simply wants to die)... Once one of these gunmen receives their next target, things get even more complicated.

This is mostly a movie about "principles" though. One should have principles. A must watch.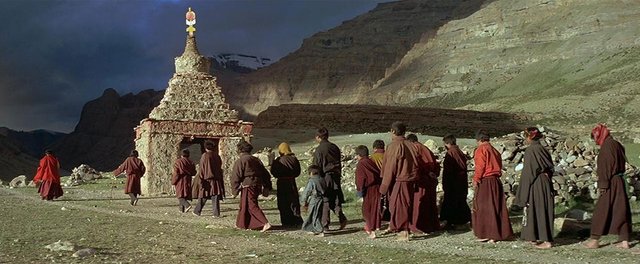 Photo Source

"Seven Years in Tibet" comes from the legendary director Jean-Jacques Annaud who also directed the cult movies "In The Name Of The Rose" and "Quest for Fire". A true story based on the book with the same name, written by Heinrich Harrer (played by Brad Pitt in the movie).

- You simply cannot miss this cinematographic masterpiece if you have an interest in the region, especially, Tibet.

Heinrich Harrer, a loner (and, well, an egoist) attempts to climb Nanga Parbat (ninth highest summit in the world) leaving his pregnant wife behind for the glory of his country (or he just deludes himself like that, to cover his egoism). Once the World War 2 begins, he and his friends become prisoners of a British Indian "prisoner of war" camp yet they manage to escape after a few unsuccessful attempts and finally reach to Tibet. After a series of events, Harrer becomes the tutor of then 11 year old 14th Dalai Lama in Western Culture.

During his 7 years in Tibet, Harrer changes bit by bit and becomes a different person. A transformation worth watching with the WONDERFUL cinematography of Jean-Jacques Annaud and Robert Fraisse.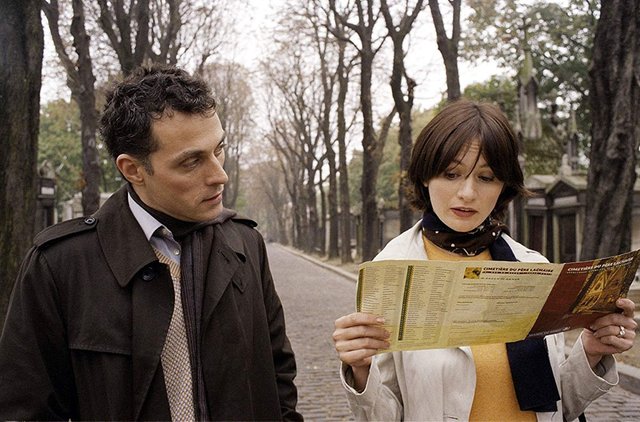 Photo Source

What about an "18 in 1" from 22 different directors, including Coen Brothers (Joel / Ethan Coen), Wes Craven, Alfonso Cuaron, Gus Van Sant, and Vincenzo Natali...

Here you have 18 different love stories from various districts of Paris, and each story has its own taste thanks to their directors (my favorite is the "vampire" story coming from the director Vincenzo Natali who also directed the cult movie, "Cube"). Now, isn't that attractive? And the best part is, thank god, we don't have a Woody Allen movie here.

As you might have already guessed, the cast of "Paris, je t'aime" includes popular faces like Natalie Portman, Steve Buscemi, Willem Dafoe, Gérard Depardieu, Marianne Faithfull, Maggie Gyllenhaal, Nick Nolte, Elijah Wood and many, many more.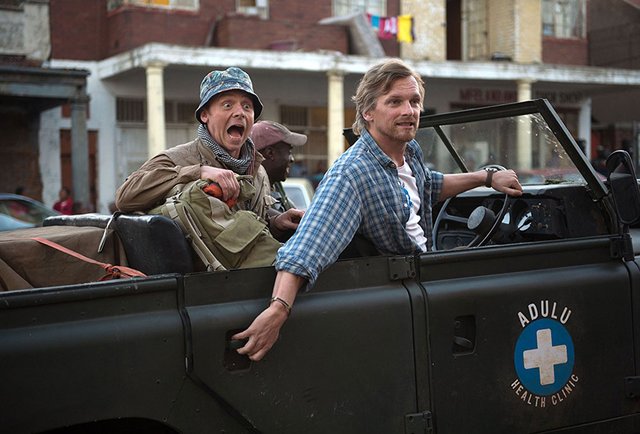 Photo Source

This is absolutely one of the funniest movies in this list, and again, it comes with a great cast including Christopher Plummer, Jean Reno, Stellan Skarsgård and Rosamund Pike!

Hector is a psychiatrist who lives a "happy" life on the surface but has his own struggles, especially with the idea of "being happy". He also has some difficulties with treating his patients, he's not able to lead them to happiness because he himself doesn't know the secret of happiness (does his job description include that task?) - He decides to take a journey to search for the key to happiness.

It's obvious that the idea of "happiness" is a very deep subject (or maybe the problem lies in its simpleness). Of course, the movie doesn't there to give all the answers but offers great entertainment with the accompaniment of mesmerizing places and gives a few lessons worth reminding ourselves everyday.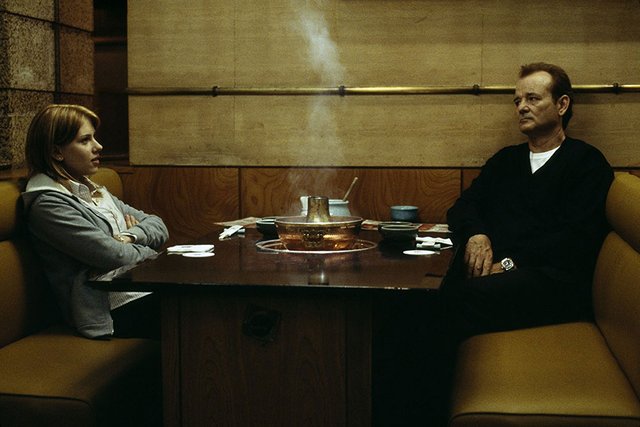 Photo Source

If anyone with the last name COPPOLA makes a movie, it's definitely worth watching it. Written and directed by Sofia Coppola, "Lost in Translation" offers its own feeling of Tokyo with the sad love story between Bob (Bill Murray) and Charlotte (Scarlett Johansson).

Bob, a famous American film star near the end of his career, arrives in Japan for being the face of a whisky advertisement. Meanwhile a young woman named Charlotte, unsure about their relationship with his husband, feels stuck and unhappy in her hotel room. Bob's and Charlotte's paths intertwine in the bar of the same hotel, and day after day they start to grow their relationship platonically.

This movie reminds me of the books written by Haruki Murakami, maybe because the loneliness and alienation of the characters we see in the movie. No matter what, both Coppola and Murakami makes me want to visit Japan.

Movie (Documentary):
"A Map for Saturday" (2007)

Place:
Various places including Brazil, Thailand, Nepal, Australia, India ; a total of 26 countries.

Photo Source

What makes it special?:
Because this documentary stays away from "traveller cliches" as much as possible and also depicts the "negatives" of travelling with an honest look. Most of the travellers create an impression (intentionally or unintentionally) where everything is fine, positive, good, happy about travelling ; they are all so happy, free from their boring jobs, they always have fun like they never did before etc. This documentary has a lot to tell about the other side of the coin too which is a very rare quality, I think. Whether in a positive or negative way, there is no doubt that "travelling" teaches a lot, yet distancing the self from any cliches seems a good practice.

Brook Silva-Braga,the man behind the documentary, leaves his job in HBO to backpack around the world for a year with his 14 kilograms of recording equipment. We observers follow his adventure while he experiences many feelings between the positive and the negative. I suggest joining him.

"A Map For Saturday"... Why? Because if you're traveling, every day is a saturday (OR, at least we all hope so)

Movie:
"A Walk In The Woods" (2015)

Place:
The Appalachian Trail / U.S.A.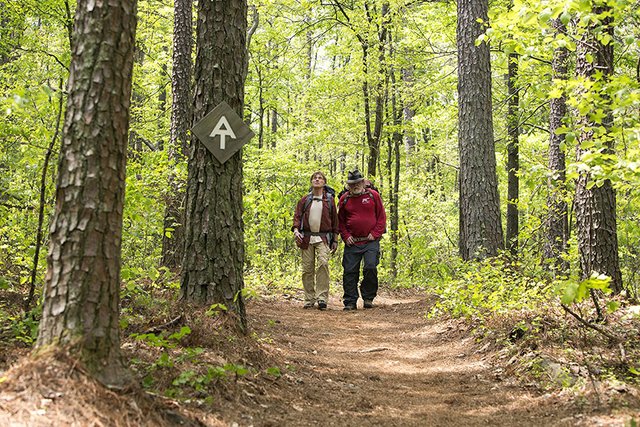 Photo Source

Two veteran actors, Robert Redford and Nick Nolte take a hike on the Appalachian Trail (or, at least, they try), it would be hard to miss their experience, right? The Appalachian Trail is one of the longest "hiking-only" trails in the world, if not the longest. The trail goes through 14 U.S. States, and almost all in wilderness.

It's always good to watch a movie where different personalities collide. Those who make these movies surely know that and the same formula works here too. Two old friends in their 60s take their chance on the trail (at least 3500 kilometers on foot ; it would be still very hard for even younger ages). A movie with great actors like Redford and Nolte could be a lot better but I still love this movie very much for the scenery.

I hope you've enjoyed this post as much as I enjoyed writing it, and may the force be with you on your own journey!