Canadian Rockies: Frozen New Year Day 1, the planetarium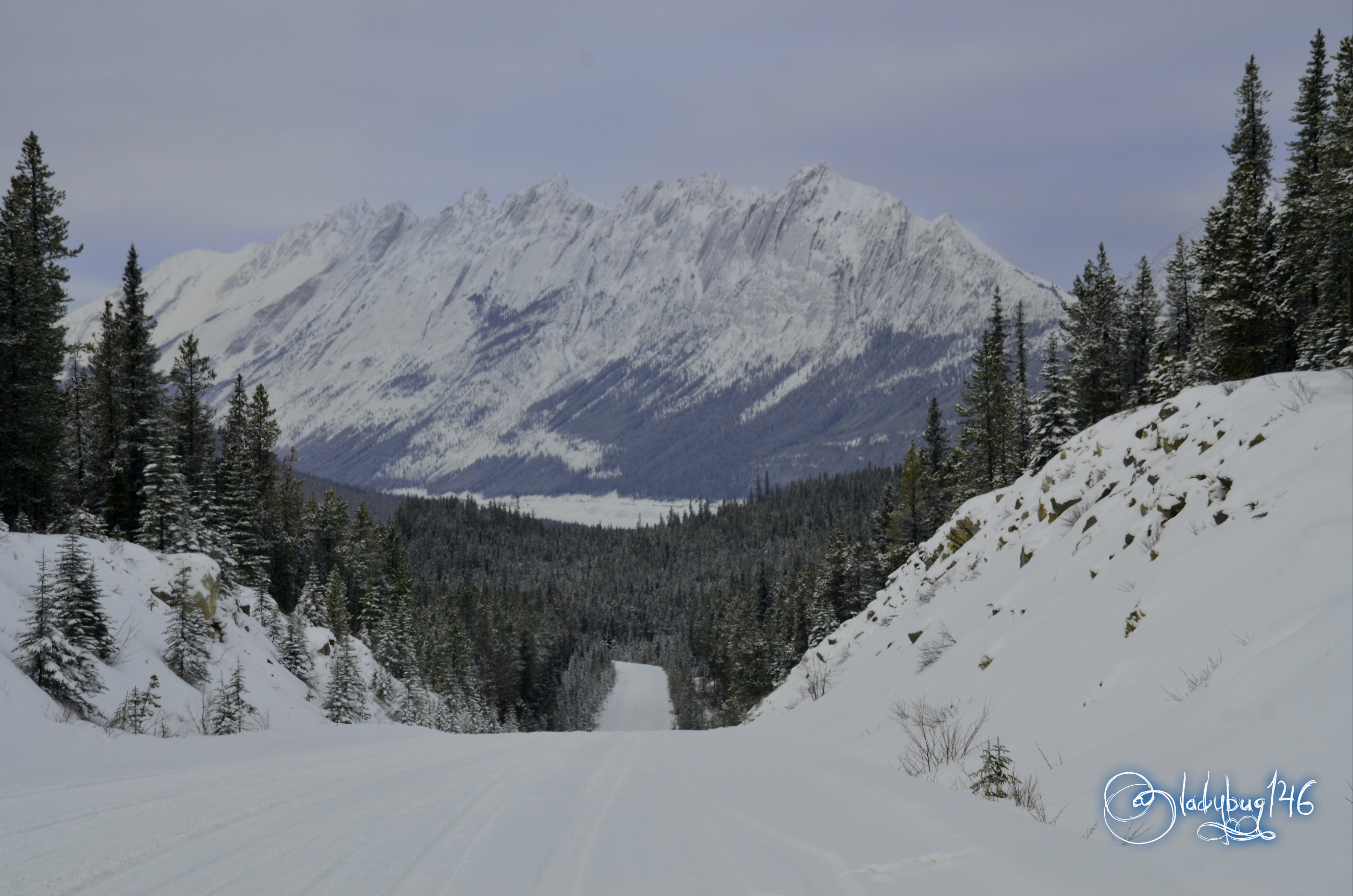 Hey Steemians!!
To end Canada's 150'th year as a nation, we were on a quest to find the ultimate Canadian weekend experience, of course it had to involve my beloved peaks and back country. Just like any other road trips, we got here the night before. Jasper requires booking a long time prior and it's just not something I do, we avoid those hang-ups by staying in the near-by town of Hinton, nothing spectacular there but it's about 10 minutes away from Jasper National Park and generally have great selection of accommodations at an affordable price for last minute travelers like myself. On the morning of the december 30th, we woke up bright and early to maximize the little daylight we get, we turned on the morning news to view the temperature and what brutality we were about to subject ourselves to, -46 with the wind was the winning number!! Holy Brrrr !!!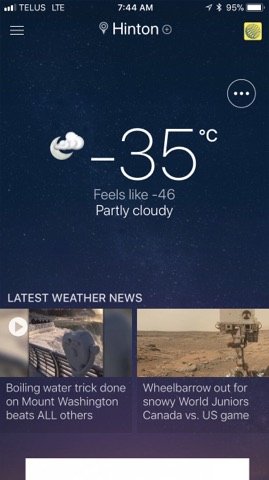 After watching the sunrise over our continental breakfast,it was finally time to hit the road towards our frozen playground. As we got into the mountain valley towards Jasper, the sun was still hidden behind the mountains causing us to witness a second sunrise on this fine morning brightening our thoughts still stuck on the -46 we were about to experience.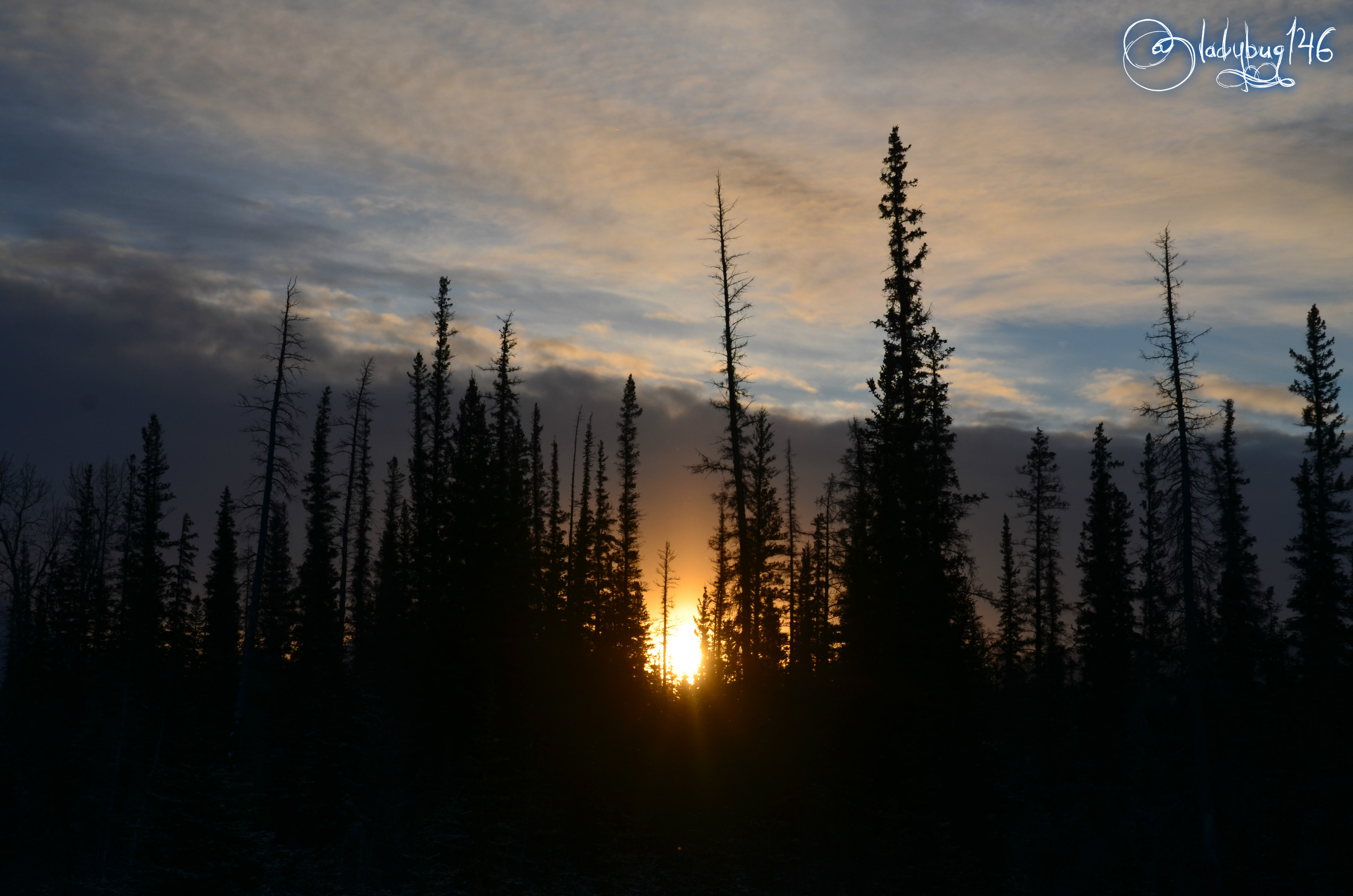 Shot 1/500 sec. f/10 46mm, ISO 100
I'm not sure how experienced with the cold you may be, at -46 any exposed skin will get frost bite within a few minutes of exposure, today was looking more like a truck day than a hiking day, I wasn't even sure if my camera could handle that sort of cold or would it perform like @silvegingerman's iphone and just shut down! We could actually see the cold, it traps any moisture at low levels and doesn't escape, we could see the reaction with the river causing condensation clouds coming out of the unfrozen parts of the flowing rivers.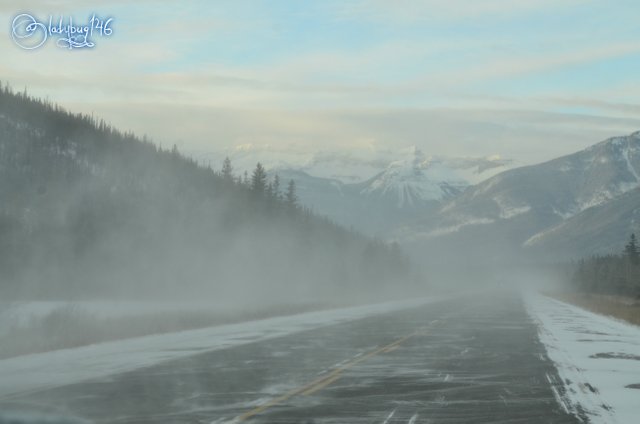 Shot 1/160 sec. f/9 46mm, ISO 400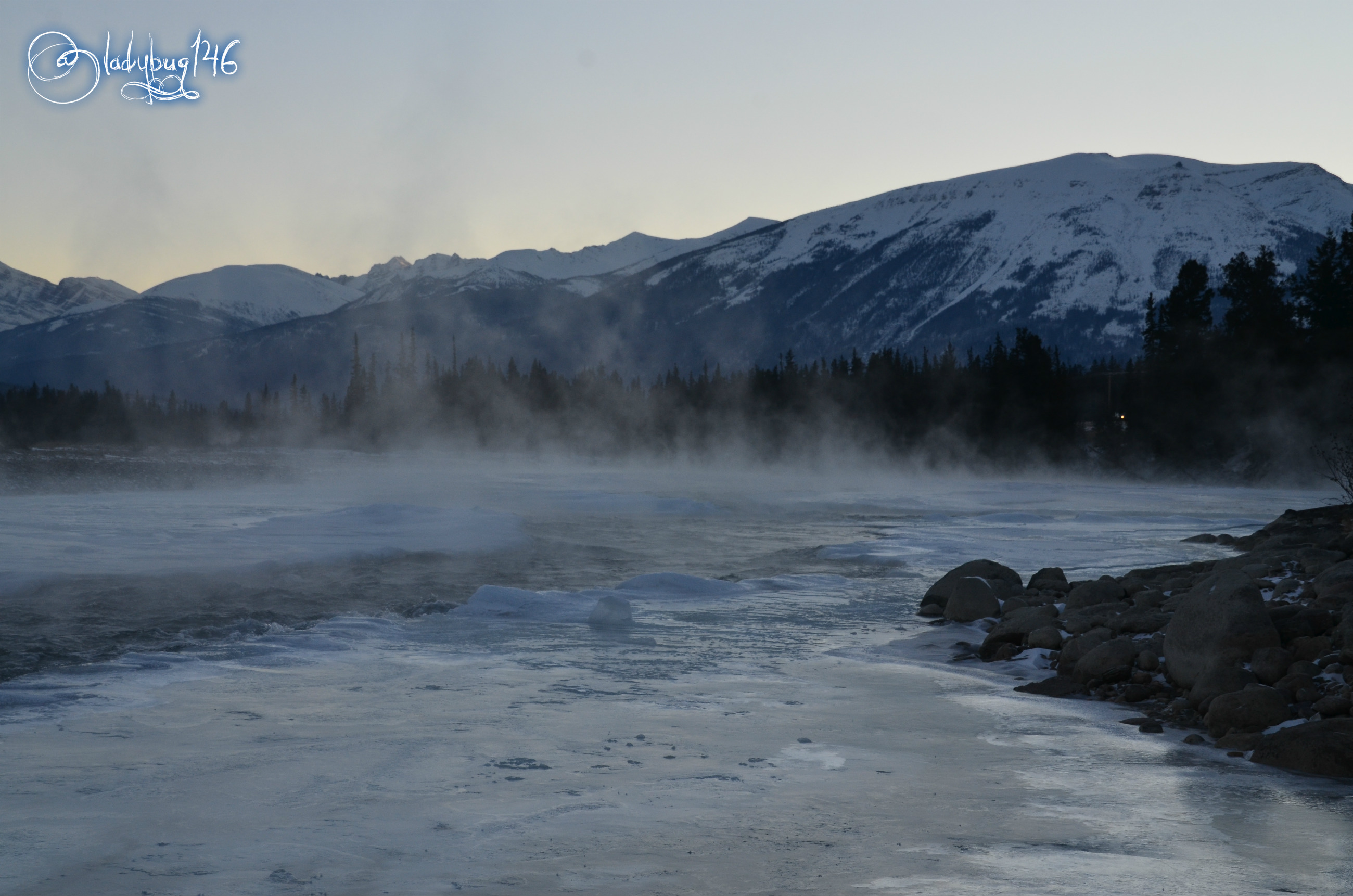 Shot 1/250 sec. f/10 40mm, ISO 360
Naturally, driving around the mountains, it's almost a given to run into wildlife, this time of year they become very active to keep warm. One of the creatures most likely to see in this sort of weather are the Big horn sheep (Ram). They travel down the steep mountains to lick the salt on the road. Rams can easily climb up strait cliffs as if they were floating on air, it's amazing to watch. We made our encounter as they were starting their ascent showing off their skills.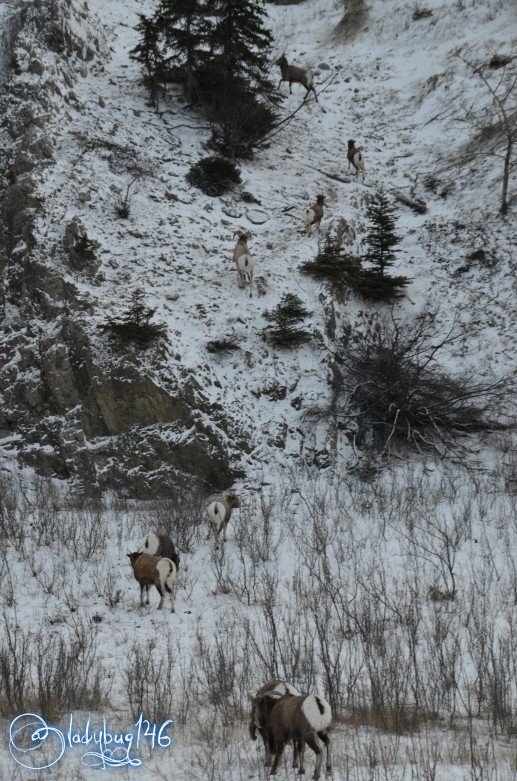 Shot 1/160 sec. f/9 78mm, ISO 400
On our agenda for the afternoon was to drive up to Maligne Lake and scope out the area and figure out what trails or tours we may be able to do in a more reasonable climate. We were early enough that we had the road to ourselves, fresh snow covered the road with 1 set of tracks that may have come before us and the snow plow hadn't quite made it's way yet leaving the road looking like Christmas morning! Of course we had to stop along the way once we came across my spirit animal, the majestic Elk having their snack. For the first time, we got to see a pregnant cow, she had a bit of a bump already showing, The gestation period is 240 to 262 days, she will likely be ready to give birth to her calf next spring between may and june.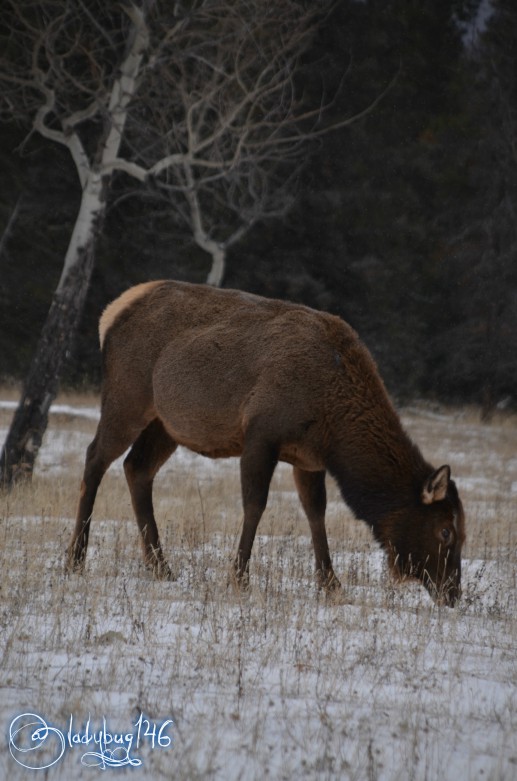 Shot 1/250 sec. f/6.3 200mm, ISO 140
Funny enough, we were debating if we should have booked the animal search tour available to better know animal sightings instead of blindly running into them, turns out we ran into the tour group on the way back so I guess we were doing well with our own strategy so far. We have been there so many times that we have recorded our own areas where we have had several sightings of large herds. Oddly enough, as we made our way up to Maligne Lake, the temperature started to warm up the higher we got, it's generally the opposite, perhaps we were shielded by the trees blocking the wind, mind you it warmed up to -30, not much of an upgrade really but more bearable. It at least warmed up enough for us to go outside for longer without immediate risk of frost bite.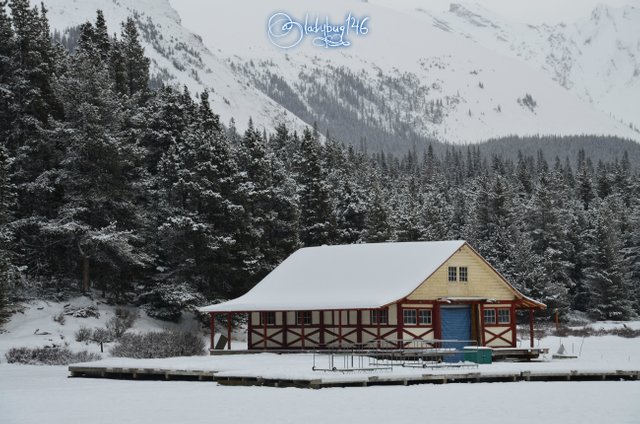 Shot 1/250 sec. f/10 65mm, ISO 220
We took a quick tour of the lake, after 20 minutes we were starting to get the precursors to frost bites and tears were freezing into our eyes and the skin below, it was time to walk back to the truck before it resulted in skin injuries. The activities including boat tours are only offered during the summer season and everything is closed for winter because of limited accessibility and bad winter road conditions, top of mountain temperature tend to have an unpredictable mind of it's own. Overall the the lighting was horrible for photography, the trapped moisture made everything look gloomy and the snowy peaks blended in with the sky even to the human eye.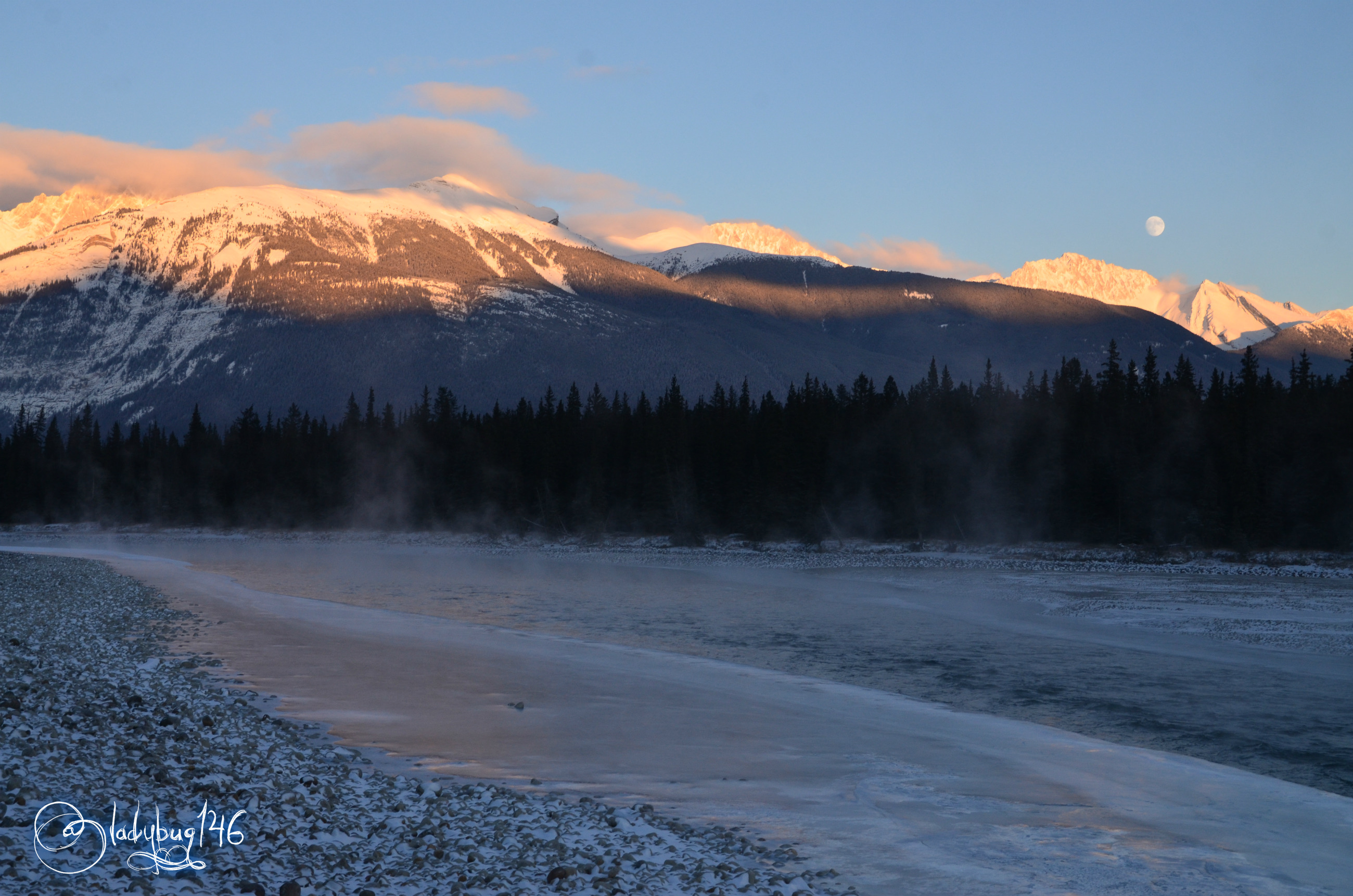 Shot 1/200 sec. f/10 34mm, ISO 400
We were getting pretty hungry so it was time to come down from the mountain, we really wanted to hike Maligne Canyon on the way down but decided not to, it's a few hours of hiking, it's probably not the best of plans during the polar vortex we were experiencing so we decide to drive into town and grab a bite before we continue our journey. Once our bellies were stuffed with our Famoso Pizza, it was time to get ready for our main event for the evening: the OBSERVATORY !! YAY
We didn't plan it this way, on that night, it was the eve to a super-moon, as we drove to the Fairmont, where the event was hosted, for the first time in all of our Rockies adventures we could see the mountains glowing from the moonlight. It's generally too dark to see anything but tonight the moon was 30% brighter then usual and reflected light onto the white snowy peaks, almost having a sun-like appearance.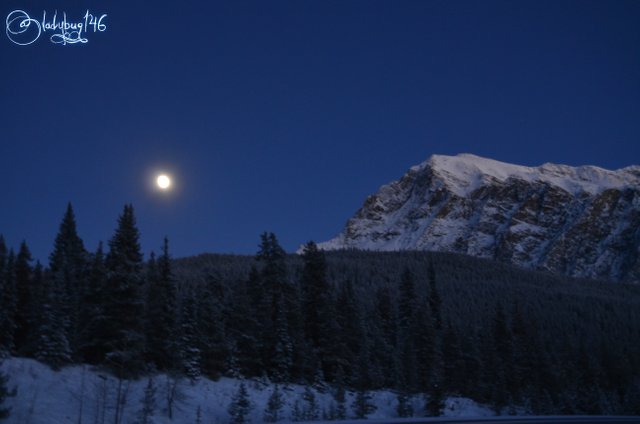 Shot 3/10 sec. f/4.5 26mm, ISO 800
Once settled in at the Jasper Planetarium, the tour began and we entered a conference room with this weird dome-tent in the middle, The guide was spitting out bad joke after bad joke and my opinion was starting to go downhill and fast. As we began to wonder if we missed a fine print somewhere saying it was a children's tour or something, the guide was done explaining the weird self expanding dome and how it mimics the universe expansion as more people go in, it was time to enter the dorky dome of doom with about 20 other people. Well once the guide started his presentation and projected various views of our sky and explained the First Nation legends related to the constellations, I was now officially sold on the tour, it was so much better than our first impression. When I first moved to Alberta, I didn't know what the big dipper was and I kinda felt stupid for it, where I come from, we always refereed to it as Grande Ours in french or Big Bear in english, turns out I wasn't crazy after all, I just didn't learn European constellation names until moving here, what a relief!!
After learning about the folklore, it was time to go on a mock space travel journey much further than any spaceship could ever go in this life time. We visited each of the planets and learned about their climate( by the way it was warmer on mars than it was in Jasper that night) until it was time to head out of the galaxy to the near-by Andromeda, all the way to god knows where viewing clusters of galaxies twirling around each other and some colliding forming new bigger galaxies. We stopped by to view a supernova and other space phenomenons, it was now time to return to earth in time to view our famous Canadian Aurora Borealis (Northern lights)...Of course none of this was real, all done with a projector, well done I must say, it was very enjoyable and would recommend the experience to any sky enthusiast.
It was now time to freeze outside again to do the telescope part of the tour, turns out it's a mobile observatory and they can set up at any location. During the summer, Jasper hosts the "Dark Sky Festival" where they bring the telescopes on the Skytram (gondola) and set up on top of Whistlers mountain to view the sky and also host a conference at 2 300 meters in elevation at the Treeline restaurant. They also set up in the park and host viewing parties of meteor showers. On this night, they had 4 telescopes set up, one being a video recording telescope, other telescopes were set up to various viewing points like an enlarged view of the Pleiades constellation and of course a close up of the almost full super-moon. Luckily, the lovely guides took a smart phone picture of the telescope view of the moon's scared cratered surface and valleys for us.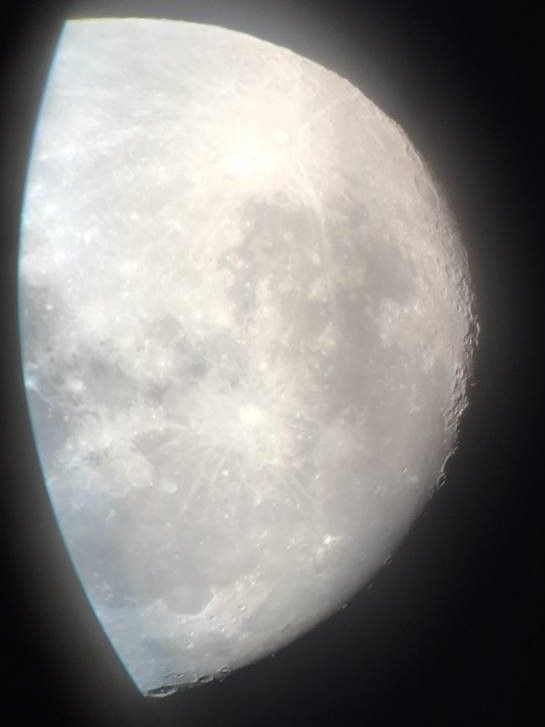 Because of the configuration of the viewing end of the telescope lens only half the moon can be captured in a photo, in the telescope you could see all of it. It was cold and had to take many warm up breaks, It was now 10 pm and it was a long day. All and all, I loved the planetarium experience, I want to return for the Dark Sky Festival and view the sky on a warmer day and take our time next time. The tour cost us 55$ each for both activities and thought it was very reasonable and worth it's price, it is possible to do the telescope experience only at a lower price. If you ever go in the Jasper area, the tour needs to be booked and paid ahead of time and is reliant on clear skies for optimum experience. Jasper Planetarium gets a solid 2 thumbs up from me...even the dorky dome!! Check it out.
This is it for day one, Don't forget to check back for day 2 of our frozen getaway.
All images except the moon close-up taken with Nikon D7000 and Sigma 18-200mm lens
Cheers!! xox