Canadian Rockies: Another Adventure begins in Banff National Park
Hey Steemies!
This trip was definitely too short for my liking but we got to see many amazing places nonetheless with not a minute wasted! With the Easter long weekend ahead, we wanted to get out of the city and do some exploring in our favorite landscape. I have been to the mountains at different time of the year trying to figure out when is my favorite season to visit but had never been in the spring yet. Banff gets pretty busy in the summer and winter, we tend to avoid it for the most part because us locals tend to get priced out of our own landscape and this small town gets busier than our big cities turning it into chaotic pain in the behind instead of the quiet mountain getaway we are looking for. I remember last summer, we wanted to visit and within 15 minutes of being in town, we got out of dodge as fast as we could because it was messing with our zen. Perhaps this time it would be quieter?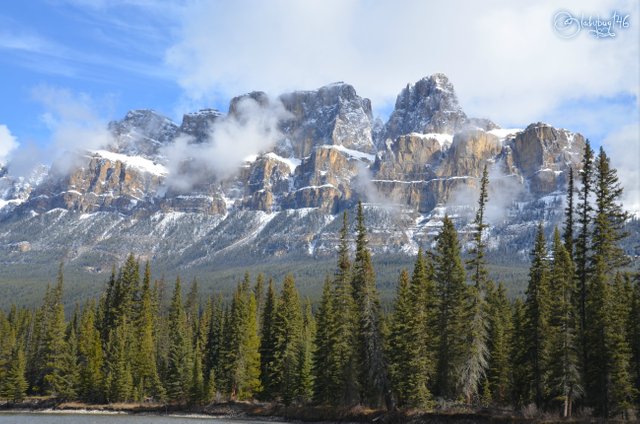 Shot 1/250 sec. f/8 34 mm, ISO 100
We booked pretty late with just a few days before the trip, most accommodations in town were booked solid already but we were lucky to still be able to find a place at the Castle Mountain Chalet Resort's cozy cabins and suites. We have driven by and admired it on so many occasions, it's out of the town of Banff and closer to Lake Louise but still well into the National Park, @silvergingerman always dreamed of staying there anyway. We normally go camping because it's cheaper and more availability but it's too cold to sleep outside and campgrounds aren't open yet. With a long drive ahead, about 5 hours from Edmonton (why we tend to go to Jasper more often it's much closer for us) we don't generally get to the park before dark so we made sure to leave in the morning so we could see the landscape all the way there given our destination is in the middle of the park.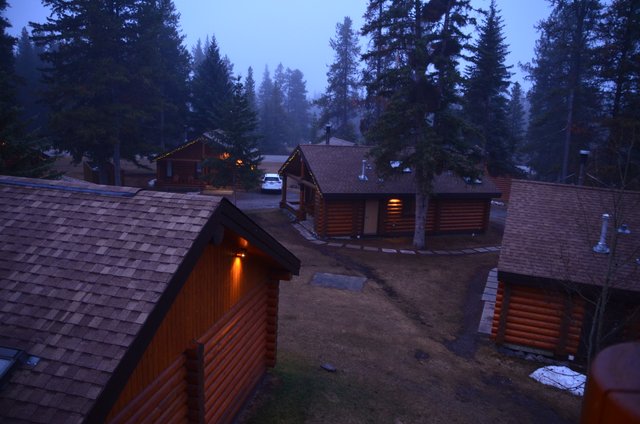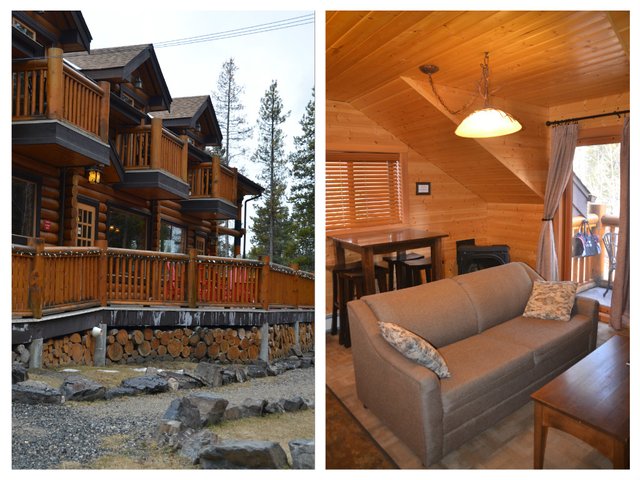 Our Cozy new home away from home was the lovely 1 bedroom suite above that came fully equipped with a functional kitchen, gas fire place and a personal balcony with a breakfast table to enjoy the gorgeous landscape and the morning songbirds along with the main shared balcony to get up there with one of the most gorgeous views. The suite also included a jet tub & separate shower in a roomy bathroom supplied with locally handmade natural ingredients & eco friendly soaps and shampoo, it smelled so great and was so gentle on the skin that we decided to visit and raid the local shop the next day, perfect for your own little personal spa vacay. Additional products or scents (the vanilla coconut line being my favorite) are also available at the general store at the resort for the same price as the main shop if you are not going to town. I highly recommend their products, they are a treat especially for sensitive skin and also have smells appropriate for men available.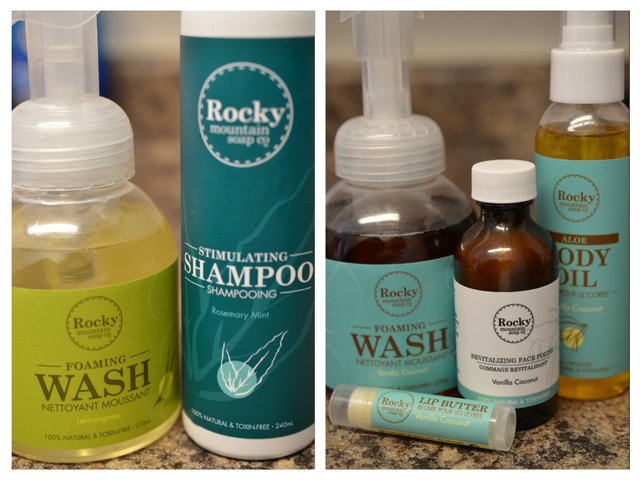 https://www.rockymountainsoap.com/
It was very clean in the suites and a well manicured landscape with a community fire pit and coin operated laundry facilities. The one major set back for this place to be honest, it is right next to a railroad and trains were frequently speeding thru blasting the horn at all hours of the night, like in 45 minute frequencies, this made it extremely hard to get the quality sleep we were anticipating and it really took away from the quiet cabin resort experience, thankfully, it was just a two night stay...we will survive.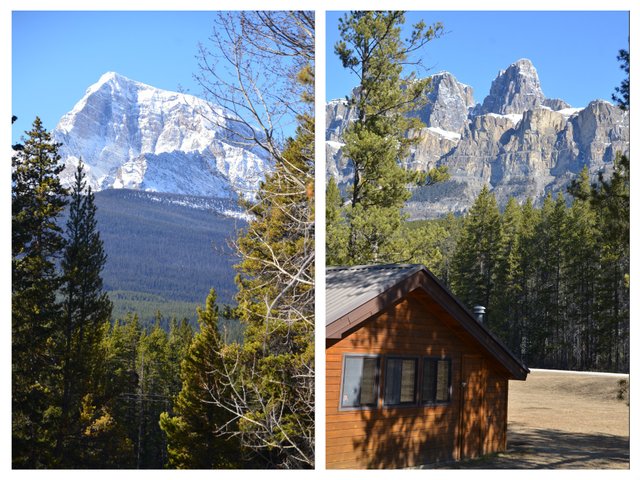 The first picture above was the view from the shared balcony that also serves as the access to the suite, the second is the view of the front balcony and the majestic Castle Mountain in it's glory. There is a quiet river access within just a short walk ( less than a kilometer) with a falcon nest on top of the bridge if you are patient enough to wait for the birds to be there, I promise you it is being used, we captured a mother and her youngs on a previous trip and we saw them flying around the river on a few occasion during this trip. The trail head for Rockbound Lake is withing walking distance, the famous Johnston Canyon is only 5 km away and the town of Lake Louise is just another 20 minutes drive along the gorgeous Bow Valley Parkway. The train may have been an annoyance but this view sorta made up for it at least for the weekend and it's in a great location for outdoor activities. We didn't let the lack of sleep ruin our special getaway but I'm not sure we would stay there again now that we know.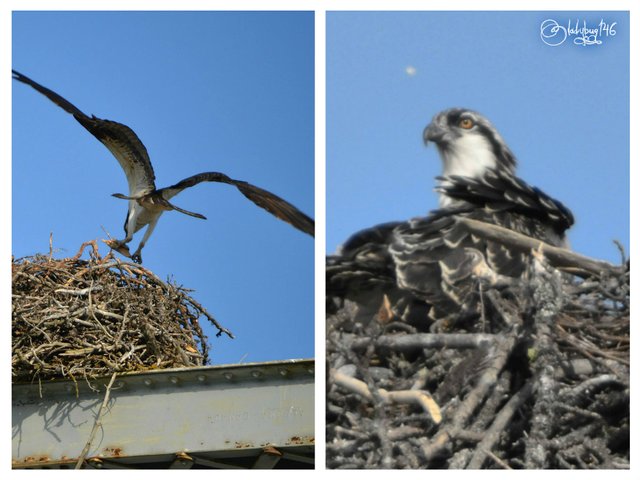 These 2 images are from a previous trip, we didn't have time to sit around
waiting for birds to cooperate long enough to take pictures but we did see
them flying around us.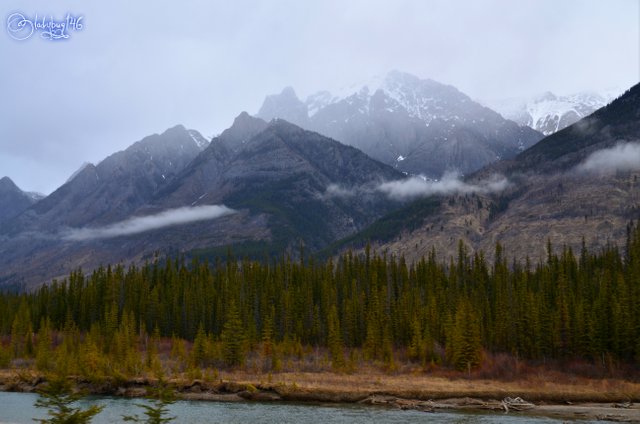 Shot 1/250 sec. f/8 31 mm, ISO 125. This picture and the next were taken
from the main highway soon before the Junction to Castle mountain, there
is a scenic stop. Correction from my last post where I stated it was located
on the parkway.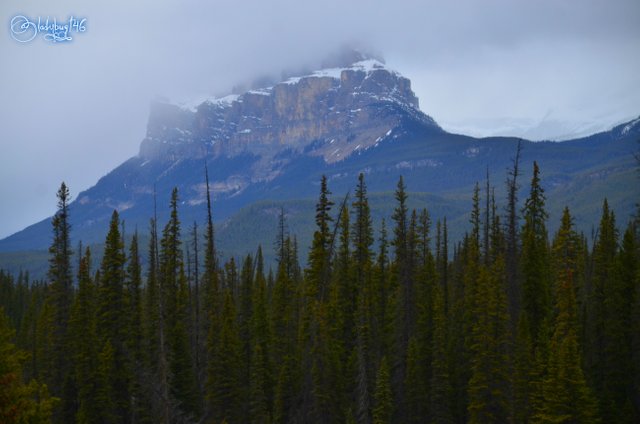 Shot 1/640 sec. f/5.6 95 mm, ISO 200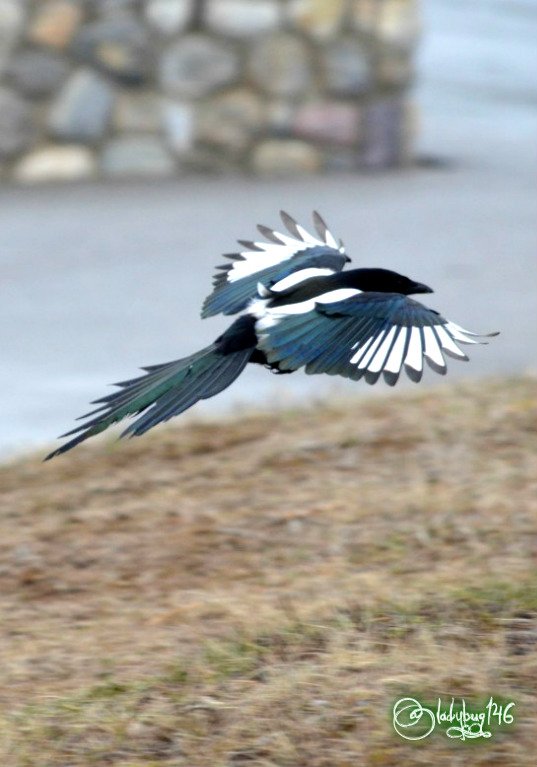 Shot 1/500 sec. f/6.3 200 mm, ISO 1600
When we arrived, we still had a few hours of daylight left but sometimes the mountains are a little shy and the weather a little moody, this was certainly the case, hopefully this would only be for the first night. After we were all booked in and all our luggage unloaded, we went for a bit of a drive along the Bow Valley Parkway Towards the town of Banff just for a scenic view hoping to get a decent picture or two and perhaps get some wildlife. The mountain peaks we could see thru the fog appeared to still have snow but the road was clear and the valleys and fields were free of snow for the most part with only a little left in the shaded areas. We tried to get on trails near the river but since it is mating/nesting season for many of the birds, trail access were blocked to the marsh areas to allow the animals some space and reduce stress and damage from visitors as it can affect their breeding patterns and the number of eggs.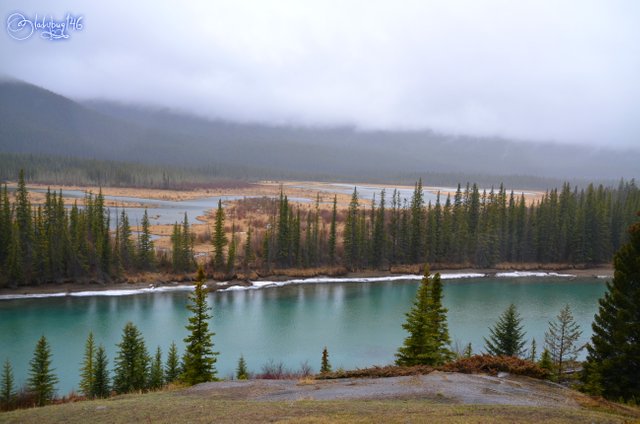 Shot 1/125 sec. f/5.6 18 mm, ISO 320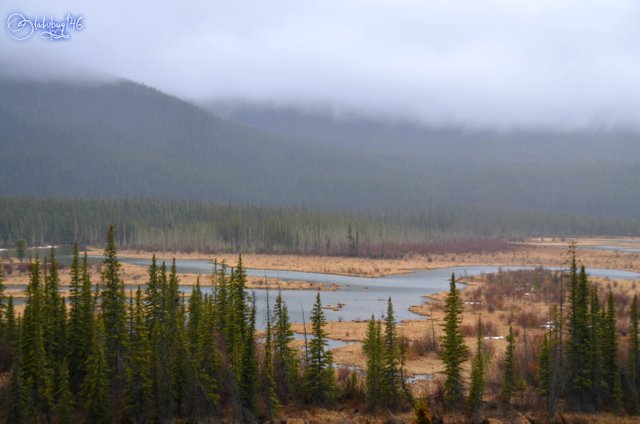 Shot 1/125 sec. f/5.6 34 mm, ISO 320
We encountered a bit of wildlife in fields where it wasn't safe to stop and get pictures, just before sunset animals become more active and many elk and deer can be spotted in the fields along the road if you pay attention. Unlike the main highway, there is no fence along the parkway or natural bridges to keep the wildlife from crossing the road so drive with caution. We finally saw a small family of deer close enough and we had to stop to let them cross, since the road was pretty quiet, we took advantage of the situation and snapped a few shots while we were held back for a few minutes.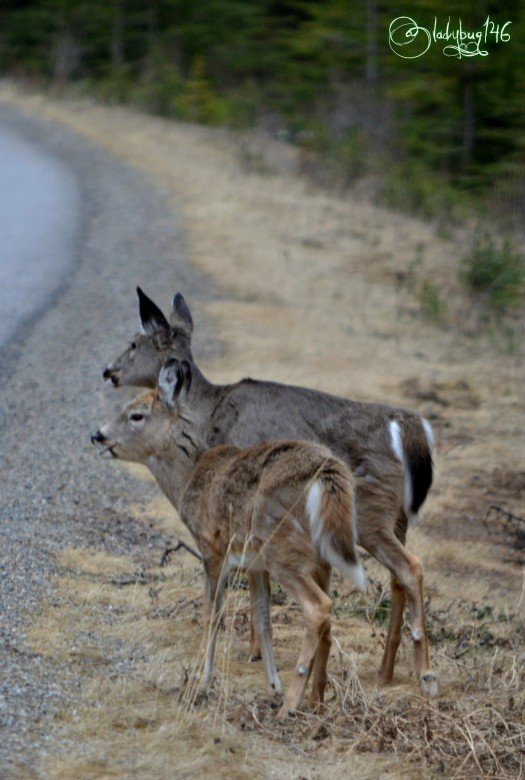 Shot 1/250 sec. f/5.6 300 mm, ISO 500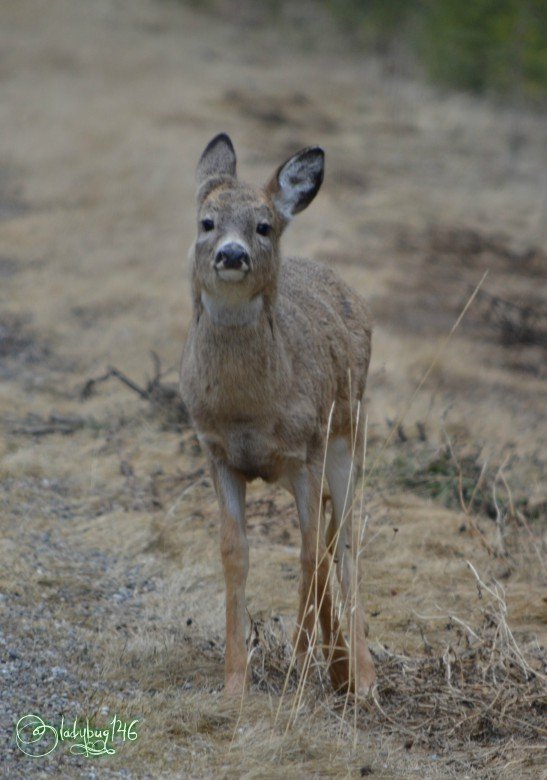 Shot 1/250 sec. f/5.6 300 mm, ISO 450
At first we saw a mother and one of her young, perhaps around a year old eating, she soon crossed the road to join another of her young that we later noticed up on the hill but the first one was a little reluctant to cross with mom in our presence so we waited until it felt comfortable enough to join her because they are unpredictable and will run across moving vehicles and we didn't want it to be separated from the mother or end up injured or stressed.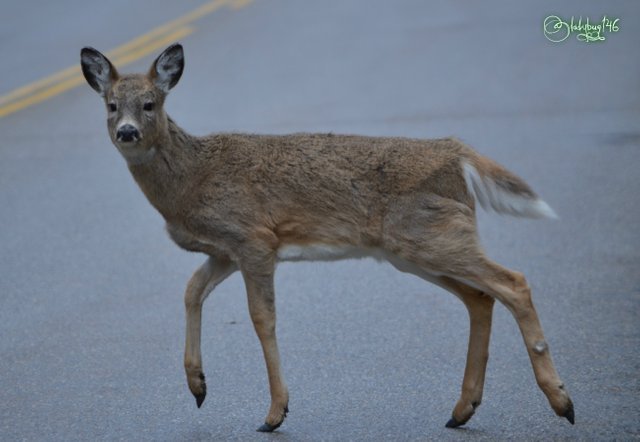 Shot 1/320 sec. f/5.6 300 mm, ISO 400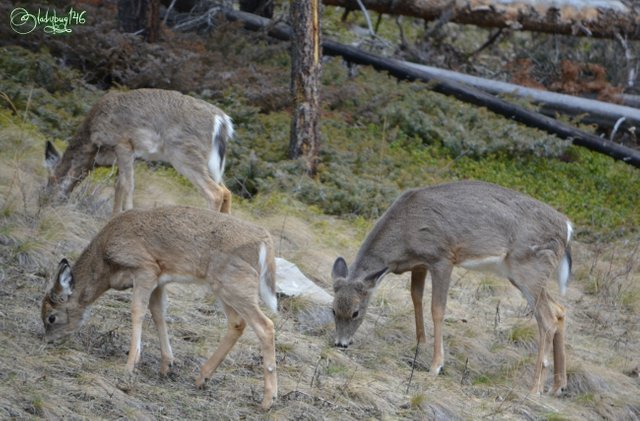 Shot 1/250 sec. f/5.3 240 mm, ISO 800
Once the little family was reunited, we continued on our way and enjoyed the foggy landscape. Part of the road was closed due to avalanche control higher up on the mountain, we had to turn around and make our way back. It was getting close to sundown and we were both a little tired anyway, best to retire for the night. We wanted to get an early start on the next day and be up before sunrise to maximize our time here and be well rested for the long hiking day ahead of us... Joke was on us, we didn't get any sleep with the train! You win some and then you lose some, it is what it is.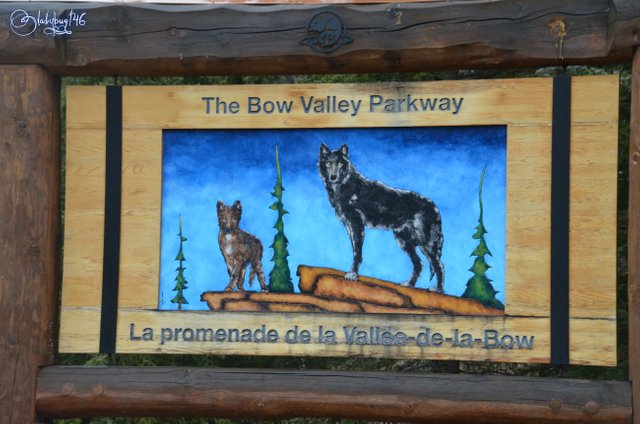 Shot 1/160 sec. f/5.3 65 mm, ISO 800
All images taken with Nikon D7000 and Sigma 18-200mm lens.
Cheers! X🐞X