Hi Steemit Friend,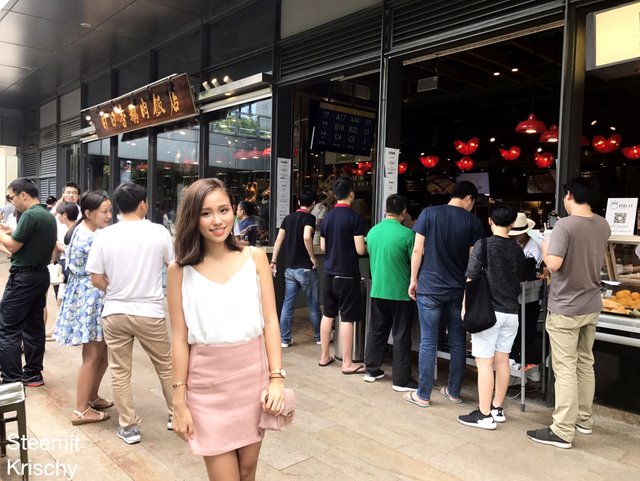 Hope you are well today.❤️ As you may remember, I shared Da Long Yi Hot Pot & HeyTea in "Dine with me in Shenzhen" last time. Today I would like to introduce a popular Chiu Chow's Marinated Goose restaurant in Shenzhen with you, Ri Ri Xiang Marinated Goose Re which is famous among gourmets and locals. The geese used in Ri Ri Xiang is a special kind fed in Shantou and is the biggest goose species in the world, with a head that resembles that of a lion, hence its name 'Lion Head Goose'. Lion-heads are undoubtedly a quality ingredient, but the crucial part is the cooking and marinating, which is composed of a dozen herbs and spices. Unlike the traditional marinated geese shop, the marinade is freshly made in Ri Ri Xiang everyday. Without further ado, let's have a look of this shop.
Steemit 的朋友大家好❤️ 上一次吃在深圳跟大家分享了大龍燚和喜茶,感謝大家的支持,今天想跟大家分享一家在我家鄉潮洲汕頭已有13盛名的老字號—日日香鵝肉飯店,這家餐廳每次經過都排滿了人,種草了好久,終於可以拔草了。日日香選世界上最大的鵝種—汕頭澄海的獅頭鵝為材料,因成年鵝的頭形如獅頭而得名,一般有十幾多斤重,最重更可多達二十公斤。除了貨源把其他滷水店比下去,日日香用的是每天早上新鮮現熬的配料,比傳統的老滷汁健康新鮮,滷水滷出來的鵝肉甘香多汁,因而得其名「日日香」。讓我們來一探這家主打獅頭鵝的滷水店吧~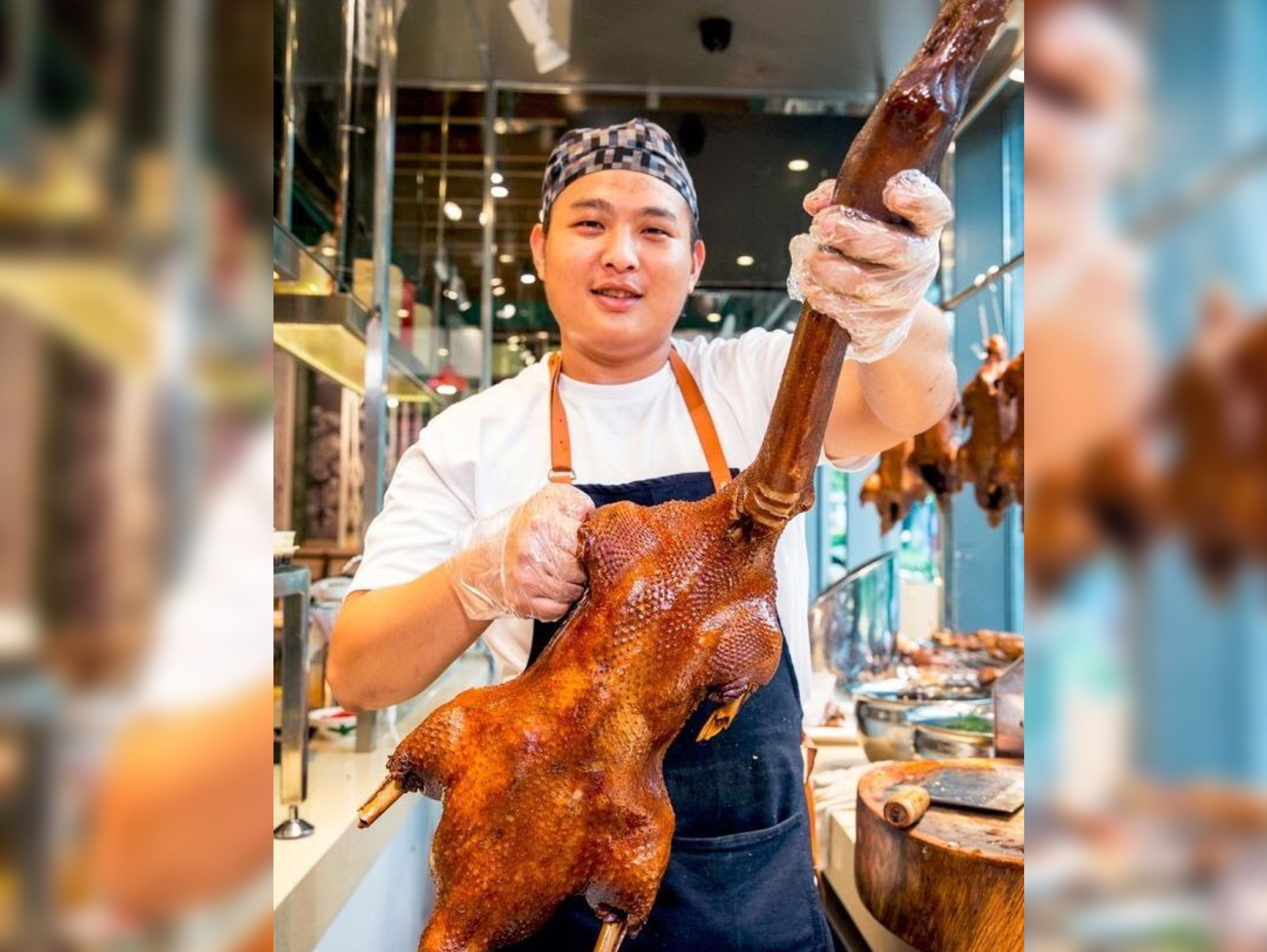 Source Look how big the lion head goose is~ They are imported exclusively from Chenghai, Shantou every morning , and each one weighs more than 8kg
看這只超肥大的滷水獅頭鵝
Ri Ri Xiang Geese Shop 日日香鵝肉飯店
---
We arrived at the restaurant around 10:30 and there were many people waiting outside the restaurant already. Being the first batch of guests of the day, we get our table when the restaurant opens, which is 11:00. Separated just by a glass window, you can view the skillful chefs in action right from the entrance.
我們十點多到達目的地,是第一批客人,所以不用等多久就到我們了。店門口有一個全透明的廚房,掛滿了一整排的鹵獅頭鵝,還有一盤盤滷好的鵝蛋,鵝肝,鵝頸等。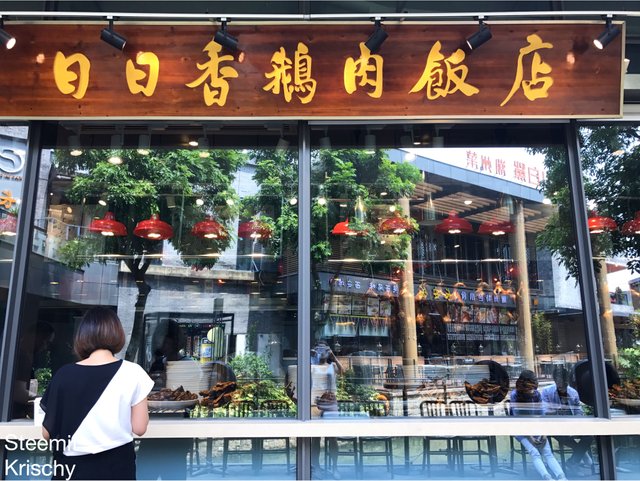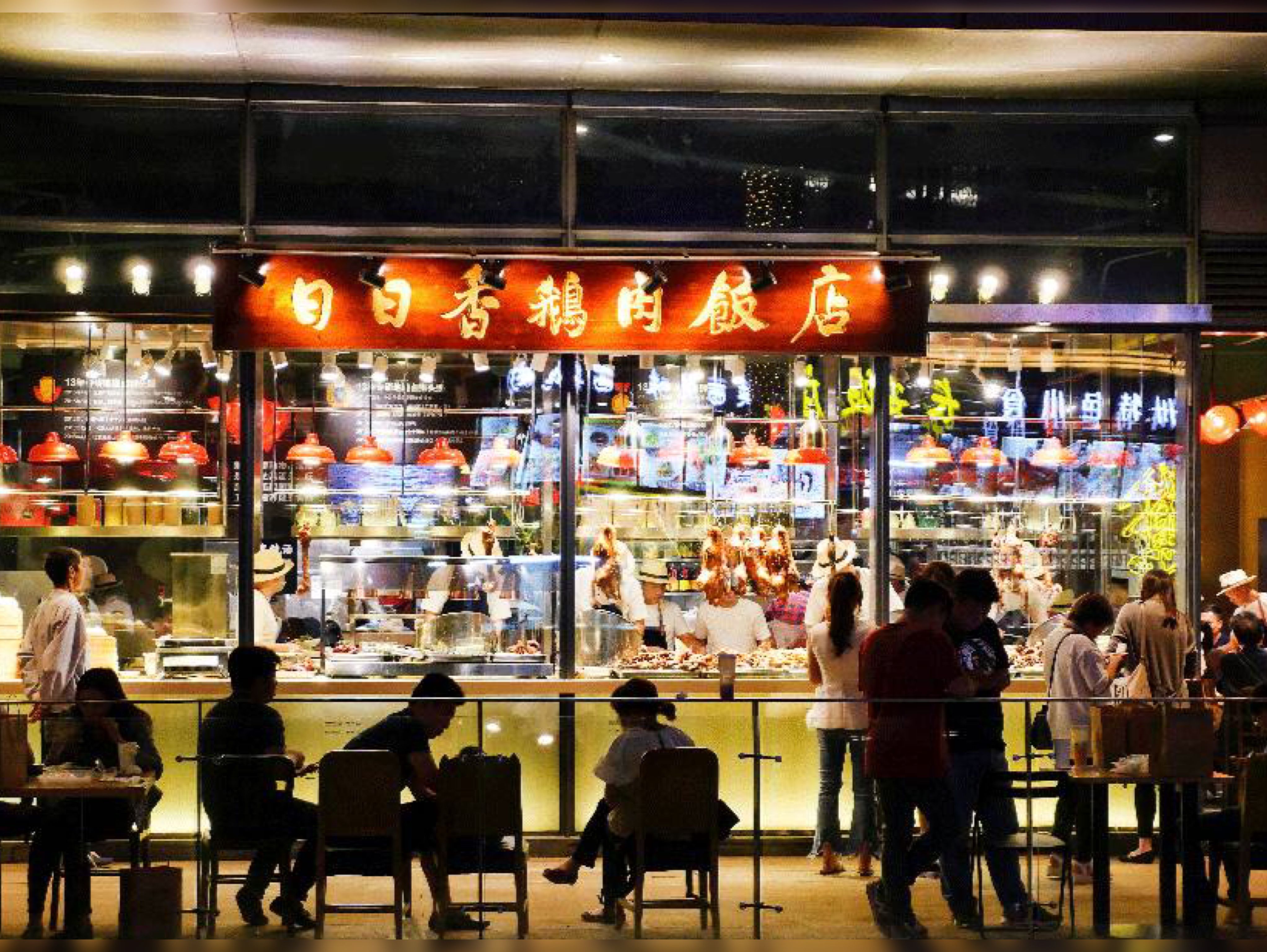 Source
The restaurant is decorated in authentic food stall style – brightly-lit, red plastic shade, iron gate, complementing the wooden tables and chairs in their neutral tones. And their servers are dressed in cowboy style wearing a small straw hat that create a funny contrast with the shop's decoration
日日香主要以大排擋為裝修風格,紅色的塑料燈罩,鐵閘門,木桌椅,整體整潔休閒。它們的店員都戴著小草帽一身牛仔的裝扮和店裡大排擋風設計的裝潢有一點小反差。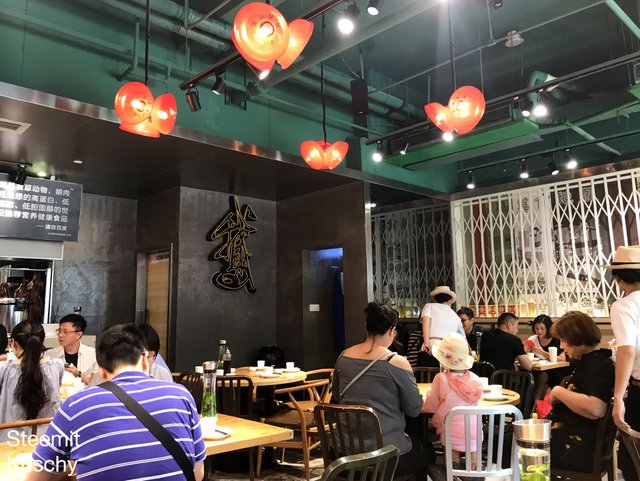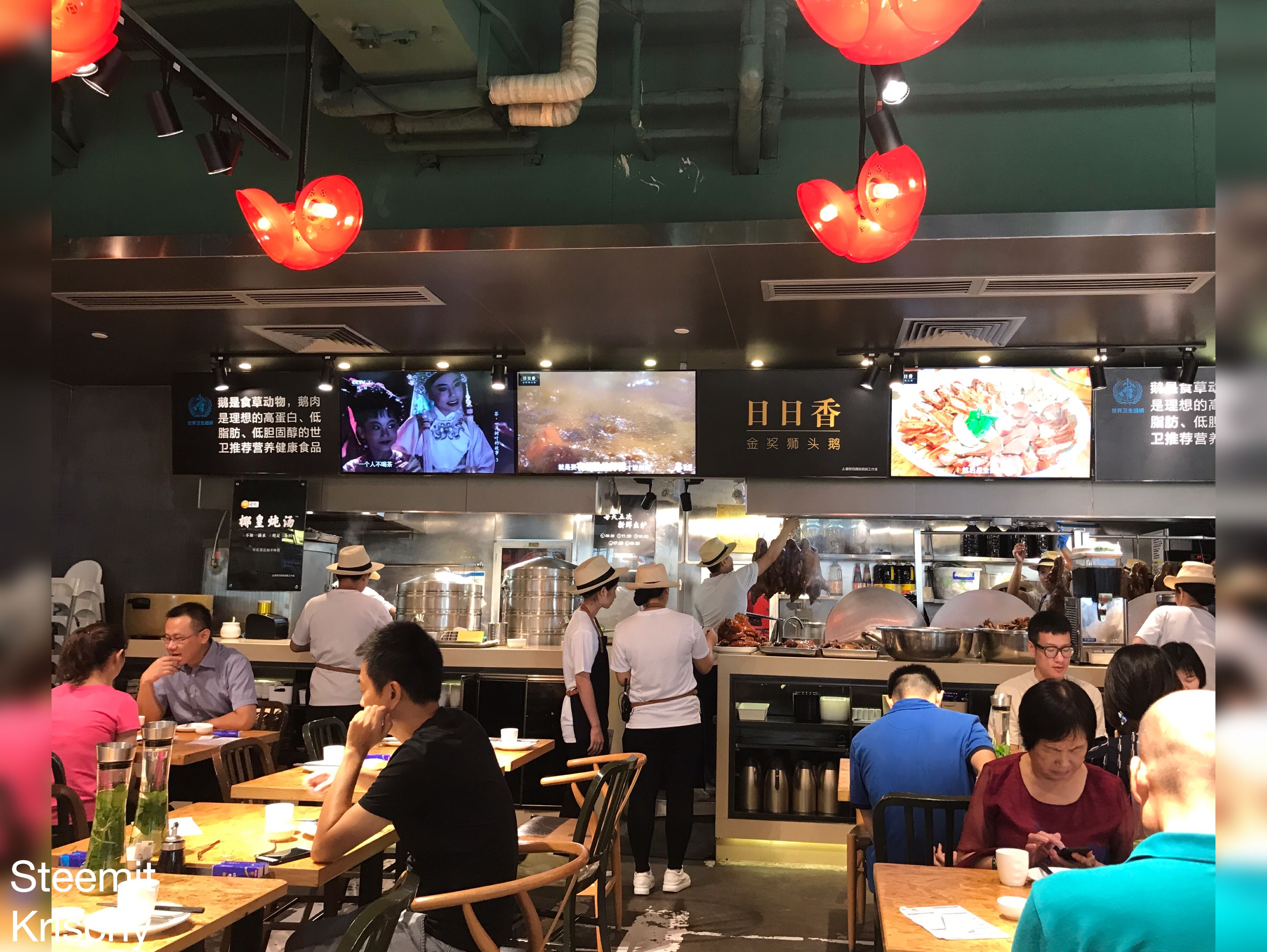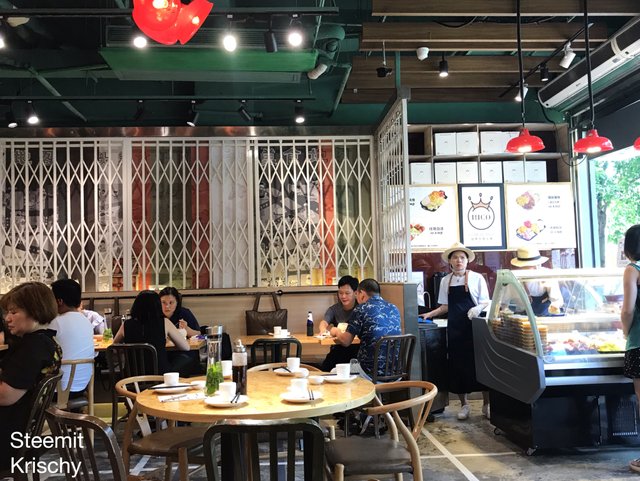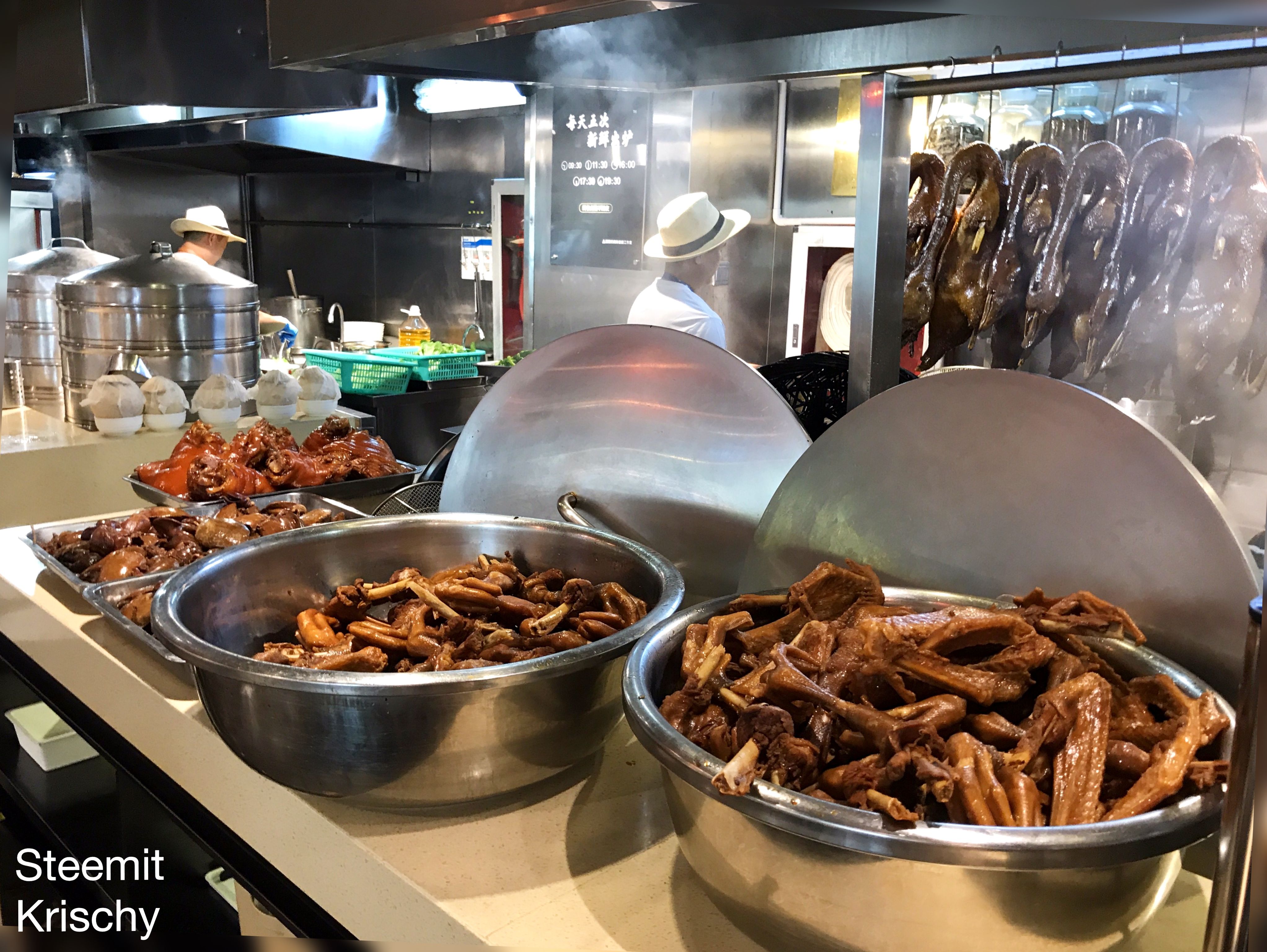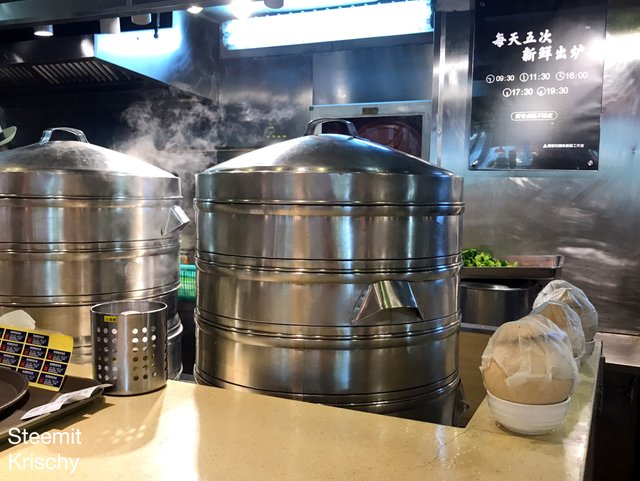 Let's see what we order today~ 我們來看看今天點了什麼
---
The signature dish of this restaurant is the marinated goose. Every part of the goose has different texture and a goose is separated into 12 different parts, head, neck, liver, gizzard etc.
And guess which part of the goose is the most expensive?
The Answer : Head and neck
I know it's hard to believe, I thought it's liver before I see the menu. One whole marinated "Lion Head Goose" costs RMB$1288 while the head and the neck worth RMB $ 888 which is three quarter of the whole goose. To be honest, I am not big fan of eating the goose head and neck.
日日香王牌是滷鵝,一只鵝有12種吃法,每一個部位的口感都各不同。
大家猜猜那一個部位最貴?答案是: 鵝頭
我本來也以為全隻鵝最值錢是鵝肝,原來最貴是鵝頸和鵝頭,一只至尊獅頭全鵝價值$1288元,而頭連脖子價值$888元,是整只鵝四分三的價格,還要三年前預訂。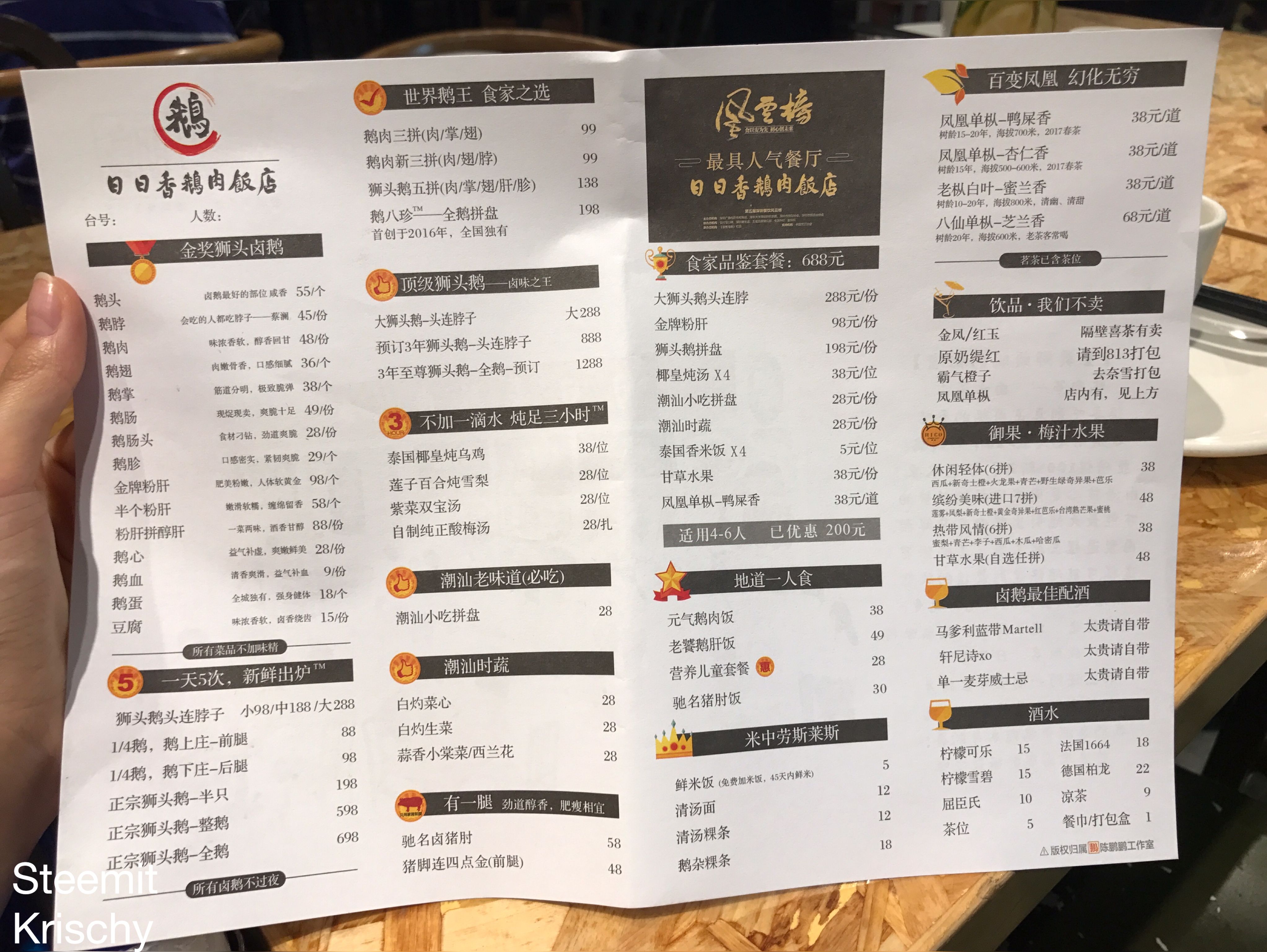 它們的菜單很搞笑,大家看看「飲品,我們不賣」和「鹵鵝最佳配酒」,從菜單可以看到這家店的老闆充滿幽默感。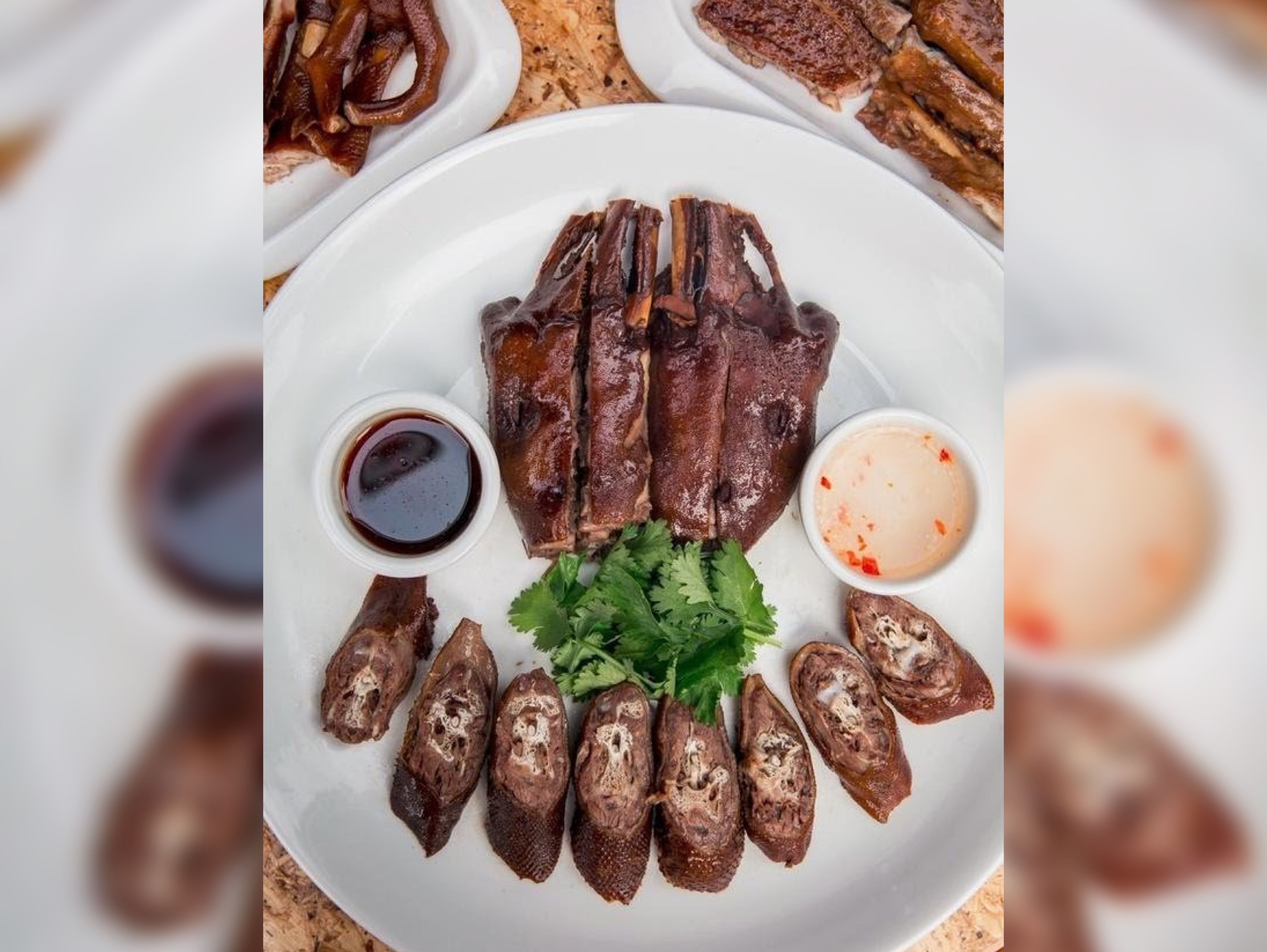 Goose head and neck I am not a big fan of these.
鵝頭鵝頸,被公認為滷鵝的精華部分,不過我不太好這一口。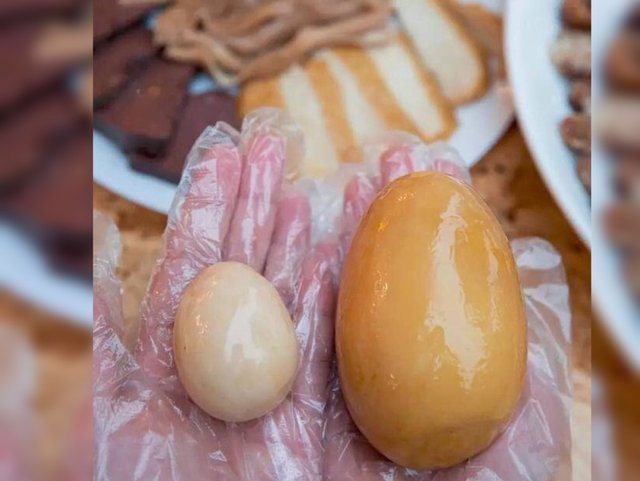 Marinated goose egg It tastes very similar to eggs but 4 times larger.
滷鵝蛋,是普通雞蛋的4倍,鵝蛋比雞蛋香,小時候我最喜歡滷雞蛋下飯或配粥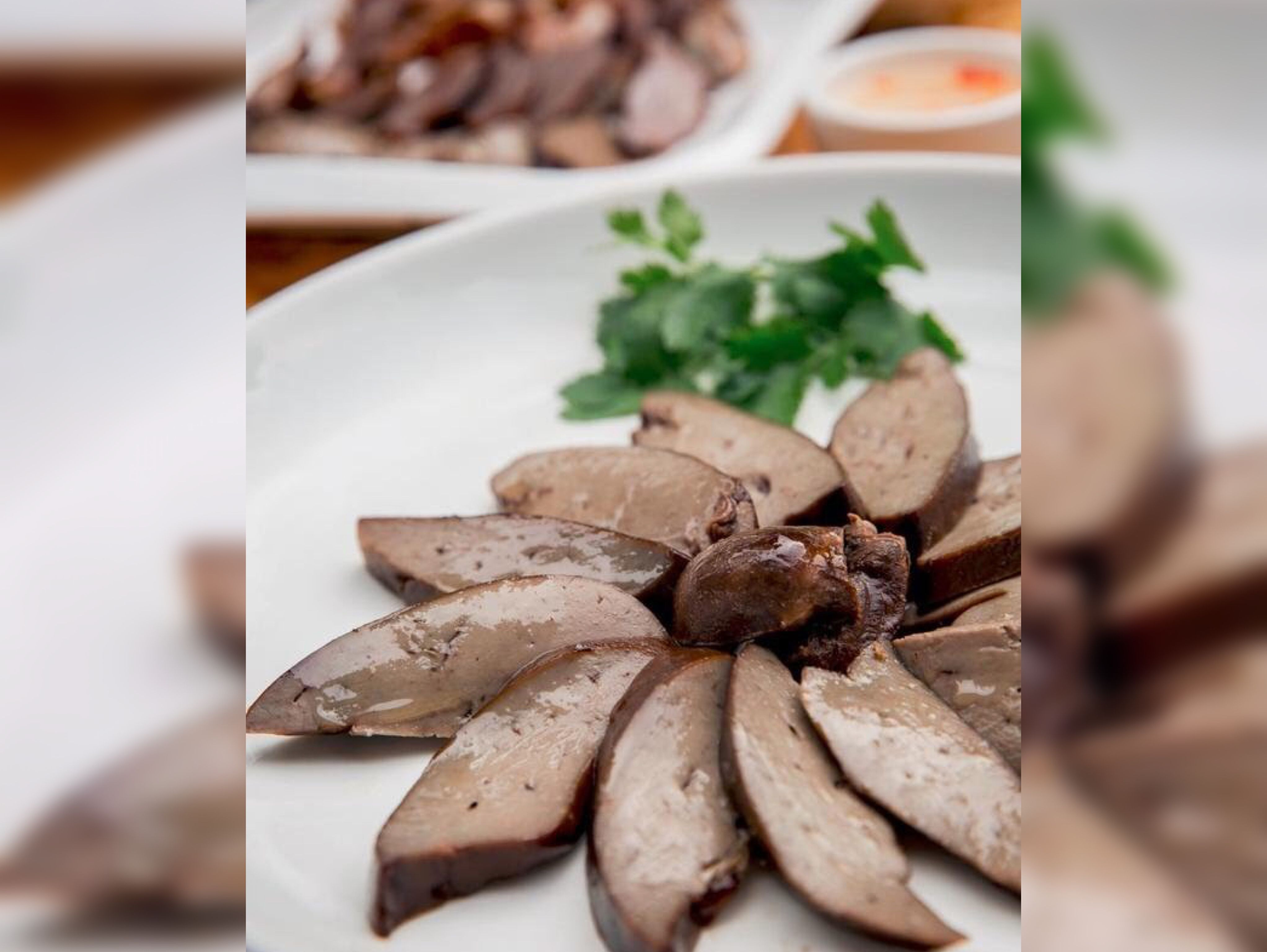 Marinated goose liver I love goose liver. It has a very buttery texture, very rich and smooth. It taste good with the delicious vinegar sauce.
鵝肝真的很好吃,吃的時候蘸上店家特調的酸辣汁,再配上芫荽菜,鮮嫩美味又不膩。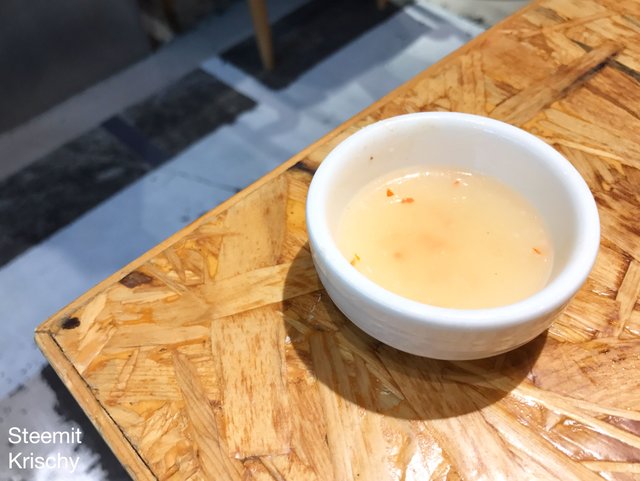 White vinegar dipping sauce
店家特調的酸辣汁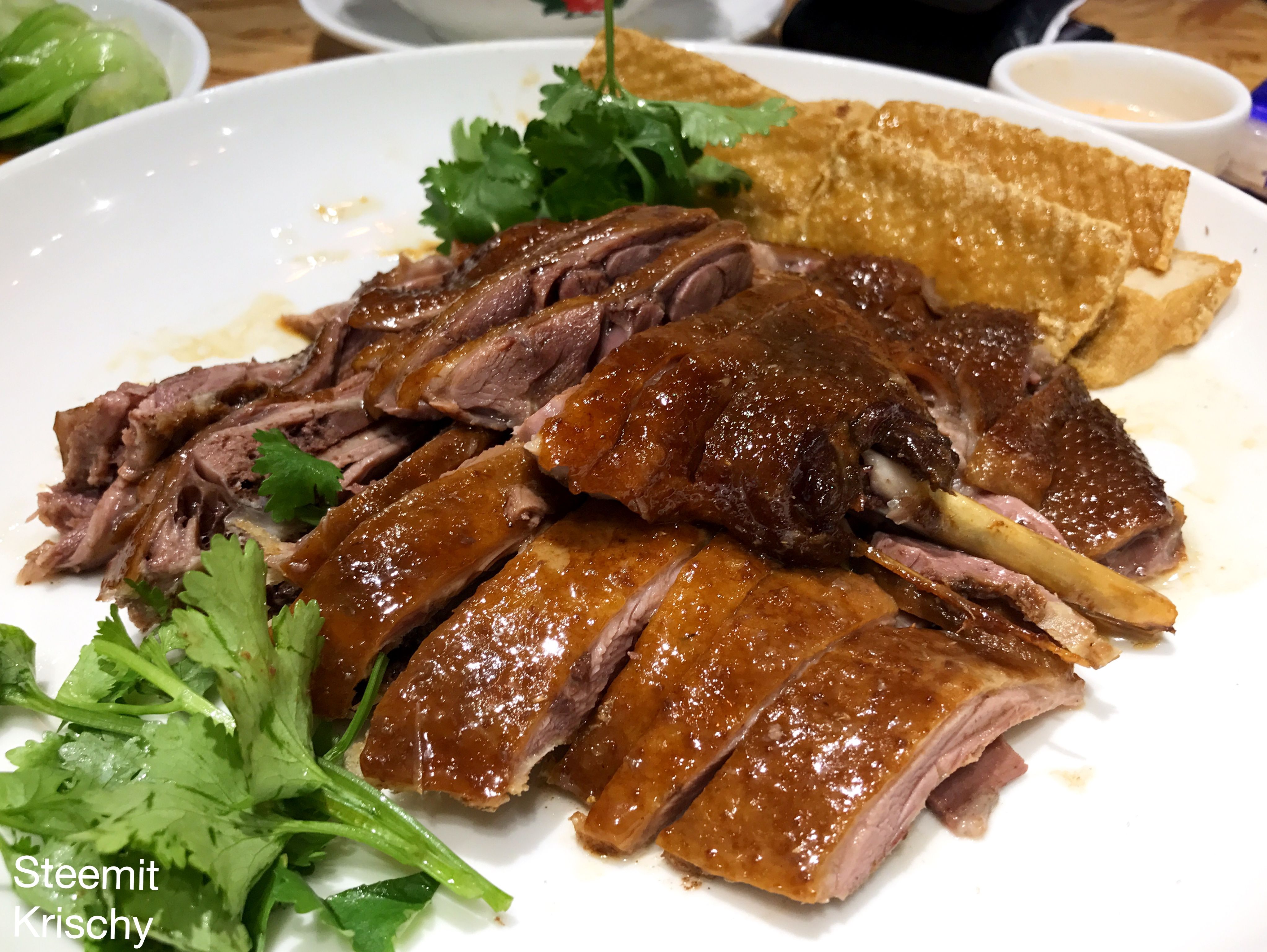 And of course, goose meat. The goose meat is tender yet meaty. It taste good dipped in the delicious vinegar sauce too~
當然不能少的是鵝肉,鵝肉分為上莊(前腿)和下莊(後腳),我們點的是油脂厚一點的下莊,吃起來比較香。
And we ordered bean curd and veggies as well。
我們還點了青菜豆腐,分別是$15元和$28元,想不到分量還蠻多的。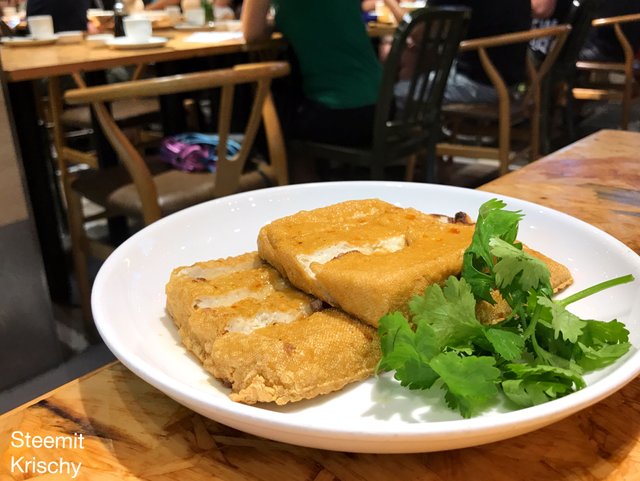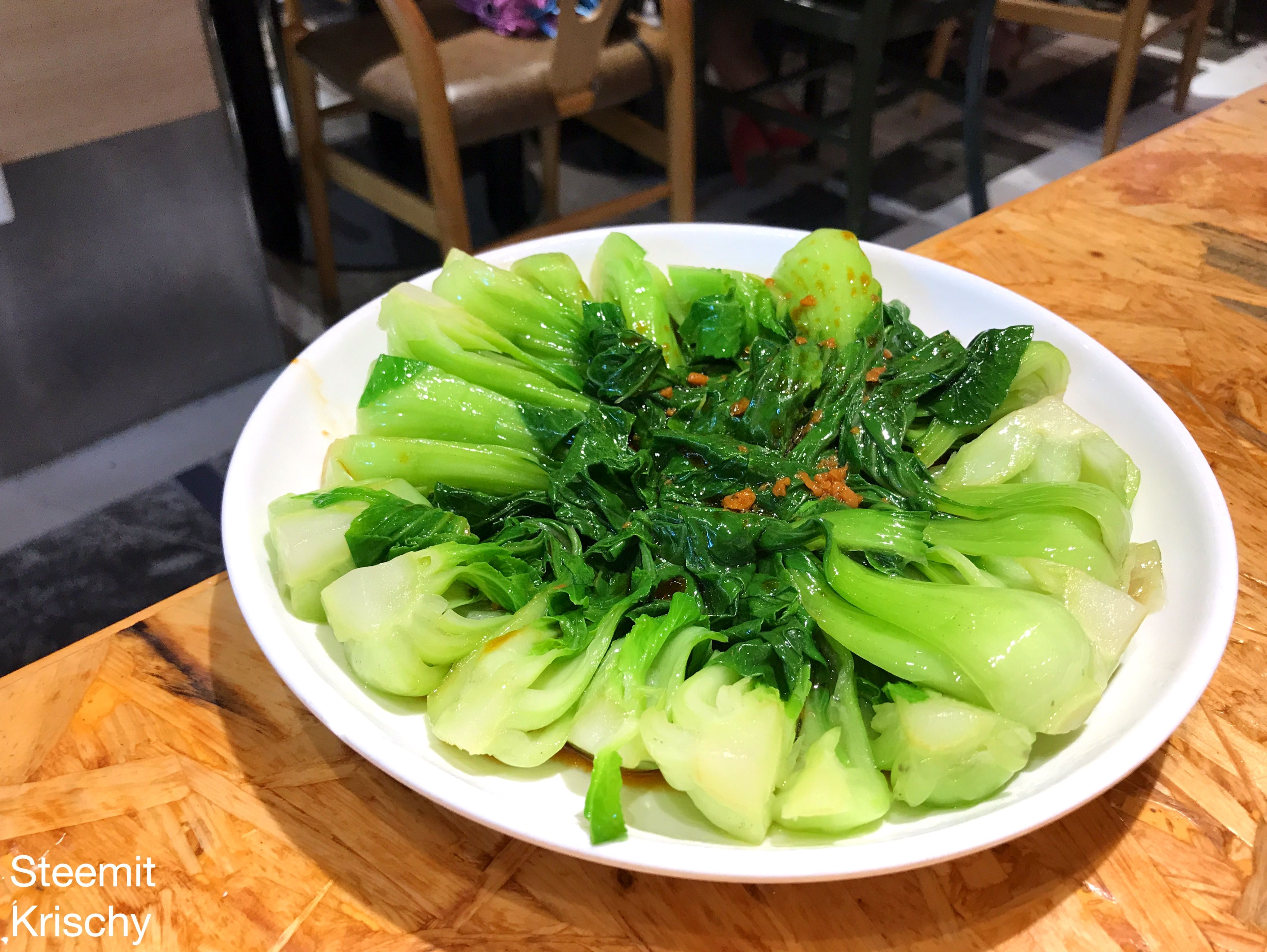 Coconut Chicken Soup is highlight of the meal. The refreshing coconut water is subtly sweet and the chicken balances it up with savory deliciousness.The soup is surprisingly good and we found that it is a popular soup other than goose in this restaurant. You will see it on every single table in the restaurant.
除了滷水鵝,不得不提的是它們店燉了3小時的原只泰國椰皇炖湯,基本上每桌都會點的椰子湯,點單後廚師會從蒸籠把椰子湯端上來。湯𥚃放了烏雞,紅棗,枸杞和椰子水炖制而成,很鮮甜。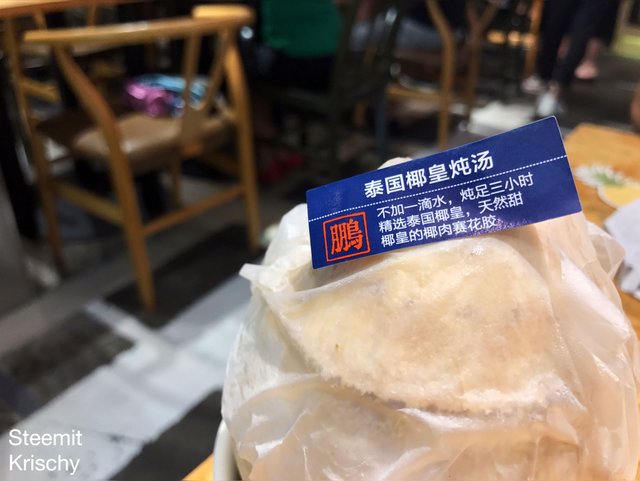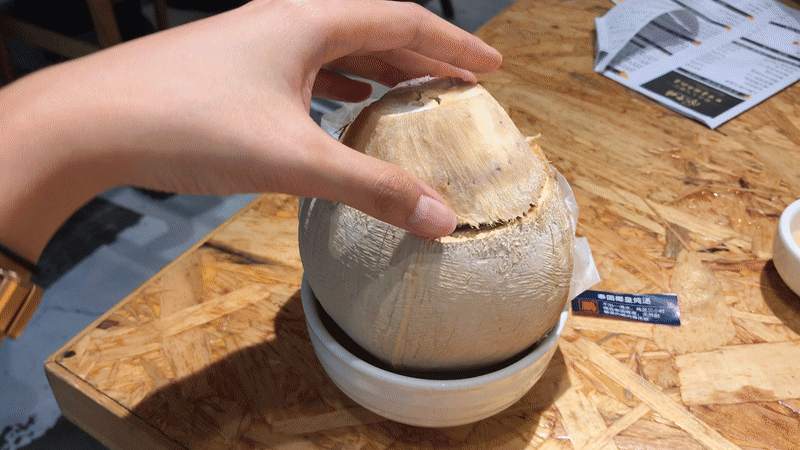 Last but not least, we ordered the fruit platter (RMB$38) which have all 7 different types of fruit. If you want to get your own fruit platter, you can order it at the fruit bar near the entrance.
最後還有甘草水果,店門口有一個水果櫃可以給客人自己選擇,或者菜牌有設定好的套餐,38元一份,可以吃到七種不同的水果。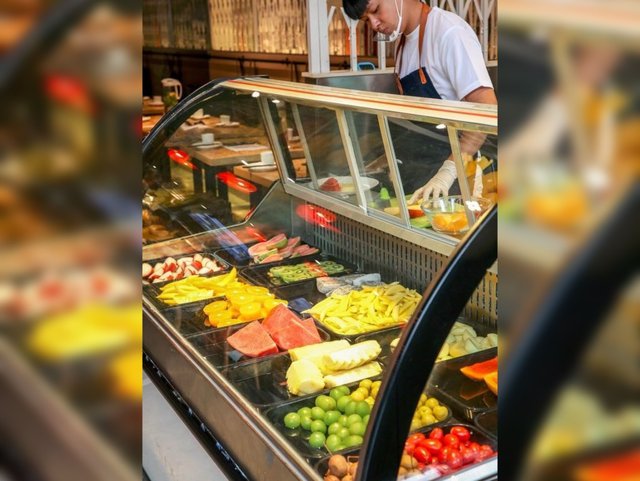 Fruit platter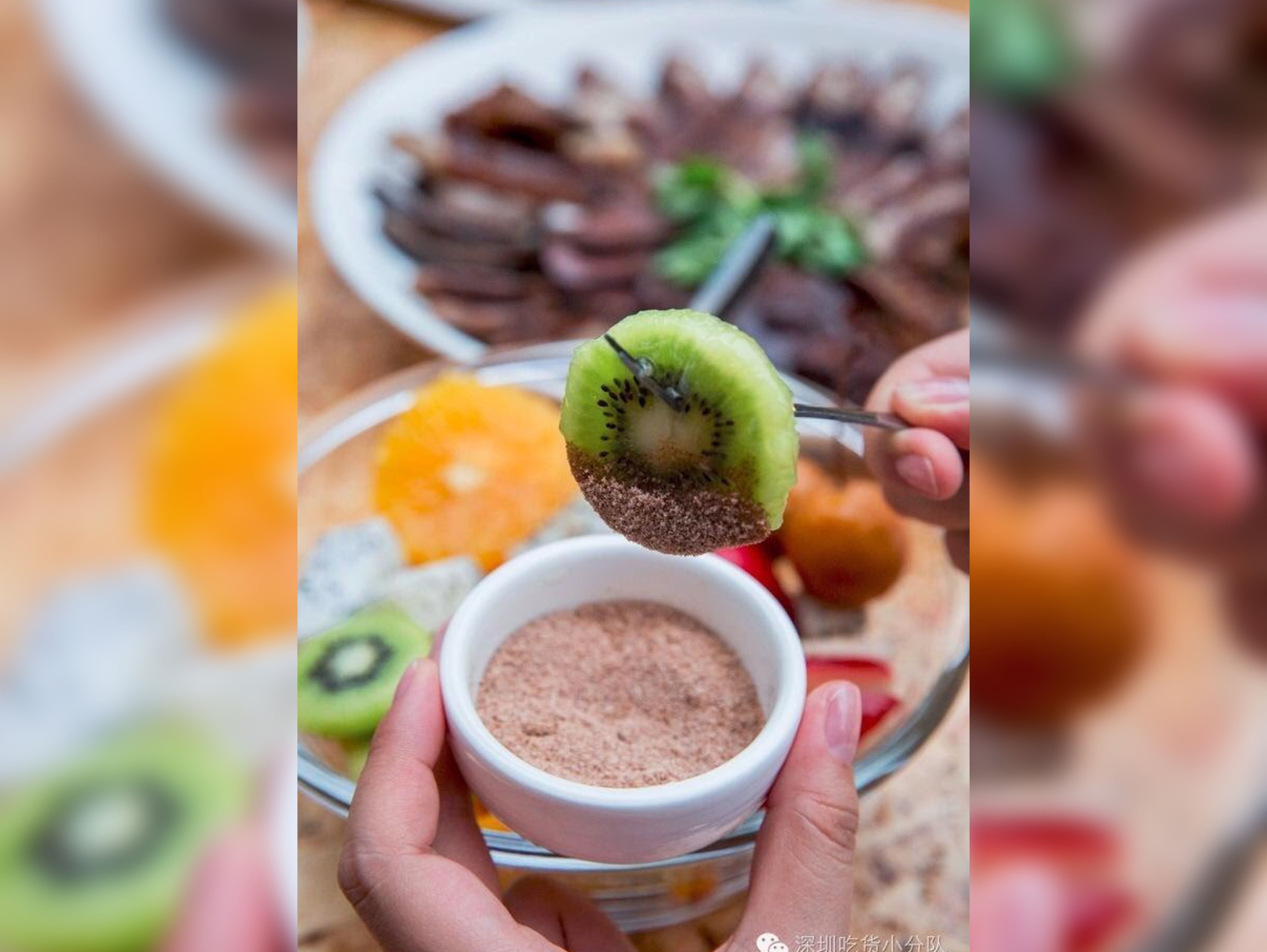 The gritty, ground powder is Sour Plum Powder. It tastes sweet and sour with hint of salty flavor which provide a unique finishing touch. I like my fruit with sour plum powder :P
吃的時候可以沾上梅子粉,酸酸甜甜,很不錯
---
喜茶 HEEKCAA/HEYTEA
Noticed Heytea is located right next to Ri Ri Xiang. My friend and I decided to get some tea :P And we found they served two limit edition drinks. And I ordered both, which are seasonal fresh pineapple and mixed berry green teas with whipped cheese-flavour cream on top~ As I am a big fan of berries, I prefer mixed berry to pineapple.
從菜單知道「日日香」旁邊有「喜茶」,當然要去買一杯來喝囉。它們現在新出了兩位不同的期間限定,分別是滿杯金菠蘿和芝芝莓果,兩杯都很好喝,不過個人更喜歡芝芝莓果,因為我比較喜歡草莓。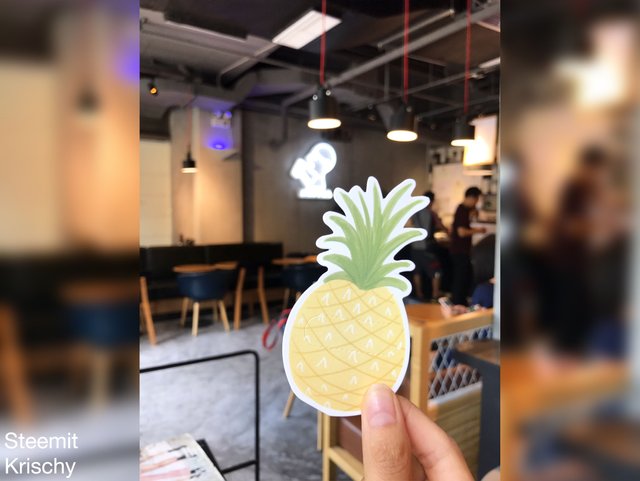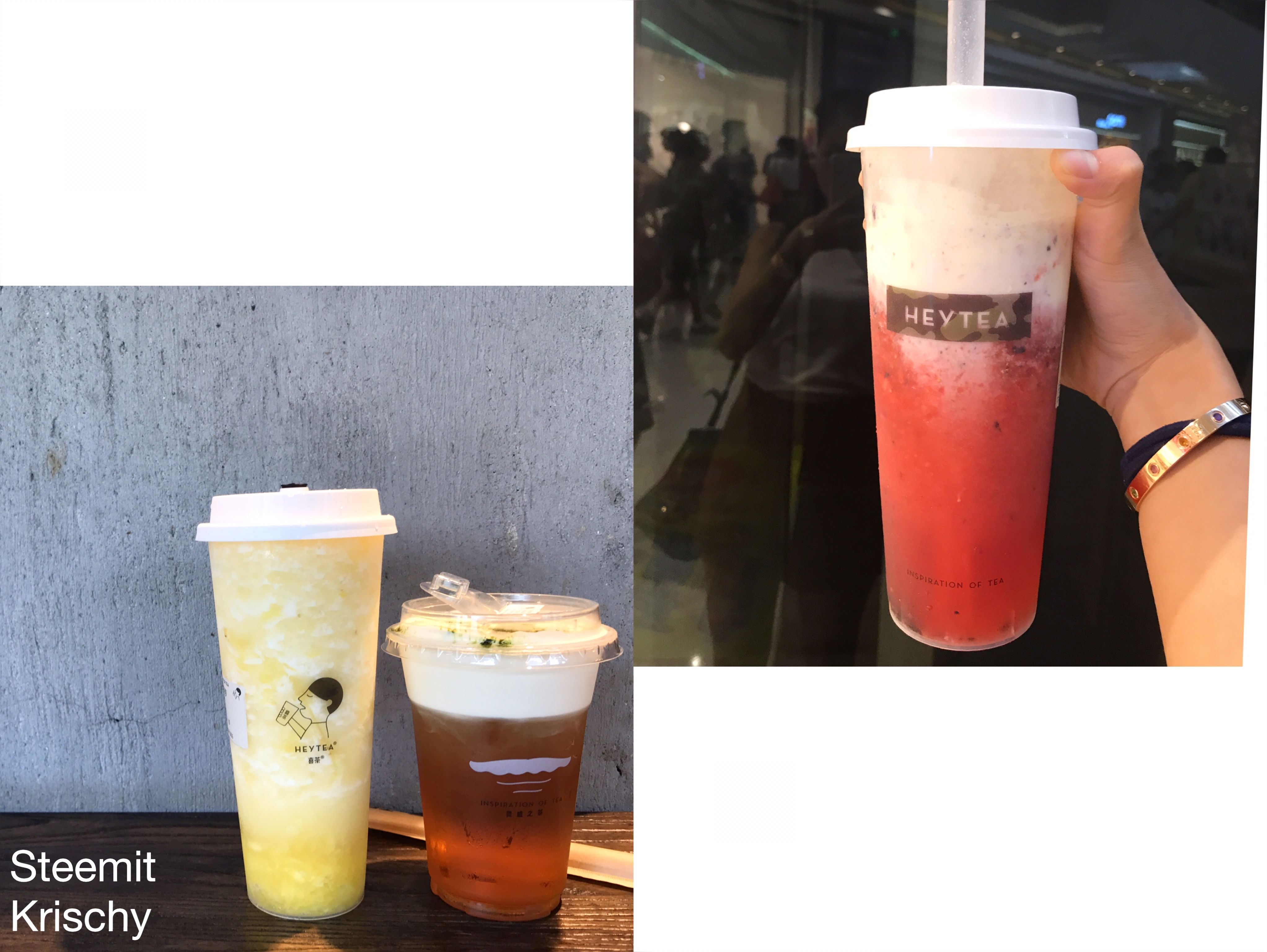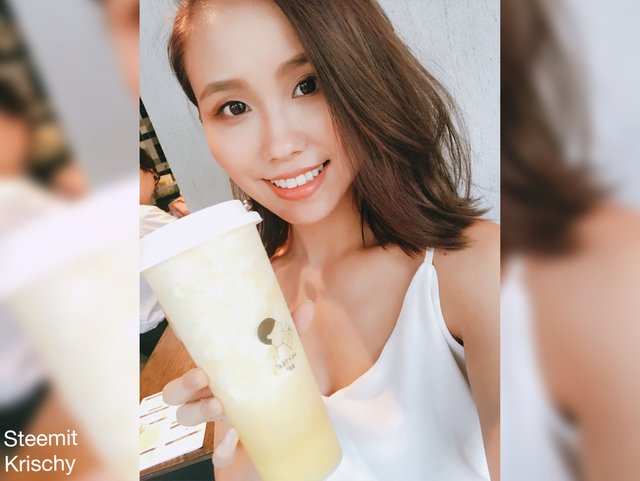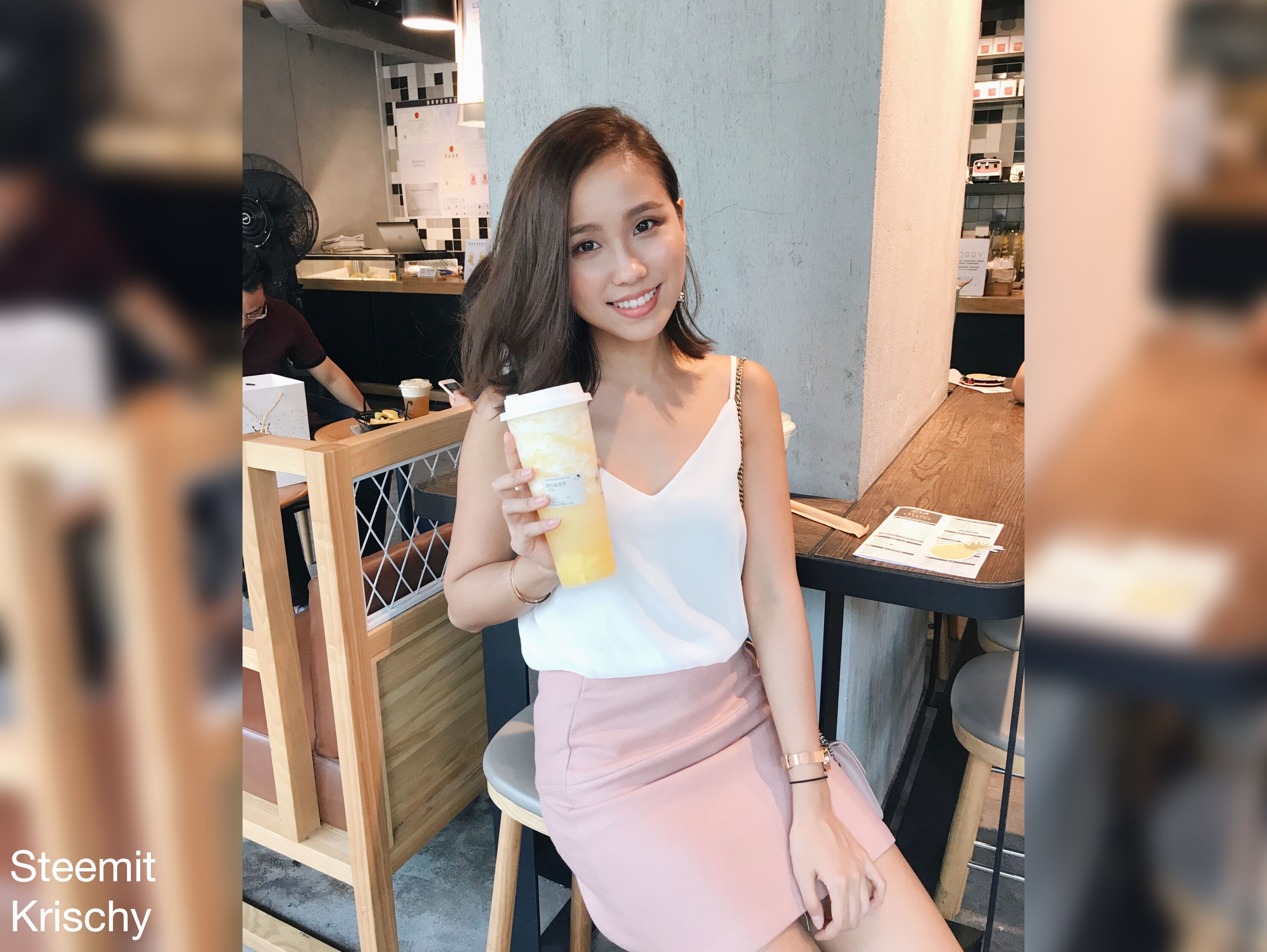 ---
日日香鵝肉飯店(歡樂海岸店) Ri Ri Xiang Marinated Goose Restaurant
Address: 地址: 白石路东12号欢乐海岸曲水湾A-1E
Operating Hours: 营业时间 Monday to Sunday 11:00-14:30 17:00-21:30
---
🎉🎉Before ending this post, I would like to ask for your kindly support for my doggie, Cream in the Pet Beauty Competition hosting by @linuslee0216.
If you may, please leave a comment : "22 Cream" in the link below. Thank you ❤️
https://steemit.com/cn/@linuslee0216/xijuh
🎉🎉最後,@linuslee0216.舉辦的中文區寵物大賽已經開始投票了,希望大家能把你手中神聖的一票 投給22號的Cream忌廉 。
請大家按下面這個連結,留言22號,感謝大家支持❤️❤️~
https://steemit.com/cn/@linuslee0216/xijuh
---