It feels really good to be making a video after a few days of not doing so. I find myself growing accustomed to the space to just talk out into the world. This realization today has gotten my focus back at my podcast a bit ( @philosofusion), which I still haven't put out an episode of yet.
---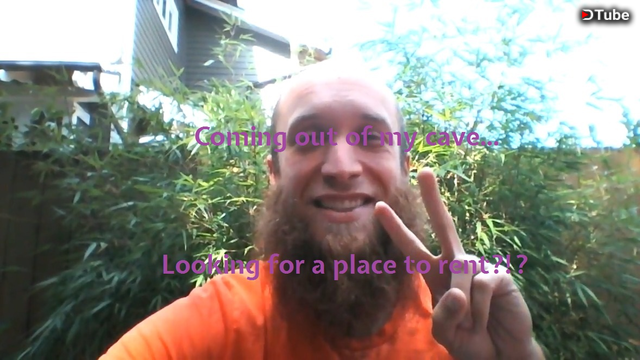 | ▶️ DTube | ▶️ IPFS |
---
For the last few weeks, I've spent a good bit of time traveling and in the woods, and I've definitely taken that opportunity to go internal with my focus in many ways. I've posted a lot less, I've barely replied to comments, I've ignored most messaging tools, and I've generally just ghosted to some extent. For the month and a half before that, I was at 100% basically every day, having tons of video calls, Discord & Telegram constantly blowing up, and so much more.
I'm coming out of my cave, getting back to the world, and looking to ground in somewhere in the next few weeks. At the moment, I'm looking at renting a room at a communal house here in Portland, though I'm certainly open to other places. The important things for me are easy access to nature, easy access to organic, local food, lots of my people around, and a good place to do daily yoga & martial arts classes.
I plan to land for 3-5 months, get a membership at a yoga studio and a martial arts school (Mandala Yoga & Portland Shaolin at the moment), unpack my books, and create a bit more of a schedule for myself. I am looking for a relatively cheap space in a community setting, shooting for a vegan kitchen, but the consciousness level overall of the other folks is most important (plenty of vegans with no clue outside that realm).
I'm also getting ready to start scheduling out my time a bit more, locking in some daily/weekly things to give more structure & open-ness, like:
1-2 hours/day which will be open for folks to schedule 30-60 minute sessions. Active listening, STEEM lessons, distance healing, or whatever other way I can hold space & be of service. This will all be offered on the gift economy.
Weekly @TribeSteemUp Sunday Conference Call
1-2/week @Philosofusion podcasts
Daily yoga/tai chi/qi gong
---
---

---
---
If you enjoyed this, you may enjoy some of these highlights of my blog:
"Greatest Hits/Table of Contents" of my first 2 years on Steemit
You've Created Your Steemit Account and You're Ready to Get Started... What Now? [New Steemians Start-Up Guide]
The 8 Pillars of @TribeSteemUp: Clarification, Refinement, and Re-Casting the Spell
The Status, Vision, and Needs of Real Life: The Role-Playing Game
Be Empowered Official Announcement & Website Launch - 3 Days of Steem-Powered, Holistic Empowerment
---
---