Heraklion is the capital city of Crete island in Greece. Being a biiig city (the fourth bigger in Greece), it has more than 150.000 inhabitants who I am sure almost double during the summer months.
It has lots of concrete, but also lots of history that is evident in its buildings all around the city. I have often talked about my city and post images about it, most of my publications you can find in my blog!
This time I will not post so many details about historical places, I will try to take you with me to a walk at the seaside promenade (Named Karavolas Park), at a small Oasis located at the western edge of the city.
I am kind of embarrassed to say so, but I had never visited that part .. so I was rather surprised
---
First Impression
---
I had to cross a very busy road, waited 3-4 minutes until I reached the stairs and the moment I am downstairs, what is the first thing I saw? There was an impressive triangle with some circles on it .. as I got blinded by the sun, I kind of forgot to check out what it was (if anybody has an idea, please enlighten me/us!)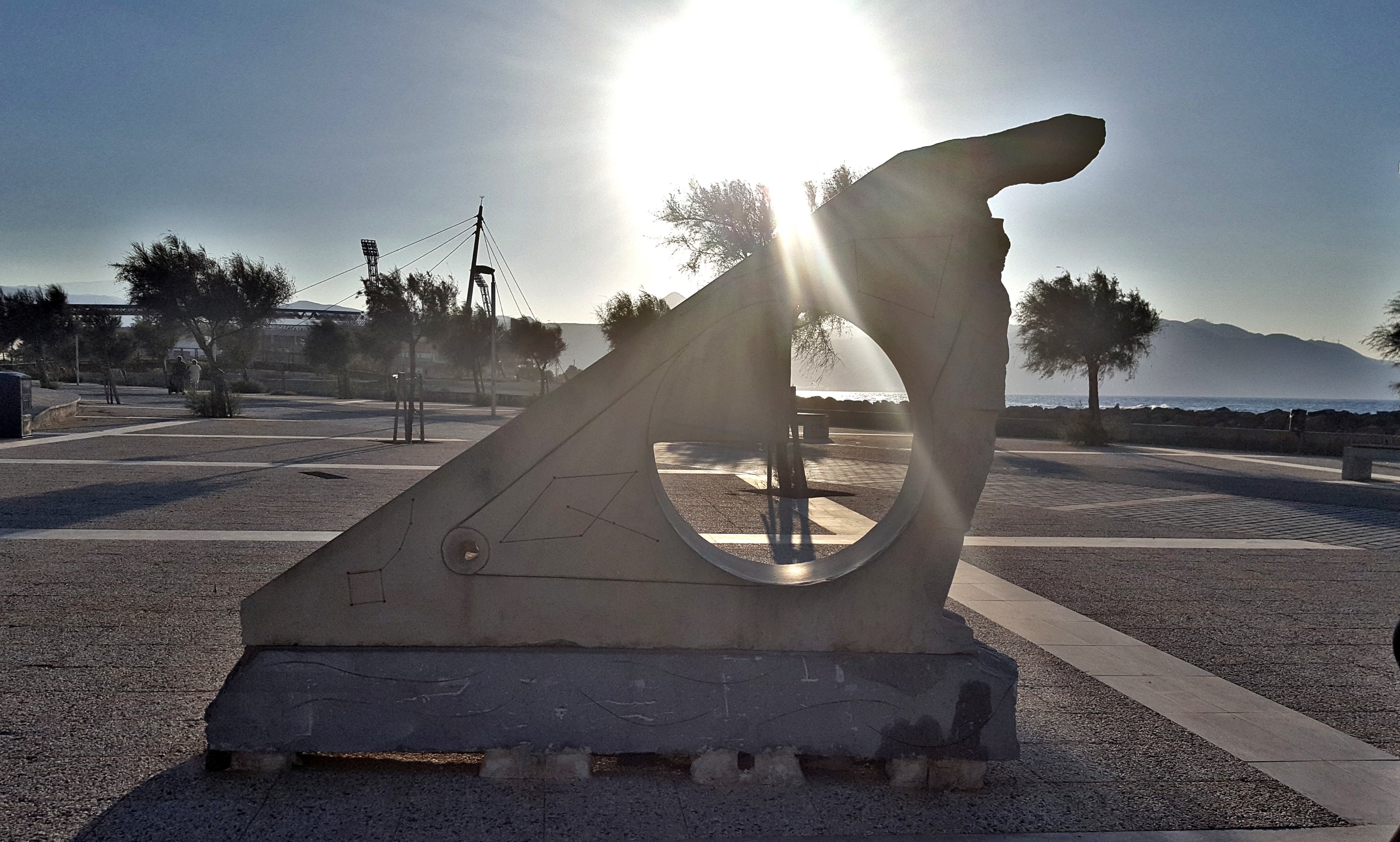 Of course right opposite me, the blue - more heart warming and blinding than the bright sun.
---
So, who would you be?
---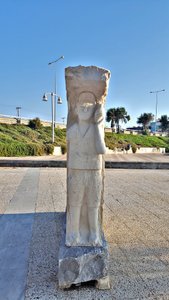 Looking around me, I see this little man. At first I thought he was holding a grenade, but no. He does not look like a soldier. He might be a farmer and holding a pine apple or some other vegetable.


There was no more information on the statue so I went on walking.


It was a busy afternoon in the park, apparently many people visit it to walk, to run, to ride their bike and more. There are not so many parks in the city, that offer so much open space!
---
What is in your mind ??
---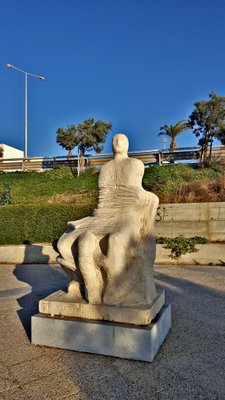 A few meters afterwards, there is another man. Sitting. Gazing the sea.

Odd. I see no arms. I wonder what did the creator think, what did the creator have in mind about the statue's mind and thoughts? Is he happy? Is he sad?


Is he waiting for something? For someone maybe?


Then I notice the inscription below him (He seems manly to me)
---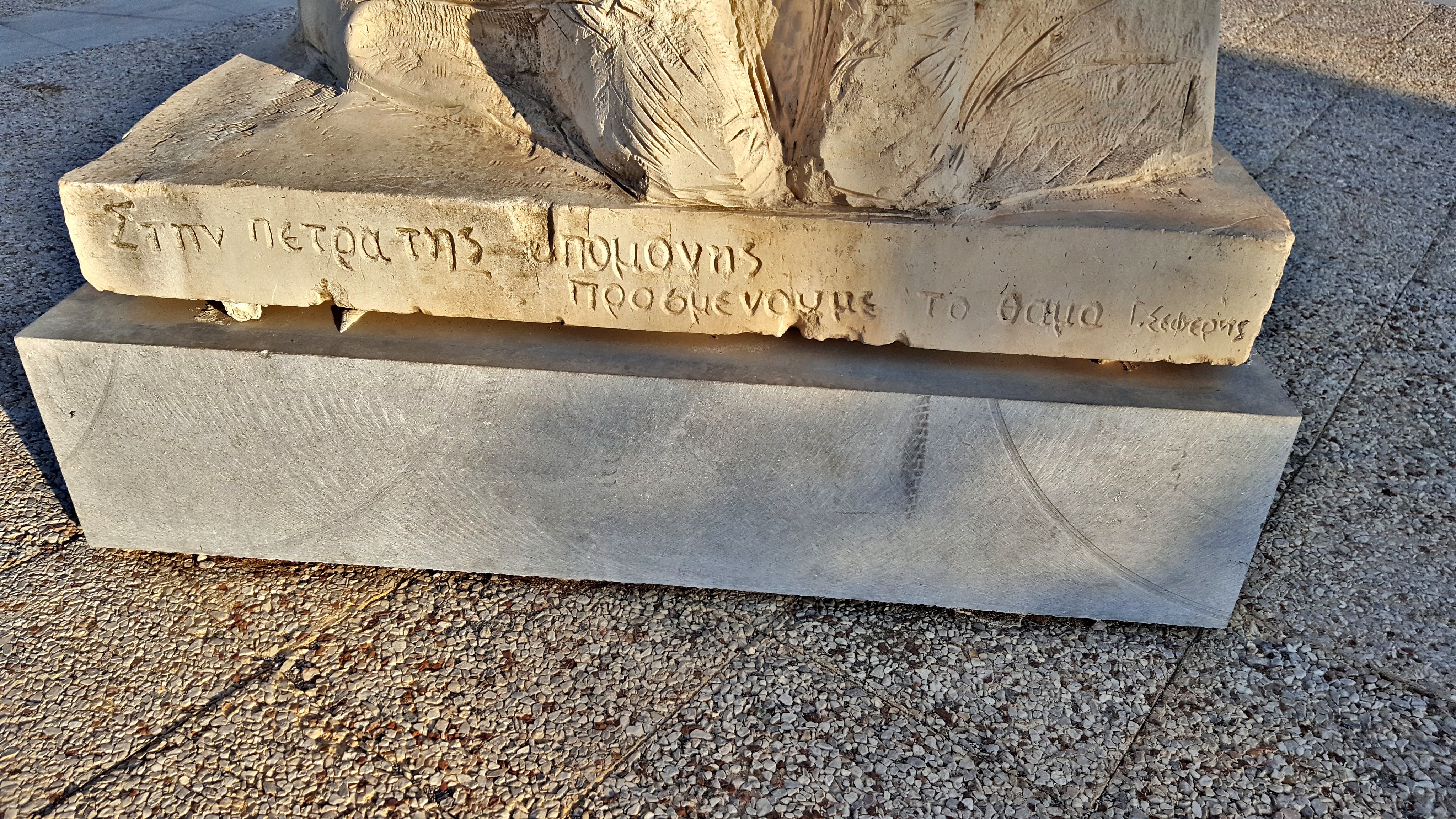 And There Is The Answer to the Question. What this man is thinking is how simple the world is .. how complicated we make it..
Στην πέτρα της υπομονής, προσμένουμε το θάμα ...
On the stone of patience we wait for the miracle ...



Lets read a small part from a Greek Poet - diplomat and Nobel laureate G. Seferis
---
Πού πήγε η μέρα η δίκοπη που είχε τα πάντα αλλάξει;
Δε θα βρεθεί ένας ποταμός να 'ναι για μας πλωτός;
Δε θα βρεθεί ένας ουρανός τη δρόσο να σταλάξει
για την ψυχή που νάρκωσε κι ανάθρεψε ο λωτός;

Where is the double-edged day that had changed everything?
Won't there be a navigable river for us?
Won't there be a sky to drop refreshing dew
for the soul benumbed and nourished by the lotus?
---
Στην πέτρα της υπομονής προσμένουμε το θάμα
που ανοίγει τα επουράνια κι είν' όλα βολετά
προσμένουμε τον άγγελο σαν το πανάρχαιο δράμα
την ώρα που του δειλινού χάνουνται τ' ανοιχτά

On the stone of patience we wait for the miracle
that opens the heavens and makes all things possible
we wait for the angel as in the age-old drama
at the moment when the open roses of twilight
---
τριαντάφυλλα... Ρόδο άλικο του ανέμου και της μοίρας, μόνο στη μνήμη απέμεινες, ένας βαρύς ρυθμός ρόδο της νύχτας πέρασες, τρικύμισμα πορφύρας τρίκυμισμα της θάλασσας... Ο κόσμος είναι απλός.

Αθήνα, Οχτώβρης '29 - Δεκέμβρης '30
[πηγή: Γ. Σεφέρης, Ποιήματα, Ίκαρος Αθήνα, 2000, σ.26-32]

disappear. . . Red rose of the wind and of fate,
you remained in memory only, a heavy rhythm
rose of the night, you passed, undulating purple
undulation of the sea. . . The world is simple.

Athens, October '29—December '30
---
---
I would like to post more but I think it will be too much :) So I am closing here, with a beautiful image and I promise that this walk will be soon continued!

Thanks so much for visiting and for walking with me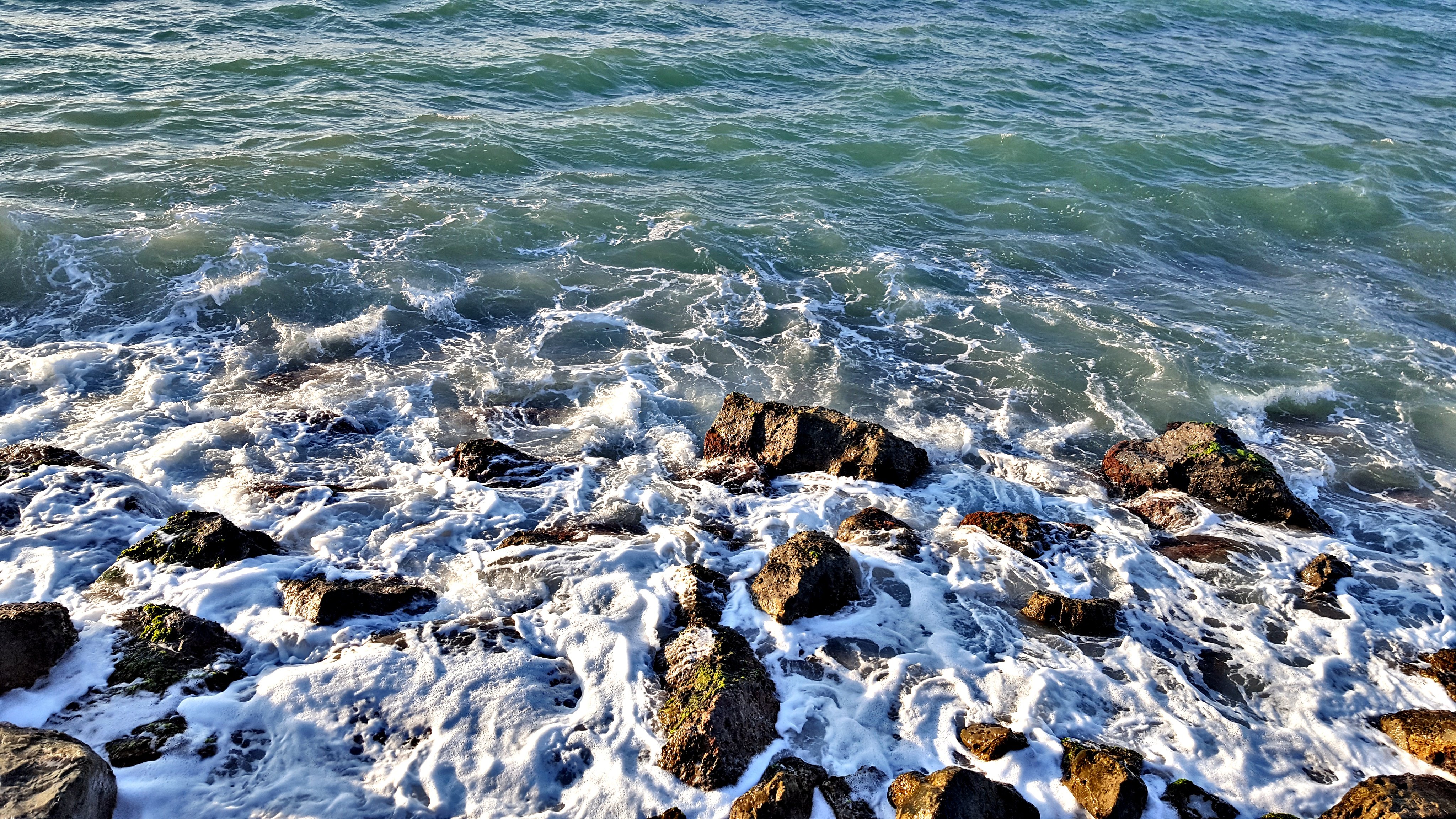 To Be Continued ...
---
You might want to check out my collection of useful steemit articles