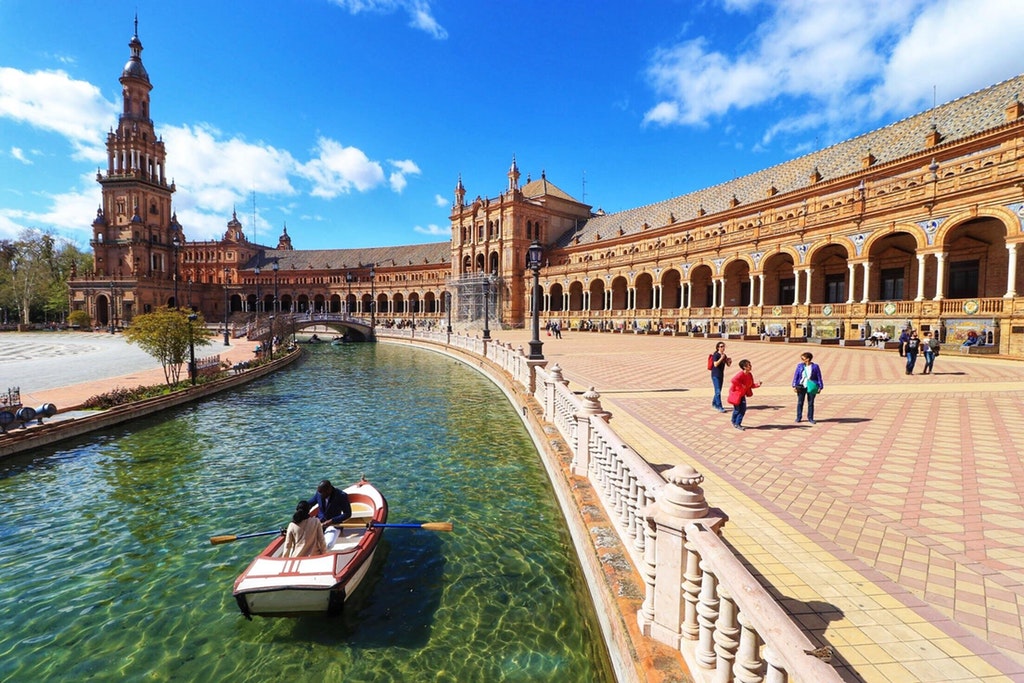 Isn't this where they filmed the scene in Star Wars on Naboo where Anakin and Padme are talking?
It's a beautiful place, but I thought the boat in the ponds was a bit tacky.
A bit but I think they bring life to the plaza! It seemed like a place locals and tourists enjoyed spending time outside! The horse-drawn carriages circling around the plaza were very tacky though, had a Central Park vibe with the boats and horses. Wish plazas were a thing in the USA, all the plazas in Spain were bustling with life and activity.
Real tacky. Would have been way more authentic without them. Still, a really cool spot though. Neat city.
The boats are an attraction that brings people there. Really the plaza and building are beautiful to walk around and see but there's really nothing there other than some government offices.
It was designed in 1911 and construction started in 1914. Back then rowing in boats was a thing, a social activity that was very popular, one has to understand the design based on history.
Seville is very underrated as a travel destination, absolutely one of my favorite cities.
It is, so much more to Spain than Madrid and Barcelona, Andalusia is amazing!
Enjoy! Make sure to go to Bar Alfalfa for tapas! Best place and most of the bars around that area are amazing!
Holy shit no way! I was just there the other day. Sevilla is awesome, probably my favorite city now. I can post some other pics but they won't be as good as that!
Mine too! I thought the church and Alcazar were beautiful but had the best tapas here and the vibe was just amazing! Already planning on going back soon.
I didn't get to go to the church, but yeah, the Alcazar is beautiful, especially the gardens. The good was easily the best part of the trip, same with the vibe. People were really cool too. Anyway, got to catch a flight back home now haha.