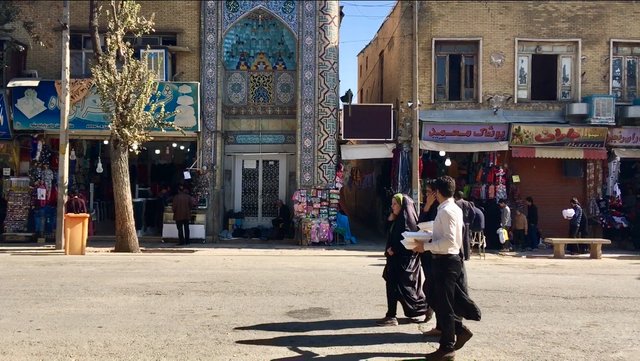 In Iran, Friday is the « weekend » of the week. This Friday was 28 Safar, the death ceremony of holy Prophet Muhammad. It was an important day in Muslim world I think. When I took a walk in the morning, there was almost no traffic, which was quite rare in Iran. Normally the traffic here is as busy as that in many Chinese cities. After living in Belgium for a while, I seem to lose my skill of cross streets within heavy traffics. I felt relaxed wandering around, the only bad thing was most shops were closed. Yet for me, seeing the streets and where people heading to on a religious holiday was already interesting enough and still I was able to find some tasty cheesecakes :)
In the afternoon, I made a spontaneous plan to the Persepolis but unfortunately I wasn't smart enough to check the opening days of the site. After waiting 40 minutes in the bus terminal and the half hour minibus ride to Marvdasht, plus a taxi ride of 20 minutes to persepolis, only to find it was closed. I was disappointed of course. Here is the only glance I took at Persepolis at sunset.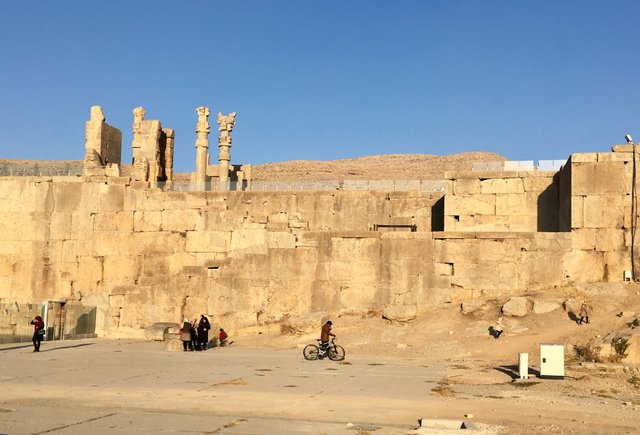 It turned out I wasn't the only one who did a wasted trip there. When I felt kinda disappointed, then all of a sudden, there was an Iranian family who approached to me, asking why I was by myself (the most common question I got from the warm-hearted Iranians during my whole trip) and if I want photos. Firstly I said no, I guess because I was quite disappointed. But the daughter Mojdeh started some random talks with me. It turned out she just started her study in French language at Tehran University. Mojdeh was nice to offer me a lift back to Shiraz. On the way Mojdeh told me she wanted to study French because later she wants to live in Canada and how she loves heavy metal music and hates the traditions in Iran. A truly interesting girl.
That was how my Friday went. I missed Persepolis but at least I got the bus schedule and can go back any time these days. The most important is I had a chill and relaxed walk around the city and made a friend on the way.
!steemitworldmap 29.584206 lat 52.583313 long Shiraz d3scr

这周五是伊斯兰世界的重要节日,本身周五对伊朗人来说相当于周末,店铺很多都关门了。对于我来说这其实挺好的,街上的车少了很多。伊朗大城市的交通很可怕,过马路比国内都难很多。经常都是当地人看我一个人不敢过马路过来拉我一起过。
所以这个周五终于可以享受没什么车的轻松感。我在街上瞎逛,虽然很多店都关门了,但是对我来说路边的建筑已经够新鲜,我都可以拍个不停,后来还找到一家开门的蛋糕店买了一块好吃的芝士蛋糕。下午的时候我忽然不想看清真寺了,就心血来潮冲往车站看看能不能有车去传说中的Persepolis看日落。周五的小巴冷冷清清,只有下午两点半有一班,我在车站等车等了将近一小时,然后坐车半个多小时,再转计程车去Persepolis。好不容易折腾到了却发现不开门。我在门口拍了一张古城,有点失望决定离开。
这时一个伊朗家庭过来跟我聊天问我要帮拍照吗。我心情比较差,就说不需要了。结果这家人的女儿Mojdeh继续热情的跟我聊天,她一个人住在德黑兰,爸妈在设拉子工作。他们一家人特别好,觉得我一个人旅游很奇怪,决定载我回设拉子。我有点为刚刚的冷漠回答觉得不好意思。Mojdel是个有意思的小姑娘,刚开始了她的大学生涯,她选了法语专业,因为她想去加拿大法语区生活。途中她还告诉我她怎么讨厌伊朗没有什么自由的社会,怎么喜欢重金属音乐。
我在想,虽然没能看成Persepolis,但是认识了新朋友,对伊朗的年轻人有了更多了解。其实蛮不错的。有时候一个人出行也不是什么坏事,虽然有时也会觉得有点无聊,但是更容易跟当地人说到话感受和观察当地的民风。再说我现在知道了去Persepolis的巴士行程,什么时候去都可以,不那么重要。