Top 7 War Memorials to Visit in India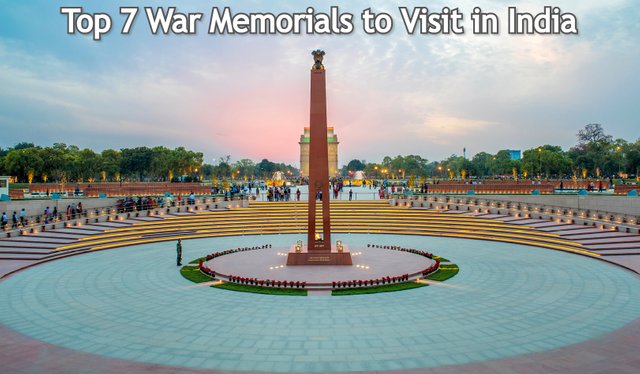 It is needless to say that our armed forces are always war-ready to protect our country from any kind of potential threat. The somewhat sad part is that regular citizens don't even get to know but a lot of soldiers who lay their lives every year for our country.
And to commemorate the lives of these soldiers, there are several war memorials built in India that are sprinkled throughout the country and remind us how each and every soldier has contributed to the safety of our nation so that the citizens can sleep in peace. At the same time, they also play a vital role in India's tourism activities.
Keeping this in mind, we at Adotrip have complied a list of the top 7 war memorials in India where you can visit along with your loved ones and cherish everything good about our nation.
1. India Gate, New Delhi
Situated in Central Delhi, India Gate is truly an amazing place to visit and know the historic transitions which our country has gone through. Basically, it is a war memorial that has been dedicated to all the 70,000 soldiers of the British Indian Army who laid down their lives right from World War I to the Second Anglo-Afghan War. With about 13,300 names inscribed on India Gate, this war memorial is truly a fascinating place to explore.
2. Tawang War Memorial, Arunachal Pradesh
This war memorial is built in the memory of the braveheart Jaswant Singh Rawat who held back the invading Chinese troops for about 72 hours single-handedly. He proved himself a true patriot as he breathed his last in the frontline. And even till today, the soldiers at the memorial take care of the memorial as if he would be alive today and even serve him meals.
3. Kargil War Memorial, Dras
Situated on the Srinagar-Leh highway, Dras, the Kargil War Memorial was built in the memory of the soldiers and officers of the Indian Army who gave their lives for the country during the India-Pakistan war in 1999. It would be one of the most unique travel destinations to explore in India.
4. Victory At Sea Memorial, Visakhapatnam
This memorial was constructed after the Indo-Pak war of 1971 and is dedicated to the Indian Navy along with the Naval Command. Then, it was during the 1971 liberation war that the Pakistan Navy had targeted the Visakhapatnam Port in order to destroy the Indian aircraft carrier INS Vikrant.
5. Kohima War Cemetery, Nagaland
This war cemetery is dedicated to the soldiers of Nagaland of the 2nd British Division of the Allied Forces who have died here in the second world war during 1944. It is said that this memorial is home to more than 1,400 commonwealth burials along with 917 Hindu and Sikh burials who were cremated on this very soil.
6. National War Memorial Southern Command, Pune
Situated in Pune Cantonment, this war memorial is erected via the contributions of the local citizens and has been dedicated to the war martyrs who laid down their lives for the nation post-India's independence.
7. Darjeeling War Memorial
The war memorial is located at the very center of the Batasia Loop Garden in Darjeeling. It has been created for honoring the Gorkha soldiers of Darjeeling who sacrificed their lives in various operations as well as wars after India gained its independence from the British Raj.
So, with this, our list of the top 7 war memorials comes to an end. If you too are planning to travel someplace unique then do pick any of these memorials for unforgettable travel experience and you can always plan your trip itinerary with Adotrip's circuit planner.