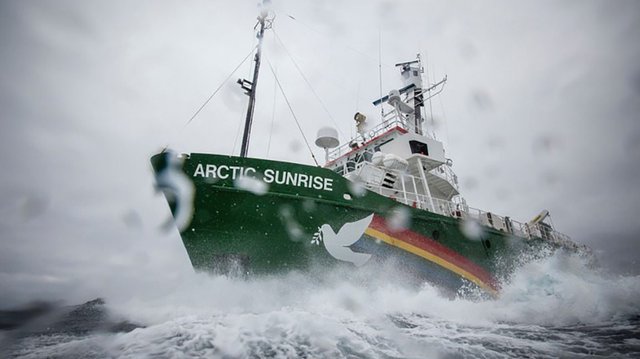 The Greenpeace's Arctic Sunrise docked in Honolulu Hawaii to bring awareness about plastic pollution. The Arctic Sunrise just sailed through the Great Pacific Garbage Patch and was escorted in by the Polynesian Voyaging Society's Hokule'a, and greeted with a traditional Hawaiian chant and ceremony.
While here for the rest of the month, Greenpeace, a global, nongovernmental environmental organization, will offer free, public tours of the ship and conduct a beach cleanup at Kahoolawe to raise awareness of plastic pollution's threat to the world's oceans, waterways and communities.
David Pinsky, an oceans campaigner for Greenpeace U.S.A said, "We know that the Hawaiian Islands are impacted and ultimately it is up to the corporations that helped get us into this mess to take responsibility for the plastics crisis. This is such a beautiful area and we want to ensure that we can help to not only protect marine life and ocean health, but also public health."
One of the key facts is that only 9 percent of all the world's plastic bottles are recycled.
When we go fishing we see a number of plastic bottles, aluminum cans, and other trash wash up in remote areas. We always try to pick what we can up and walk them out of the fishing areas.
This problem is a serious one and just one more example of how we are abusing our environment.