Greetings Steemit friends!
I recently visited Miami and absolutely loved every minute of it. In addition to the great beaches, art, architecture, and general vibe - I was also overwhelmed (in the best way possible) by the amount of fantastic restaurant options.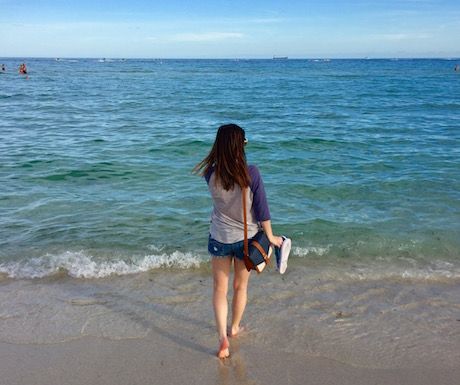 If you find yourself in Miami (which I hope you do at some point), here are some of the dining spots that I visited that I highly recommend.

IF YOU'RE LOOKING FOR….ITALIAN:
Sylvano's Restaurant
This is a true Italian's Italian spot. It is Italian run, and has incredible meats, seafoods, pastas and pizzas. If you like raw fish, the tonno (tuna carpaccio with olive oil, parsley and lemon) is not to be missed! The tuna is paper thin and melts in your mouth (pictured below with the caprese).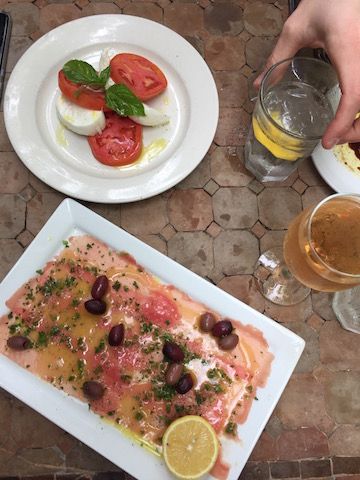 In addition to the amazing food, the outdoor seating area is lovely...beautiful but unpretentious. They also pour a generous glass of wine, which I always appreciate! And the best part: they are surprisingly inexpensive, especially considering the quality of the food. Not to be missed!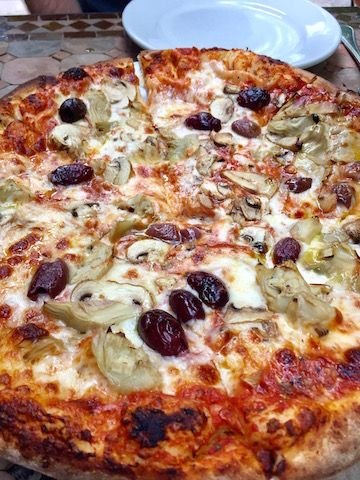 Website: http://www.sylvanos.com/menu.html
Address: 1925 Liberty Ave, Miami Beach, FL 33139
Budget: $

IF YOU'RE LOOKING FOR….ROMANTIC:
Mandolin Aegean Bistro
This place has wonderful Greek and Turkish food, and a lot of the menu offerings are small plates that are great for sharing. Not only is the food delicious and fresh, but Mandolin Aegean Bistro has a lovely, intimate courtyard where you can enjoy your meal. Unfortunately I only snapped a quick photo of this meal, so apologies for it being dark and grainy, but hopefully the ambiance translates a little!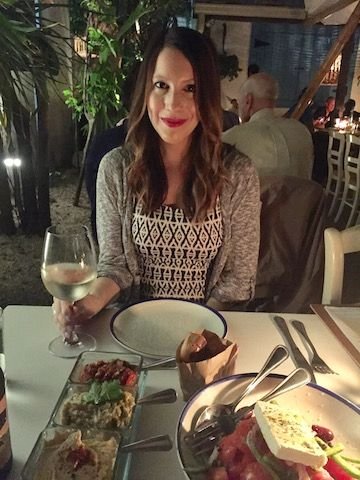 Website: http://www.mandolinmiami.com/
Address: 4312 NE 2nd Ave, Miami, FL 33137
Budget: $$
Byblos
Byblos is a great place for a romantic dinner. The food is delicious and the venue is incredibly hip and stylish. They describe their menu as "Eastern Mediterranean" and some examples of the items on the menu include turkish manti dumplings, duck kibbeh, lamb ribs, and various beautifully prepared vegetable sides and rice dishes. The menu is great for sharing a variety of the tasty dishes. Some dishes I enjoyed during my visit included the hamachi with jalapeño labneh, sweet red onion, cucumber and lime, the grilled broccolini with tomato fenugreek sauce, crispy garlic and olive oil, and the mejadra. All super flavorful, creative and delicious! All this, and their cocktails are also fantastic! (photograph below of the nightingale sour)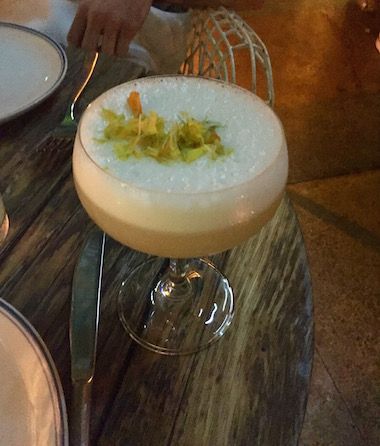 Website: http://www.byblosmiami.com/
Address: 1545 Collins Ave, Miami Beach, FL 33139
Budget: $$$

IF YOU'RE LOOKING FOR….ARGENTINIAN:
Los Fuegos by Francis Mallmann
I'm a Francis Mallmann fan, so of course I had to try his Miami restaurant. If you ever want to learn more about him, he is one of the chefs featured on the first season of the Netflix docuseries Chef's Table. To give a quick background, he is a well known Argentinian chef who has gained notoriety for his Patagonian methods of barbecuing food. Los Fuegos offers an opportunity to get a little taste of his work, where you will enjoy a contemporary asado experience wish dishes prepared in an open-fire kitchen. The food is exquisite, and the wine list is extensive. This place is on the pricey side, but totally worth it!
pictured below: one of the crudo starters offered - yellowfin tuna with mango, shaved avocado and cilantro aioli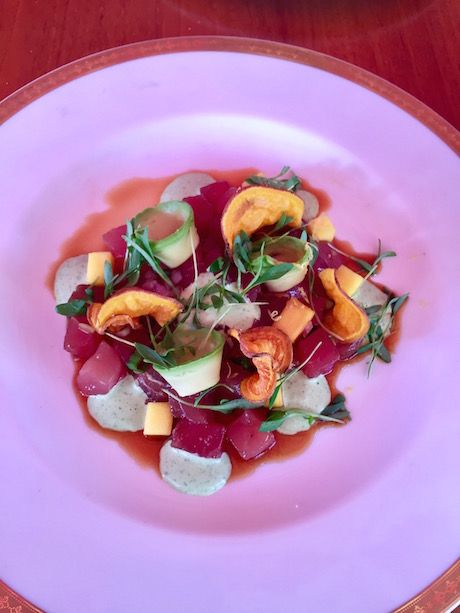 Website: http://www.faena.com/miami-beach/restaurant/los-fuegos-by-francis-mallmann/
Address: 3201 Collins Ave, Miami Beach, FL 33140
Budget: $$$

IF YOU'RE LOOKING FOR...SUSHI:
Toni's Sushi Bar
In a sea (pun-intended) of overpriced sushi restaurants, Toni's stands out for its no-frills, laid back vibe. The focus here is on serving quality sushi, and it shows! The place is fun, lively, and was completely packed when we went here for dinner. We ended up sitting a the bar eating next to a local, who informed us that Toni's was the first sushi restaurant to open in Miami beach. A true classic!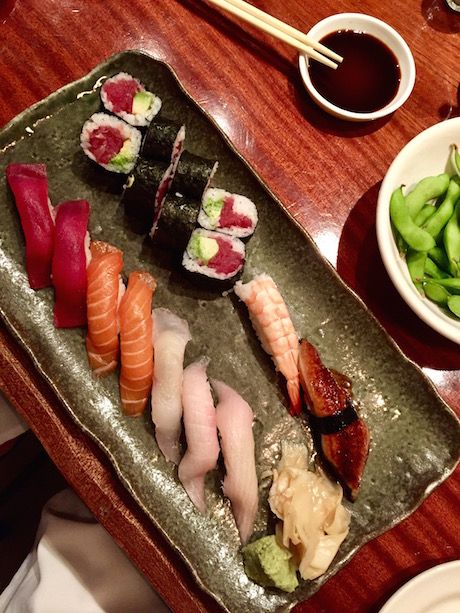 Website: http://www.tonisushi.com/
Address: 1208 Washington Ave, Miami Beach, FL 33139
Budget: $$

IF YOU'RE LOOKING FOR….A SANDWICH BY THE BEACH:
La Sandwicherie
This place is a South Beach staple, perfect for if you are looking to grab a quick bite to eat, or if you want to pick up a sandwich to enjoy at the beach. They offer authentic, fresh French sandwiches, topped with the restaurant's signature vinaigrette sauce.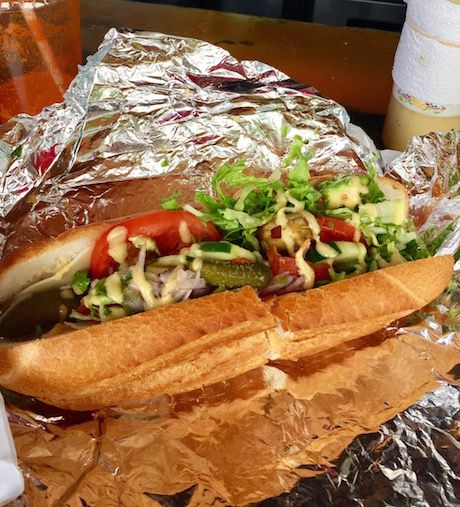 In addition to the great sandwiches, they also offer delicious smoothies and fresh juices. Be prepared for a crowd, and be ready to wait, but if you're lucky a seat will open at the small bar area and you can watch the staff work their magic while you enjoy your delicious sandwich!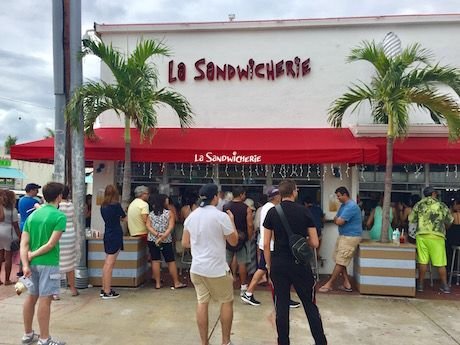 Website: http://www.lasandwicherie.com/
Address: 229 14th St Miami Beach, FL 33139
Budget: $

I hope you enjoyed this post. Please keep an eye out for my next post about Miami detailing the best café spots in the area!