Would you like to visit with me the new building of the Alliance Française in Bangkok because if you live in Thailand or you are an AF member in another country, you might like it?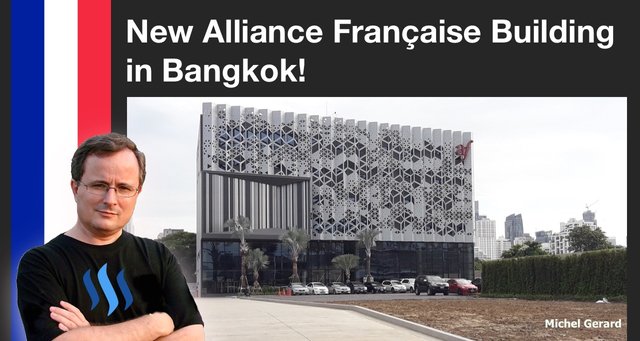 The new AF building is not far from the old building, just on the other side of the road in fact. You may want to read my previous post about the Alliance Française: A Morning at the Alliance Française in Bangkok.
New Alliance Française Building in Bangkok!
Today I'd like to show you the new building of the Alliance Française in Bangkok, which just opened this 27 July 2018.
Every Saturday morning we go to the Alliance Française as my daughter has a 2-hour French class there and she was excited to start her lessons again after a one-month break.
This is the new building, which is taller and more spacious than the old one.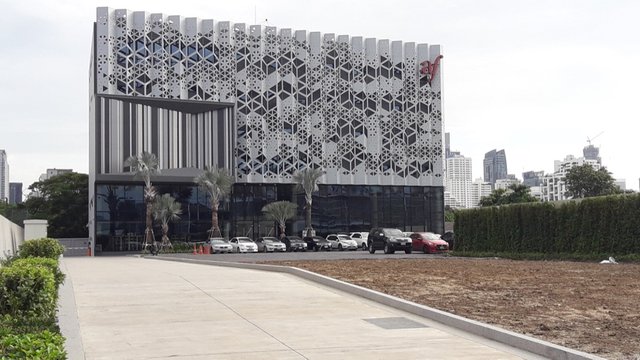 They seem to have improved the parking issue with an underground parking lot that might be reserved for staff and a wide area at the front. It seems like they have another piece of land for extension, which would be great.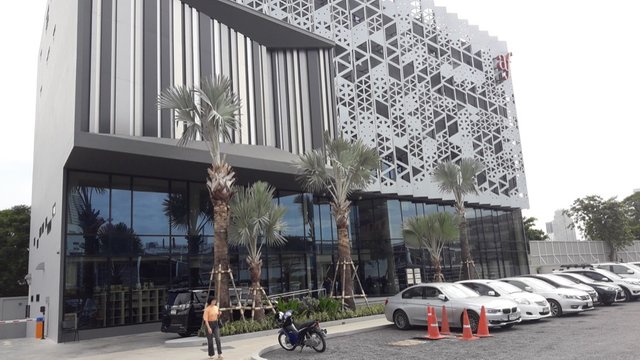 Ready for the first class, in this new building, with a new teacher.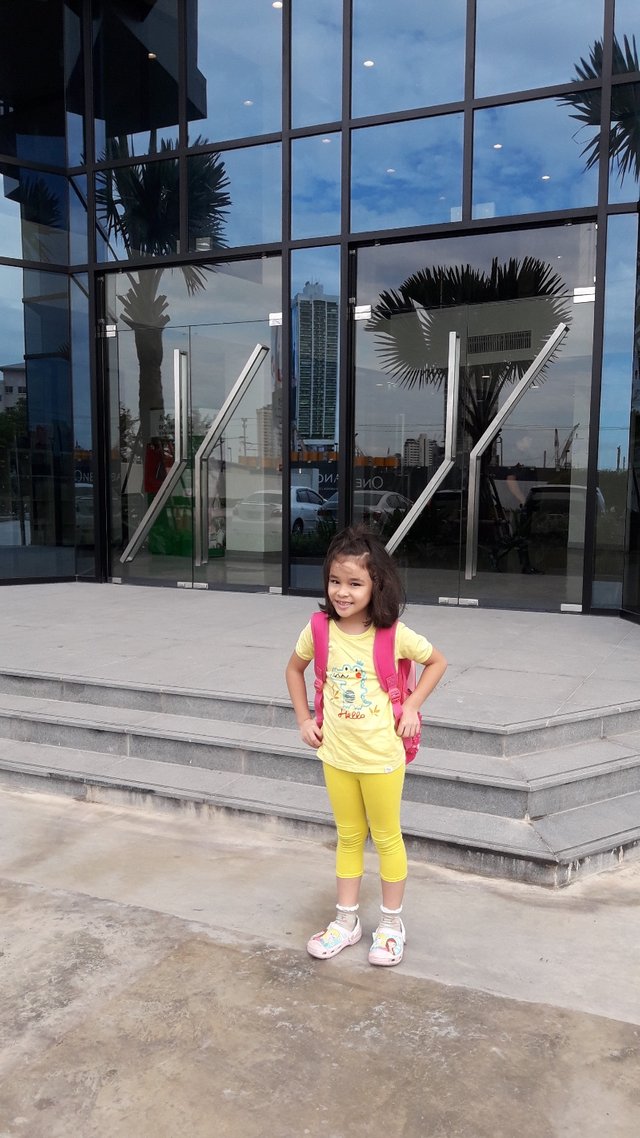 Immediately at the left of the entrance, you have the bookstore and the ATM machine.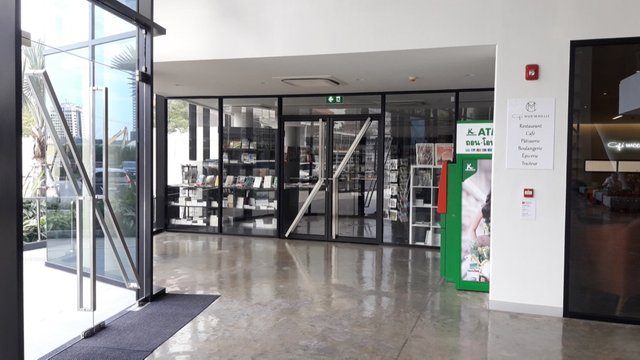 Then you have a new restaurant "Mademoiselle."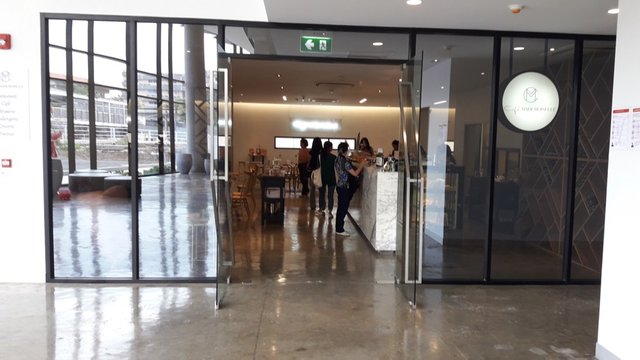 At the right of the entrance there is the information counter and the school registration office just behind it.
Two large lifts, which is much better than the ridiculous small ones that the old building had.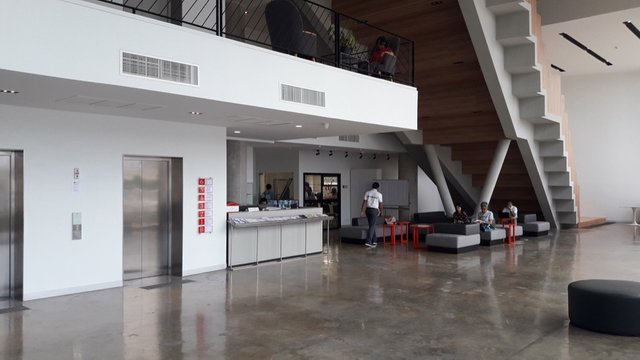 You can also take these beautiful stairs to go to the media library and the movie theater.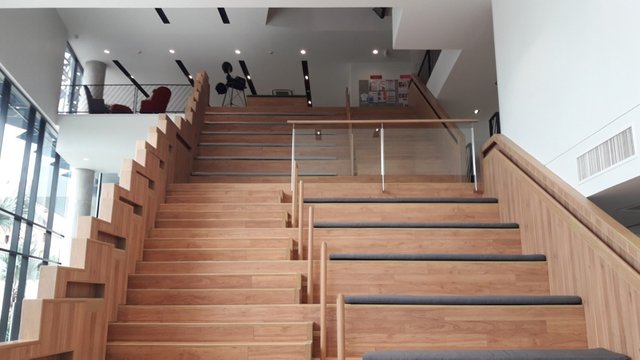 The movie theater.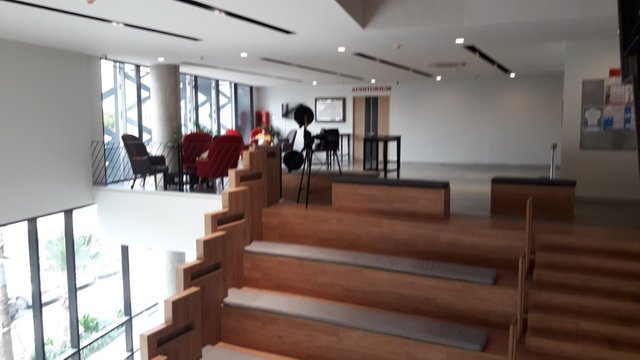 Then, you can continue upstairs with the metallic stairs.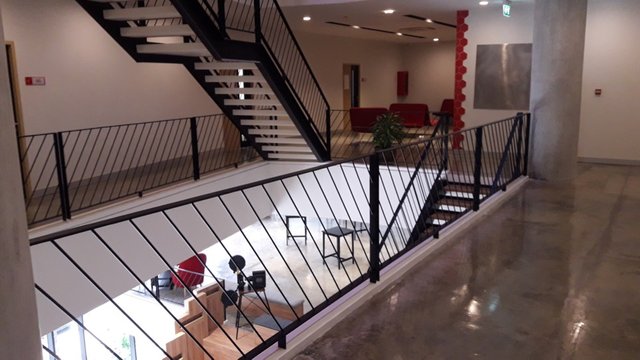 The classrooms are larger.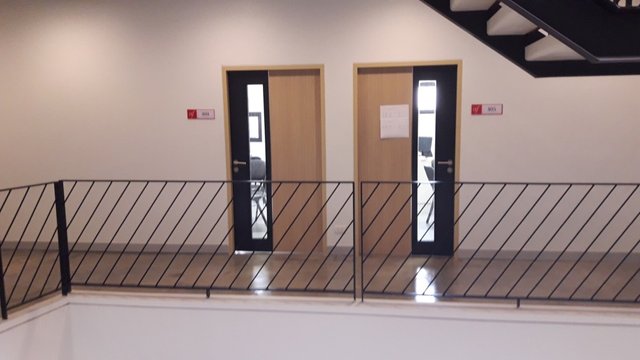 The whole building looks very much like the old one in its architecture, in better I would say.
I was eager to eat my breakfast in the restaurant of the Alliance Française as usual, but the restaurant has changed.
It is now called "Mademoiselle" and is a kind of chic café.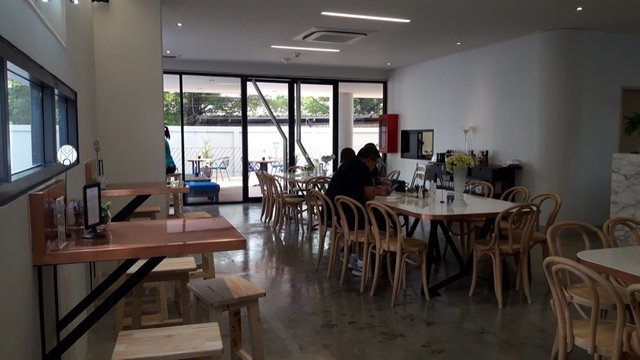 Beautiful place with very appetizing French croissants and pastries.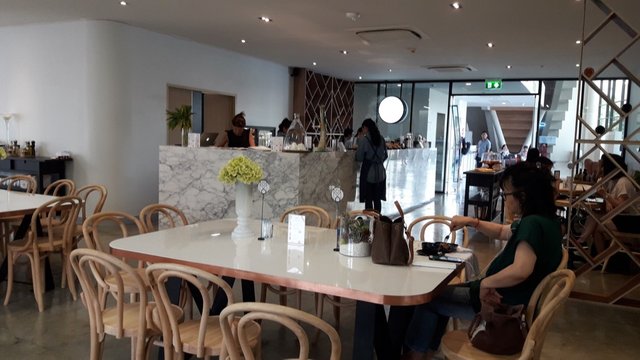 I didn't want the French breakfast with only bread and croissant, so I tried the English breakfast.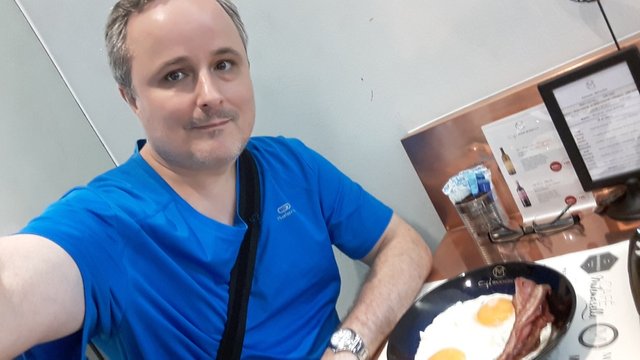 Eggs and bacon, which were good, but no baked beans tomato and sausage.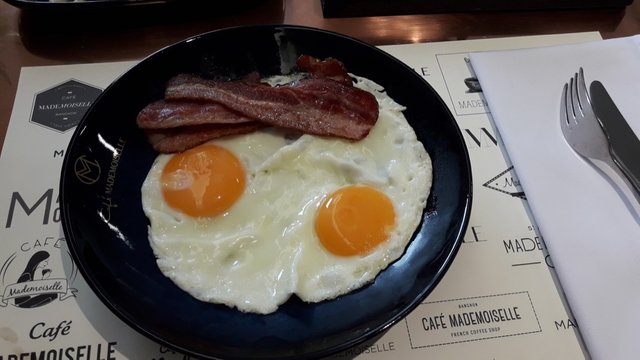 A few toasts and butter.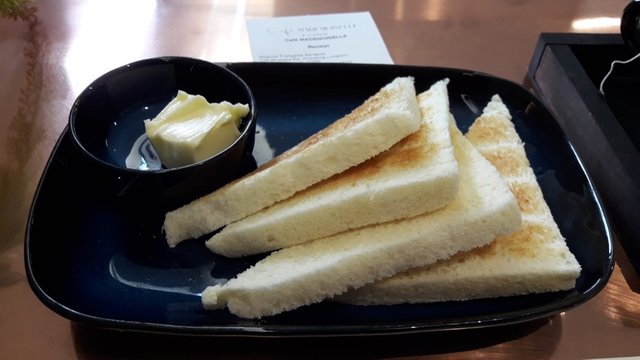 English tea.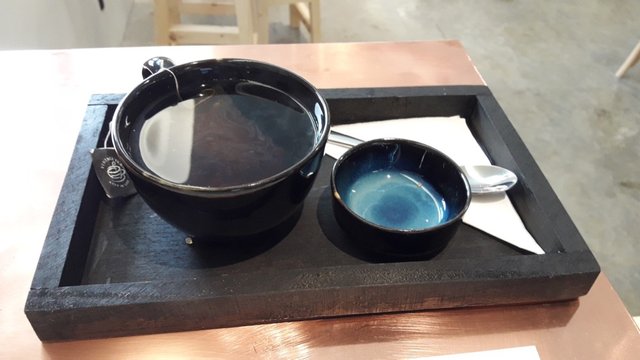 And the bill.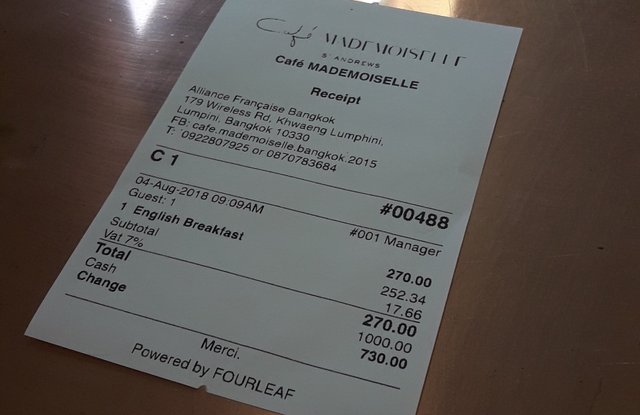 I can tell you that I was disappointed by this breakfast, to get so little food for 270 THB. Apparently they have Thai dishes that are cheaper, but it's what I already have all week long, so I will pass on that.
This is unfortunate that the Alliance Française did not continue with the old restaurant and their delicious food that was more affordable. This new one looks more like the cafés I go to when I stay in five-star hotels and not really where I want to be just waiting for my kid to finish class.
This is what I usually had at the old restaurant for 210 THB and I loved it.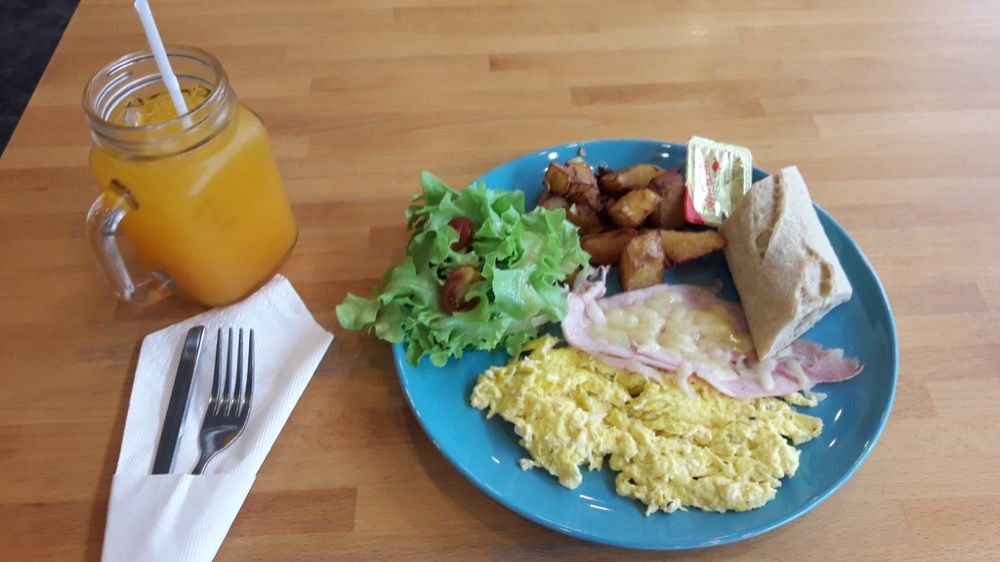 Unfortunately, no idea where that restaurant went!
Here I am at the front of the new building just after my walk at the Lumpini Park.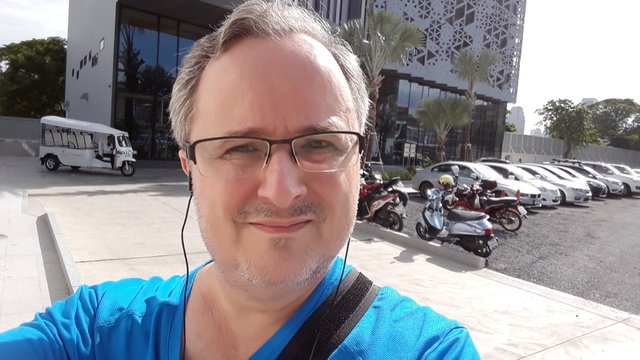 If you would like more information about the Alliance Française, you may want to see their Facebook page: https://www.facebook.com/AllianceFrancaiseBangkok/
Would you upvote this post and follow me for more because this will encourage me to write more posts about life in Bangkok like this one?
I have categorized my posts on Steemit for easy access:
Steemit tools | Steemit strategies | Steem economics | Steem on WordPress | Blogging on Steemit | Steemit posts I curated | Cryptocurrency | Cryptocurrency trading | Mac computer tutorials | WordPress & online marketing | Self-development & motivation | Travel in Thailand | Travel in Japan | Travel in France | Life in Thailand | Fitness challenge | Fruit-veggie juices & smoothies | Education | My answers on Quora | Fundition tutorials & projects | Miscellaneous writing
You may prefer to go to my Steemit Posts Directory.
The most important votes you can make on Steem are for Witnesses. The top 20 witnesses can influence the addition or removal of features in future Steem hard forks. Read my post: What is a Steem Witness, How to Vote and Why?
Michel Gerard