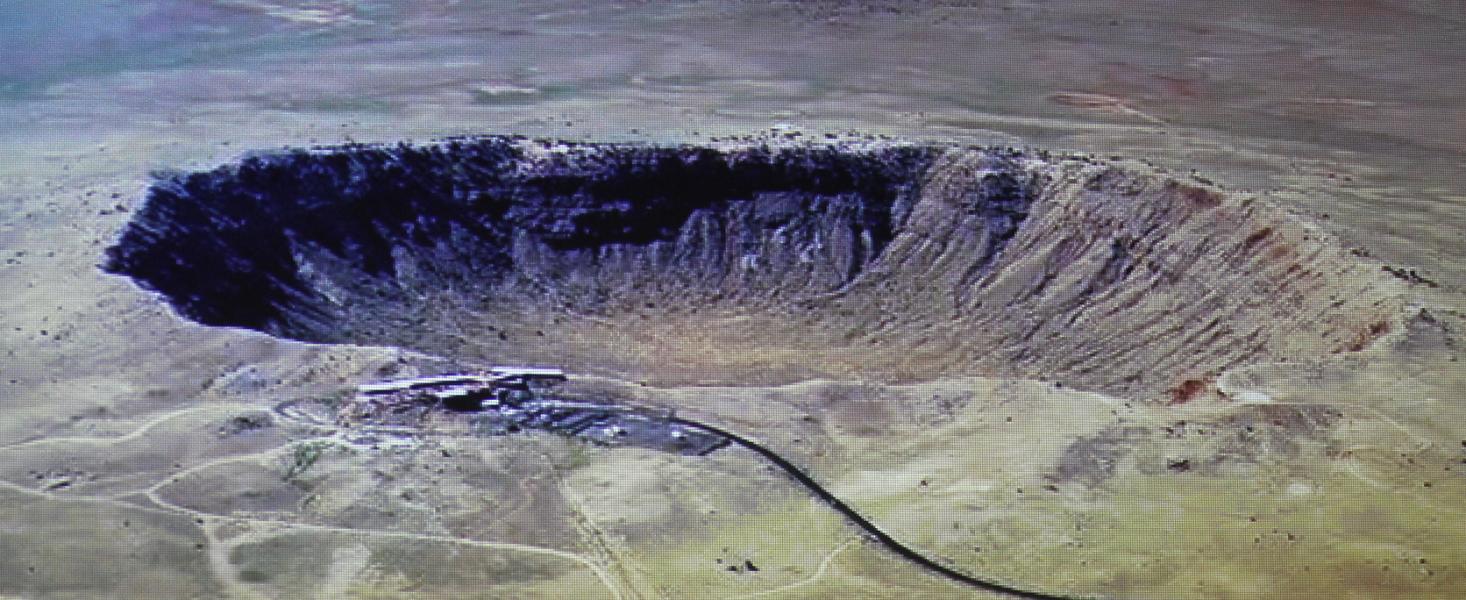 Meteor Crater, Arizona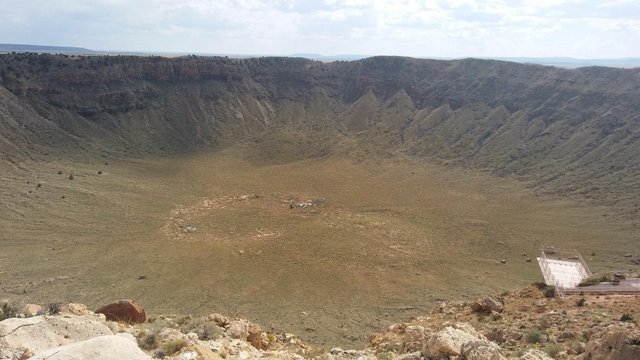 I had a chance to visit Meteor Crater, near old route 66 in Arizona recently. It is quite a wonder to stand upon the rim of the crater and see the whole thing at once. Nothing that a camera can quite capture. Nonetheless, I tried to take a few photos to share with you all.
The crater is the best-preserved meteor impact crater on our planet. It was formed roughly 50,000 years ago when a 45-meter wide meteor weighing about 300,000 tons came screaming into the atmosphere at 26,000 mph.
The impact had a force of 20 million tons of TNT and created a 1.2km wide pit with a depth of 550 feet. It took just 10 seconds for the whole crater to be created.
To visualize the size of the crater, picture 20 football fields on the crater floor with the crater walls turned into seating for 2 million people!

Click For Expanded View
While it may seem obvious to us today, back in the 1800's it was thought that this crater was formed by volcanic steam. Back then, they believed that all craters on Earth were formed by volcanic activity.
The Man
But in 1903, a man named Daniel Barringer told people that he thought the crater was formed by an impact of a large iron meteorite. Plenty of meteorite pieces were found strewn about the area, but to most people of the times it was merely a coincidence.
Barringer had become rich from investing in a silver mine and looked to become even more wealthy from mining this meteor that he believed lay beneath the crater. His estimate was that the mass that hit was in the 100 million ton range. At $125/ton for iron ore, that meant he was looking for $1 billion worth of iron in early 1900's dollars! If you remember, the actual size was around 300,000 tons, or just 0.3% of his estimate.
To get his hands on this payday he staked a claim for 640 acres, which included the crater and lands surrounding.
It was the start of 27 years of effort. He drilled multiple shafts down to 3km. But it was all in financial vain. It wasn't known at the time, but there is no large chunk of meteorite. It had been fragmented upon impact. About half was in small fragments beneath the crater, and half ejected all around the local area.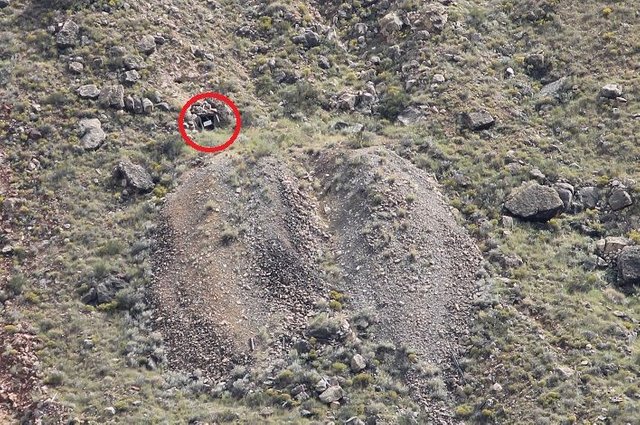 The good news is that he ended up expanding the knowledge of meteor craters with his scientific observations. Later scientists would build upon his data.
In honor of him, the scientific community refers to Meteor Crater as Barringer Crater. Every year the Barringer Award is given to outstanding scientists in the field of crater studies.
Other Things of Interest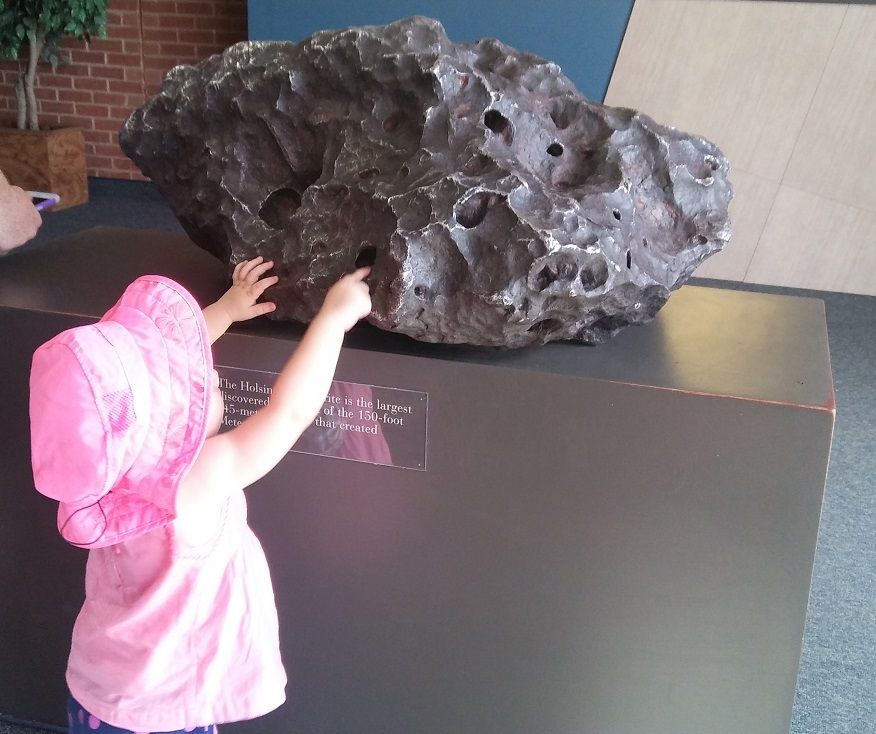 The largest piece is this Holsinger meteorite. You can touch it if you visit, as you can see my daughter doing.
---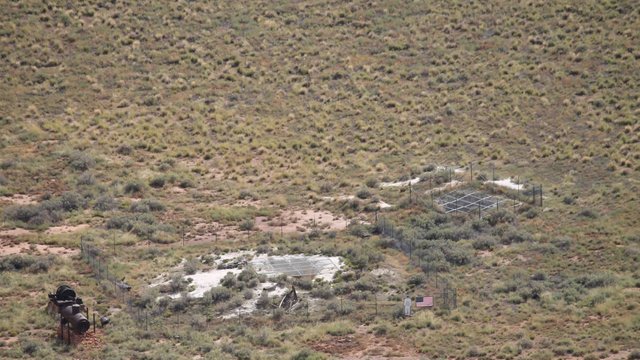 You can see more of Barringer's drill shafts covered up
Back in NASA's Apollo mission days, astronauts were trained on the crater floor. In remembrance, they left behind an astronaut cutout and flag down there. There is also an Apollo training capsule in the courtyard of the visitor center.
---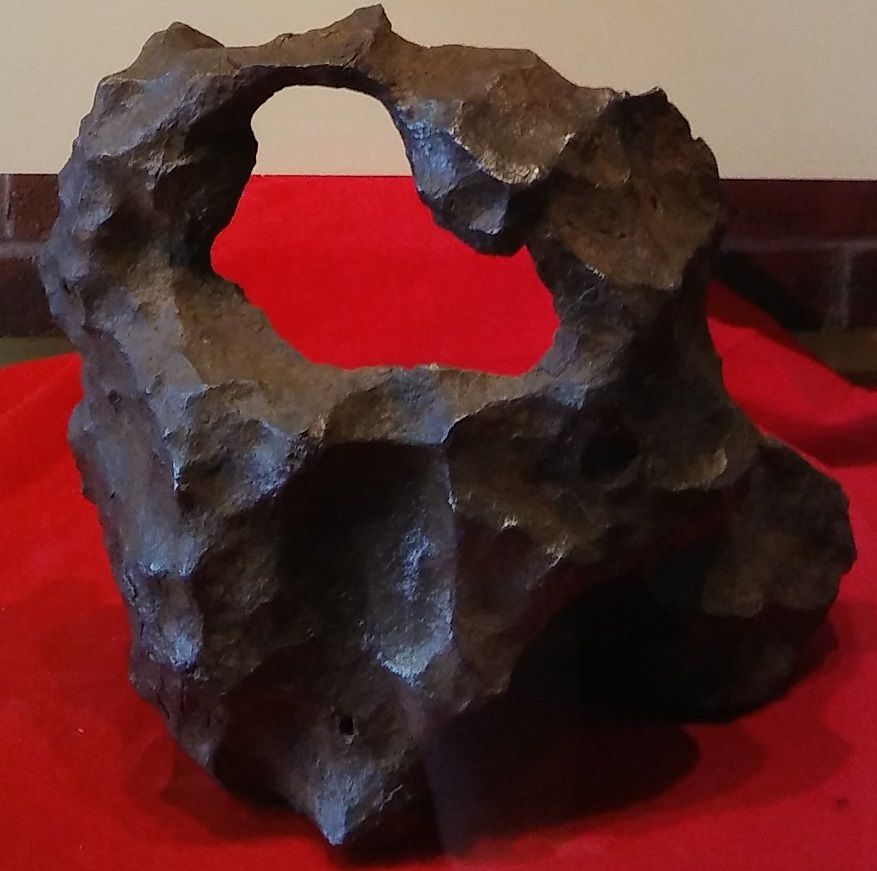 A piece of the meteor was shaped like a basket with a handle. It was discovered by a rancher in the 1940's and placed on display in the museum at the visitor's center. On August 12th, 1968 the piece was stolen!
It showed up again in an estate sale in Wisconsin in 2006. Buying the piece for its metal content, the purchaser used it as a counter-weight for his grandson's basketball backboard. One night he watched a TV show about meteorites and thought that what he had might just be one, so he took it to the Chicago Field Museum to be examined. It was recognized as a meteorite and the infamous basket meteorite stolen decades before! It was returned to the Meteor Crater museum in 2009.
Interestingly, the crater is still privately owned by the Barringer family by way of the Barringer Crater Company. If you are going to visit the hours are from 8 am to 5 pm and the entrance fee is $18 for adults and $9 for kids 6-17.