Hello dear Steemians,
some weeks ago, a friend showed me a very interesting exclusive travel club and Im very impressed about this service!
I decided to become partner of this company, because I can give a big added value to everyone.
Now Im able to invite people to this travel club as customer and you don´t have to pay something to become member and to check out the cheaper travel offerings.
You can just sign-up for free and benefit of cheaper prices against the big comparison sites for flight-, hotel-, car-rental-bookings and more!
Here are some examples:
There is even a price guarantee, so that if you will find a cheaper offer on another website, you will receive 110% of the difference price back!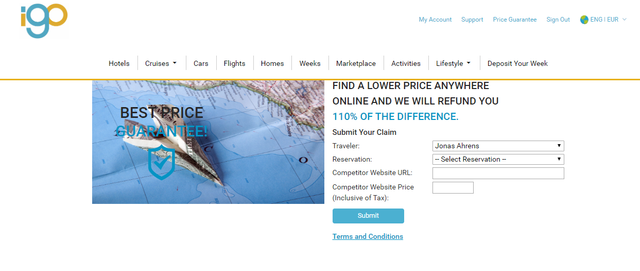 If you are interested to receive a personal invitation to check out the website and the travel offerings, just write me an email to [email protected] with your contact details.
I need your First- and Last-Name, and your Mobile Number and I can send you a so called "Boomerang" (invitation as free member of the "igo" travel club).
The invitations are limited and this is not a marketing move from me, I really only have 50 "Boomerangs" for the start and 10 more for month for free to send out. Of course I can buy more "Boomerangs", but then I have to pay for it.
I will also inform you about the benefits for business partners in my future posts in the next weeks and of course you can ask me for more information in your email too.
Here is my email address again: [email protected]
Im looking forward for your feedbacks to my email address and hear you everyone!
Jonas - @future24
---
PS: This post was published with the Esteem Surfer Software by @good-karma and the @esteemapp team.