Deserts Comes To Life With Tea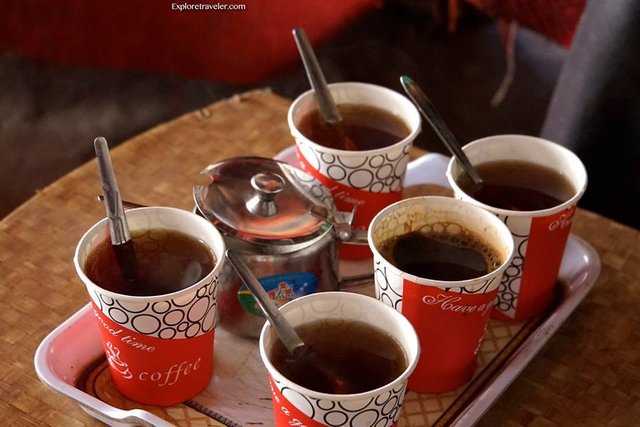 Deserts Comes To Life With Tea
The Deserts springs to life, as tea is served. Have you ever considered exploring some of the hottest deserts in the world? How about taking a break and having tea under a goat haired tent in the desert? Have you ever thought that it would be refreshing and make you cooler? All these things are possible when you explore the deserts of Jordan. These intensely hot deserts are home to groups of Bedouins who are nomadic. In the midst of some of the harshest conditions on earth, tea is served.  Can it be any better?
The Bedouins like to use Maramia Sage from the desert. Maramia  is one of  the desert sages available to them. The leaves smell like a minty mixture of Anise and Basil. There is a slight elegant aroma of Thymine. They blend the sage with a small amount of dried Galangal root or Galangal leaves. Some Bedouin groups like to add a few Libyan black tea leaves when they are cooking the tea. The tea has a slight mint taste and a pleasant herbal aroma. This unforgettable aroma will remain with you for hours. Tea in the deserts of Jordan is amazing! 
There is absolutely nothing that can surpass a large cup of tea in the afternoon. The hot air of the Jordan deserts can be extreme. The deserts have heat that is intense. Just when you are sure you will never get cool, tea is served. Sage tea is known for its cooling effects on the body. As you travel throughout the deserts of Jordan, you will find that each group makes their tea a little different. Some add only the Sage and Galangal leaves, while others like to add a touch of honey. Black tea is used by some and sometimes cinnamon sticks or Cardamom are added. Regardless of the variety, tea among friends is an amazing experience! 
 ExploreTraveler has been creating travel articles, books, videos, and podcasts for several years now. It is our intention to bring our older material for others here to enjoy here on Steemit, and to create new material here as well. We invite you to click on our links to the original content, and to also follow us there as well.     
 This was originally published on  exploretraveler.com September 2, 2015  at:  
https://exploretraveler.com/deserts-comes-to-life-with-tea/
 If you have come from our website, ExploreTraveler.com
Twitter Page, ExploreTraveler
Facebook Page, ExploreTraveler  
 Helping bring the world together one friend at a time. So travel 
and discover that the world is full of wonderful people." - ExploreTraveler 
 We have a travel tip audio book that you can purchase at Audible --> Here
Happy Travels, 
    © 2017 ExploreTraveler. All Rights Reserved