EuroVelo 7 - Kralupy nad Vltavou to Usti nad Labem 105 km
Today's post highlight is from the northern part of the Czech Republic, downstream Melnik on the Elbe river.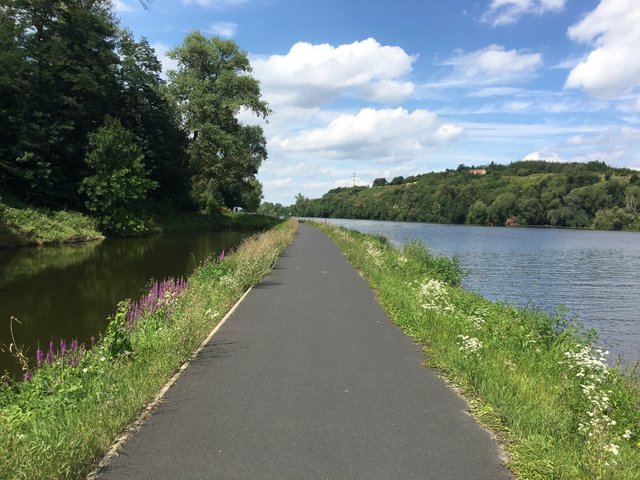 This was the last day on EuroVelo 7 for the year 2017 out of a total of 10. The initial plan was to start in Linz and ride north to Dresden following EuroVelo7 route. I was very close to accomplish that, my error was -100 km or 1 day but I've made good use of my time and covered in total 548 km that year. It was a beautiful day back on the 6th of august 2017 from what I recall, perfect for touring, not very hot and a bit cloudy in the morning when I left hotel Sport in Kralupy nad Vltavou around half past nine.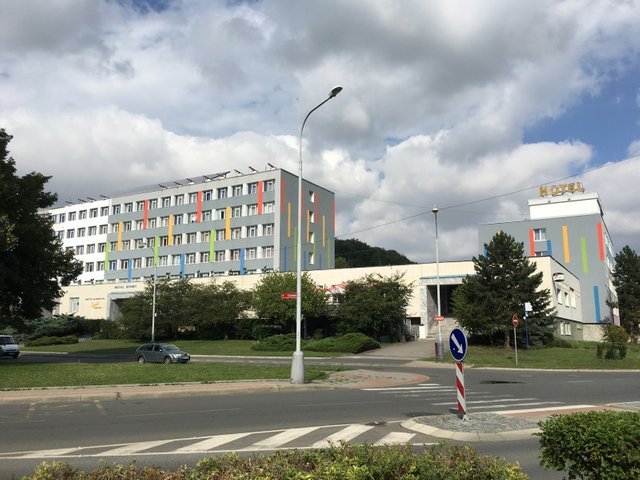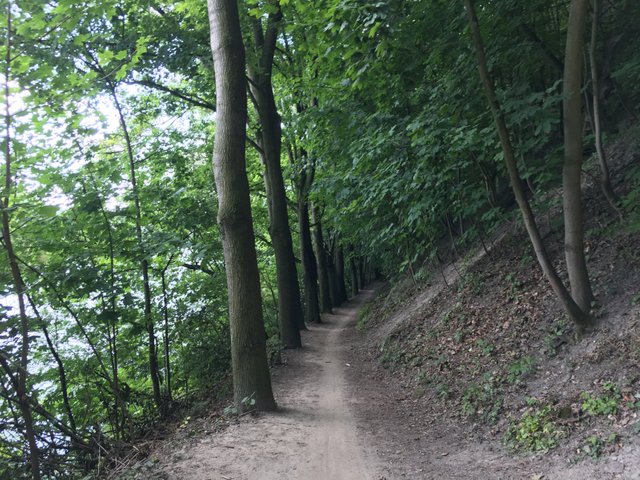 Found this beauty on my way through Veltrusy this morning. The Veltrusy Mansion which was built in 1716 is a baroque chateau situated on the right bank of Vltava about 25 km north of Prague. It was completely renovated in 2015 after being severely damaged by the 2002 flood and now it is open to the general public for visits. I just stopped to have a closer look and to take some photos and rest a bit, but if you plan to visit it may be you should know that there is also a large romantic park surrounding the chateau, plus Veltrusy natural monument in the vicinity of the castle.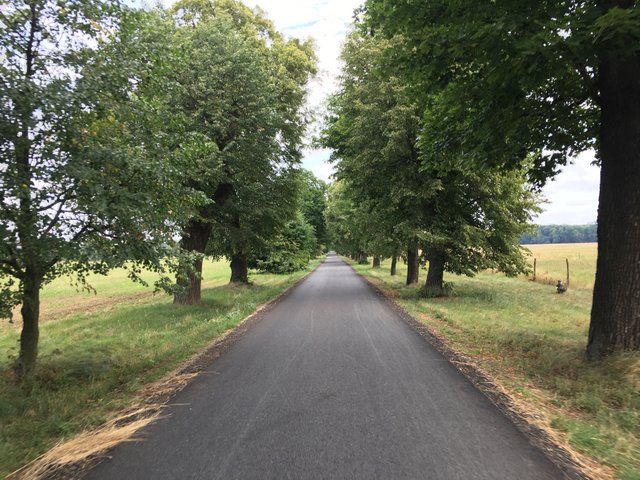 Here on the right you can see a hop farm, so don't be surprised why the czech beer tastes so good.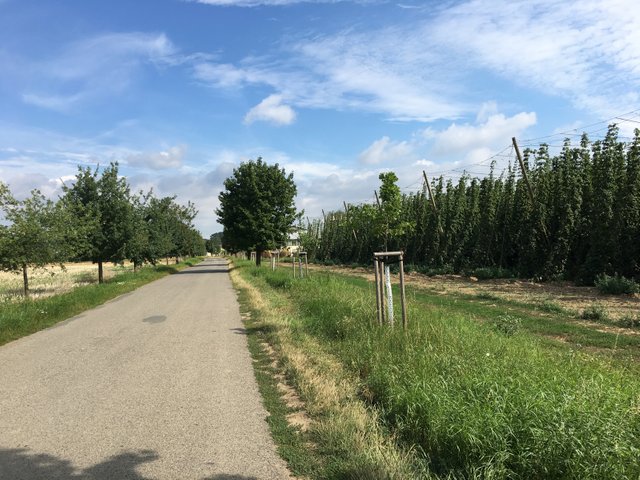 I confess I was a bit surprised when I had to take the stairs, I tend to prefer to ride on flat surfaces.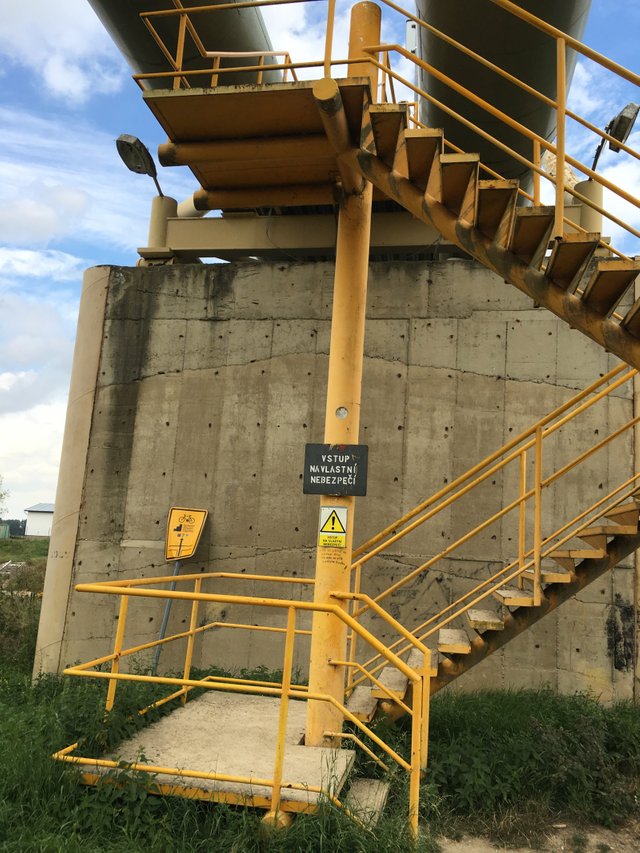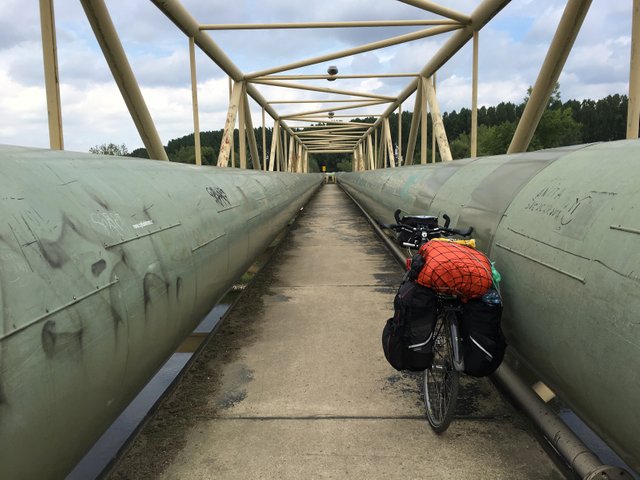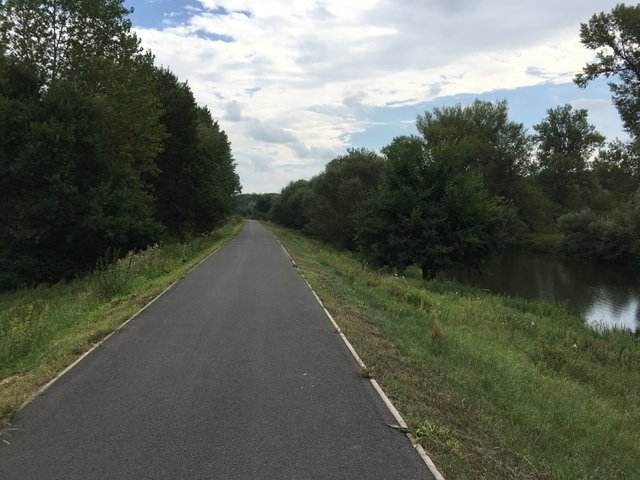 Love to see families riding on EuroVelo, I need to try that myself, initially I was thinking to do it this year with my wife and our 5 year old sun but changed the plans a bit due to this extended bear market. I refuse to sell any STEEM at 0.2 EUR but I am now more confident than ever that better days are on the horizon for the Steemit ecosystem considering all the latest developments. Actually I am willing to put this year EuroVelo 7 trip on hold and invest my trip budget into STEEM power and wait longer so I can later discover more of EuroVelo and share it all here with you. I am still here writing on Steemit happier than ever before trying to focus on my content, not on hosting, plugin updates and advertising, so why wouldn't I trust in our bright future? ("just my opinion, no financial advice")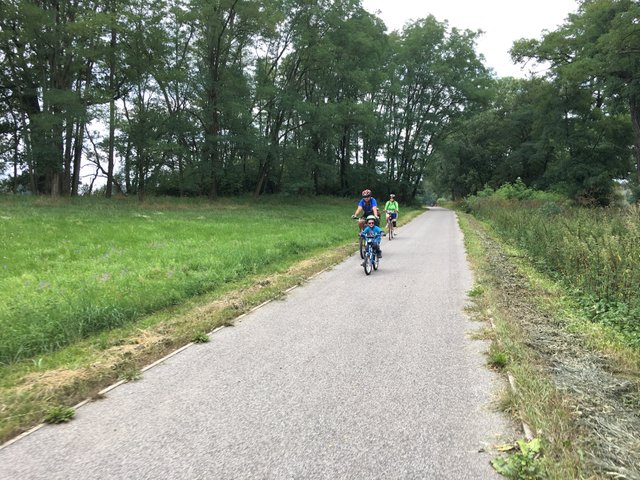 Here you can see Melnik in the distance, the point of confluence between Vltava with Elbe rivers. So for me now it's time to say: good bye Vltava! I sincerely enjoyed cycling along your banks for the past 7 days and I will recommend it to everyone (you can check my previous 7 posts).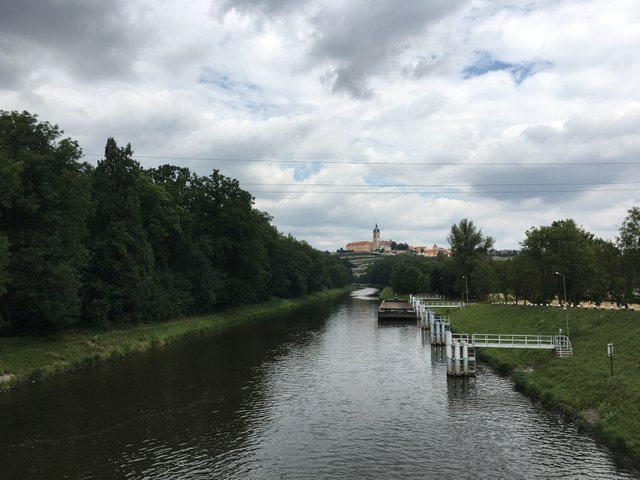 Found the actual confluence photo on Wikipedia for you.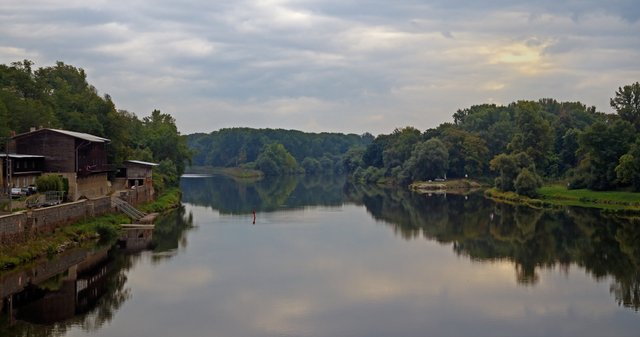 I also found the confirmation I am still on the good route to Cape North :)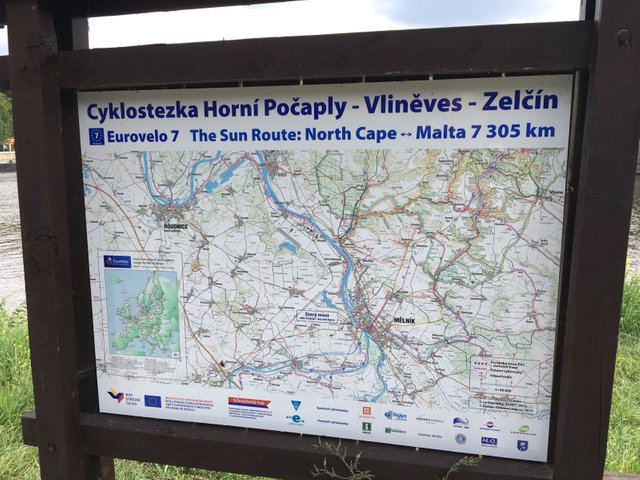 Hello Elbe, so glad I finally see you! Here are some quick facts about Elbe from Wikipedia for you: one of the major rivers in Central Europe with a total length of 1094 km and a catchment area of 148268 sq km, the fourth largest in Europe after Volga, Danube and Rhine. The Elbe basin spans to four countries (Germany 65.5%, Czech Republic 33.7%, Austria 0.6% and Poland 0.2%) and is inhabited by more than 24 million people. It rises in the northern Czech Republic mountains and flows into the North Sea at Cuxhaven, 110 km northwest of Hamburg.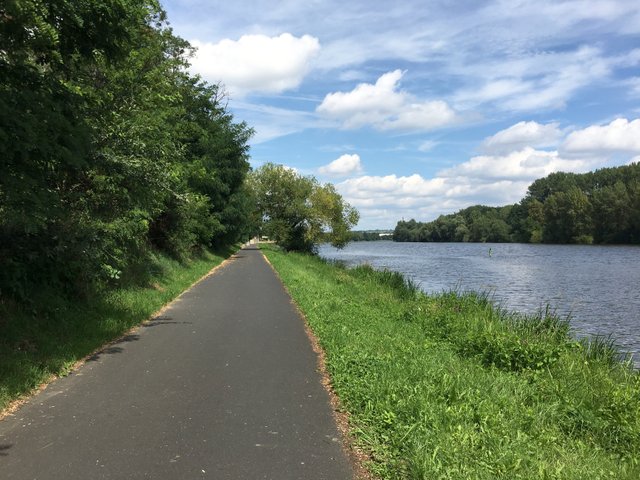 It is really easy and enjoyable to ride along Elbe, flat high quality asphalt surface, no motorised traffic...the dream of every cyclist.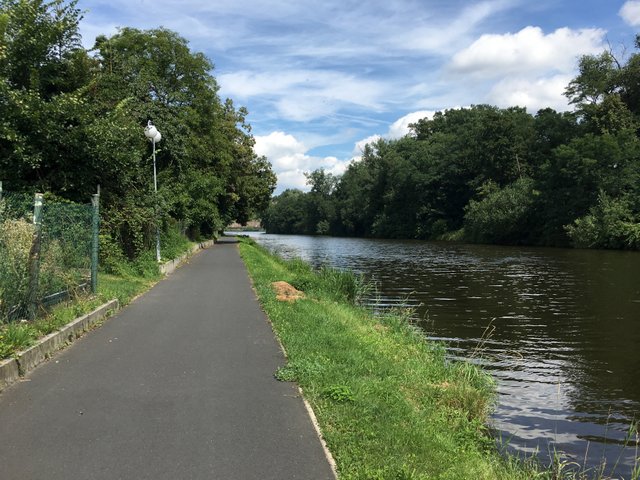 Found this monument with all the historical flood levels marked. It's hard to imagine that the Elbe waters so calm right now did rose so high in the past flooding and damaging everything around.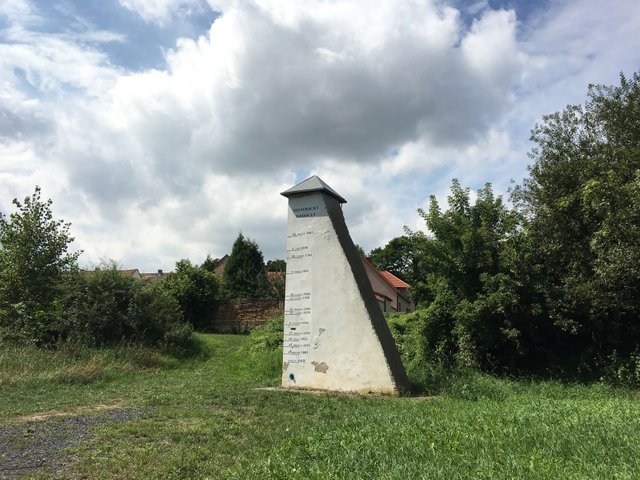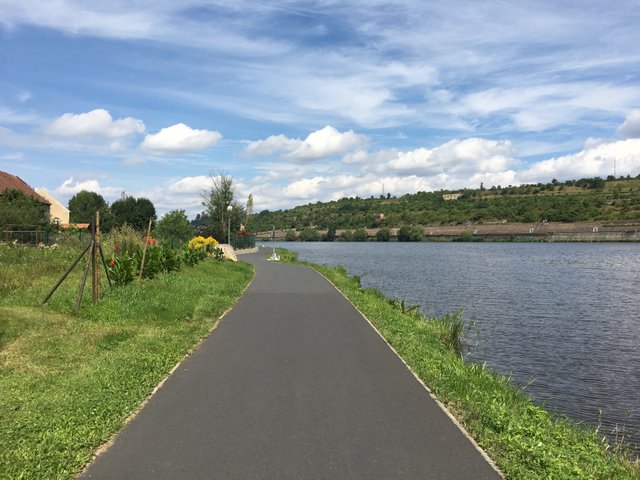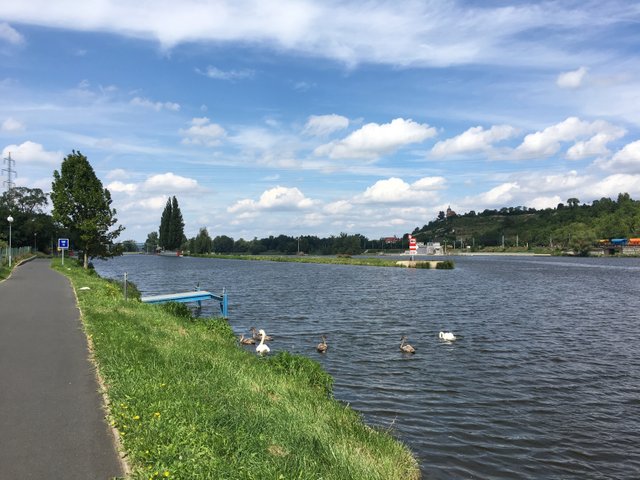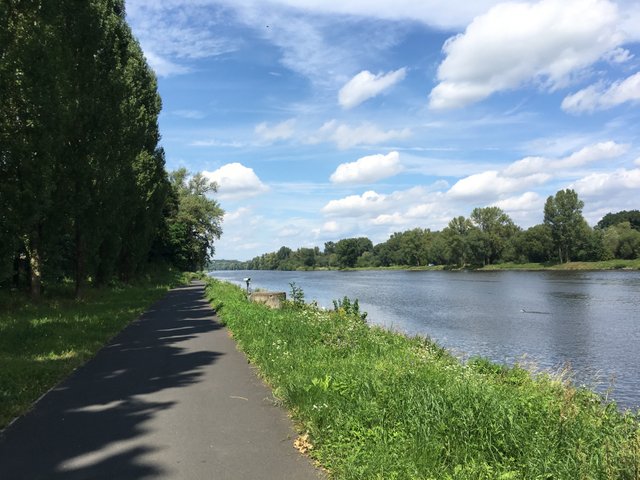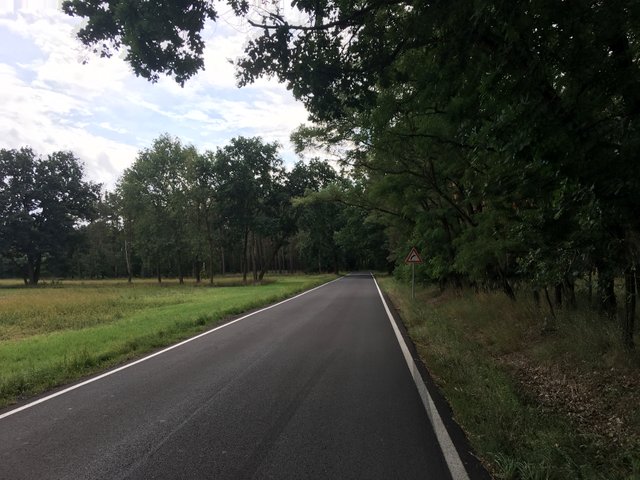 Getting closer to Roudnice nad Labem around noon is where I finally realised that I really don't have enough time left to reach Dresden this year, so I stopped for a beer at a terrace near the river to think and plan for my return home which was just around the corner on the following day. I believe it was because the bear was too strong :) that I reached the conclusion to continue another 50 km to Usti nad Labem, before going to the train station and return back to Prague that evening, then going to Berlin with the first train in the morning.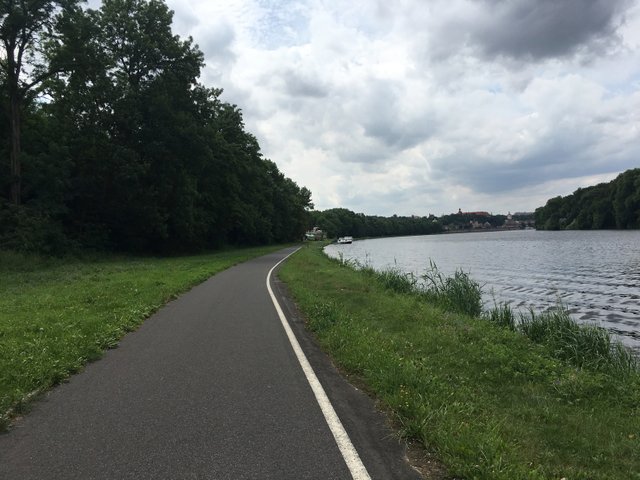 There are many locks like this on the Elbe which keep the water level deep enough for navigation even when the river flow is low in the summer. Elbe has been used for commercial navigation since 1842 and provides an important trade link for goods coming from Germany and all over the world through Hamburg, and can reach as far inland as Prague. There is a network of canals linked with Elbe which facilitates the navigation to the main industrial areas of Germany and to Berlin (Elbe Lateral Canal, Mittellandkanal, Elbe-Havel Canal), as well as access to the Baltic sea (Elbe-Lubeck Canal). By the Treaty of Versailles, Czechoslovakia was entitled to lease from Germany its own harbour bassin in Hamburg since 1929, ending in 2028. Since 1993 the Czech Republic holds the same legal position. More info about Elbe can be found on Wikipedia here.
I personally haven't seen much barge traffic on Elbe in Czech Republic but the locks and all the infrastructure seems to be in good working condition.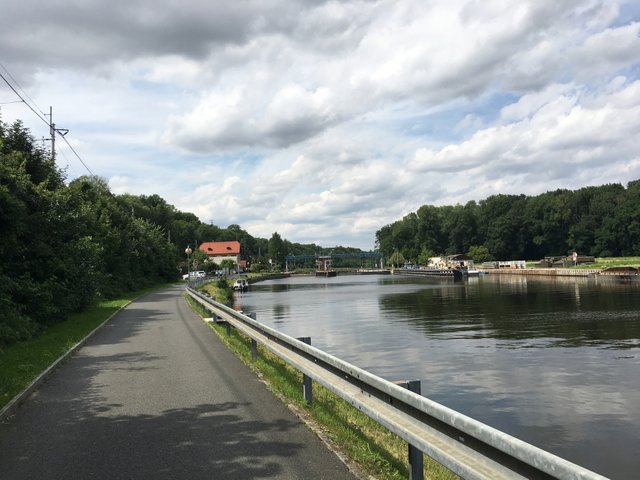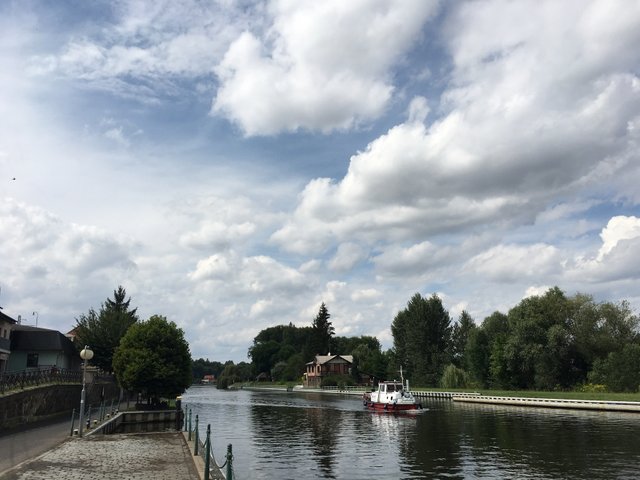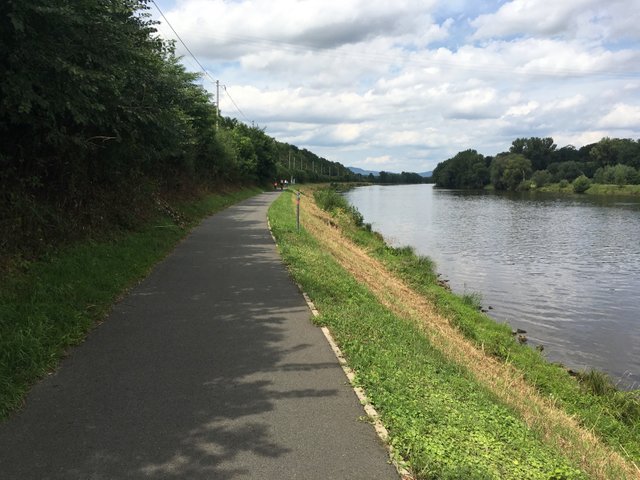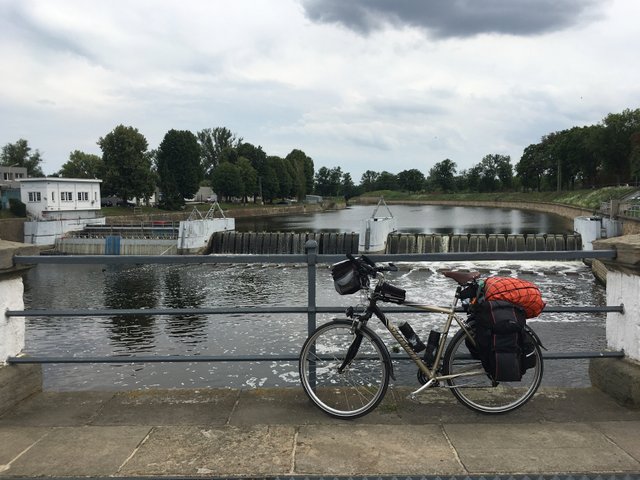 I was a bit surprised when later that afternoon I entered Terezin, a former military fortress and concentration camp. Didn't expected to see a concentration camp in my bike trips. Even though I didn't had much time for visits that afternoon I just couldn't continue. I think it was around 4 PM and the Terezin Memorial - Magdeburg Barracks museum was still open when I bought my ticket to go back in time in one of the darkest times for humanity. It is a very moving exhibition that illustrates the nightmare life in the ghetto. Staring from Nov 1941 more than 150000 Jews including 15000 children were sent here from all over the country, also from Germany, Austria, the Netherlands, Denmark, Slovakia and Hungary, of which 33000 died in the ghetto, although it was not an extermination camp. This was due to the extreme population density, malnutrition and disease. About 88000 inhabitants of Terezin were sent to Auschwitz and other extermination camps and only 17247 survived Theresienstadt. But the most moving part for me was looking at the collection of children's drawings made between 1943-44 that can be seen here. A total of 4387 drawings by Jewish children were found at Terezin after the war ended and all this due to a remarkable woman named Friedl Dicker-Brandeis (1898–1944). Friedl helped the children draw their dreams and happy places, unleash their fantasies and emotions which all had an invaluable therapeutic effect on them. You can watch a short video about her life here and you'll understand why she was an angel for many children locked at Terezin during those terrible years. Most of these drawings are kept at the Jewish Museum in Prague, you can have a look at some of them on their website here. More info about Terezin can be found on Wikipedia here.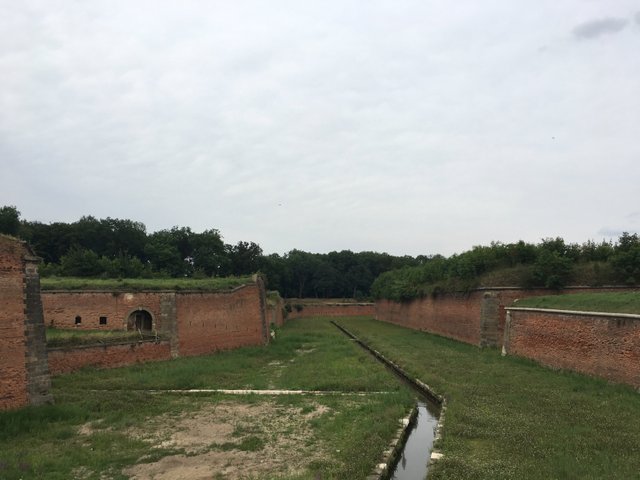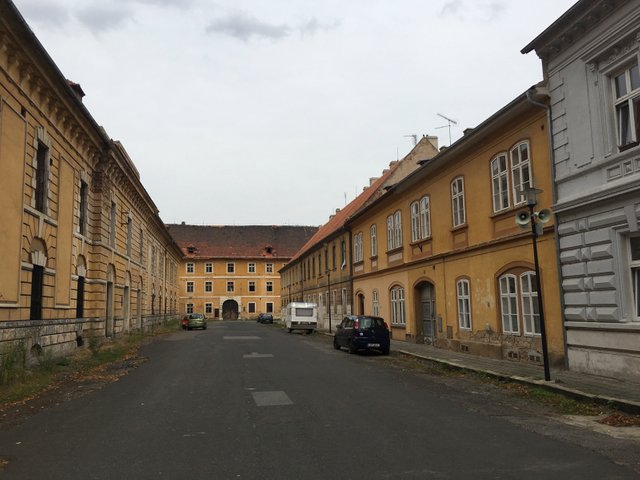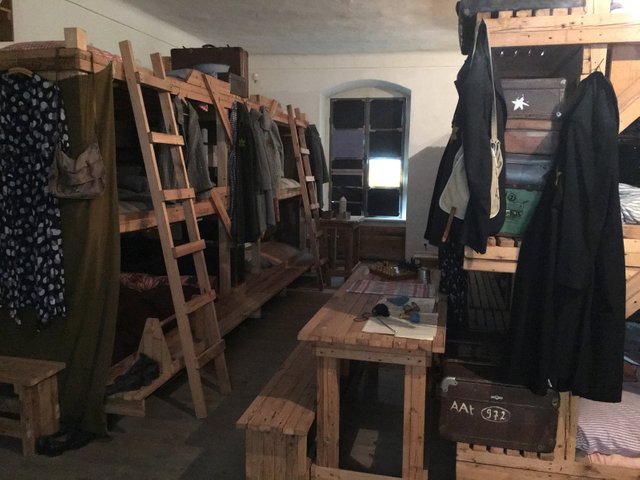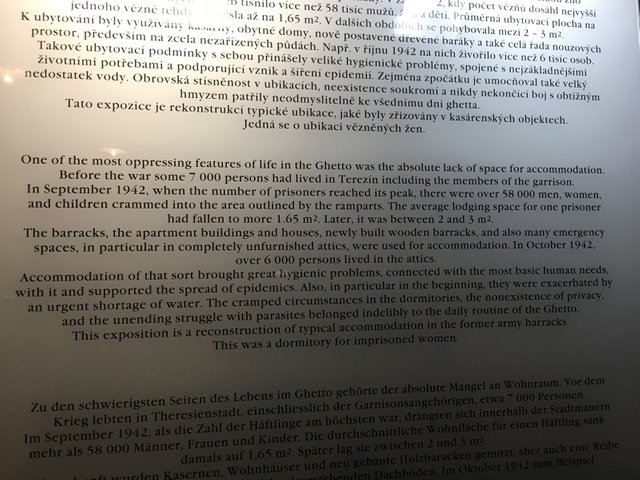 For more in depth information and ticket reservation you can have a look at the Terezin Memorial site here. A full ticket for one adult is around 7 Euros. I would recommend to anyone visit a place like this at least once in their lifetime. We are living times of great abundance and freedom for which we should be grateful every day.
Close to Terezin is the town of Litomerice where I did a short stop in the main square to gather my thoughts a bit after the emotional impact of Terezin.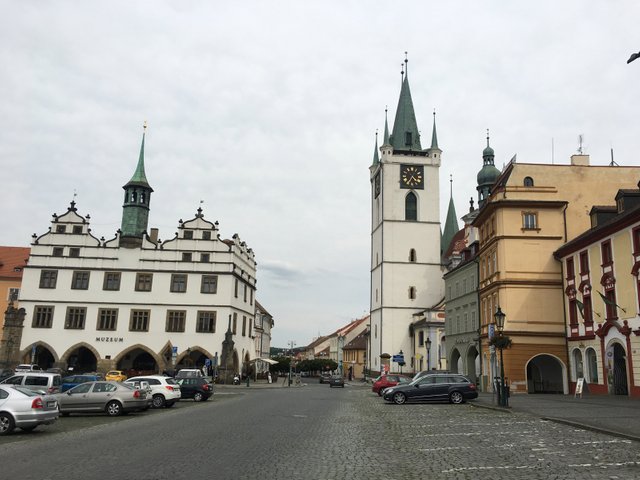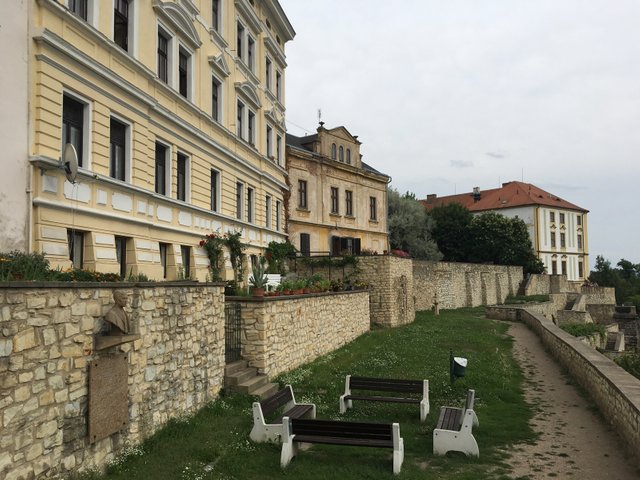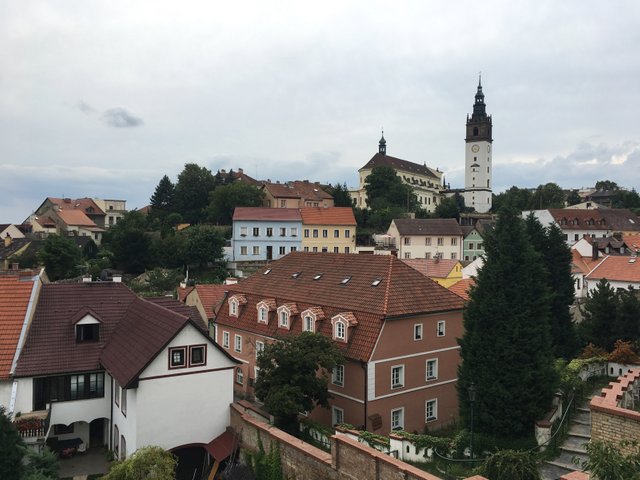 As you can see cycling on EuroVelo network has many advantages, you'll not only discover beautiful places and meet interesting people but learn history and geography as you go, all while riding your bike on marked routes with zero traffic or as close to as possible, which is only getting better by each year thanks to the initiative and implication of the European Cycling Federation and the EU. Can't say the same about my home country Romania, I believe we are the last in EU when it comes to developing the bike touring infrastructure, still this in not a priority for our government even though the country has a lot of potential. May be my blog will help our fellow politicians discover EuroVelo one day :)
Time to continue to Usti nad Labem this evening, the end point for our 2017 EuroVelo 7 adventure.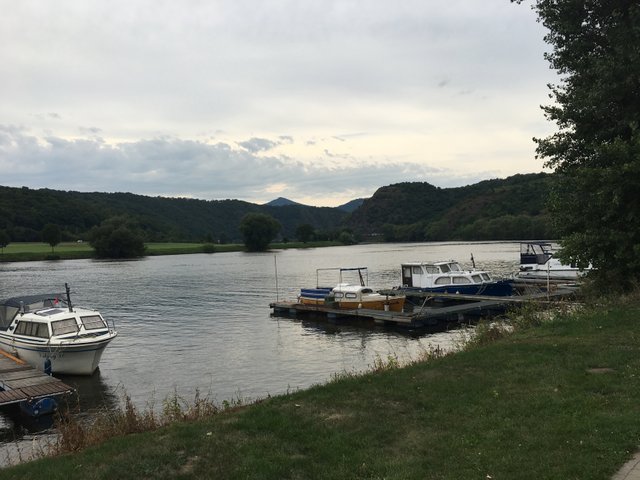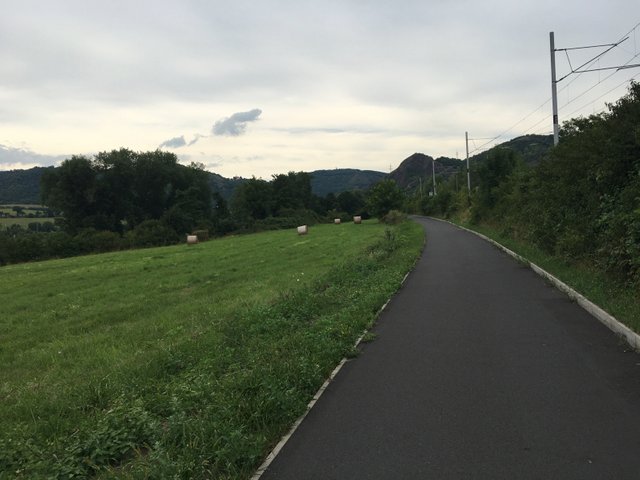 This is the Strekov lock built between 1923-35, the last floodgate built on the Elbe river all the way to its mouth at the North Sea.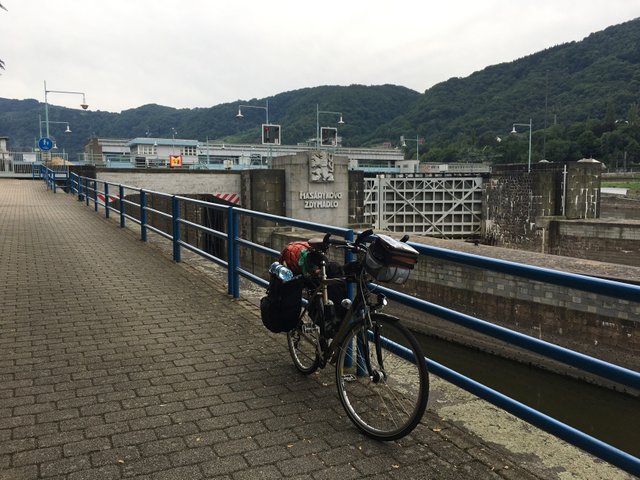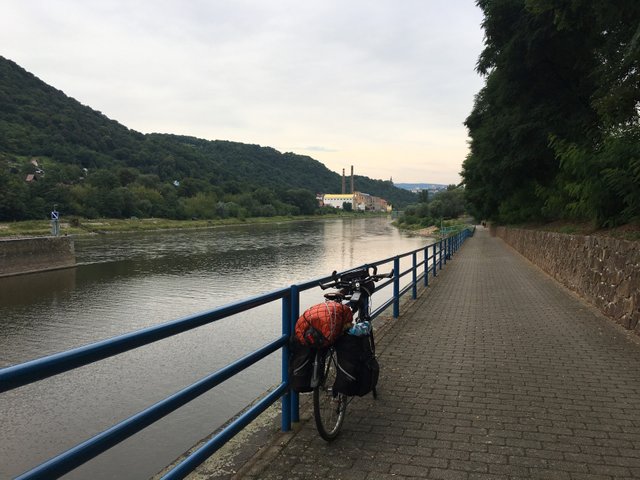 I finally arrived in Usti nad Labem just before sunset and headed straight to the train station on the other side of the river.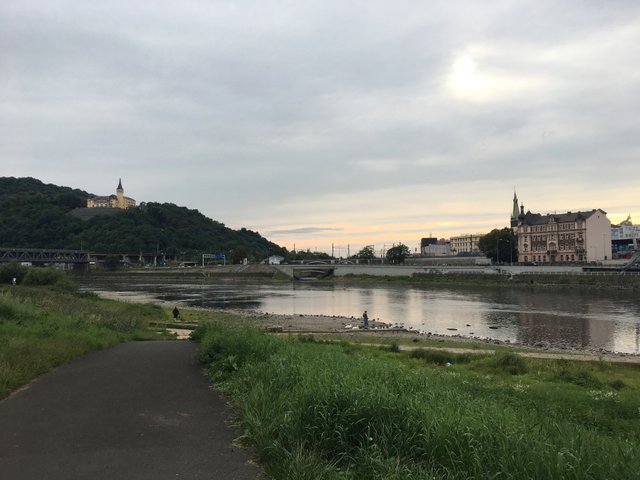 Liked the Czech trains a lot which are equipped with bike racks so when you had enough of cycling you can just go to the nearest train station and return back home. Indeed trains and bikes should make a good team together and the potential for bike touring to develop in areas where the train network already exists is so much greater and then the biking infrastructure will attract more tourists and locals which will only help increase the number of passengers in those trains. This is a win-win situation for both parties, the tourist has the infrastructure to cycle safely with no traffic and the government drives more revenue from tourism and transportation, not to mention the advantage for the local communities which can now get more revenue from this kind of slow tourism, cause I still need to eat and sleep while being out there on the road. Every government should think like this, especially mine. In the end I want to congratulate the Czech government and people for what they've accomplished in regards to developing the bike touring infrastructure, especially the EuroVelo 7 route which I had the pleasure to ride on. You can check my previous 7 posts for the full picture on EuroVelo 7 in Czech Republic.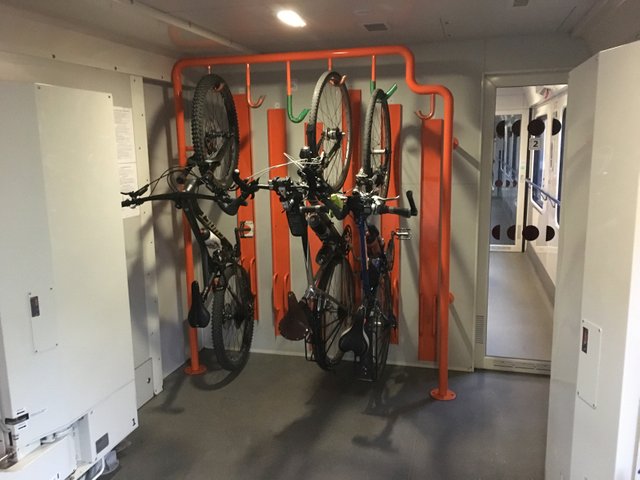 Back in Prague for couple more hours before heading for Berlin in the morning. I bought the international train ticket both for me and my bike from the ticketing office in Usti nad Labem train station. So everything got sorted out just fine in the end for me to return back home with all these nice memories so I can share them with you now.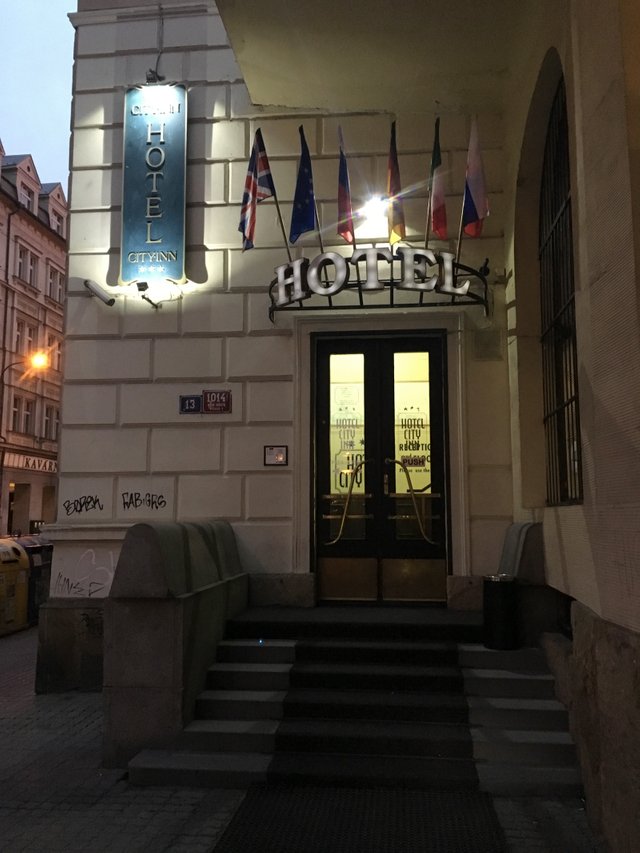 Here is the map with our progress on EuroVelo 7 for today:
Was a great adventure cycling on EuroVelo 7 in Czech Republic. But this doesn't need to stop here for you. If you want to continue to discover EuroVelo 7 all the way to Berlin and see the most beautiful part of it, you can check this post from last year which is the continuation of this one, from Usti nad Labem to Dresden following the Elbe river carving its path through the sandstone mountains of the Bohemian Switzerland region in Czech Republic followed by the Saxon Switzerland region in Germany, which then form the Dresden Elbe Valley, declared a UNESCO World Heritage Site in 2005.
Until next time,
©Discover EuroVelo (my source of energy)
---
Do you plan to travel in the future? You can use my link here to get 10% off your next hotel room on Booking.com while also supporting Discover EuroVelo project (I'll get US$15 from them too), so both of us can travel a bit cheaper next time. This is an affiliate link. Thank you!
---
All photos were taken with my iPhone 6S.
"EuroVelo, the European Cycle Route Network" are registered marks of ECF asbl.
I have no affiliation with EuroVelo or other organisation mentioned here, I am just a tourist expressing his opinion.