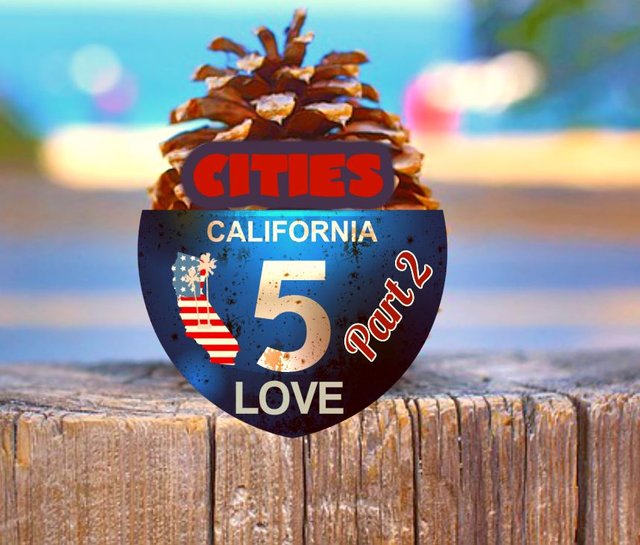 I have never encountered the privilege of unhappiness in the Happy Valley. California, is about living the good life. So a bad life here seems so much worse than a bad life anywhere else. Quality is an absolute obsession here — great food, great wine, great movies, culture, art, music, weather, cars. These all sound like the right things to aim for, but this neverending quest for quality is a great deal of pressure when you are disorganized and uncertain, not least - broker than broke. Some afternoons a person just wants to rent Die Hard, close the curtains, and have Cheerios for lunch.   

Sarah Vowell, The Partly Cloudy Patriot 
Intro - California and Some of its Great Cities 
I love California! I am going to commence here today by saying – Yes! California has it all. No exaggerating  - California is a monster location for remarkable natural and man-made phenomena with unbridled wilderness, first-rate cities, famous waterfronts & beaches, dining, sumptuous cuisine and tempting wines! - rivaling some of the finest known on Earth. It is pure delight to be so close to so much beauty and action from anywhere, that wherever one locates themselves in California, whether you are in San Francisco, Los Angeles, San Diego, Santa Barbara, or perhaps even Bakersfield, they are close to more fun. 
Travelling in and around California is tremendously simple and scenic - with one of the most impressive super highway state road systems in the United States. This will bring you to most of California's many wonders with great speed and ease of accessibility. You can be skiing, swimming, surfing, partying, dancing and appreciating fine food and fare - all in the space of a single day if you want - but of course I reckon you would be doing yourself a great disservice by doing it in that time. Make it 5-10 days at least! California remains as the most populous state in the land. It's economy rivals a number of countries economies throughout the world and by it's land mass, California is the 3rd largest state in all the United States. It is no coincidence that million are attracted to California every year for a plethora of tastes and reasons. To me it has it all!   
Los Angeles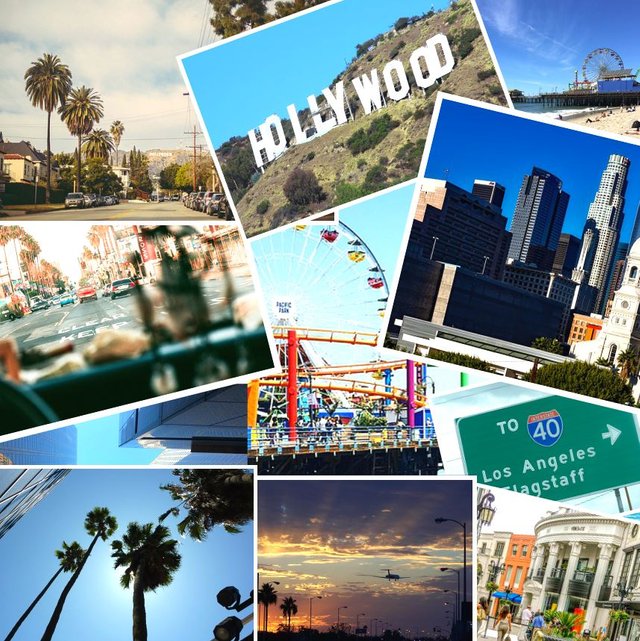 Pic: Plenty to see and do in California
 Of course California vacations are incomplete unless one visits the famed city of Angels, Los Angeles. Here everyone should take a stroll down Rodeo Drive even if only once and to quickly glance in some of the most glamorous shops in the world – many being ridiculously expensive. If one is so inclined doing a little research beforehand, you can easily find yourself shopping or dining alongside movie stars and celebrities frequenting their favourite haunts. You may just get lucky – who knows! Get a photo taken next to your favourite celebrity's star while on the 'walk of fame'. And don't forget to purchase cheesy souvenir in one of the tacky little shops numbering in the dozens on the strip.   
After New York City, LA is the second most densely populated city in the US today. With great deals and destinations within it also houses  the most famous of celebs and public figures and it is difficult at all to understand why. Los Angeles is a city that hardly ever suffers a lacking in fascinating locations to go see and also interesting activities to take part in.
There are many things to get out and see in Los Angeles. Shopping as well as exploring some of the significant landmarks. 
Los Angeles supplies a rich mixture of culture as well as preservations. Millions of people from all over the world come to LA to see these repositories each and every year. Landmarks of an architectural nature like The Cathedral of Our Lady of Angels, the Bradbury Building, and Walt Disney Music hall, are all located in the vicinity of one another. Vacationers are certain to locate such monuments. They are truly deserving of visit and should not be missed. If a vacationer is lucky, they may also capture some functions or public events while en route or at the monument or some other site of significance. Also worth going to is the Los Angeles County Museum, The Getty Museum and The MCA ie The Museum of Contemporary Art. How about taking a trip to the Kodak Theatre!? These landmarks are generally thought of as absolute musts among tourists to LA. Leisure and also Amusement Establishments, like with most US cities, there is often a wide choice of recreational and leisure activities to also take into consideration. With plenty of leisure and entertainment centers located throughout L.A, people can experience some awesome life moments in just about each and every one of them. 

Pic: LA is spectacular by night
Like so much of California, Los Angeles is completely sport crazy so it's no surprise that they are home to some of the greatest sporting teams in the USA's history. LA Lakers, Clippers Dodgers, Rams and Galaxy are some of the sporting team names synonymous with the city of Los Angeles.
For me, as a family man who caters for kids as well as my better half, some of the best places are the ones most recognised for their entertainment provision. This category consist of places such theme parks Like Disneyland (see below) and Rollercoster parks like  6 Flags Magic Mountain and Knott's Berry Farm. Over decades they have honed their entertainment value and delivery for families so they have something for every family member, including mums and dads.
Disneyland, Anaheim
If you have kids, a well planned California vacation will most assuredly contain some fun adventures for the whole family. Not far from LA, is the city of Anaheim. Here you will find for kids and all families alike one the happiest places on the planet. Why? Because if you didn't know already, this is where you will will find Disneyland. A stopover for a few days is well worth it. Your kids will be so elated that they won't care an iota what the remaining part of your California trip will demand. When I went there with friends, with our kids, we thought that we'd be bored out of our minds, trailing around after our children while they indulged their dreams and fantasies, but I can reassure all of you, that I was just as much exhilarated and inspired as my boy and his mates. You see, I too lived my own childhoods exploits to a great degree, some vicariously through my son but first hand too. The place stoked my youthful exuberance, I adventured like I didn't think possible, honestly believing beforehand my youth had long faded – along with my childhood heroes and pals Mickey & Donald.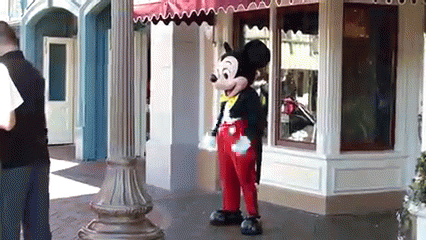 We bought an all-inclusive family package that included the kids mums and dads and the transport from our hotel. It was definitely worth it to buy it up front. It has been said by some of my friends and colleagues that that Disneyworld in Florida is better, but after seeing Disneyland, we wouldn't take anything back or have it any other way.  
Plan your accommodation
To make it cheaper and more often their visits, I know of a few people that co-opted with friends to buy an apartment in the LA vicinity so that when they decide to adventure to California (or by extension Disneyland) they can easily spend their breaks there, without the worry of finding suitable accommodation. A great spot we know of is situated in the Palisades, a small seaside area not that far from Sunset Boulevard and hardly a stones throw from the inspiring 3 mile cliff run adjacent to the glorious Pacific Ocean.  

Pic: Pacific Palisades
San Francisco  

If you really want to experience a great part of California, then you should surely head down to the Pacific Ocean and travel North, up the coast San Francisco. This trip alone, and each of the towns encountered along the way, is worth the trip on it's own and worthy of a separate travel diary entry here on SteemIt.  The city of San Francisco is situated on the very tip of the peninsula surrounded by the Pacific Ocean's 'Gulf of Farrallones' on one side and the San Francisco Bay on the other. It is well known for its very hilly topography, persistent fog, iconic views to the majestic Golden Gate Bridge, cablecars and the colourful Victorian-era houses. I would recommend walking among the docks and wharves and see if you can spot the sea lions baking in the suns glow. Drive further along the coastlines of San Francisco and enjoy the spectacular views from all sides of the peninsular.  

Alcatraz  
When in San Francisco, you must stop to visit and tour the infamous prison island of Alcatraz. Afterwards you will be surely thankful that you weren't born at a different time and place and never found yourself unfortunate enough to warrant spending time here behind bars during its heyday. San Francisco is not complete without a visit here and the haunting prison and museum replete with SanFrans darker history will move you for sure. 
The Golden Gate  
It's one thing to stand, view and admire the bridge's majesty from afar, but being part of it must be on your to do list. One can take tours for a bike ride on and over the bridge which at first direct you along the Bay Trail via a number of interesting spots and then onto the 1.7 mile bridge expanse. It will make you tingle being on it in reality. 
World class Accommodation and Booking 
California, The Platinum State doesn't stop surprising by offering nothing short of outstanding assortments of indulgent resorts, celebrity chefs, show stopping entertainment and dazzling nightlife. It is certainly in no way surprising, considering that the country's entertainment industry is right here at home in California. California has all the top music and technology industries in residence, in addition to one of the largest ports in the world. Oh did I say it's also one of the biggest economies in the world?!? Oh yeah - I did! Don't delay booking your trip to California; you could be bathing at the beach or hiking up a mountain by this time tomorrow!  
Conclusion  
If you've never given it a thought or been afforded an opportunity to take a trip to California, add it to your 'bucket list' of must see places in the near future. To be honest, California is without question an entirely beautiful and unique world of natural pleasures. There are parts of it that will utterly amaze you and at times you'll actually wonder if you are even on the same planet, let alone the same state. California for traveling is great for most people, of all shapes, sizes and ages - so it really doesn't matter what you're wanting to achieve out of a trip away as you will most probably find what you are after in sunny and beautiful California.   
Further Reading and Research (on and offline):
Books and Guides - Amazon or Book Depository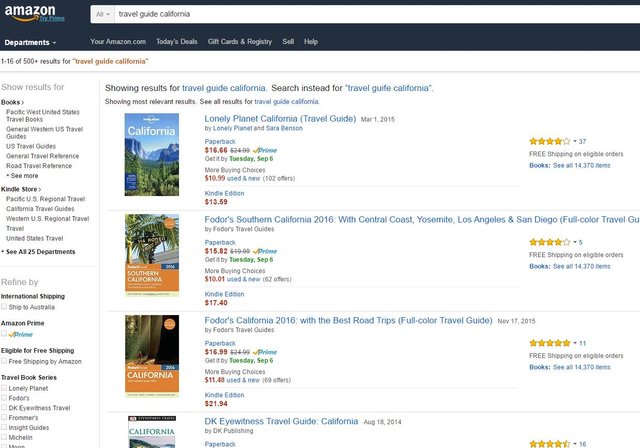 Trip Advisor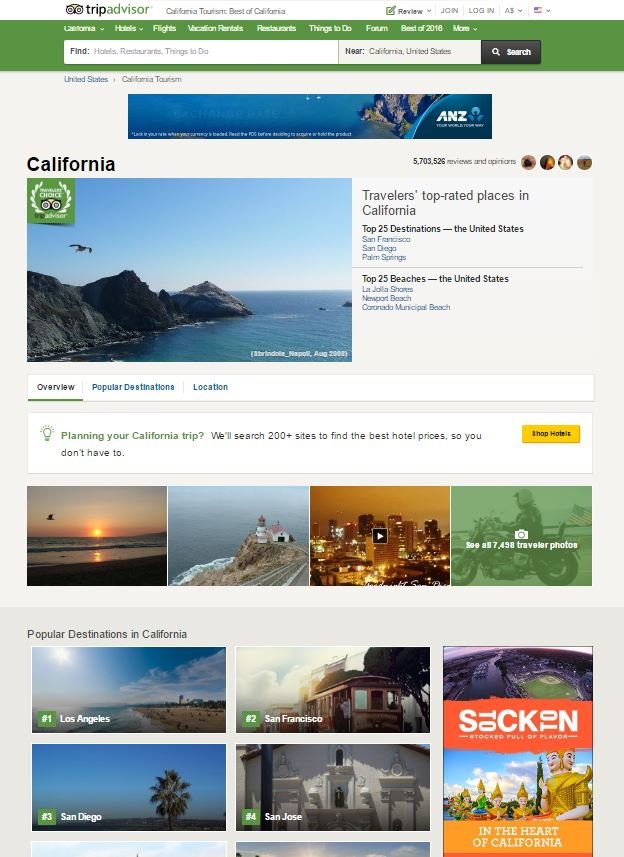 AirBnB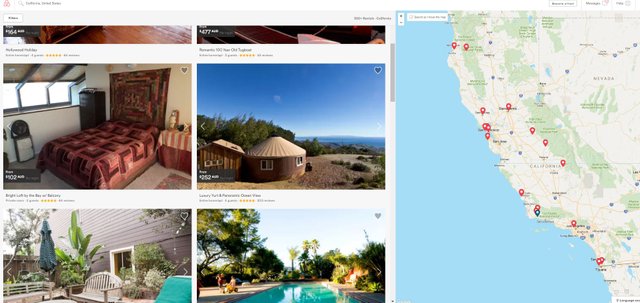 See also: Part 1 of this travel feature
Happy Travels to you and your Family!
Fond regards,