The Best San Francisco Tours For The Budget Conscious Traveler
I left my heart in San Francisco. Tony Bennett cemented the City's legacy from his classic song, and I can relate. I still remember the day when I first landed in the city after moving from my homeland of the Philippines. It was summer, and I remember shivering from the chilly fog that had engulfed the city. I remember when I first gazed at the Golden Gate Bridge and stood there with my jaws dropped to the ground. To this day, I still get butterflies in my stomach when I hike through the Marin Headlands, stand at the overlook watching the fog sweep through the Golden Gate Bridge and discover new places through all sorts of San Francisco Tours.
The city is known for its culture, arts, music, diversity, and alternative lifestyles. While that may not be as true today as the city has become into one of the most successful tech hubs for startups and millionaire nerds, it still maintains the vibe and looks. San Francisco is now one of the most expensive cities in the world to live in and unfortunately, to visit. Don't fret; this guide will help you find the best and cheapest tours outside of the obvious one that you can do for free.

Best Time to See San Francisco
Ironically, summer isn't the best time to visit San Francisco. The weather is ideal in September or October as you'll get sunnier weather. The fog rolls in more often in the summer months. However, there are still plenty of things to do in the summer as festivals and concerts are more frequent. Spring is also an excellent time to see, but anticipate the fog to roll in with a cool ocean breeze in the afternoons. During the yearly Bay to Breakers run, held each May, a few 75,000 runners and walkers, many in costume (and some with no suits or clothes at all); this is one of the most primary races in the nation.
Things You Should Know Before You Go
San Francisco is a town where the weather changes on a whim and microclimates create changing weather patterns across the hilly terrain. It might be bright in the morning; however, you never know when the town mascot, Karl the Fog, will wreck the party.
Getting Around
Most of San Francisco is walkable with neighborhoods packed tight close to each other; the best part of the city can be explored within a 3-mile radius so if you don't mind scaling several hills you are good to go. Of course, you can use the BART (Bay Area Rapid Transit) subway system to get from downtown into the Mission District, SFO, or the East Bay if you want. There are also regular Muni buses that also offer an easy way to explore the town.
Of course, if you truly want to get around at your own pace, there's nothing that can beat a car rental. My preferred rental company in the city is Miles Car Rental San Francisco. They have a fleet of vehicles to match to your liking.

Budget Hotel Prices
Accommodation in San Francisco isn't cheap. Budget hotels price between $60-100 per night for a room. Hostels aren't any cheaper either. Expect to pay upwards $35 a night for a bunk bed. There's just no way around it, the city will bleed you dry if you want to stay in comfort. Motel 6 is probably the cheapest (while still being clean) you can find.
Recommended Hotels/Hostels:
Average Price of Eating Out
Though eating out, S.F. can be expensive; you can keep within your budget by visiting the local farmers market, supermarkets, food trucks, along with mom-and-pop restaurants. Bars and cafés would be the lowest priced options, cost about $8-12 for lunch and a drink. Eating Chinese or
Asian food
in the Sunset district is a must at San Francisco because it's authentic and is less expensive than other options (a meal can cost $8-12). If you cook your food, expect to pay $80 per week for basics like pasta, sandwich components, sauce, rice, eggs, and fruits and veggies. For starters together with the occasional meal out, expect to spend approximately $20 per day.
Now that you have some basic knowledge and ideas of the costs let's take a look at all the most relaxed tours you can do and all the while giving you some spare change!

San Francisco Tour: Movie Sights
Cost: from $49.00 USD
Why It's Cool: With iconic hills, architecture, Golden Gate Bridge, it's no wonder so many movies have been filmed in San Francisco. Watch filming locations from over 55 movies from classics such as the "Princess Diaries", blockbusters such as "San Andreas", to family favorites such as Mrs Doubtfire. See clips from the tour bus as you pass by the real places with an informative actor-turned-guide who shares stories about the city and theatre history.
How It's Done: Start your comprehensive city tour of San Francisco film and TV sites with pickup at Fisherman's Wharf. See classic clips from The Birdman of Alcatraz and the Dwayne Johnson blockbuster, San Andreas. You will pass through crooked Lombard Street and Taylor Street; Where Steve McQueen in the movie Bullitt catches big air in the most famous car chase scene of all time. In North Beach, you will visit Saints Peter and Paul Church in Washington Square, and watch out for the Scorpio killer from the movie Dirty Harry.
Drive through the Financial District, home to the Towering Inferno and the Transamerica Pyramid, which narrowly escapes devastation in Mission Impossible. On Nob Hill, you'll be at the middle of the activity from Vertigo, Bullitt, The Wedding Planner, as well as The Rock. Next up is Union Square, home to the world's first talkie film in addition to a surprise trip by Alfred Hitchcock. Then venture to Antman's flat and see San Francisco as New York City at Rent.
[caption id="attachment_23628" align="aligncenter" width="800"]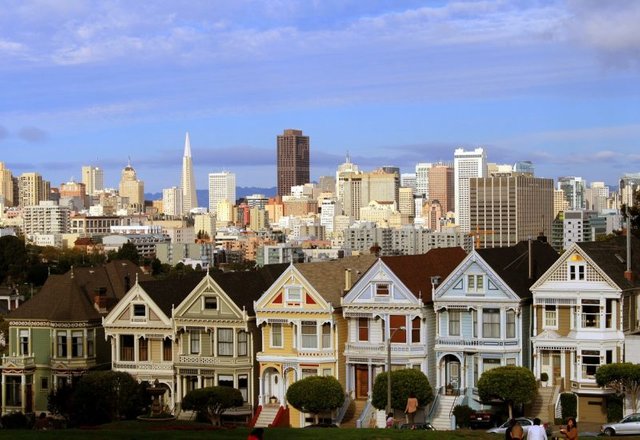 Painted Ladies[/caption]
Make another picture stop at Alamo Square for an opinion of the Painted Ladies and re-experience the opening picnic sequence from Full House. Continuing the journey, ask your driver to' set us down in Golden Gate Park,' since Captain Kirk states in Star Trek IV. From the park to the Presidio, engulf yourself in a 3-minute tribute to the chase scene in Bullitt. Watch where Kim Novak jumps in the water, and Jimmy Stewart miraculously saves her in Vertigo.
On the way from Fort Point, adventure a montage of all Golden Gate Bridge destruction sequences ranging from 1955's It Came From Beneath the Sea into 2015's San Andreas, while also driving by George Lucas' Letterman Digital Arts Complex. In the end, visit Pacific Heights, where you are going to see the high school from The Princess Diaries and the home from Mrs Doubtfire.

Alcatraz Island and San Francisco Grand City Tour
Cost: from $115.00 USD
Why It's Cool: It's not the cheapest tour on this bunch what you get will cost you less if you do the individual tour yourself. This combo tour offers a great overview of city sights plus guaranteed access to"The Rock." You get to explore San Francisco and Alcatraz with this One-way Excursion. Hop aboard a ferry for a scenic ride to Alcatraz and delight in the award-winning music walking tour. Then, using a knowledgeable local guide, find out about the City from the Bay through visits to big attractions such as Fisherman's Wharf, Chinatown, the Presidio, and the Palace of Fine Arts.
How It's Done: Meet with this Alcatraz and San Francisco tour in Pier 33. Make sure that you've picked your voucher ahead at 478 Post Street. Board a scenic ferry to Alcatraz. Arrive at Alcatraz, a former federal prison that's currently a National Park and also gets a brief orientation to the maximum security facility, which operated from 1934 to 1963. Pick your self-guided audio tour, available in ten different languages, and begin exploring. Listen to commentary from former offenders and staff and find out about the stints that famous inmates such as Machine Gun Kelly and Al Capone functioned. Once you're done looking around, you'll hop on the next ferry (ferries depart every thirty minutes) and head back to Pier 33.
For the San Francisco part of your tour, meet at the designated place on Post Street. Other attractions seen on this tour include a few of the city's great Victorian homes, Chinatown, the Palace of Fine Arts, Fisherman's Wharf, the Presidio, and North Beach. Likely to Sell-out! Alcatraz regularly sells out weeks beforehand. Book beforehand to avoid disappointment. The schedule for the day depends on the availability of Alcatraz. You will know of the tour schedule 72-hours before the tour date.

Big Bus San Francisco Hop-on Hop-off Tour
Cost: from $35.00 USD
Why It's Cool: Ride a double-decker sightseeing bus to San Francisco's most famous landmarks using a choice of 3 different passes. Learn more about the city's 49 square miles, including stops in big-name attractions such as Pier 39, the Palace of Fine Arts and Union Square. Go at your speed, hopping off at any of 24 ceases, researching at your leisure, then leaping back on when you are done. Pick the Premium or Deluxe pass to have a night bus excursion, and a trolley tour in nearby Sausalito (contained in Deluxe ticket only). Hop-on hop-off Big Bus sightseeing tour of San Francisco Travel around San Francisco on a double-decker bus, hopping on and off at any of its stops with your ticket.
How It's Done: See top San Francisco attractions such as the Golden Gate Bridge, Union Square, Pier 39 and Lombard Street Get to know the city better on three comprised walking tours of Chinatown, North Beach and the Barbary Coast Upgrade to the Premium or Deluxe Ticket to include a nighttime bus tour, Sausalito trolley tour, or both. Flexible, enjoyable and flirty approach to take advantage of your time in town!
Daytime Tours: You can redeem your voucher at any of the designated Big Bus stops Night Tour: Redeem vouchers at the start of the tour, 99 Jefferson Street, San Francisco Fisherman's Wharf Why Travelers Pick This Tour There is no more fabulous way to watch world-famous San Francisco landmarks, including a trip across the Golden Gate Bridge, compared by an open-top Big Bus!
CLASSIC TICKET: Hop on board a Big Bus Sightseeing Tour of San Francisco and experience the best views of identifying landmarks and delve right into history. You can explore San Francisco's landmarks; from the Golden Gate Bridge into Fisherman's Wharf. This is the very best way to find everything San Francisco has to offer you. Our distinctive city tour stops at 20 key points of interest all around spectacular San Francisco. Experience the varied culture, beautiful parks, magnificent architecture and picturesque views atop an open wing bus. Hop on or Hop off in your leisure to create your travel around town.
INCLUDES One Day Hop-on Hop-off Huge Bus Ticket and Chinatown One Hour Guided Walking Tour.
PREMIUM TICKET: This ticket covers all of San Francisco from day to night. Our distinctive city tour reaches 20 critical points of interest around San Francisco. Experience the diverse culture, beautiful parks, magnificent architecture and picturesque views atop an open-air bus. Hop on or Hop off at your leisure to create your journey. Enjoy add-ons and research San Francisco by bicycle, take in Pier 39 and enjoy a beverage and arcade tokens at Players Arcade and Grill. The 1-hour nighttime tour comes with a view of the Bay Bridge Lights Setup, Bay views and a spectacular San Francisco skyline from Treasure Island. The quaint artist town of Sausalito offers excellent views of Golden Gate Bridge and the San Francisco Skyline.
INCLUDES: One Day Hop-on Hop-off Ticket, Chinatown One Hour Guided Walking Tour, Choice of Panoramic Night Tour - OR- Sausalito Tour, 1 Hour FREE Bike Lease with the purchase of 1 Hour and Players Arcade & Grill - Pint and Sport Play Tokens.
DELUXE TICKET: This Deluxe ticket covers most San Francisco from day to night, to Sausalito and you can bike the Golden Gate Bridge. Our unique city tour stops at 20 key points of interest. Experience the varied culture, beautiful parks, stunning architecture and scenic views atop an open-air bus. Along with the two days of this hop-on-hop-off tour, you can experience the quaint artist city of Sausalito. Once you have completed, you can venture to Pier 39 and have some fun at Players Arcade Bar & Grill or see the numerous attractions on Pier 39! Complete your San Francisco experience by seeing town illuminated at night, views of the Bay Bridge Lights Installation, Bay views and a marvelous San Francisco skyline from Treasure Island.
INCLUDES: 2 Day Hop-on Hop-off Ticket, Chinatown 1 Hour Guided Walking Tour, Panoramic Night Tour, Sausalito Trolley Tour, 1 Hour FREE Bike Rental with the purchase of 1 Hour and Players Arcade & Grill - Pint and Game Play Tokens.

San Francisco Bay Twilight and Sunset Cruise
Cost: from $80.00 USD
Why It's Cool: This 2-hour sunset cruise takes you across San Francisco Bay with outstanding views of the city skyline, Golden Gate Bridge, Alcatraz Island, and Sausalito. Enjoy a light starter buffet as you sip a complimentary glass of wine, beer or soda from the full bar. You will chill and relax while listening to the captain's live commentary while background music sets the tone. Watch the sunset or select a twilight cruise during winter months.
How It's Done: You'll make your way to the pier at Fisherman's Wharf in time for your preferred departure time. Expect live commentary by the captain and listen to relaxing background music as you sip your free beverage from the bar and observe the beaches pass by on San Francisco Bay. Throughout your sunset or twilight cruise, visit the mild appetizer buffet to enjoy spinach puff pastry rolls; roast beef sliders; crudités along with an antipasto patter; chicken curry wrapping; chopped fruit and gourmet cheeses along with a cookie dish. You can purchase more beverages at the entire bar on board. All cruise vessels operate on bio-diesel, a renewable energy source, and provide heated indoor spaces or outside viewing decks. There is no assigned seating or formal dress needed in this casual 2-hour cruise.
Sunset Bay Cruise: Should you embark through late March through early November, you'll watch the sun setting across the Pacific Ocean as you cruise toward the Marin Headlands and past the Golden Gate Bridge. In your return to Fisherman's Wharf, you are going to see many more notable sights, such as the Presidio, the Marina District and Fort Mason.
[caption id="attachment_23626" align="aligncenter" width="800"]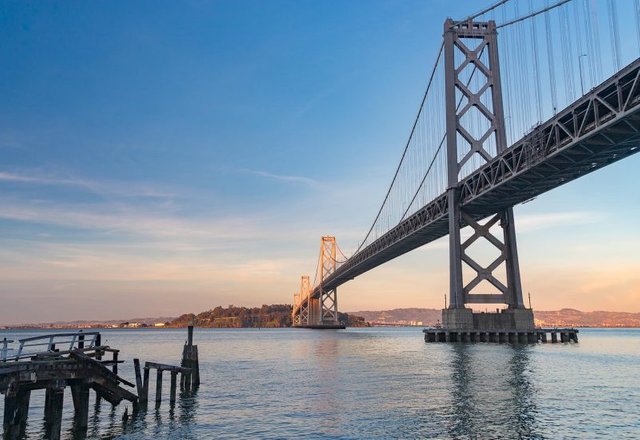 Bay Bridge[/caption]
Twilight Cruise: In the winter, the cruise makes the most of San Francisco's great city lights on a twilight tour. You will follow the sun setting over the horizon as you'll glide past San Francisco's famed skyscrapers, historic landmarks, the notorious Alcatraz Island and the Bay Bridge and Golden Gate Bridge. Listen to live guitar entertainment while appreciating the illuminated skyline, an unmissable San Francisco view.

San Francisco Love Tour
Cost: from $55.00 USD
Why It's Cool: Hop on a'70s-era VW bus and have to know the hippie past vibe which constitutes San Francisco today. Starting at the end at Fisherman's Wharf; this 2-hour sightseeing tour takes you around the city, including Chinatown, North Beach, the Castro, the Mission, downtown and much more. See the houses of The Grateful Dead, Janis Joplin, and Jimi Hendrix, while listening to'60s classics. So settle into a neon-blue chair and dig your shoes into the groovy shag carpet.
How It's Done: You'll ride on a bus that accommodates around just six people. San Francisco Sightseeing Tours intends to present an enthusiastic and authentic way to get-to-know San Francisco. Hitch a ride for an experience that combines your passion for modern day living and memories of San Francisco in days gone by. Their 1970's Volkswagen Buses, full of neon blue seats, beaded curtains and shag carpets, foster a Hippie vibe which celebrates Peace Love Freedom & Adventure. You will see breath-taking marvels such as the Golden Gate Bridge, Lombard Street, China Town, The Castro and Much More.
Traveling down unique roads where other busses are forbidden, you'll go to the houses of San Francisco's counter-culture icons like the Grateful Dead, Janis Joplin, Jimi Hendrix while grooving to the sounds of the '60s along with other San Francisco classics. In their small 6-passenger automobile, we package a lot of historical facts, interesting stories, and good old fun! We also have some stops for amazing photos chances to forever capture your adventure in San Francisco. Reserve your tour now! The Love Tour begins and ends at the Fisherman's Wharf in San Francisco. This tour gives you a fantastic chance to investigate San Francisco finest and unique places.
Highlights include:
2-Hr. City Sightseeing tour with two stops for Photo-ops in Golden Gate Bridge & City skyline views
Small group tour - around six passengers per VW Bus
Due to the automobile size, you can go on roads prohibited to bigger buses
Drive Lombard Street (twisted road )
Visit: China Town, Little Italy, Castro District, Mission District, Down Town & more!
Fully narrated tour with entertaining & fact-based storytelling guides!
San Francisco Grand City Tour
Cost: from $58.00 USD
Why It's Cool: Have a San Francisco half-day tour to pack in the town's best sights in a handy way that leaves you with loads of time to spare so that you may delight in the city however you wish. Having a driver-guide, travel the city by bus, stopping at major attractions such as the Golden Gate Bridge and Twin Peaks. Get oriented as you pass through areas like North Beach and Chinatown, and respect the Town by the Bay's famed Victorian houses. 3.5-hour morning or afternoon San Francisco tours.
How It's Done: This half-day San Francisco tour, with your choice of a morning or afternoon departure time (pick when reserving ), is the best introduction to the city. Learn about San Francisco's most popular attractions, and find to return to later by yourself. Together with your driver-guide, travel through Golden Gate Park, checking out the ample green area, windmills at Ocean Beach, and the bison paddock. Tour all the city highlights, including Golden Gate Bridge, Chinatown, and Fisherman's Wharf Photo stops at Vista Point, Twin Peaks (weather permitting), and Golden Gate Park Driver-guide and commentary FREE wireless onboard tour vehicle.
[caption id="attachment_23630" align="aligncenter" width="701"]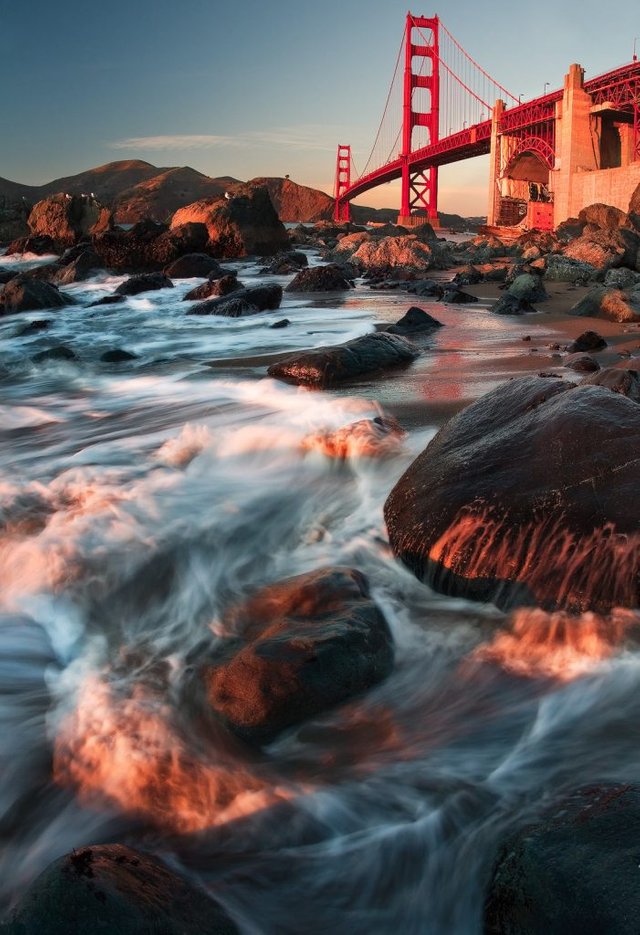 Golden Gate Bridge[/caption]
Stop at the Japanese Tea Garden, where you can enter if you want (own cost ) or walk around the surrounding area of this playground. Drive down city streets lined with all the colorful Victorian and Queen Anne houses that San Francisco is known for, and listen to from the guide about the region's history, by the American Indians to Spanish settlers into the Gold Rush.
Various sights you'll visit include the Palace of Fine Arts, the Presidio (a previous Army post and now a national park website ), Fisherman's Wharf, and the areas of Chinatown and North Beach. Look out in Alcatraz Island, also cease in Twin Peaks (weather permitting) to get a scenic view which can't be beaten. Exotic cruise on San Francisco Bay: In case you would like more picture opportunities, update your tour to include a narrated 1-hour cruise on San Francisco Bay. Admire the city skyline, resident sea lions, and the Golden Gate Bridge, and get an up-close watch at Alcatraz Island.

San Francisco Golden Gate Whale-Watching Tour
Cost: from $45
.00
USD
Why It's Cool: Go whale watching on an eco-friendly catamaran, glide through San Francisco Bay and beneath the Golden Gate Bridge to reach the open Pacific, where you'll continue to keep your eyes peeled for humpback and grey whales, in addition to marine life such as dolphins and seals. Learn more about the history and geology of the area in the onboard naturalist, and admire the rugged California coast. San Francisco whale-watching tour Cruise under the Golden Gate Bridge Watch for grey and humpback whales during their migration periods Spot dolphins, and harbor seals Love a spacious cabin and sun deck.
How It's Done: This San Francisco tour starts at Pier 39 at Fisherman's Wharf where you jump on an accredited catamaran, for your whale-watching tour in the waters of the Pacific. Using its hull design and superior technology, the vessel provides a smooth ride over San Francisco Bay and to the ocean. Get a brief safety orientation, and then enjoy views of Alcatraz and Angel Island as you take off from the pier. Cruise under the Golden Gate Bridge and out to sea everywhere from 3 to 8 kilometers (4 to 12 km) to look for marine life.
In addition to humpback whales and grey whales, the Bay Area is home to an abundance of porpoises, dolphins, sea lions, harbor seals, birds, as well as sharks. Admire the magnificent coastline of cliffs and headlands while the naturalist tells you about the natural surroundings. You're able to see for whales from the deck or head inside the heated cabin to heat up, if needed, where you can brush up on neighborhood trivia and find out about the region's history, from Native Americans to Spanish explorers to Gold Rush immigrants.

Little Italy and North Beach Walking Tour
Cost: from $69
.00
USD
Why It's Cool: One of the most unique San Francisco Tours. If you fancy yourself a foodie or culture enthusiast, don't miss this walking tour of the neighborhood of North Beach which is called San Francisco's "Little Italy." Voted among the 15 best foodie tours in the USA from U.S. News, combine with an insider guide and also experience a piece of the top things to do in North Beach, for example tasting java and witnessing bread being freshly produced. Soak up the lively atmosphere of one of the city's most well-known districts as you know about its cafes and bakeries and see landmarks like Saints Peter and Paul Church.
How It's Done: Begin your walking tour by meeting your manual near Washington Square Park, a hub of activity where sailors lounge on the grass or play Frisbee. Stroll past cute shops, bustling Italian restaurants, and family-run cafes, and cease to chat with company owners and enjoy samples of their area's heavenly delights. Discover how many foods are made, watch bread being kneaded and see where coffee beans are roasted. You will also hear about San Francisco's rich culinary history in this 3-hour tour, which has won accolades as one of the city's best excursions from outlets like the San Francisco Bay Guardian and Lonely Planet.
Explore North Beach/Little Italy's Foods & Background Culinary history of San Francisco Taste samples of fresh food at local bakeries and delis Enjoy coffee drinks, teas, Italian sodas and more while experiencing San Francisco's coffee culture Explore the Beat Generation Hangouts Close to Public Transportation & Affordable Parking.

5-Hour Premium San Francisco City Tour
Cost: from $79
.00
USD
Why It's Cool: View the sights of San Francisco on a 5-hour tour with a guide who introduces you into the city's top attractions. You'll create nine stops to see the Golden Gate Bridge, Lombard Street, Alamo Square, and more, plus visit the waterfront town of Sausalito and take a ferry trip or cruise on San Francisco Bay and passing by the Alcatraz Island. Tour sizes range from 15 to 35 people. 5-hour San Francisco city excursion Make stops in major attractions like the Golden Gate Bridge, Lombard Street, and the Painted Ladies Have a ferry ride Throughout the bay to Sausalito Enjoy insight about each stop from a guide.
How It's Done: Your San Francisco tour starts at the Ferry Building on the Embarcadero, in which you'll meet your guide and jump aboard your tour automobile. Then set off around San Francisco, making nine fully guided stops, starting with a 25-minute ferry cruise across San Francisco Bay into Sausalito, which provides views of Alcatraz Island.
In Sausalito, you have one hour to look around and eat lunch (own expense) before continuing your tour with a drive across the Golden Gate Bridge and also a stop for photos. Back in town, stop at the Palace of Fine Arts, Alamo Square (house to the row of houses known as the Painted Ladies), twisted Lombard Street (in which you'll take a walk downhill with your manual ), the Cable Car Museum, Chinatown, along with Grace Cathedral on Nob Hill.

Aquarium of the Bay General Admission
Cost: from $21
.95
USD
Why It's Cool: Get fast-track entrance into the Aquarium of the Bay in San Francisco, located at Pier 39 between Fisherman's Wharf and the Alcatraz ferry landing. A general admission ticket offers direct access to all of the aquarium's most crucial display areas, which house over 20,000 sea creatures. Learn what's generally found in San Francisco Bay and the nearby Pacific, including snakes, river otters, as well as octopuses. The volcano features interactive displays, as well as walk-through glass tunnels where schools of anchovies and fluorescent jellyfish swim overhead and around you.
How It's Done: Get a general entry ticket directly to the Aquarium of the Bay in San Francisco where you will learn about the marine life of San Francisco's Bay and its surrounding waters. See sharks, jellyfish, and an octopus as you explore 300 feet of glass tunnels Admire vibrant fish such as orange garibaldi and green eels.
Situated at San Francisco's ever-popular Pier 39 along the Embarcadero, the Aquarium of the Bay offers an educational look in local sea life. A general admission ticket gives you quick access to all of the aquarium's main exhibit areas, all which concentrate on their marine life of San Francisco Bay and nearby waters. Together, the displays are home to over 20,000 sea animals.
[caption id="attachment_23627" align="aligncenter" width="682"]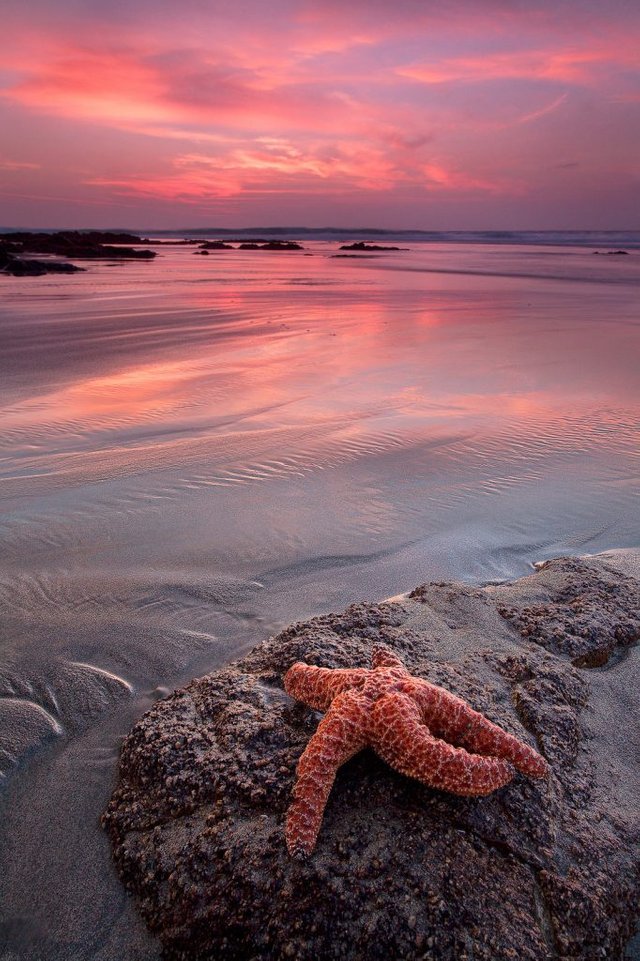 Marine Life[/caption]
Stay all day if you want. Discover the Bay Prove: Ever wonder why anchovies swim in schools, or what life is like for a newly hatched skate in San Francisco Bay?
You will learn answers to questions such as these in the Discover the Bay exhibit area, which is also where you will get some of the bay cleverest sea monsters, such as green moray eels along with California's state marine fish, the orange Garibaldi. See tens of thousands of marine creatures, including octopuses, swim above and around you as you meander along a 300-foot (90-meter) tunnel method of clear glass. You'll watch moon jellies along with Pacific sea nettles, giant sea bass and colorful starfish, and even deepwater fish such as leopard and soupfin sharks.

San Francisco Ferry to Angel Island
Cost: from $9.75 USD
Why It's Cool: One of the cheapest San Francisco Tours that lets you discover the Scenery and History of Angel Island with this Particular Ferry trip from San Francisco. Cross the San Francisco Bay, capturing up-close views of Alcatraz and the town's enormous bridges. Disembark in Angel Island State Park and learn more about the island's offerings in your own pace. Find out about the region's history as an immigration stage, increase Mount Livermore, and search out on 360-degree perspectives of the San Francisco skyline, the Marin Headlands, and Mt Tamalpais. This ticket permits you to bypass the box office and go right to the gate. Forget the box office and proceed right to the gate with your ticket!
How It's Done: Grab a chair indoors or walk the deck because the ferry spans San Francisco Bay. Disembark in Angel Island State Park and head outside for an independent tour of this region's natural highlights, for example, Mt Livermore or the Alcatraz Gardens. Choose to obtain a Segway or tram tour, or rent a scooter to get zipping around the staircase. Whatever option you select, you are going to see incredible views of the San Francisco skyline, the Marin County Headlands, along with Mt Tamalpais.
Based upon the weather, you might even get a glimpse of Napa and Sonoma. The Angel Island experience is yours to design, which makes it ideal for couples, families, or only a solo escape. Whether you decide to return to San Francisco evening camp or ferry overnight, do not leave without studying a little about the island's deep part in Pacific legislation, or even partaking in consuming new regional oysters in the island's restaurant.

Golden Gate Bridge Coastal Walking Tour
Cost: from $40.60 USD
Why It's Cool: One of the must-do San Francisco Tours. There is little doubt about it San Francisco is a stunning town, and also this small-group walking tour highlights a number of its spectacular scenery. Starting in the Golden Gate Bridge, where you are going to enjoy sweeping views of San Francisco Bay and the city's magnificent skyline, you will embark on a 4- to 5-mile (6.5- to 8-km) walking tour of SF's western border. The slow-paced walk follows along the Pacific shore while meandering through Baker Beach and beyond the mansions of Sea Cliff as you make your way ahead of the Sutro Baths at Land's End.
How It's Done: This San Francisco tour is limited to 12 participants to get a more personalized experience. You will have a slow-paced hike in the Golden Gate Bridge into Land's End Sink your feet in the sand in Baker Beach and stroll through the exclusive area of Sea Cliff Capture pictures of this scenery from shore, beaches and key seeing spots Small-group tour restricted to 12 provides a more personalized experience.
[caption id="attachment_23631" align="aligncenter" width="800"]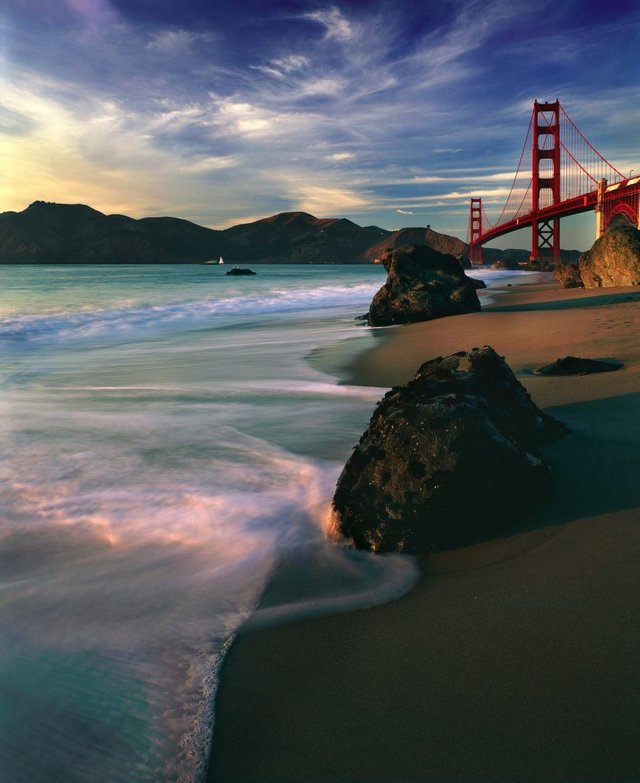 Baker Beach[/caption]
This San Francisco coastal walking tour starts in the iconic Golden Gate Bridge. The walk provides among the most beautiful views of San Francisco Bay; the city's magnificent skyline (that is, when Karl the Fog has not rolled into town). Here you will meet your guide, who will provide you with a bit of background about the bridge's fascinating history. As soon as you've gotten to know each other, you set off on a leisurely hike across the town's Pacific shore; drifting a road along oceanside cliffs which look around into the Marin Headlands and offer amazing sweeping views around each turn.
You then hit Baker Beach, where you will have your camera ready for a postcard-worthy shot of the Golden Gate Bridge. Possibly talk to a few fishermen before continuing to Sea Cliff, an illustrious neighborhood teeming with mansions and naturally, more magnificent sea views, notably in areas like Eagle's Point, a beautiful hilltop overlook. At some point, you will work your way down to the Sutro Baths at Land's End, that has an intriguing narrative rather.

San Francisco CityPASS
Cost: from $40.60 USD
Why It's Cool: You will save money and time with the CityPASS, that provides you admission to top area attractions; three days of access to public transport including the San Francisco cable cars, a cruise on San Francisco Bay, and also discounts for shopping and activities. You can choose to visit art and science museums like the Exploratorium or even San Francisco Museum of Modern Art. You'll have essential details like hours of performance directly on your pocket with the provided ticket booklet.
How It's Done: The San Francisco CityPASS includes tickets and alternatives to San Francisco's main attractions. Discover where you need to go with a pass for inclusive for all cable cars and Muni public transportation. See the sights from near the water onto a San Francisco Bay Cruise. Enjoy even more savings with shopping, dining and venue discounts. This is an excellent value for the Money.
San Francisco CityPASS provides all you need to make sure you optimize your time in the City by the Bay. With unlimited use on the iconic cable cars along with the Muni public transportation system for three consecutive days, you don't need to worry about how you are going to get around the city; the longer you ride, the more you save. Besides, you have the flexibility to decide on the attractions which best suit you and your loved ones, whether you're into art, science or marine life. Your paid ticket booklet includes all useful details such as opening hours, contact information, transportation information, and even insider hints, in addition to discounts for stores and favorite things to do.
The CityPASS comprises (effective March 2018):
3-Day Muni Cable Car and Bus Passport
California Academy of Sciences
Blue & Gold Fleet Bay Cruise Adventure
Aquarium of the Bay
Option Ticket: Exploratorium OR San Francisco Museum of Modern Art
San Francisco By Luxury Minivan Tour
Cost: from $54.00 USD
Why It's Cool: You avoid the crowds, confusion, and constraints of large buses and discover San Francisco by private luxury minivan. This 4-hour tour takes you to parts of the town where buses are not allowed. With no more than five passengers, you are guaranteed a window seat, while you hear the live commentary. Stop for picture opportunities at six of the town's most well-known attractions, including the Golden Gate Bridge and Twin Peaks. See San Francisco by private luxury minivan Enjoy the sights from a window seat Discontinue at six iconic points of interest to live commentary on board.
How It's Done: This 4-hour tour reveals you areas no tour bus is permitted to take you. The excursion only has space for five individuals.
The tour route includes:
Union Square, China Town
Financial District
North Beach
Coit Tower (Photo Stop)
Fishermen's Wharf
Palace of Fine Arts (Photo Stop)
Golden Gate Bridge/Fort Point (Photo Stop)
Seacliff, Legion of Honor
Sutro Baths (Photo Stop)
Ocean Beach, Golden Gate Park
Haight Ashbury, Twin Peaks (Photo Stop)
Castro and Painted Ladies (Photo Stop)
• * 4-hour tour with just five people, not a van full.
• *6 stops along the way in places like the Golden Gate Bridge, Twin Peaks, and Coit Tower.

Exploratorium General Admission
Cost: from $29.95 USD
Why It's Cool: Engage your senses and delve into a world of discovery in San Francisco's Exploratorium! With a fantastic new location on Pier 15 overlooking San Francisco Bay, the renovated museum provides over 650 interactive displays that the whole family will love. Explore the beautiful realms of physics, anatomy, emotions and Earth's ecosystems through hands-on screens that will delight and inform people of all ages. With mobile tickets, forget the line and scan your telephone for immediate entry in the Exploratorium!
How It's Done: Forget the line! With your mobile ticket, simply scan your smartphone for immediate entry to San Francisco's Exploratorium. Spend a day with the Entire family at this enthralling hands-on museum. Enjoy over 650, immersive, interactive exhibits that engage all of the senses for people of all ages. Take in things about physics, music, art, biology, ecosystems and much more. It is conveniently situated at Pier 15 between the Ferry Building and Fisherman's Wharf/Pier 39.
Children and adults will love the all-new Exploratorium in San Francisco! This favorite family attraction boasts a suitable new location along the Embarcadero waterfront, between Fisherman's Wharf and the Ferry Building. Chill with the vibrant energy of Pier 15, and then head on inside the discovery museum with your all-day ticket.
Explore at your speed on a self-guided experience through over 650 exhibits spread across five unique galleries, including an open air-space outdoors and many brand-new capabilities. Isolate the sensations at the Seeing and Listening gallery, and then discover the inner workings of the brain in the Human Phenomena space. Get creative by building mechanical contraptions from the Tinkering gallery, and explore Earth's incredible eco-systems in the Living Systems area. See Itinerary below for a complete description of the Exploratorium's multi-sensory galleries.

Golden Gate Park Segway Tour
Cost: from $75.00 USD
Why It's Cool: Explore San Francisco's beautiful Golden Gate Park on this 2.5-hour Segway tour. Directed by a local guide, you'll pass leading attractions like the Japanese Tea Gardens, the de Young Museum and the California Academy of Sciences. All gear is included, as well as safety training. Cover even more earth on a Segway because you soak up Golden Gate Park's rich history and hidden gems from the guide.
How It's Done: Learn about Golden Gate Park and see its major attractions in a simple yet adventurous way. On a Segway, you are going to cover more ground than you would on foot. Start by meeting your guide and engaging in a 35- to 45-minute practice session to get used to your Segway; which many riders find to be somewhat intuitive. Then set off, gliding through the playground with your guide, which will let you know about the background of this park; like how it went from uninhabited dunes from the 1870s into a well-planned city collecting space that is home to museums, lakes, gardens and much more.
See sights such as:
Shakespeare Garden
Lawn bowling courts
Conservatory of Flowers
Stow Lake and two notable museums
California Academy of Sciences
de Young, a fine arts museum
Cruise beyond a pioneer log cabin called Lily Pond, a grove of redwood trees along with other lesser-known highlights, and have lots of stops to shoot photos of the 1,000-acre sanctuary that spreads from the middle of town to Ocean Beach. Your tour ends with return to the starting point from the park.
LGBTQ Castro Walking Tour
Cost: from $25.00 USD
Why It's Cool: One of the most unusual San Francisco Tours on this list. Explore the LGBT history of the Castro on foot in this 2-hour walking tour. Follow your informative regional guide through the famous neighborhood while learning about the geographical landmarks and historical sites. Be motivated by the rich, diverse history of this iconic district and its continuing role as an epicenter of LGBT activism and occasions.
How It's Done: Meet the local guide to your 2-hour walking tour of the iconic Castro neighborhood. Pay a visit to the historic Castro Theatre, with its Spanish Colonial Baroque architecture, and learn about how the district got its title. Walk to visit several historic sites linked to Harvey Milk, the homosexual rights activist, and famous San Francisco resident. See his house, his photograph shop and the campaign headquarters because of his political actions. This moving, empowering and informative tour will provide you with an accurate insight into San Francisco's history as a center for LGBT rights and activism. Public paths are all wheelchair accessible.

There you go, the best tours you can do to explore the wonderful city of San Francisco. If you're down on exploring the surrounding area or the whole bay area altogether you need a car and I recommend you rent your car through Mile Car Rental mentioned at the beginning of this article or use
Viajemos.com
, it's sister company that offers affordable vehicles and awesome deals.
HAVE YOU BEEN TO ANY SAN FRANCISCO TOURS?
Originally Posted at Always Wanderlust - The Best San Francisco Tours For The Budget Conscious Traveler