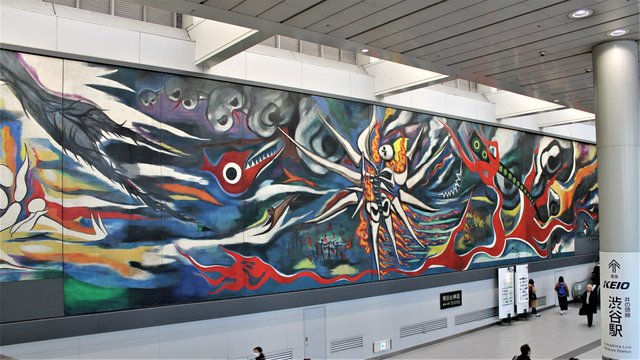 井の頭線の渋谷駅とJR渋谷駅を結ぶ通路に、日本のアーティスト岡本太郎(1911-1996)、最大の壁画、『明日の神話』が設置されています。縦5.5メートル、横30メートルの巨大な壁画です。
Mural painting #MythofTomorrow of Japanese artist Taro Okamoto (1911-1996) is installed in the passage connecting Shibuya station of Inokashira line and JR Shibuya station.It is a huge wall painting of 5.5 meters in length and 30 meters in width.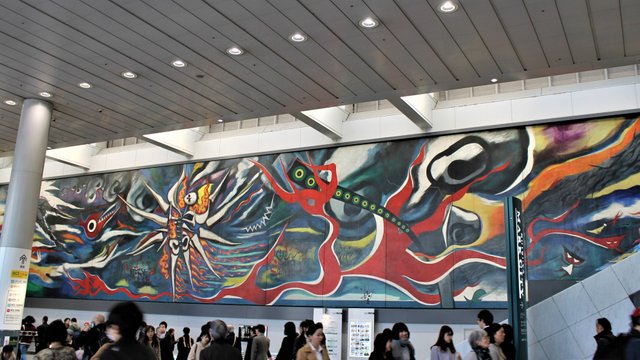 メキシコのホテルのホテルのロビーに設置するために制作した壁画です。しかしメキシコで行方不明になってしまいました。その後、メキシコ郊外の町で発見され、日本で帰国後修復され、岡本太郎氏が死去したずっと後の2008年に設置されました。
#MythofTomorrow was a mural painted for installation in the hotel lobby of a hotel in Mexico. However, it has become missing in Mexico. it After years, it was discovered in Mexico. After being repaired in Japan, it will be exhibited in Shibuya.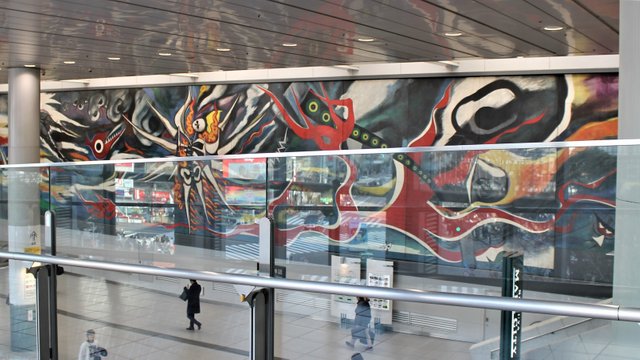 この壁画は、アメリカ軍の水素爆弾実験によって発生した多量の放射性降下物を浴びた「第五福竜丸」が被爆した際の、水爆の炸裂の瞬間がモチーフとなっています。悲惨な体験から再生する人々のたくましさが描かれているといわれています。
#MythofTomorrow is a motif of the moment of explosion of a hydrogen bomb when "Fifth Furankoromaru" exposed to a large amount of radioactive fallout caused by an American military's hydrogen bomb experiment was exposed. It depicts the crowds of people who overcome the tragic experience and revitalize.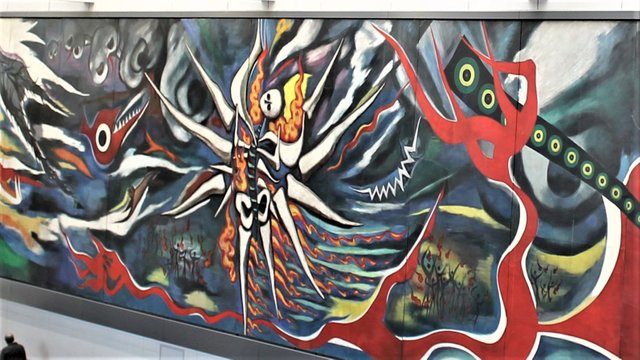 壁画の左右の下の部分には空白があります。これは、「21世紀の予言のための空白」でした。
There are blanks in the lower left and right parts of #MythofTomorrow . You can see the right side one, in this picture. This was "a blank for the prophecies of the 21st century" by #TaroOkamoto.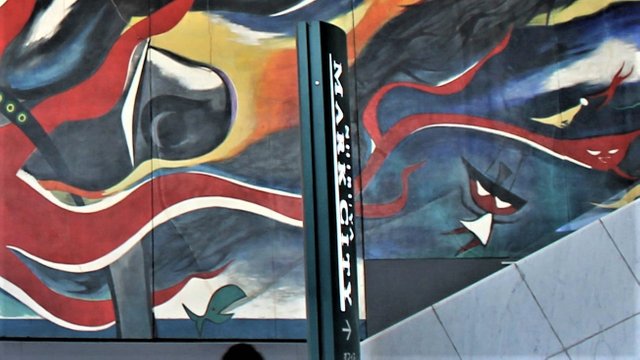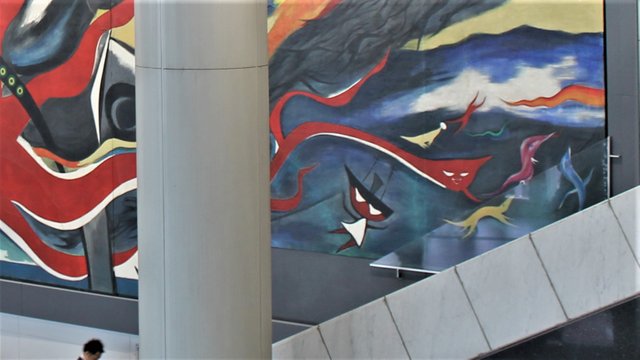 2011年、日本は巨大地震である東日本大震災び被害を受けました。よく知られているように、そのとき原子力発電所での大きな事故がありました。2011年5月1日、壁画の空白部分に、福島第一原子力発電所事故を思わせる絵が描かれたベニヤ板が貼り付けられているのが見つかりました。
In 2011, #Japan suffered a huge earthquake East Japan great earthquake disaster. As is well known, there was a major accident at a nuclear power plant at that time. On May 1, 2011, it was found that a veneer board with a picture depicting the #FukushimaDaiichiNuclearPowerPlantaccident was stuck in the blank part of the #MythofTomorrow .
東京の若手美術家グループChim↑Pom(チム↑ポム)がベニヤ板を貼りつけたことを明らかにしました。メンバーは、岡本太郎を尊敬していました。その後、Chim↑Pom が描いた絵は、岡本太郎記念館に寄贈されました。
Tokyo 's young art group "Chim ↑ Pom" made public that the plywood was stuck. The members respected #TaroOkamoto. After that, the paintings drawn by Chim↑Pom were donated to #TaroOkamotoMemorialMusiem.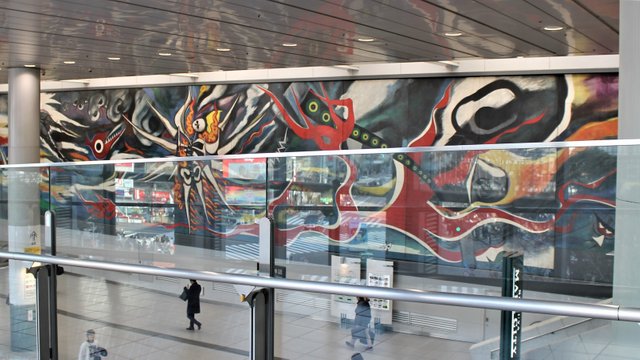 こんなエピソードがある巨大壁画、渋谷駅を訪れることがあったら、ぜひ鑑賞されてみてはいかがでしょう。
The huge mural painting has the story of that. If you visit #Shibuya, please visit #MythofTomorrow .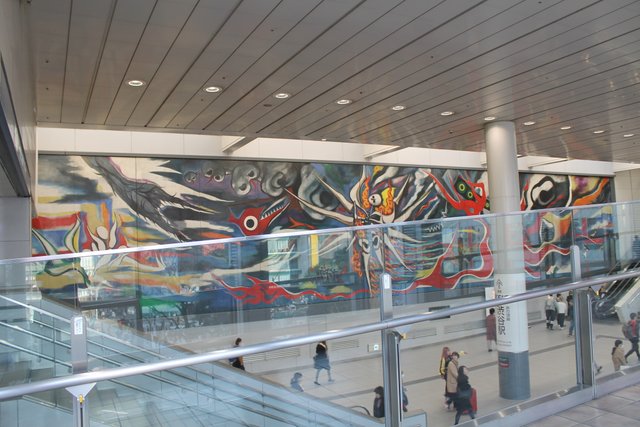 #MythofTomorrow
#SHIBUYAMARKCITY
1-12-1, #Dogenzaka, #Shibuya-ku, #Tokyo