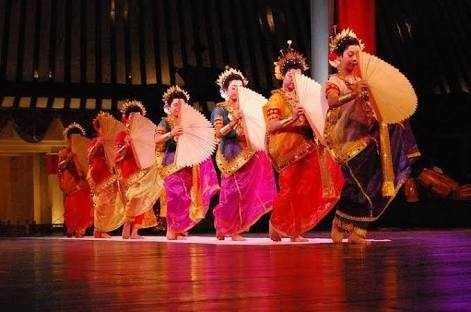 Pakarena dance is a type of traditional dance that became a dance area of ​​South Sulawesi province. This dance became one of the cultural icon of the province that is capitalized in Makassar. In the staging of this traditional dance is played by 4 dancers and accompanied by musical instruments such as gandrang and poems. Gandrang is a musical instrument made of drum head while the poetry is a wind instrument similar to a flute.
In the past this kind of classical dance was performed as a medium of worship to the gods. The beauty and uniqueness of this dance movement of pakarena then gradually shift the function of this dance as a medium of entertainment. According to various sources of dance history pakarena already known by the people of Gowa South Sulawesi during the Gantarang kingdom. From the movements in the dance performed by 4 female dancers has some philosophy that tells the story of life.
The story is delivered through the dance is the story of a man with the inhabitants of the sky. Where the inhabitants of the sky who somehow described as a god or celestial maiden give a lesson to humans about ways to survive on earth from the way of looking for food in the forest to grow crops on the ground. From these legends then grew confidence in the Gowa community that the movements displayed by the dancers are a full-fledged movement of gratitude to the inhabitants of the sky. Along with the development of time, typical dance from south sulawesi is very interested by the surrounding community and finally make fan pakarena dance into one of the entertainment media that attract the hearts of the audience.