Correction after ATH in Bitcoin?
Btc/Usd
Today I have a buy setup in stock, since the upward trend is still intact.
I still assume that we generate a new ATH (all-time high) and only with approval of the ETF's run into a correction mode.
The upper Red line on the chart, is the breakout line from 2017 where we were stopped Friday.
We will most likely run into this line again and possibly overrun it to the new ATH.
After that, the big question is: Will the 2017 sequence repeat itself, or will everything be completely different?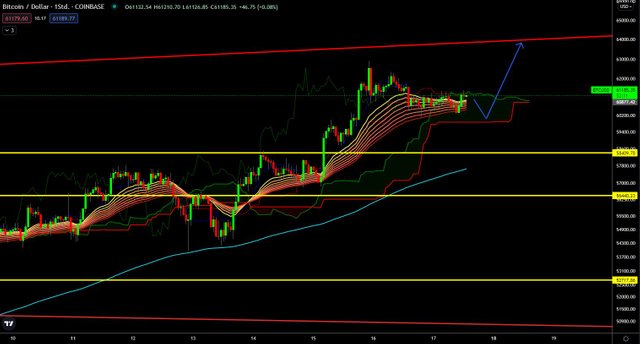 Disclaimer
This post contains affiliate links that help me educate myself.
If you make a purchase through one of these links, I will receive a commission. Certain decisions are not influenced by this.
Cryptocurrencies: buy/sell/trade
► FTX: https://ftx.com/#a=cultusforex
► Bittrex: https://tinyurl.com/y3628ckl
► Bitfinex: https://tinyurl.com/yc4blgny
► Bitpanda: https://tinyurl.com/y3a8s2xl
► Anycoindirect: https://tinyurl.com/yxm34stz
► Cryptopay: https://tinyurl.com/y5ov8nzr
► Coinbase: https://tinyurl.com/yef6rwa4
► Earn Solana: https://tinyurl.com/ygd497o9