At the moment we are still in a correction wave. Bitcoin was down to $7300 and currently at $7360. Support has been broken one by one on the way down. If $7300 breaks we are going lower. But how far?
I found a very interesting chart today on Tradingview. It is a trading idea from xuanhaimmoer on Tradingview. He thinks the Bitcoin price is following this chart exactly. It looks like it.
According to this Wyckoff chart we have support at between $6930 and $6530 before going higher.
What do you think?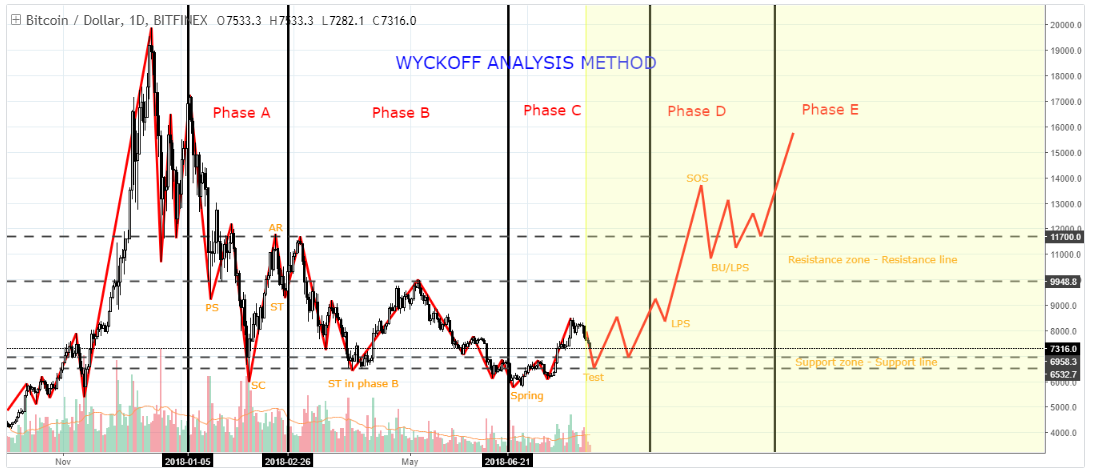 Source: https://www.tradingview.com/chart/BTCUSD/u6EwYexp-Bitcoin-Wyckoff-Method-Analysis/?utm_source=notification_email&utm_medium=email&utm_campaign=notification_follower_idea_update
Here is more info about Wyckoff: http://stockcharts.com/school/doku.php?id=chart_school:market_analysis:the_wyckoff_method
Do you think support at $7300 will hold?
Please give us an Upvote if you think this info was helpful. It will help my online business a lot and I hope to return the favour soon.
Thank you. :)
PS. Hot tip 1, Remember don't upvote this post if older than 7 days, you are wasting your voting power!
PPS. Hot tip 2, when buying upvotes, do it in the first 3 to 15 min of posting. You get 90% to 100% of curation rewards.
PPPS. Hot Tip 3, upvote your own post in first 3 min. You will get all of it back.
PPPPS. Hot Tip4, I love buying upvotes after 20 min of making a new post. Make sure you upvote before I buy upvotes to get your share of the curation rewards.
Thank you for your support.
Regards
Colin Brazendale
Email: cwb197@gmail.com
Facebook: https://www.facebook.com/colinbrazendalesinternet/
Youtube: https://www.youtube.com/user/czb1972/
Website: http://www.autotradingrobot.co.za


More information about me:
I love Steemit and I have been blogging here since June 2017. I am always looking for ways to increase my Steem and SDB holding. Lately I have started trading bitcoin and altcoin using an auto trading robot. So far it is going well, and I am in profit. 😊
Most of my time is spend on internet marketing for my clients on Google Adwords, but I also love network marketing on the internet.
I have been cloud mining for the last 2 years, but stopped promoting it due to the low returns from Jan 2018.
Why I joined Zukul Trade:
How to get started with Zukul Trade:
Proof of earnings 18 May 2018. The auto trading bot made $170.88 in the last month in down market.
Contact me via email cwb197@gmail.com for more info on the auto trading bot.