Bull Lost Momentum, Bitcoin Prices Fall Again
The digital asset market failed to surpass key resistance over the weekend to the trading session on Tuesday (10/07). Bitcoin Classic (BTC) fell to $ 6.331 after touching the region of $ 6.830. After reaching a weekly high of $ 6.858.8, it appears that a significant rejection occurred immediately; price plunge into the area of demand $ 6,171.3 - $ 5,750.4. The current level of demand is the last bull's defense. If this level is not able to survive, then again we will see the price of Bitcoin plunged to a psychological level of $ 5,000.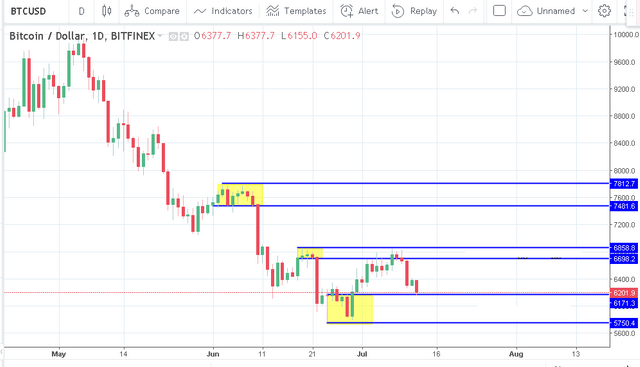 Today (12/07), Ethereum is still able to maintain 0.44% rise. Meanwhile, the price of Bitcoin Cash (BCH) hovered around $ 785 per coin a few days ago, but the price dropped again to $ 698 today. Overall, the leading crypto ranks fell between 5-20 percent in the last 48 hours, with the EOS experiencing the biggest decline, or -2.79%.

Bitcoin Valuation Down $ 10 Billion
The bearish trend again dominated the crypto market, reversing the bullish momentum that was formed last week. Bull crypto attempted to surpass last month's resistance, but several attempts to break the line seemed to have failed. From the weekend until the time this analysis was written, Bitcoin valuations have shrunk to $ 10 billion, from $ 117 billion to $ 107 billion. The drastic decline in valuations is a reflection of skeptical crypto market participants, and estimates that new lows will again be created.
Reference